Who doesn't know about the Oscar-winning actress Reese Witherspoon? While we all know about the Legally Blonde Star, many may not know about her husband, Jim Toth who maintains a low profile life. Had it not been Jim, then Reese wouldn't have been a producer apart from being an actress. So who is this guy?
Jim Toth is a talent agent who works in the Creative Artists Agency in Los Angeles. He represents many renowned actors and helps them in their career growth. Jim and Reese's tied the knot in 2011 and since then he has been a support system for her.
FAQ on Jim Toth
How Old is Jim Toth?

50

What do Jim Toth do for living?

He is Talent Agent at Creative Artists Agency in Los Angeles. He has a long list of A-listed clients like Robert Downey Jr., Jamie Foxx, Neil Patrick Harris, Zoe Saldana, Chris Evans, and many others.

Who is Jim Toth married to?

Jim Toth married Reese Witherspoon in March 2011 after dating for less than a year. Together they are parents to son Tennessee James Toth born on September 27, 2012.

How did Jim and Reese meet?

As reported by Elle, Jim and Reese met at a mutual friend's party where Jim came as a rescuer when a random drunk guy was hitting on her.


What is Jim's net worth?

Around $4 million.
Early Life and Childhood
Jim Toth was born originally as James Joseph Toth on January 1, 1970. He originally belongs to Aliquippa, Pennsylvania. His grandfather was a newcomer from Hungary who has served in the army as well as at Crucible Steel in Midland, Pennsylvania. His father Jimmy Joe Toth was a blue-collar worker. He worked at a small steel town in rural Pennsylvania to support his family. Moving forward to his educational background, he graduated from Loyola Marymount University in Los Angeles with a degree in political science. He is an athlete who loves to run and participate in sports.
There are still some chapters of his life that needs to be covered. And that includes some of the aspects of his personal life too like his siblings, family, his childhood days and many more.
Jim's Humble Beginnings: Career Breakthrough
Though Jim Toth won't be getting a star on the Hollywood Walk of Fame soon, he is a talent agent who has represented many A-listed celebrities like Scarlet Johansson, Matthew McConaughey, and Robert Downey. But before making his way as a talent agent, he has struggled a lot in his career. Jim worked as a financial consultant before his graduation. After graduating from Loyola Marymount University, he shifted to Los Angeles.
His career hunt took him to the Creative Artists Agency. In 1995, he gave a kick start to his career towards Hollywood by working in the mailroom of the Creative Artists Agency. Just five years after joining CAA, he was promoted to agent from a trainee. Again in September 2010, he was promoted to one of the heads of motion picture talent.
Jim Toth has now worked with many renowned personalities. He had also met his better half through this organization. Though he is successfully working as a talent agent in CAA, he is profoundly known as the Husband of Reese Witherspoon.
Besides, he also involves him in charitable works. He co-chaired the Stand Up to Cancer in 2016. As reported by People, Jim lost his father due to cancer and now it's his mission to raise funds for cancer victims and raise awareness about early detection and cancer research. 
How did Jim meet Reese Witherspoon?
Jim Toth and Reese met each other through a work connection. Reese is a client at Creative Artist Agency (CAA) where Toth works as a talent agent. However, Jim never worked as her agent. As per Reese, they first interacted at their mutual friend's party where Jim came as a rescuer to Reese when a random drunk guy was hitting on her. She told Elle:
"This really drunk guy was hitting on me, making such an idiot of himself, yelling at me, "You don't know me". And I was like, 'Yeah, I know. I don't know you'. Jim came over and said, 'Please excuse my friend. He's just broken up with someone. Jim was a really good friend, pulling him out of that situation. That's just kind of who he is, a really good person."
As it is often said, the first impression is the last impression. The impression made a soft corner for Jim Toth in Reese's heart who has just come out of a breakup. Soon after the incident, they started spending time with each other and started dating. The pair started dating around January 2010 after Reese's breakup from Jake Gyllenhaal.
They together made a first public appearance during a birthday getaway in Ojai, California in March 2010. Since then the duo is head over heels. However, Toth is known as a ladies' man and most of his friends are astonished to see Jim with Reese for so long. One of his friends noted:
'He used to be such a player, but he's treating her like gold. He will do anything for Reese."
Jim and Reese's Wedding Story
After dating for less than a year, Jim popped the big question to Reese, and eventually, she said yes. Jim proposed to Witherspoon with a four-carat diamond ring that had a market value of $250,000. The couple got engaged in December.
The Oscar-winning actress and the agent got married in March 2011. Their wedding was a star-studded wedding held at Witherspoon's $7 million ranch estate in Ojai, California. Further, Reese's kids from her previous relationship were also among the attendees. While her son Deacon Phillipe was the ring bearer, daughter Ava Phillipe was the maid of honor.
A pre-wedding cocktail party was held at the estate. At the wedding ceremony, Reese walked down the aisle wearing a gown designed by Monique Lhuillier. The newlywed couple exchanged wedding bands designed by William Goldberg.
Soon after the couple exchanged the vows, eighty doves were released as a sign of love. The estate was beautifully decorated with flowers, wood-plank dance floor, and mismatched furniture. The star-studded wedding was attended by guests like Matthew McConaughey, Renee Zellweger, Tobey Maguire, Alyssa Milano, Robert Downey, Scarlett Johansson, Sean Penn and many more.
Since their big day, Jim and Reese's relationship is going stronger and stronger. From celebrating Thanksgiving to enjoying vacations in Paris, the duo is truly enjoying their life together.
Prior to getting married, Jim was in a relationship with American model Courtney Robertson. Likewise, Reese has also tied the knot with Ryann Phillippe. They got married in 1999 and have two children Ava Phillippe (Born on September 9, 1999) and Deacon Phillippe (Born on October 23, 2003).
Jim Toth's Kids: Ava, Deacon, and Tennessee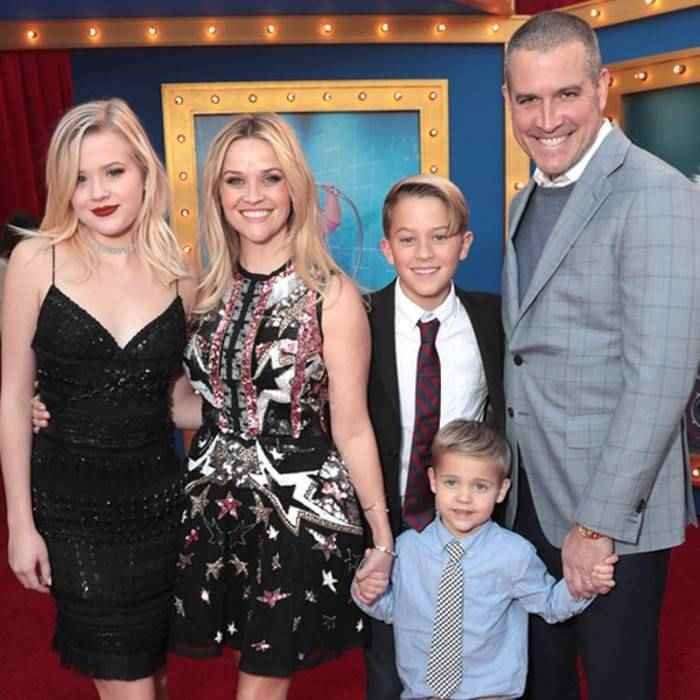 After a year of getting married, the couple confirmed that they were expecting a baby. On 27th September 2012, Jim and Reese welcomed baby boy Tennessee James Toth in New Orleans. They also co-parent Ava and Deacon from Reese's marriage with Ryan Phillippe.
Together now the family of five is living happily. Toth is a family guy and his wife's children from her former husband are also very much fond of him. The two siblings also share a good bond with their brother Tennessee. As a family, Jim and his wife along with three kids celebrate several occasions together. Recently, the family celebrated July 4 and watched fireworks all night. Moreover, on the occasion, they were spotted enjoying a sunshine outing on a beach in Malibu, California.
As per Reese, Jim is a great husband and father. Talking to People, she revealed what makes him a great husband and dad. She said:
"He's an incredible man, a wonderful organizer, a great leader. He's very patient and funny with the kids, and he really encourages them to see the humor in life."
Overcoming the Obstacles
Despite the plethora of rumors about their fights and break-up, the duo is still together It all started in 2015 when rumors fled about Jim and his wife being on the verge of getting divorced. The things between them turned so sour that rumors, like they were living in separate houses, started hitting the tabloid. Toth's heavy drinking was assumed to be the reason behind their bitterness.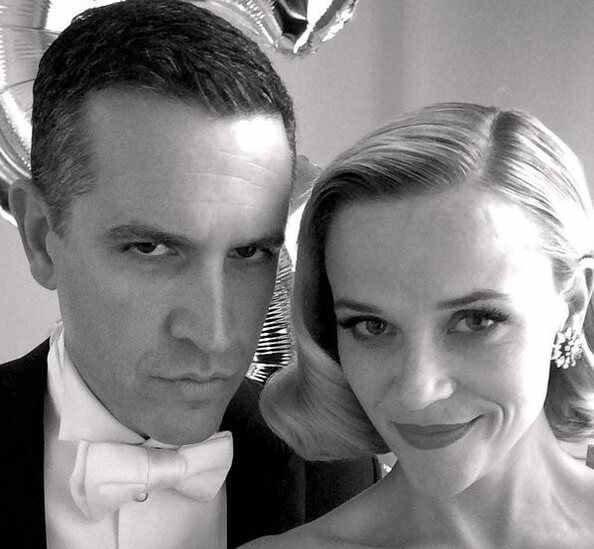 However, Jim's better half Witherspoon tried hard to save the marriage and she succeeded. Most recently, Jim along with wife Reese and son were spotted enjoying a bike ride in Malibu, California. After years of rumors regarding their divorce, they are still together and happy.
Trouble with the Law
Back in 2013, the couple was arrested in April in Atlanta for driving in the wrong lane. The two were pulled over by the American Police for suspicion of drinking and driving. Meanwhile, in the sobriety test, Jim was tested positive and was found guilty of drinking and driving. When Jim got arrested, Reese panicked and started threatening the police officer mentioning her status. She told:
"Do you know my name?
She added:
You are about to find out who I am.
She also got arrested for misbehaving with the police, but both were released soon after paying fines. In addition, Jim was ordered to attend an alcohol education program, perform 40 hours of community service, and also was given 12 months' probation. The news of their arrest came out in the media and the video of Reese misbehaving with the police became viral. Later on, she apologized and said that she is deeply embarrassed. When the actress appeared in the show Good Morning America in May 2013, she shared few words related to the incident as:
"I saw him arresting my husband and I literally panicked. I said all kinds of crazy things. Told him I was pregnant. I'm not pregnant. I said crazy things. You only hear me laughing because I had no idea what I was talking about and I am so sorry. I was so disrespectful to him. We have police officers in my family. I work with police officers every day. I know better. "
Jim Toth's Net Worth
Toth has been working in the industry since 1995. In this long journey, he has worked with many A-listed celebrities.
From his career as a talent agent, he has been able to accumulate enough fortune to live a lavishing lifestyle. The star couple owns a mansion worth $12.7 million in Pacific Palisades. They also sold their old mansion in Brentwood for an amount exceeding $10 million. In 2014, he bought a new mansion for $1.95 million in Nashville. As of now, Jim's estimated net worth is $4 million while his Oscar-winning actress wife has a fortune of over $150 million.