Morgan Freeman is one of the legendary actors of the Hollywood industry. He has been nominated for the Oscar multiple times and even has earned Oscar for his phenomenal performance on the screen. Freeman has ruled the Hollywood industry for more than decades. But, unfortunately, when it comes to his personal life especially his marriage, he has witnessed failure multiple times.
At first, Morgan ended his twelve years long marriage with Jeanette Adair Bradshaw in 1979. Later on, he moved on to his life and married Myrna Colley-Lee in 1984. However, his marital life with Myrna didn't work out as well. Myrna Colley filed a divorce to end their 24 years of relationship. But what was the reason behind her step to end two decades of togetherness? Here, we cover her life story including her reason behind filing the divorce to her life after separation.
Childhood of Myrna Colley-Lee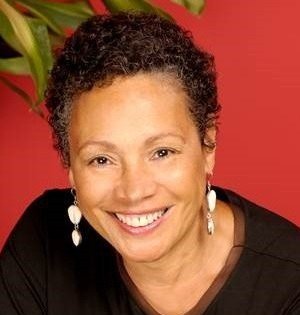 Myrna Colley-Lee born in Hamlet in North Carolina in 1941 might only be the former wife of the legendary Hollywood actor Morgan Freeman for the world. But, there's certainly something more to her identity. However, she hasn't revealed her life before meeting Morgan Freeman to the world yet. Therefore, nothing much is known about early childhood . There's little to zero information available about her parents and her early childhood.
Colley-Lee Holds a Masters Degree From Temple University
Throwing lights on her educational background, Colley-Lee attended Women's College of the University of North Carolina and earned a degree of "Bachelor of Fine Arts". She then enrolled at Brooklyn College in New York to study scene painting and properties. Further, in 1980, Myrna completed her master's degree in scenic and costume design from Temple University in Philadelphia.
After getting the theoretical knowledge from the University, she went on to imply that knowledge in the practical world and started the journey towards her career.
Myrna Began Her Career as a Costume Designer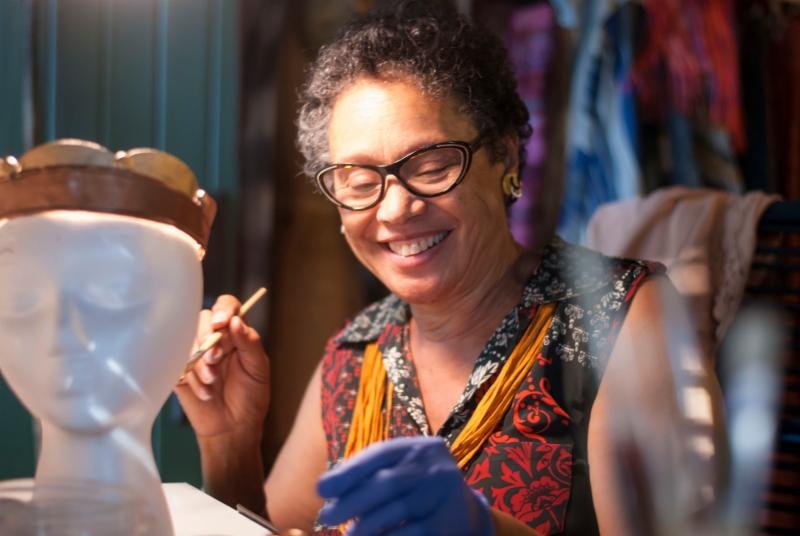 Myrna Colley-Lee isn't a big name in the Hollywood industry as compared to her former husband Morgan Freeman. However, she has been able to leave a certain mark in the industry on her own. She kick-started her career as a costume designer in the entertainment world.
Colley-Lee's work has been featured in television shows and movies like "The Piano Lesson", "Forest City", "Relativity and Wedding Band: A Love/Hate Story in Black and White". Likewise, she has also designed the costume for August Wilson's theater play Radio Golf at the Public Theater in Pittsburgh Pennsylvania. Apart from this, Myrna is also an art director and set designer who has worked for several productions.
Besides, Myrna has recently launched herself into the field of commercial interior designing for many well-known organizations as well.
Former Mrs. Freeman Appeared in '60 Minutes'
Though Myrna doesn't feel comfortable facing the camera, she appeared in a single episode of the television show '60 Minutes' in 2005. The episode was titled "The Bride to Gretna" which portrayed a situation where casualties of Hurricane Katrina were stopped to cross the bridge by the policemen. Myrna was listed in the credits as Morgan Freeman's wife in the show.
Her Relationship with Morgan Freeman Wasn't Meant to Last Forever
Myrna Colley-Lee and Morgan Freeman met each other through a common friend. Having worked in the same industry, it wasn't a surprise for them to have a common friend. And like most of the love stories in Hollywood, their mutual friend was the reason behind their romantic relationship. Colley-Lee and Freeman dated for a while before they decided to hold hands forever. They walked down the aisle in a small ceremony on 16th June 1984. Though this marriage was first for Myrna, it wasn't the first in the case of Morgan. Morgan was previously married to Jeanette Adair Bradshaw. Their marriage lasted for 12 years before they decided to call it off in 1979. Freeman shares a daughter Morgana with ex-wife Bradshaw.
The couple moved to Tallahatchie Country in northern Mississippi to live a peaceful life away from the glitz and glam of Hollywood. They were one of the iconic couples of Hollywood who spent more than two decades together. Everything between them seemed perfect but until 2007 when they headed for a divorce.
Million Dollar Separation: Myrna Colley-Lee and Morgan's Most Expensive Divorce in History
The news of their separation wasn't a matter of national gossip until 2008 when Freeman met with an accident in Mississippi. Right after the incident, his lawyer Bill Luckett was the one to make a statement about Myrna's and Morgan's separation and the divorce battle. One of the advocate of Freeman commented about their divorce and told:
Myrna and Morgan spent 24 years of their life together before proceeding with the divorce in December 2007. The divorce was registered under seal in July 2008. The main reason behind their separation was said to be Morgan's extramarital affairs. Many tabloids claimed that Morgan was having an affair with a schoolteacher named Mary Joyce Hays. Moreover, rumors of Morgan's love affair with his step-granddaughter Hines hit the headlines during the ugly divorce between the couple. However, both Hines and Freeman have denied the allegations.
It was done without a trial. Everybody is glad it's over.
Likewise, Morgan was accused of DUI when he got into a serious accident with Demaris Meyer on August 3, 2008. After the news broke in the media, Meyer was labeled as the other woman and was blamed for breaking the home of Myrna. Meanwhile, Meyer strongly denied the allegations made against her. Further, she sued a case against him demanding compensation greater than $75000 for the harm caused due to Morgan's ruthless driving. Apart from these, Morgan was accused by eight women and witnesses in 2018 mentioning a "pattern of inappropriate behavior by Freeman". They claimed that Morgan used to pass unhealthy comments on the workplace and used to inappropriately touch the female workers in the sets.
These probably were the darker side of Morgan Freeman we didn't know. And, maybe Myrna was dealing with these shits all alone and when she couldn't she filed for a divorce to end the 26 years long marriage. However, we can only make assumptions about the reasons behind their separation until they reveal by themselves.
Their divorce was finalized after three years-long battle on September 15, 2010. In the divorce settlement, Myrna got a whopping $400 million. This was the fifth-largest divorce payout ever. Apart from this, she also received Freeman's $7 million houses in the British Virgin Island, Los Angeles along with an apartment beside New York's Central Park.
Myrna's Life Post Divorce: Where is she now?
No matter how hard you try to save a relationship, you won't succeed if it is meant to be collapsed. Same goes in the case of designer Myrna Colley-Lee who ended her 26 years of marriage with Oscar winner Morgan Freeman. It's never easy to let go of the memories you have lived with your once upon a time life partner. But, nothing is impossible when you try and Myrna has proved it.
Myrna after passing through the ugly legal divorce battle is now living a single life. After separation, she has focused more on her career goals. She is an art director and a set and a costume designer in the entertainment world. Besides, out of the work sphere, she serves as the commissioner for the Missouri Art Commission that offers financial aid to art programs in the Mississippi state.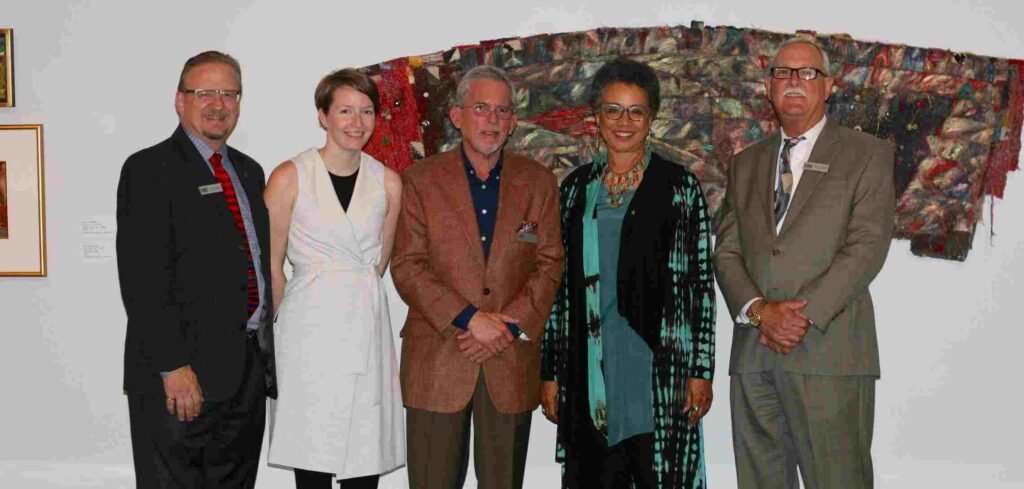 In 2017, Myrna helped to organize an art gallery at the Columbus Museum which focused on Afro-American Life. Her collection has been titled 'Reflections: African American Life From The Myrna Colley-Lee Collection by the museum. Likewise, Myrna is also a philanthropist who is associated with non-profit motive organizations like Charleston Arts and Revitalization Effort, Rock River Foundation, and Mississippi State University Department of Art. Colley-Lee is one of the members of the National Museum of Women in the Arts, Washington.
Myrna after divorce has more actively worked on her career. Her pictures in the social media showcase her blooming personal life.
Even though she has parted her way from Freeman, she still maintains a healthy relationship with his kids.
Myrna Adopted Kids From Morgan's Past Affairs
The ex-couple hasn't given birth to a child of their own. Instead, they were raising four kids from Morgan's previous marriages. The couple had adopted Morgana Freeman and E'dena Hines. Hines is the step-granddaughter of Morgan Freeman.
Besides, they were also raising Alfonso Rene Freeman (born on 13th September 1959). He was Morgan's child with Loletha Adkins. In addition, they were also parents to Saifoulaye born in 1960.
Colley-Lee's Allegations Against Ex-Husband Having an affair with Granddaughter Hines
As per Daily Mail, when Myrna filed a case against Freeman for divorce in 2008, she alleged her then-husband of having affair with granddaughter E' Dena Hines. However, no proof was found against the allegations. Further, when a murder case was filed against rapper Lamar Davenport for killing Hines, his mother claimed Morgan molested her when she was young. She claimed that because of this her son lost his mind and accidentally killed Hines for cheating on him.
Hines was killed by her boyfriend Davenport who stabbed her more than 25 times in her body on August 16, 2015. Freeman has strongly denied the allegations. He told that it was only a medium chosen to defame him. Freeman said in a statement:
"The recent reports of any pending marriage or romantic relationship of me to anyone are defamatory fabrications from the tabloid media designed to sell papers. What is more alarming is that these fabrications are now being picked up by the legitimate press as well."
She Rushed to See Hines after She Was Stabbed To Death
Though Colley-Lee doesn't have biological kids, she gets to call herself a mother as she has raised Freeman's kids from his past affairs. One of her children includes E' Dena Hines whom she adopted with Freeman. She loved and raised her like her own daughter. But, unfortunately, Hines was killed by her boyfriend in 2015. Soon after the tragic incident, Myrna rushed to Hines's apartment in Manhattan. Seeing her daughter lying on the ground breathless must have been the most heart-wrenching moment of her life. Upon her demise, Freeman released a statement that said:
"The world will never know her artistry and talent, and how much she had to offer. Her friends and family were fortunate enough to have known what she meant as a person. Her star will continue to shine bright in our hearts, thoughts, and prayers. May she rest in peace."
How Much is Myrna's Net Worth?
Myrna Colley-Lee has been working as a costume designer and art director for a long in the entertainment industry. She must have garnered a healthy amount of fortune from her professional life. However, her exact net worth in numbers is not known.
Her net worth must have significantly increased from the amount she got for the divorce settlement. At first, it was speculated that she only got $170 million, but later on it was argued that she went on to grab $400 million from Morgan Freeman.