Being the wife of a famous personality is a plus point for anyone who wants to shine in Hollywood. Yvette Prieto has got this plus point. Yvette Prieto is a Cuban- American Model who got married to famous basketball legend, Michael Jordan.  The  popularity of this model  has increased after getting married to Michael. However, Prieto was already making a name for herself before she met Michael.
So who actually is Yvette Prieto?? Let's scroll down to know more about the wife of Michael Jordan, Yvette Prieto.
Yvette Prieto Early Background
Yvette Prieto came to this earth in March 1979 in Cuba. Her nationality is Cuban- American and Hispanic by ethnicity. She was born to parents Carlos Prieto and Maria Prieto. Her height is 5 feet 6 inches. She has graduated in business management.
Career: Business Graduate to Model
Modeling was never the first choice of Yvette. Prieto has graduated in Business management. She is reported to be a principal with a couple of Miami- based companies which includes Beet the LBS and Aqua Management. She has worked at her father's company. However, when Yvette  became dissatisfied with the way things were at the company, she decided to quit the company to pursue a career in modeling.
The girl with immense beauty started taking modeling assignments. And within no time she was able to establish herself as the desired model. She has worked with several popular brands and designers.
Prieto gained popularity after modeling for the renowned fashion designer Alexander Wang. Besides that , she has also acted in the TV series Documentary 'Cuba: An Island Apart.'
Relationship with Michael Jordan
Yvette met Michael Jordan while having a cozy evening at a club in Miami. Michael Jordan is a famous former American basketball player who's always in the limelight. Jordan met Prieto exactly after two years of divorce from his first wife Juanita Vanoy. This divorce was placed in one of the most expensive divorces in American history. Forbes reported that the divorce reportedly cost him over $150 million, other sources put the figure at $168 million. The payout increased Vanoy's net worth to $170 million.
Prior meeting Jordan, Prieto dated Charlotte Bobcats and Julio Iglesias, brother of famous singer Enrique Iglesias.
Michael and Yvette started dating in 2008. After a year after dating, Yvette moved in with Jordan in 2009. They started living together at the 5500 sq.ft, house in Kendal, Florida. The couple lived together as a boyfriend and girlfriend for three years. After three years, Michael proposed her love on the auspicious occasion of Christmas Eve in 2011.
Yvette Prieto Wedding with Michael Jordan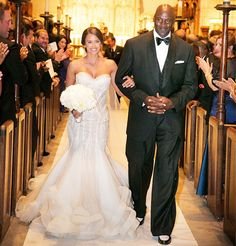 The lovebirds tied the knot on 27th April 2013 at Bethesda by the Sea Episcopal Church, Palm Beach, Florida. The wedding was a big affair attended by 500 guests and grabbed everyone's attention. Photos of their big ceremony circulated all over the place and well wishes were given to the couple.  Their reception was held at the Bears Club in Jupiter, Florida. The reception was honored by an additional 1000 guests. Jordan invested $10 million in his wedding.
Prieto wore a sheath-style gown designed by J'Aton Couture for her wedding. She was looking damn beautiful. Jordan was mesmerized by the beauty of her lady love.
Despite the age gap of 15 years, the couple is living together happily. The proverb Age is just a number exactly suits them.
Yvette Prieto Kids
Michael Jordan and Yvette Prieto took their relationship to the next level. They gave birth to identical twins on 11th February 2014. Nobody had a clue that Prieto would give birth to angelic twin daughters named Ysabel Jordan and Victoria Jordan.
The family of four is living together in peace. The couple is keeping their daughters away from the paparazzi.
Prieto is a stepmom to Jordan's three children named Marcus, Jeffrey, and Jasmine. from his previous relationship with Juanita Vanoy.
Signed a Prenuptial Agreement with Jordan
Yvette signed a $50 million prenuptial agreement with Michael before getting married. They took this step for their financial security. However, both mentioned to the media that the day of their separation would never come. Their relationship is very strong and till now they are happily married.
Net Worth
Yvette Prieto is a successful model and wife of Michael Jordan. She has almost achieved everything in her life. Her modeling career has earned her net worth of $1.5 million. She shares the net worth $ 1.7 billion of her husband Michael Jordan.
Yvette Prieto is no strange to fame as she is a wife of legendary basketball player Michael Jordan and a popular model by herself.