Don't we just love romantic cute meet stories where the boy meets a girl in a bar and ends up marrying her? Well, this is exactly what happened to Adam Sandler and his wife Jackie Sandler. The only caveat was it wasn't on the script. It happened for real!
Jackie is a former model turned actor who has done cameos and a few major movie roles. However, the mother of two hasn't harnessed the media with her acting prowess rather she is more known as the wife to Adam Sandler. Met through the sets of "Big Daddy," the couple has never looked back ever since. After 22 years of marriage, the couple is going stronger than ever.
FAQ about Jackie Sandler
How long have Adam and Jackie been married?

Yes. The duo has been going strong for over two decades now. They got married in June 22, 2003.

What does Jackie Sandler do for living?

She is an actress and has worked in numerous movies. According to IMDB, she has been credited for 39 movies with a new movie down the line. Previously, she also worked as a model for various clothing companies.

How old is Jackie Sandler?

Born on September, 1974, Jackie is now 48.

How many kids do Jackie and Adam have together?

The pair have 2 kids together. Sadie (17) was born in May 6, 2006, and Sunny (14) was born in 2008.

What is Jackie's Net Worth?

Various sources claims her net worth to be around $50 million.

Which movies has Jackie Sandler been on?

She has done many cameos in movies like "Home Team," "50 first dates", "Grown-ups", "Murder Mystery." Check her movie info here.
Jackie Sandler's Early Background
Jackie was born on September 24, 1974, as Jacqueline Samantha Titone in Coral Springs, Florida. She is the daughter of father Joseph Titone and mother Lila Titone. Joseph worked as an attorney in FL whereas Lila was a teacher. Jackie did her high schooling at Marjory Stoneman Douglas High School which also has alumni of Chris Marrs Piero, Ian Grushka, and Jarett Grushka. She also has three siblings and Chris Titone is among one of them.
She had a rocky teenage growing up as things went south between her parents. Her parents went on to fight a divorce battle that lasted for 7 years. Through her teens, she stayed with her mother keeping her distance from her father. She jump-started her career through modeling doing small gigs when she was in high school. To further transform her modeling career she went to Brazil to pursue art.
Jackie's Career Breakthrough: Model Turned Actress
Jackie first started her career as a fashion model working for various national as well as international fashion companies. Later she shifted her attention toward acting which landed her first cameo role as "sally" in the blockbuster "Deuce Bigalow: Male Gigalo." Impressed by her short stint, Rob Schneider put a good word about her to Adam Sandler. That got her a small role as a waitress in the movie 'Big Daddy.' Although she had a nothing part in the movie, we all know what happened after that. So, we know who the real winner is!
She has played as an actress in the movies like Pixels (2015), blended (2014), That's My Boy (2012), Little Nicky, Eight Crazy Nights, Duplex, Bed Time Stories, Zookeeper (2011), Bucky Larson: Born to Be a Star (2011), Just Go with It (2011), Grown Ups (2010), etc. She makes appearances in her husband Adam's movies. Her movie roles and appearances in her husband's movie have been well appreciated by the fans. This has led people to search for her pictures as a model and professional credits too.
She has acted in more than two dozen movies till now but hasn't got any awards for her performance yet. Her role as "The Barracuda" on Netflix "The Wrong Missy" has grabbed the attention of many. She has always remained active with few acting gigs every year. Jackie also starred in 2022 Netflix movie 'Home Team' which is a true story about New Orleans Saints head Coach Sean Payton. Jackie played the role of Sean's ex-wife, Beth.
In 2022, Jackie also appeared in another comedy movie 'Daddy Daughter Trip' alongside actor and director Rob Schneider. In 2023, she played the character of Kay in the Netflix action-comedy 'The Outlaws' starring Adam Devine, Pierce Brosnan, Ellen Barkin and Nina Dobrev.
Jackie and Adam's Romance Began on the Sets of Big Daddy
The duo caught the eyes of each other on the set of Big Daddy. In her minor role as a waitress, you can see how Jackie is offering a beverage to Sonny (Adam) and Julian in the movie. Who knew that the girl taking orders would eventually take his heart as well. And, by the time the movie released, they had already fallen for each other.
Jackie was so head over heels for the "Big Daddy" main guy that she even converted to Judaism in 2000 showing her commitment to the relationship.
Becoming the Bride of Adam Sandler
After dating for a couple of years, they tied the knot on June 22, 2003, at Dick Clark's Oceanfront State in Malibu. Their wedding was a traditional Jewish ceremony hosted in front of around 400 people. Jennifer Aniston, Sharon Osbourne, Rob Schneider, and Rodney Dangerfield were some of the big names who attended the wedding.
Adam was seen wearing a black tux along with his bulldog 'Meatball' who also played the role of the best man. Jackie on the other hand was wearing a beautiful white gown while she was escorted to the aisle by Meatball.
Celebrating Twenty Two Years of Togetherness
Adam and Sandler who first met on the sets of Big Daddy have celebrated their 22nd anniversary. On the occasion of their wedding anniversary, Adam posted a throwback picture of them on Instagram with a caption that wrote:
"22 years ago today we locked eyes and fell deep. Look forward to the next 22, young lady. Love you my forever girl."
Adam and Jackie Sandler's Kids: Sunny and Sadie
Jackie and Adam are blessed with two daughters. When their first kid Sadie Madie Sandler was born, the goofy guy Adam was nervous for the first time in his life. He didn't know what was happening at the moment. He shared his first experience of becoming a dad as:
"You know what was funny? When my kid was born, I was so nervous, I didn't know what I felt. Five minutes later, maybe 10 minutes later, it was me and the kid and a nurse. We walked down alone to just check the vital signs and all that stuff, and I had a chemical reaction in my body, where I loved the kid so much, and I was so nervous for her, and that's when I lost my mind for the kid. So, it took 10 minutes to become a good dad. For the first 10 minutes, I was just lost."
Sadie was born on May 6, 2006, in Los Angeles, California. The couple again became parents for the second time on November 2, 2008. On that day, their second daughter Sunny Sandler was born.
Talking to Irish Examiner, Sandler revealed how he used to slip on a princess costume to read his girl's bedtime story. In a 2014 interview, Adam revealed how having kids has changed his perspective on life.
"I'm a worrier. I've learned in life now that when your kid is upset you're rocked until they're not upset anymore. Even when they're not upset, you're rocked. You're always nervous because you want your kid to be happy. Now, I understand why my folks were always saying, 'Be nice and be safe. Make sure everyone in the family is OK. That's the most important thing.' Making sure everyone in the family is OK is the most important thing. If the family hurts then you hurt."
The two kids are walking in the footprint of their parents. Sandler's kids are already into showbiz. Sadie, the elder daughter has appeared in the movies, Hotel Transylvania in 2012, Blended in 2014, and Grown Ups in 2010. Her sister, Sunny has also appeared in Grown Ups, Blended, and in Just Go With It in 2011.
However, the sad part is the sisters aren't so fond of their father acting. In a talk show in Ellen in 2017, Ellen asked if he allows his kids to watch any of his movies.
With a smile in his face at the entire time, he said, "My kids always beg me to watch my movies. They're like, 'Please, it's not fair! Let me watch your movies. Those people always yell things at you on the street. And, in just 20 minutes they are out!"
The family of four were recently spotted strolling on the street of NewYork after a basketball session amid the ongoing coronavirus pandemic.
Jackie is the driving force that keeps Adam Motivated
After being together for almost two decades, the pair have seen their ups and lows. But what keeps them running is their support for each other.
In an exclusive interview with W Magazine, he revealed how he feels awkward and tensed to do any on-screen romantic scenes. And, Jackie is always there pushing him to do a good job. He acknowledges that she absolutely loves the actress he works with.
In a talk show with Ellen in 2014, Adam told Ellen how supportive his wife is during his kissing scenes which sometimes feels weird for him.
"There's no jealousy at all. She's just like, 'Get in there!' We're doing a nice romantic scene and I think I'm doing pretty great being as romantic as I can be and then like – Okay, moving on, let's go, that was great, Drew. Good job. And I'm walking away and I just see my wife like (shaking her head) … 'What's the matter?' [And she says] 'Just please, for the sake of women, get in there and just look a little more alive."
Looks like motivation from his wife has worked a charm in his movies as his "Murder Mystery"co-star Jennifer Aniston called him a good kisser.
She also encourages him to take up challenging roles. In 2019, Sandler gave an amazing performance as a gambling addict in the movie "Uncut Gems" which couldn't have been possible without Jackie's sheer determination and motivation toward her husband
Jackie Absolutely Adores Jennifer Aniston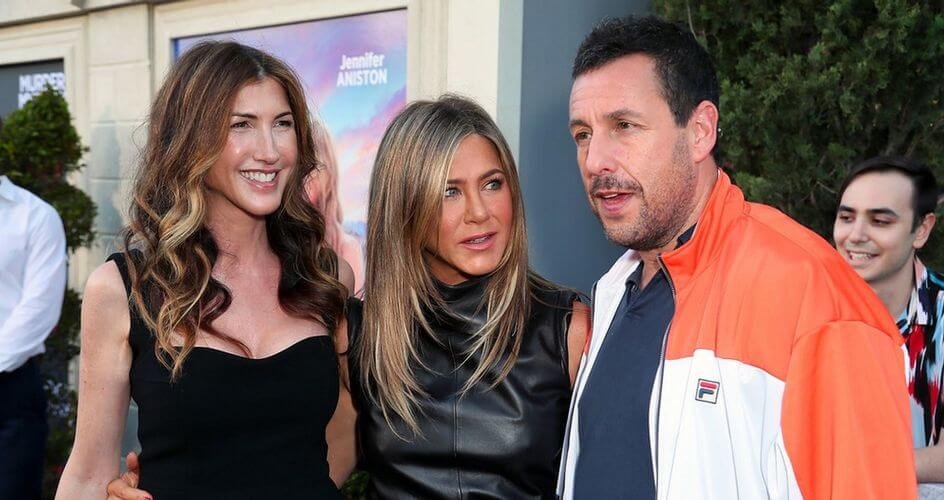 Adam and Jennifer have worked together in two movies. But their friendship dates way back in 90s before they even became a household name. During a Jimmy Kimmel show in 2019, Aniston revealed how she was strolling at 'Jery's Deli' for a quick breakfast with a man and bunch of his friends. And one of those friends happened to be Adam Sandler.
"I knew I was going to be friends with her," Sandler said.
But it's not just Adam who adores Aniston. His wife Jackie just admires the friends actor. During Adam's speech on Aniston's Hollywood walk of fame in 2012, he talked about his love for the actress.
"I love this girl, my wife loves this girl, the entire world loves this girl," he said.
In fact, Jackie and Jennifer have become best of buds. While talking to Howard Stern, Adam revealed how his wife just loves anything Jennifer says.
While talking to Hollywood Reporter, Adam revealed how his wife and Jennifer tag-team to help him lead a healthy lifestyle.
"She's certainly not afraid to have me show up on a set, and in my trailer is a whole bunch of whatever shake I should be drinking and it's usually green," Sandler told to the press.
Jackie Sandler's Net worth
Although enough information isn't found about her precise income, the sources tell that Jackie has current a net worth of $50 million. Her husband Adam has $300 million net worth. The couple currently resides at a $13 million mansions in Los Angeles. It was formerly owned by actor Kurt Russell and Goldie Hawn. Apart from the mansion in Los Angeles, they also own a $3.1 million home in Malibu, and other properties in New York and Hawaii.
However, Sandler gives part of her earning to charities and donations. The couple donated $ 1 million to the Boys and Girls Club in Manchester, New Hampshire. They have also donated $2100 to former New York Republican Mayor Rudy Guiliani's Presidential Campaign.