Susan Jane Dillingham predominantly known by her stage name Samantha Lewes is the biological mother of Elizabeth Ann Hanks and Colin Lewes Hanks. But more importantly, she is the first love and ex-wife of the Hollywood veteran Tom Hanks.
The 61-year-old Hollywood legend is mostly on the news for his versatility on the big screen. But seldom people know about the drama that unfolds his personal life. It's always either Rita Wilson (his current wife) or their elite kids who are the talking point.
But if we dig deep into the grave, we come to know that there is more to Hanks personal story, and a string that connects to it is Samantha Lewes.
Samantha Lewes: The Ray of Hope for Hanks Ongoing Loneliness
During an interview with Desert Island Discs, Hanks openly admitted that he was suffering from serious loneliness from his early teenage days. As a part of a solution to kill his obscure isolation, he married Susan Dillingham. He was just 21 at the time of marriage and had barely pressed a foot in the theaters. He stated:
I was too young and insecure. I was 23 and my son Colin was already two when I married for the first time.
Further he added,
I was looking for something I had not found as kid,and a  broken marriage meant I was sentencing my own kids to the sort of feelings I had at their age.
Their love story started at the early 90s. They met each other during their acting session during their stay at Sacramento State University. What started as a simple gesture of friendship bloomed into a decade-long marriage. They got hitched at a small ceremony in 1978. The high school sweethearts even have two kids together. Born on 1977, Colin Hanks is no stranger to big movies. Known for his performance in movies like Orange County and King Kong, Colin was the first stroke of love Hanks and Samantha shared. He was born before they even tied a knot! 
Elizabeth Ann Hanks (born on 1982) is the second child of the couple. Although she has appeared in movies like Forrest Gump and That Thing You Do, she hasn't been able to embrace Hollywood like her father and brother.
Samantha's Marriage with Tom Hanks was never Meant to Last!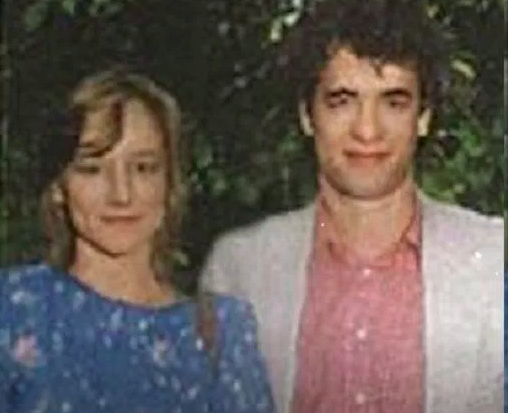 The bridge of marriage is never built on the ray of hope. Period.
He was just a 21-year-old kid with no job or career prospects. And when you marry someone just to fulfill your anguish of loneliness, that marriage has a death penalty attached to it.
As the responsibility of a child and wife bestowed upon him at an early age, he grew a better version of himself. This eluded him from drugs or consumption of pots. He took a great deal of focus to make it as an addiction to reach the better height of success.
As it was expected, Samantha's marriage with Hanks came to climax when the duo called it quit in 1987. After ending nine years of marriage, Hanks went on to marry Rita Wilson in 1988.  
Hanks only had good things to say about his wife Rita, "She just gets it. I don't think I will ever be lonely anymore, that's how i felt when I met my wife."
Perhaps, Samantha was never a cure for his loneliness!
Samantha Lewes Would Be A Proud Mother If Alive
Samantha would have felt proud of calling herself the mother of Colin and Elizabeth if she was alive. But, before witnessing her beloved children climbing the stairs of stardom, she unfortunately, died battling with cancer.
Her eldest son Colin Hanks was born on November 24, 1977, before the couple tied the knot. Colin following his dad has launched his career in the field of acting. He has left his remark in the movies like King Kong and Orange County. These movies have brought him much deserved fame. Colin was even nominated by the MTV for the movie Orange County. His other starrer movies include The Good Guys (2010), Roswell (1999), The House Bunny (2008), My Mom's New Boyfriend (2008), Lucky (2011), the Guilt Trip (2013), No Stranger Than Love ( 2015), Elvis and Nixon (2016), Jumanji : Welcome to the Jungle(2017), and many more. Apart from acting, he has also moved towards film making. He directed his first documentary "All Things Must Pass: The Rise and Fall of Tower Records" back in 2015. The documentary was critically acclaimed.
He has won Young Hollywood Actor in 2002, just a couple of months after Samantha passed away. Recently, for his work in Fargo-a TV series he was nominated for the Golden Globes Award. Colin has established himself as one of the promising actors of Hollywood. Whether it was a destiny or coincidence, he fell in love with the girl Samantha once again in his life. But, this time she wasn't  his mother. He fell in love with Samantha Bryant and exchanged the vows accordingly.
Likewise, Elizabeth (born on May 17, 1982) has also tried her charm in the movie industry. She has starred in few movies and TV series that didn't create any buzz in the industry. But that doesn't mean she hasn't established herself like her brother and father. She has established her career as writer and editor in the Huffington Post. Though Samantha is not anymore, she is always remembered through her children and their works.
Samantha's Brief Background & Wiki
So, who is Samantha Lewes ?
Known to many as Samantha Lewes, she was initially born as Susan Jane Dillingham on November 29, 1952, in San Diego, California. She was born to parents John Raymond Dillingham and Hariet Hall Dillingham. As she mainly came into the light following her relationship with Tom, much information about her  earlier life is not known yet. Susan Lewes later adapted her name as Samantha Lewes from her character in Theaters. 
Unlike her husband, she could only land small roles and was limited to just theaters.
She had a brief cameo appearance in movies like Bosom Buddies (1981) and Mr. Success. However, her career has rather been a disappointment!
Samantha Lewes Bashed Tom Hanks for Harassment
Tom Hanks is recognized as one of the disciplined and well- mannered guys in Hollywood. But, the two time Oscar winner's late wife strongly denied with that thinking. The college sweethearts broke up their relationship after nine years of marriage. Following the divorce, Hank married his girlfriend Rita Wilson in 1988. As this news was being circulated in the media, another shocking news came into flash. Samantha Lewes bashed her former husband filing a case in a Los Angeles court asking a restraining order against him. She made allegations that Hanks harassed her and attempted to kill her career. The New York Post reported her statement that stated:
My husband has repeatedly verbally abused and humiliated me during the past 90 days in my home. This caused me to suffer great emotional distress.
No one has ever imagined, once given an example of an ideal couple would turn down their relationship into that level.
What Caused Samantha Lewes Death ??
After Samantha split up with Hanks, she rarely got any media coverage. Hanks got the custody of his two kids. And the kids were hardly captured sharing any cozy moments with their mother!
However, on March 12, 2002, news broke on the demise of Hanks ex-wife. Samantha was no more with us!
The cause of death was revealed as bone cancer. Tom did his best to cure his ex-wife. He took care of her medical bills and also brought specialists for her case. But the efforts were for no avail as the destiny had already been written.
Who can win against fate? She passed away in the same year when her son received his first award nomination for his role in Orange County.