Alexandria Ocasio-Cortez is the American Activist and Politician who made the history by defeating the New York Democratic Congressman Joe Crowley in the New York's 14th congressional district. Appointed as US Representative for New York's 14th congressional district on January 3, 2019, she is the youngest woman ever elected to Congress. Raised in Puerto Rica, Alexandria has got a degree in international relations and economics. Just before her elections, she was working as a bartender to help her family dealing with financial crisis.
The young talent has definitely got the limelight after her historic win against the fourth most powerful Democrat. So, who is she? To get your answer, just have a look into our post.
Alexandria's Early Childhood and Academia
Alexandria was born on October 13, 1989, in the Bronx, New York City. Ocasio-Cortez comes from a Puerto Rican family in which their parents' oblation has been rewarded by their daughter's earnest endeavor. She was raised in the Bronx by her parents. Up to the age five, she lived in an apartment in the neighborhood of Parkchester with her family. Later on, they shifted to Yorktown Heights, a suburb in Westchester Country.
Alexandria Ocasio-Cortez attended Yorktown High School. During her tenure in the school, she won multiple prizes including the second prize in the Intel International Science and Engineering Fair for the research project "Effect of Antioxidants on C.elegans' Lifespan'. Likewise, she also participated in the National Hispanic Institute's Lorenzo de Zavala (LDZ) Youth legislative session where she showed her public speaking quality. In 2008, her father died due to lung cancer. During that period, Alexandria was sophomore at the Boston University and worked as an intern for Ted Kennedy in the immigration office of US. In 2011, she got a degree in international relation and economics from the Boston University.
Career Breakthrough
After graduation, she came back home and became a community organizer. However, to support her family indulging from financial crisis after her father's demise in 2008, Alexandria worked as a bartender and waitress in Manhattan. In 2012, she established a Brook Avenue Press that published the books portraying the Bronx in a positive manner. Similarly, before making her career in the politics, she also worked as a lead educational strategist at GAGE, Inc. She was also an Educational Director at the nonprofit organization National Hispanic Institute.
She took her step towards the politics when she organized a campaign for Bernie Sanders in his presidential campaign in 2016. Her visit to North Dakota land inspired her to start her own community campaign where she saw others 'putting their whole lives and everything that they had on the line for the protection of their community'.
Her upbringing also helped her campaign into politics. In an interview with Elite Daily, she told;
"Politics were talked about at the table every single day. It's the culture. In Puerto Rico, you talk about politics all the time, even when people disagree'.
After her hard work and dedication, she won the Democratic primary race for the US and became the Representative for New York's 14th District Primary. She was encouraged by Brand New Congress, a group founded by former Sanders presidential campaign to stand against Crowley in the District Primary. Even Sanders congratulated her in a tweet following her primary victory.
Congratulations to @Ocasio2018 on her extraordinary upset victory tonight! She took on the entire local Democratic establishment in her district and won a very strong victory. She demonstrated once again what progressive grassroots politics can do.

— Bernie Sanders (@BernieSanders) June 27, 2018
Her victory is one historic moment in the story of the Democratic Party. Alexandria Ocasio-Cortez was one of the youngest nominees for the Congress. She was just 28 when she filed against Crowley in the election. Besides, she was the first Democrat to challenge Crowley's seat in 14 years. She shocked many New York politics, including herself, when she came out of nowhere to defeat 10-term Republican Joe Crowley. At 29 years old, Alexandria became the youngest woman elected to Congress in the November 2018 midterm elections.
The victory made her the national face of the young, discontented Democrats. She said 'This is not an end, this is the beginning' during her victory speech.
Although her tenure as a congresswoman has been short, she has already made headlines for attacking fast checkers for False Equivalency.
Alexandria Ocasio-Cortez's Campaign
The community campaign organized by Ocasio-Cortez focused on universal healthcare, tuition-free college, employment, and immigration and criminal-justice reform.
After her victory, she defined her campaign by saying;
'Our Campaign was focused on just a laser-focused message of economic, social and racial dignity for working-class Americans, especially those in Queens and Bronx.'
During her campaign, she garnered support from Cynthia Nixon. Aside from Nixon, she was also supported by a bevy of liberal groups that included Move On and Our Revolution.
Personal Life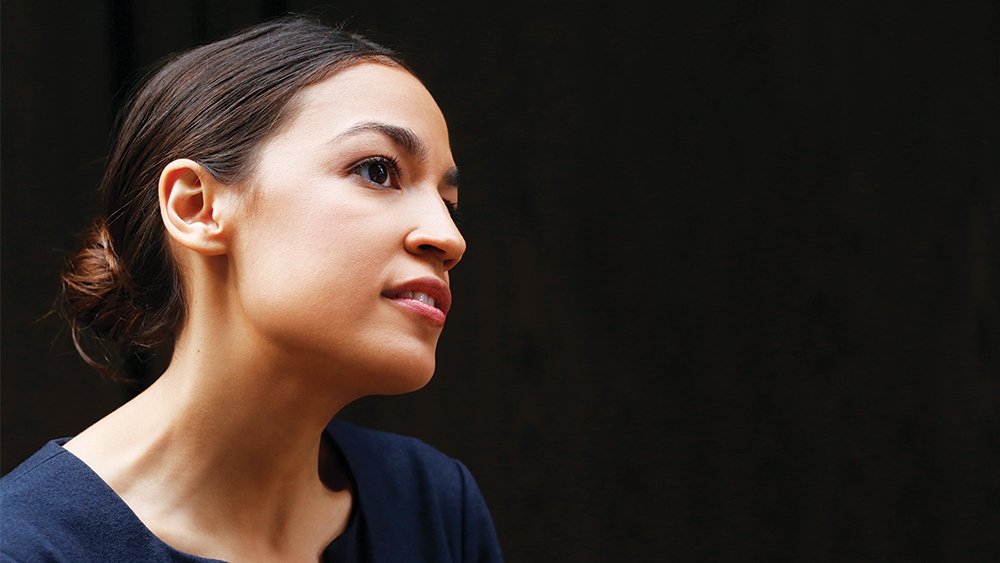 The 29-year old, youngest congresswoman comes from a family in Puerto Rica where her grandfather lived in a nursing home. Unfortunately, her grandfather died due to the Hurricane Maria which led her parents to move to the USA for a better life. Alexandria's father was a Bronx native whereas her mother is Puerto Rican.  In 2008, her father died following lung cancer while she was continuing her degree at Boston University. After the demise of her dad, she worked as a waitress and bartender to support her family from financial hardship.
Alexandria Ocasio-Cortez gives credit to her Catholic faith for her life changing decisions and campaign for Criminal Justice Reform in the US. Likewise, at a Hanukkah party conducted by 'Jews for Racial and Economic Justice,' she told that she has Sephardic Jewish ancestry. However, her family does not practice the faith.
The shining political star has a massive fan following. She has hit the headlines with her massive win against Crowley. Ocasio-Cortez is available on Facebook, Twitter and on Instagram. She racks around 2.64 followers on Twitter (@AOC) and 2 million followers on  Instagram. She uses the social media platform to express her thoughts on the emerging issues and agendas.
Talking about her net worth, she hasn't disclosed her earning to the media yet. However, with her success in politics, we can assume that she is able to live a lavishing lifestyle.