Seems like Billy Joel is quite a ladies man. The guy referred to as the "Piano Man" has been married four times in his life. And, his fourth marriage came as a big surprise to his fans when he tied the knot with "Alexis Roderick" on 4rth of July 2015. The 5 times Grammy winner has probably stuck a gold finally after three failed marriages. Amid 33 years age gap, the couple have held it together for 11 straight years.
But unlike Billy's former partners, Alexis Roderick is a relatively unknown figure. So, here is what we know about the former "Morgan Stanley" hedge funder.
How old is Alexis Roderick?

38. Alexis is 33 years younger than husband Billy Joel who is 71.

How did Billy meet Alexis?

They met at a restaurant in Huntington. But they started as friends before they started dating in 2009.

When did Alexis and Billy get married?

4th of July 2015.

How many kids does Alexis have?

Two daughters. Della Rose Joel (4) & Remy Anne Joel (2)

What does Alexis do for a living?

She is a former executive at Morgan Stanley. However, she is more into horses these days, and works as an equestrian.
Alexis Roderick's Early Life
Ironically, Alexis Roderick was born at the exact year when Billy Joel decided to go separate ways with his first wife Elizabeth Ann Weber in 1982. Alexis who came into the spotlight after her involvement with Billy Joel hasn't shared anything related to her family background yet.
However we know that she has an Irish descent to her.
During an interview, she revealed, "I have Irish in me," she said. "It is my grandmother's father who is Irish. My mom's maiden name is Bridges."
She attended Stony Brook University. And, She holds a degree in Politics, Economics, and Latin American Studies. 
How did Alexis Roderick meet the 5 times Grammy Winner Billy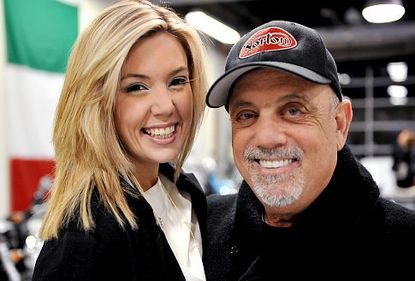 According to NY Daily News, the two first met at a restaurant in Huntington in 2009, where Alexis was working in a nearby office.
"He was going to dinner. I wasn't," she says."And we were friends for a while before we started dating."
At that time, Alexis was working as a hedge funder at Morgan Stanley. Thirty three years that's the age difference between Alexis and her pianist husband Billy Joel. But, when one truly falls for someone, the age gap doesn't make a difference. Alexis and Billy are true examples of this.
Alexis and Billy's Surprise Wedding 
"You can have all the money in the world, you can have mansions, you can have properties, you can have yachts, you can have limousines, you can have motorcycles," Billy told Schruers. But without love, "it doesn't mean a goddamn thing."
This is the exact philosophy Joel has been grown with. He always wanted to have the love of his life beside him and he always dreamt of having a family.
So after dating for six years, Billy finally decided to unveil a new chapter in his life. The couple in a surprise ceremony exchanged vows on fourth of July 2015 at Billy's private estate on Long Island. According to People Magazine, the guest at the party didn't know the couple had planned to exchange the vows.
The wedding was presided by the likes of New York Governor Andrew Cuomo who was a long time friend of Joel. Roderick looked gorgeous walking down the aisle in a strapless ivory beaded wedding dress. Billy's daughter Alexa Ray, who also was the maid of honor for Joel's third marriage gave the wedding speech.
What made this wedding more special was their unborn baby daughter. Alexis was already 8 months pregnant when she married Joel. 
A close source revealed that "Billy was absolutely on the moon to become a dad once again."
Prior to marrying Roderick, Joel was married three times. In his early 20s he Elizabeth Weber who was the wife of his bandmate Jon small. The two allegedly had an affair which resulted in Small and Weber's divorce. Joel and Weber married in 1973 and after nine years of togetherness, they called it quit.
In 1985, he got married for the second time with supermodel Christie Brinkley. The couple has a beautiful daughter named Alexa Joel ray from their marriage. They legally parted their ways in 1994.
Christie who was also present in Joel and Roderick marriage had this to say:
"Congratulation to the glowing bride and groom. And also to my daughter Alexa who has got a wonderful friend in Alexis"
A decade after, Billy exchanged vows for the third time in a row with Katie Lee. But, unfortunately, this marriage also didn't last long and they parted their ways on June 17, 2009.
So, after three heartbreaks, a number of songs, and millions lost in divorce, all looks shiny for the "Piano Man."
Mother to Two Daughter: Della Rose & Remy Anne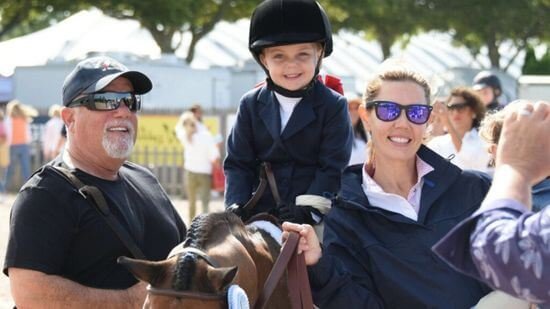 A month after getting married, the couple welcomed their first daughter on Wednesday, August 12, 2015. They took it to Billy's Official site to reveal the news. She was named Della Rose Joel. Upon her arrival, Joel expressed his happiness:
"I am gonna spend a lot of time with this kid. I was thinking about that. Probably going to be able to spend more time with this kid than most people are able to spend with their children, because I don't have a regular job. I could be a stay-at-home dad for as long as I can stay alive."
During a 2018 concert, Billy brought two of his beautiful daughters Alexa Ray and Della to perform at the stage. The adorable Della sang his father's 80's hit song "Don't ask me why" along with her mother Alexis Roderick Joel. 
In August, 26, 2019, Della performed as a leadline at Hampton Classic Horse Show.
Here is the sneak peak of what went down that night:
After two years, Alexis and Billy Joel were blessed with another child named Remy Anne Joel on October 22, 2017. Billy took the help of the Instagram post to reveal the news to his fans and well-wishers. Talking about his parenthood experience, Billy said that he take his grandfather as a role model and he loves being a father. 
Alexis Roderick is an Accomplished Equestrian
Alexis breathes and lives horses. As per reports, she is also an active member at the United States Equestrian Federation. In Jan 25, 2018, her husband  purchased a 5 acres horse ranch worth $3.5 million in Wellington. 
A close source to Roderick also revealed,"This purchase was all about her. He owns horses. She rides. She wanted a place for herself." The "Uptown Girl" singer also reportedly spends quite a time at Celebrities equipped Equestrian functions in the horse crazy village. 
Talk about being part of your wife's interest. Don't we just adore Billy!
Before crossing her path with Billy, Alexia worked for Morgan Stanley as the hedge funder in the Garden City. 
Where does the Joel Family Live?
At the moment, Alexis is enjoying a lavishing lifestyle with her husband Billy Joel at their Oyster Bay mansion in Center Island. The couple have been living in the mansion after a while they started dating. However, Joel had many other properties from Florida, Miami Beach to the coast in Manalapan. 
In January, 2020, a news surfaced about a burglar breaking into Oyster Bay mansion wrecking dozen of motorbikes in the process. According to a police source the mansion is on sale despite it not being listed!
Who is Alexis Roderick's Husband, Billy Joel
William Martin Joel AKA Billy Joel is an American singer, songwriter, composer, and pianist. Nicknamed as the "Piano Man", Billy has been in the music industry since the 1960s. He started his music career with the album 'Echoes' which was later renamed as the 'Lost Souls'. Billy is regarded as one of the most promising recording artists in the Hollywood industry.
He has even won the "Grammy Legend Award" in 1990 for the album Glass House. Throughout his career till now, he has given many hits like Streetlife Serenade, The Stranger, 52nd Street, Uptown Girl, River of Dreams, and the like.  Billy Joel's song "Piano Man" took him to the top of stardom.
In short he is a hall of famer and one of the greats of his generation.