While the 90s was the time when we saw quintessential movies like "Forrest Gump" and "Shawshank Redemption" embarking the cinema world, we as millennial kids were laughing our socks off from the antics of a bunch of kids in "The Little Rascals."
I mean don't you just go Hey, I've got a pickle every time you see one of the greens? And, what about the cute chemistry between the two main characters, Darla and Alfalfa? No matter what the critics say, we as younger generations absolutely fell in love with the characters.
Although Bug Hall (Alfalfa) went on to work for a number of huge hits after "Little Rascals," his counterpart Darla played by Brittany Ashton Holmes just slipped under the radar. So what happened to Brittany and why did she fade away from the Showbiz that once loved her so dearly?
So let me raise the toast and find out about the girl we all loved the most, Darla.
Brittany Starred as Darla in "The Little Rascals"
Brittany Ashton Holmes was born on February 27, 1989, in Los Angeles, California. Like many child artists, she was picked up by talent management agencies and hired for 1994's family comedy movie, "The Little Rascals." She was only 5 years old at the time of shoot!
The Little Rascals is a 1994 American black comedy produced by Amblin Entertainment. This movie was an adaptation of many short films collectively known as "Our Gang" which was created by Hal Roach in between 20s and 40s. The Five years old Brittany was cast as Darla, the love interest of little Alfalfa who tries to win the Darlas's heart. Darla and Alfafa ended up being one of the cutest Hollywood onscreen couples.
Even in this small clip, we can see how Alfalfa is singing his heart out in a nonchalant way just to get the attention of Darla while the neighbour kids look around in disbelief. And what about that adorable kiss at the end?
Although the movie wasn't well-received by critics it grossed over 67.3 million dollars and has become a classic with a lot of following. And the characters played by Brittany and Bug hall were well received by the audience. She even earned the Young Artist Award under the category 'Best Performance by a 'Youth Ensemble' in a motion picture.
Brittany's Career as a Movie Star was Short Lived
While Alfalfa went on to be quite a star bagging over 30 movies down the line, Brittany went south with her film career. She did appear in a few movies and commercials but sadly that's how far she got in her career. And, eventually, fade away from the industry.
After the success of 'The Little Rascals', she went on to appear in a TV commercial for McDonald's in 1995. The commercial featured her and her TV family enjoying their fast food meal and admiring their happy meal toy treasures.
She also appeared in the episode "$5000" of Ellen that aired in March 22,1995. The series starred Ellen DeGeneres in the lead role. Brittany played the role of a little girl named Julie in that episode.
After appearing in a couple of projects that aligned with her previous image of innocence, she started taking on projects that diverted a lot from what she did in The Little Rascals. At the age of six, she appeared as "Dana" for the episode "Divorce, Divorce" in an erotic drama series called Red Shoe. Her role in the drama series was innocent. But, being part of a steamy adult series took a lot of her fans by surprise.
She then had minor roles in more scarier projects like the low-budget remake of the horror classic Humanoids from the Deep (1996) as the girl on the boat and the sci-fi thriller flick The Humanoids (1996) as Amy Carver. In the same year, she also appeared in a crime called Death Benefit playing the role of Cynthia Coates. All of these roles were very risky choices given her age and maybe that is why at the end of the year she retired from acting.
Holmes is Leading a Normal Life Away from Limelight: Bidding Farewell to Acting
Brittany Ashton Holmes stayed away from the spotlight and enjoyed living like a normal teenage girl. She graduated from high school in California and it was reported that she really enjoyed playing soccer for the school team. She then went to college to study political science. For a while, she was very active in her MySpace account where she reportedly claimed:
"I was an actress when I was little and did this movie called 'The Little Rascals'. It's, like, really embarrassing to watch and I don't want to act anymore".
From this, we can know how much she clearly did not want any projects related to Hollywood.
It was reported that Holmes previously worked at Northside Family Ent and currently works at DJ Hiclipse. In 2014, she also did a guest appearance as Townslady Britt in the short comedy movie 'We Hate Paul Revere'. But that's it as far as her acting career is concerned.
Convincing Brittany To Appear in 'The Little Rascals Reunion' Was Difficult
After staying away from the spotlight for more than a decade, Brittany Ashton Holmes made an appearance for the reunion of 'The Little Rascals' on September 3, 2014. For the 20th anniversary of the movie, Los Angeles-based production company 22 Vision got all the actors back together to recreate some of the most memorable images of the movie.
Brian Pocrass who is the founder of 22 vision said that it took a domino effect to bring back all of the cast members but Brittany was especially hard to convince. He said that since Holmes had gone off the grid, it was very hard to reach her. Like many other child actors, she was also very guarded when she first spoke to him and eventually agreed to the project.
We are really happy that she decided on being part of this reunion photoshoot. They even recreated the iconic poster for the movie. Apart from this, we also knew what she enjoyed in the movie. She mentioned in the interview during the photoshoot that she really loved wearing that red sparkly dress that she wore for the carnival talent show to sing a duet with Waldo in the movie. She said that the whole movie was a dream for her.
Britney Spears Talks on Having Similarity with Brittany Ashton Holmes
In a recent post shared by Britney Spears on her Instagram, she mentioned the similarity between Holmes and her. She admitted that she often used to look directly at the camera when she was young like Ashton. The video shows little Darla being constantly instructed not to look directly at the camera while giving the shot. The clip reminded Spears of her own childhood while she was performing live on "The Mickey Mouse Club" when she was eight years old. Britney shared the video with the caption that wrote:
When I was on the Mickey Mouse Club they used to use a spot for me beside the camera so I would stop looking at the camera. I would always get in trouble just like her and her name is Britney too. Yes, I know hers is spelled Brittany!!! I saw this and laughed so hard yesterday.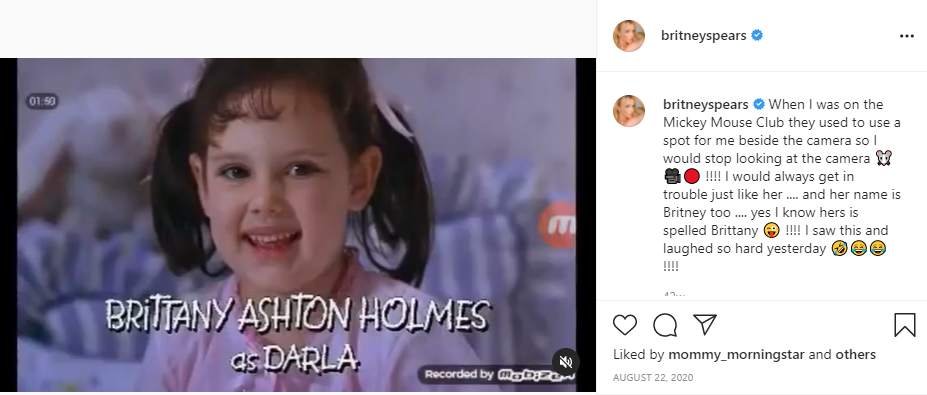 Where is Brittany Holmes Today?
Brittany Ashton Holmes is one of those child actors who had one major role in a movie and then disappeared from the spotlight in search of a normal life. Hollywood spotlight for some people is too much to handle and for a 5 years old child that might have been even more difficult. So, not much is known about her personal life. After appearing in some movies and tv shows, she completely discarded her career as an actor. She is not very active in social media too.
As for her relationships, some sources claim she is already married and some say she is still single. So, it is rather speculative regarding her relationship status. She reportedly still lives in Los Angeles where she also did her high schooling. It's also said that she was pretty good as a soccer player for her team. According to her unofficial Facebook page, she is pursuing a degree in Political Science. However, that page was created in 2010 and since hasn't been updated. So our guess is as effective as yours.