After passing through two failed relationships, the Oscar winner Jennifer Lawrence has finally found true love in the eyes of Cooke Maroney. Cooke Maroney has never planned to take the internet by storm. But, as soon as the news of his link-up with "The Hunger Games" actress became viral, people started digging about him. Her fans are curious to know about this mystery guy. Here we reveal to you every little fact related to Lawrence's fiance Cooke Maroney.
Early Life Before Fame
Cooke was born in 1985 to parents James Maroney and Suki Fredericks. The exact date when he celebrates his birthday is unknown. He was born in Manhattan, New York. His parents decided to move to Vermont when he was just two years old. As per the medium, his parents were tired of city life. So, they decided to adopt the rural life far away from the city tantrums. Maroney's mother stated:
"I had to choose between working and having someone else take my kids to the park, or go to the park with all the nannies…it was a strange child society there. You didn't have families who were spending time together."
Born in Manhattan, he grew up in the lap of nature at Oliver Hills, Leicester, Vermont. Growing up, Cooke enjoyed the rural lifestyle. He must have got all the facilities a normal child would dream of as his parents were rich enough to meet his demands.
Throwing lights on his education history, he attended Middlebury High School, Vermont. After graduating from high school, he joined New York University to study art history.
Cooke's Parents Adopted a Rural Lifestyle after his birth
Cooke's father James Maroney was in the art business before he moved to Vermont to adopt the rural lifestyle. He used to work as an art dealer in Manhattan. James has served as the Head of American Paintings at Christie's and Sotheby's. When he moved to Vermont, he still continued his job in the art world. He used to split his time between the farm and Manhattan. James was very passionate about his work. He used to wake up early at 3.30 in the morning to either work on the farm or travel five hours to the South. Recalling the time, James shared his experience:
"The separation was important because I could feel my brain turning around on the trip. As I left the farm and all the way to Albany I'm wondering if that particular cow had a calf and remembering I have to call the tractor repair…and as I got closer and closer to New York I would pick up on the things I was doing in the art business, so by the time I reached New York the farm was behind me."
Cooke's mother Suki had attended Colorado College. While in college, she worked at a natural foods restaurant. This has helped her a lot to get familiar with organic foods. When the family arrived in Vermont, Suki involved herself in the farming business. Though she was not attached to large-scale dairy farming, her husband helped her a lot.
James had worked at Martha's Vineyard when he was young. The couple has left serious farming days far behind by now. Currently, James is continuing in the art business. Suki also has involved herself in the art business along with managing the farm. She takes care of paintings at the Shelburne Museum.
Cooke Maroney has a younger sister named Annabelle. Nothing about her is known except the fact that she has a blood relationship with Cooke.
Cooke Maroney Works in the World of Art
Maroney has inherited some characteristics from his father James. He has pursued a career in the art business following in his father's footsteps. Currently, Cooke Maroney works as the director of New York City's Gladstone art gallery. He has made a good relationship with many high-profile artists including Carroll Dunham, Matthew Barney, Anish Kapoor, and Ugo Rondinone. Moreover, previously he worked at the Gagosian gallery soon after his graduation from NYU. An unknown source closed to The Cut revealed that though he is not a big player in the art world, he has definitely made it well in the business. The statement goes like this:
"He's definitely respected. He's not a big player, but he's a player. I'd say he understands what good art is, as opposed to a lot of art dealers who just like to go to parties and do deals."
Cooke has done well for himself in the art market. It is not known how many years he has spent in this sector. But, he has definitely excelled in the art world by now. In 2015, he gave an interview to the Artsy where he talked about online art sales.
"In the art world, the way information is shared is rapidly changing. A growing group of internet-savvy collectors are searching for art online with galleries eager to provide it."
Cooke was often seen attending "high-end art openings" around New York. On 28th October 2011, he was spotted at a free-spirited end-of-summer party hosted by Fabiola Beracasa-the creative director of The Hole gallery. Cooke took the internet by storm when he was involved in a romantic relationship with Jennifer Lawrence.
His Relationship with Jennifer Lawrence Made Headlines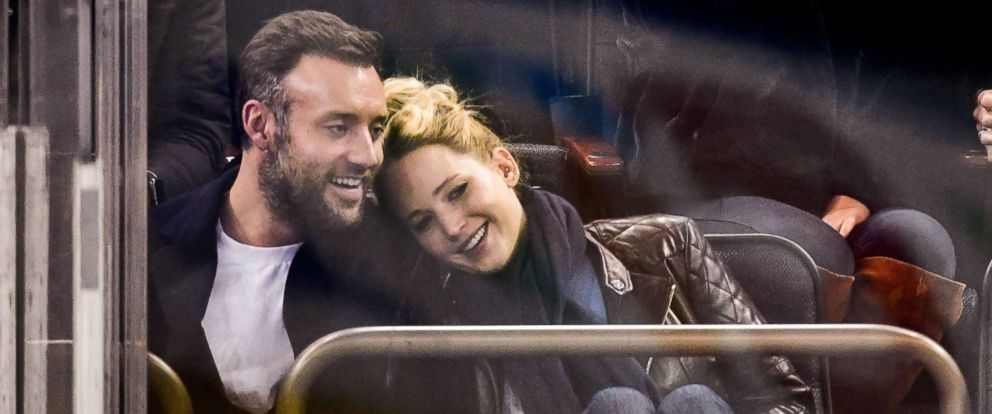 Jennifer Lawrence has struggled through some failed relationships in the past. She has before dated Nicholas Hoult and director Darren Aronofsky. But it seems like Jennifer has finally found true love in the eyes of Cooke Maroney. Page Six first broke the news to the public about their secret dating. Lawrence and Maroney were seen together in June 2018.  The tabloid reported that they were first introduced to each other by Jennifer's best friend Laura Simpson following her break-up with Darren Aronofsky. A source told Page Six:
"They met through Jen's friend Laura. The relationship has been growing on a few weeks. But they have been very private and careful not to be seen together."
The couple was seen together for the first time when they were enjoying dinner in New York in June 2018. Jennifer and Cooke both seemed to be very private people. They rarely make public appearances together. The couple has taken their relationship one step ahead by exchanging the rings with each other. The news may break the heart of her die-hard fans but, it's true that she is finally engaged to Cooke.
He Got Happily Engaged with Jennifer
The engagement news of the Oscar winner and the art dealer created a buzz in the industry. The duo got engaged in February 2019. Speculations circulated around the media when she was spotted out with a ring. An eyewitness saw the actress and told Page Six:
"It was a giant rock. They seemed like they were celebrating and people were talking about it. The ring was very noticeable."
The further source added:
"They were sitting back in the corner. She was wearing a cute black dress with white polka dots."
At first, it wasn't clear whether the couple was really engaged or not as both of them remained tight-lipped. Nevertheless, Jennifer finally broke her silence. At the premiere of Dark Phoenix, she talked about her engagement with Entertainment Tonight. She gushed about her boyfriend turned fiancé Cooke Maroney. She told:
"Well, he's just the best person I've ever met in my whole life. It was very, very easy decision."
The post-engagement celebration was held at the River Café in Brooklyn, USA. The couple rented the entire restaurant for the party. The decoration was amazing. The couple's close friends and family attended the party. Lawrence's good friend Emma Stone was among the ones.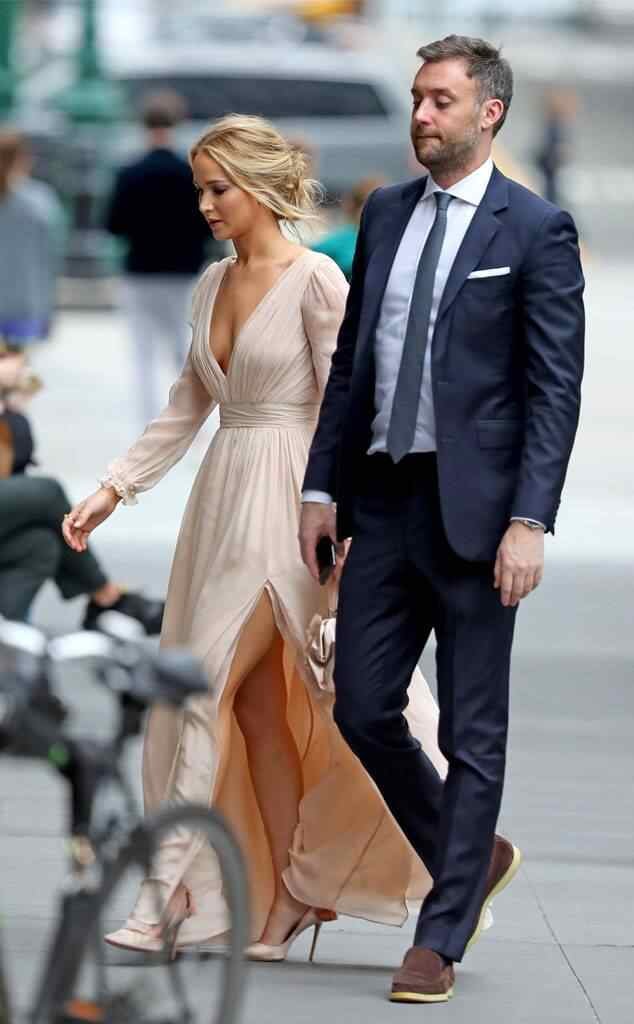 Lawrence was wearing a sleeve bush gown designed by L.Wells Bridal for her special night. Her stylists Jill Lincoln and Jordan Johnson shared a photo of the bride-to-be with the caption:
"We couldn't be happier and more excited for #jenniferlawrence to become a #MRS. This weekend we toasted Jen and her groom to be…too good of a time was has by all."
Cooke Maroney and Fiance Jennifer Lawrence are Officially Married
Actress Jennifer Lawrence and her art gallerist fiance finally tied the knot on October 19, 2019, in Rhode Island. A month prior to the event, the couple was spotted at a New York City marriage bureau obtaining a marriage license. The ceremony was private but was attended by many A-list celebrities like Amy Schumer, Emma Stone, Bradley Cooper, Ashley Olsen, Kris Jenner, Adele, Sienna Miller, and Cameron Diaz. The couple is now expecting their first child.
Maroney and Jennifer are Parents of a Baby Boy
The duo welcomed their first child together in February 2022. Since the arrival of their newborn child, they have been living a low-key life to protect the privacy of the kid. In an interview with Vanity Fair, Lawrence said:
If I was at a dinner party, and somebody was like, Oh, my God, you are expecting a baby, I wouldn't be like, God, I can't talk about that. Get away from me, you psycho! But every instinct in my body wants to protect their privacy for the rest of their lives, as much as I can.
She added:
I don't want anyone to feel welcome in their existence. And I feel that just starts with not including them in this part of my work. 
Though Sam and Lawrence both tried to hide the gender of the baby, Ellen DeGeneres accidentally revealed the gender while interviewing Jennifer on her show. During the interview, Ellen said:
I do hear you sometimes talking to him and it's really cute.
Ellen's statement clearly pointed out that Jennifer's first child with Cooke is a boy. Until this point, both of them had been tight-lipped about the gender of their baby.
Maroney's Past Affairs: Who Before Lawrence?
Prior to Lawrence, the handsome guy shared a romantic relationship with other famous people in the past. The tabloid reported he dated the media personality, Paris Hilton. While digging up about his relationship, we discovered that he had shared a romantic relationship with Us Vogue editor Anna Wintour's daughter, Bee Shaffer.
How Rich is Cooke?
Cooke Maroney has been involved in the art business since a long time ago. He works as the director of Gladstone Gallery. He must have collected a big amount of money from his job and maybe played in millions. However, just like many secrets of his life, his exact net worth is still a mystery. Meanwhile, his girlfriend Lawrence has an estimated net worth of $130 million.
If you are thinking of following your favourite actress's fiancé on social media accounts, then drop the plan right now. You will be disappointed to know he isn't a social media enthusiast and is a very private person. He only has an Instagram account that is too private. He won't accept your request until your name is Jennifer Lawrence.