An emotional heartbreak led a princess to fall in the arm of Mr Right and she lived happily ever after. This seems like the plot of the story from a movie or a novel. But, this story is real and belongs to multiple award-winning iconic actress Meryl Streep. When the actress was weeping for her boyfriend John Cazale who died long cancer, she finally found her soulmate, Don Gummer. Though she wasn't sure about Don at first, she decided to hold his hands following her heart and rest is all history. So, who is the man who won the heart of actress Meryl Streep?
Here we break the story of Don Gummer, a sculptor by profession, however, everyone's favourite for being the husband of Meryl Streep.
How did Don Gummer meet his wife Meryl Streep?
While Don and Meryl's love story is a happy one, their love story began in unfortunate circumstances. Streep was mourning the death of her boyfriend actor John Cazale in 1978 when she met Don for the first time. As per her biography "Her Again: Becoming Meryl Streep", Streep was thrown out of the apartment she shared with Cazale after his death. Shortly after that, Streep moved to Canada to live with her friend.
Her brother Harry came forward as a helping hand alongside his friend Don Gummer to help her come out of the grief. That's when the duo had their first encounter and then the rest is all history.
Meryl found a friend in Gummer who understood all her pain. The duo then started bumping into each other more often. While Gummer was leaving the country for travelling, he invited Meryl to stay in his Soho loft. Rattling around Don's apartment, Streep started thinking about him and they started writing letters to shorten the distance between them. However, grieving Streep was still not ready to start a new relationship.
But, when a recently widowed friend encouraged her to spend more time with Don, she was sure about her feelings and eventually hookup up with Don Gummer.
Whirlwind Romance Turned into a Long-Lasting Marriage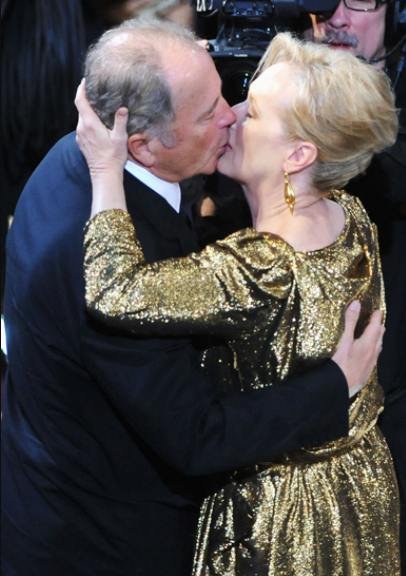 Gummer and Streep didn't take long to decide they were the right partners for each other. Gummer gave her the strength to overcome the pain of losing her loved one. In the process, he couldn't stop himself from falling in love with the diva. In an interview, Gummer commented:
Meryl was shattered by John Cazale's death and I did what I could to help and pretty quickly I realized I was falling in love with her.
After six months of dating, Don Gummer and the actress went on the journey to happily ever after. The two got married in an intimate ceremony on September 30, 1978. The wedding ceremony was held at Streep's maternal home on Mason's Island, Connecticut in the presence of close family members. Streep's mother has shown a little concern regarding the speed of their relationship. Regarding this, Streep said:
"I haven't got over John's death, but I have got to go on living and Don has shown me how to do that."
Though the outsiders were still doubting their relationship, Don and Meryl were pretty sure about the decision. They now have completed 42 years of togetherness passing through every up and down together. The couple has extended their family by welcoming three daughters and one son who are all serving on the public platform.
Don Gummer and Meryl Streep Are Parents to Four Children Namely Henry, Mamie, Grace, & Louisa
Don Gummer and Meryl Streep are parents to three children Henry Wolfe, Mamie Gummer, Grace Gummer, and Louisa Gummer. All of them have inherited the genes of their talented parents. The Gummer siblings have managed to keep the spotlight on them as they all have started their respective careers in the entertainment industry.
The eldest among them Henry Wolfe is a renowned musician in Hollywood. While all of his sisters have caught the acting bug, Wolfe decided to try something new. However, he did spend his two years learning acting at New York University's Tisch School of the Arts though it didn't work out. He started his career with his band Bravo Silva which got dissolved a year after. He then released his first solo EP in 2009 which was liked by many. Wolfe is credited for projects like Linda Vista, Aslimor, and Stop the Train to name a few.
Mamie Gummer is an American actress who made her debut in the movie industry as a toddler in the movie Heartburn has now appeared in many projects. Mamie is known for her role in movies and series like The Hoax, Evening, John Adams, The Good Wife, The Lightkeepers, Off the Map, Manhattan, Ugly Lies the Bone and many more.
Though she has witnessed success in her professional life, she isn't so lucky when it comes to personal life. Mamie was married to actor Benjamin Walker for two years before parting their ways in 2013.
Likewise, Mamie's younger sister Grace Gummer has also shown her charm in Hollywood. She is an actress known for movies like Larry Crowne and The House of the Spirits. Apart from these, Grace is also known for her Broadway debut 'Arcadia'. For her performance, she won a Theater World Award in 2011. Besides, she has also starred in many television series like The Newsroom, American Horror Story: Freak Show, The Hotzone, Dr Death, A Teacher, and the list continues.
The youngest member of the Gummer clan, Louisa Jacobson Gummer has tried her hands on modelling as well as in acting. She has starred in campaigns for popular brands like Christian Dior. Besides, Louisa made her acting debut portraying the role of Mary Dalton in the theatre production Native Son. She has also starred in the play Member of the Wedding at Williamstown Theater Festival. Further, she is all set to make her television debut in the HBO series 'The Gilded Age' alongside Cynthia Nixon and Christine Baranski.
Don Gummer and Meryl Streep both Graduated from Yale University
Don Gummer was born on December 12, 1946, in Lousiville, Kentucky. He grew up in Indiana and went to Ben Davis High School for schooling. He then went to attend Herron School of Arts from 1964 to 1996. Likewise, for further studies, he joined the School of the Museum of Fine Arts in Boston, Massachusetts from 1996 to 1970.
Don further attended Yale School of Arts from where he graduated with a Bachelor of Fine Arts and Master of Fine Arts. Meanwhile, his wife Streep has also attended Yale School of Arts for a Master of Fine Arts degree.
Gummer is an Accomplished Sculptor
While Gummer attended Yale University, his interest in the French Philosopher Maurice Merleau-Ponty's theoretical text 'The Phenomenology of Perception' emerged. He then started to think of sculpture as a recontextualization of natural phenomenon, of unchanged things brought into aesthetic balance by choosing and placing.
Don is renowned for abstract, large-scale sculptures that seem to reach, swirl or expand upward. Influenced by the structured beauty of floorplans, he started a series of large, wooden wall reliefs in the early 1970s. As per Artdaily, Gummer debuted his first solo exhibition in 1973 at 112 Greene Street in New York City. He then began to design free-standing sculptures that integrated various metals and stained glass in the 1980s and 1990s.
His commissioned works include Primary Compass, a site-specific outdoor permanent sculpture placed at the Butler Institute of American Art in Ohio, and a fountain in historic New Harmony in Indiana. Likewise, in 2001 his masterpiece 'The Optimist" was placed at the entrance of the Preston Arys Center in Henderson, Kentucky. The artist is also known for the stainless and stained glass sculpture 'Southern Circle' placed at the Massachusetts Museum of Contemporary Art.
In recent days, he has become the talk of the town for his project "Constructing Poetry: Sculptural Work by Don Gummer." The exhibition is going to be held at the D'AMour Museum of Fine Arts which would feature large-scale sculpture as well as wall relief and maquettes from 40 years of his career. A curator of art at the Springfield Museums Maggie C.North spoke about his art and commented:
"The artist's life-long commitment to minimalism and interest in architecture is presented through the sculptural works on view. Gummer re-contextualizes the viewer's perception of space through his investigation of the principles of construction, coupled with a desire to explore the visual poetry of form."
In the years, Gummer's works have been featured in numerous public collections and have been displayed in locations from Massachusetts to Japan.
Gummer Lives a Modest Life
Despite being a popular Sculptor, Don Gummer chooses to live in the shadow away from the limelight. However, he does make public appearances with his beautiful wife Meryl Streep on multiple platforms. The couple is often spotted hand-in-hand at award ceremonies and red carpet events. The duo first appeared in Oscar Awards in 1979 when Meryl was nominated for the 'Best Supporting Actress Award" for the movie The Deer Hunter.
In 2012 while she was receiving the 'Best Actress Award" at Oscars for the movie The Iron Lady, she thanked and expressed her feelings for her husband Don and told:
"First, I am going to thank Don. Because when you thank your husband at the end of the speech, they plan him out with the music and I want him to know that everything I value most in our lives, you have given me."
Meryl and Don are still together after more than four decades of marriage and are still counting. We must say they are one of the most iconic couples in Hollywood.