Hailey Baldwin is an American model who got her fame and stardom paved by being born in the famous Baldwin family. She has worked with famous high-profile modeling agency 'IMG Models'.  The daughter of Stephen Baldwin, was relatively under the rocks before the news broke through the surface of her tying knot with one of the sought after singer Justin Bieber. But there is more to her story than being just a honey boo of the singer. While she might have broke many of the hearts, she is a star in her own that made Bieber settle for her.
Hailey Baldwin's Childhood and Early Life
Hailey Rhode Baldwin AKA Hailey Baldwin was born on 22nd November 1996 to parents Stephen Baldwin and Kenya Deodato Baldwin. Her upbringing took place in Tucson, Arizona, USA. Hailey is the youngest among the two siblings and has an older sister named Alaia Baldwin. Alaia is a model by profession.
Hailey's  fame and stardom was paved by being born in the Baldwin family who are well established in Hollywood Industry. Her father Stephen is an American Actor, producer and an author. Likewise, her mother Kenya is a graphic designer. Her maternal grandfather Eumir Deodata is a famous Brazilian musician. Apart from this, she is also the niece of Alec Baldwin who is widely respected in Hollywood and frequently comes in the news because of his portrayal as Donald Trumps in Saturday Night Live.
As a child, Baldwin was mostly homeschooled by her mother. Later on, she joined Eastern the Christian School Association. From her childhood days, she was passionate about dancing and has got training in classic ballet. Her early aim in life was to become a professional dancer.
Hailey Baldwin's Career From Magazines to The Runways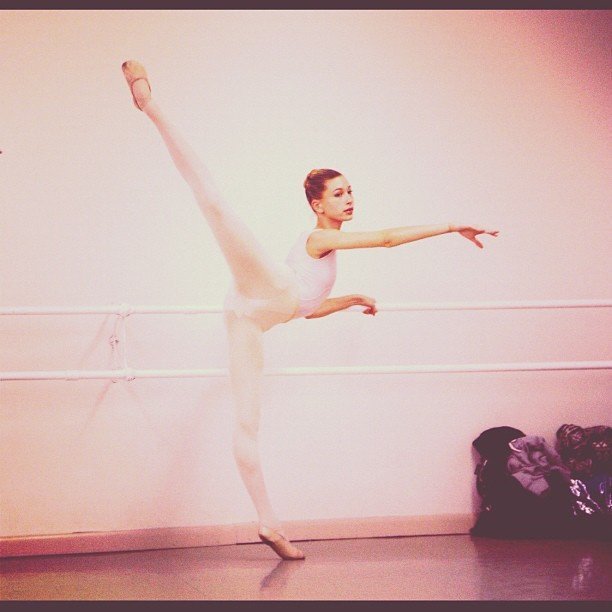 Baldwin always wanted to be a professional classic ballet dancer since her childhood. But unfortunately, she had to stop her training following a foot injury. That's when her dream of becoming a ballet dancer went into vain. Eventually around that time, at the age of 15, she started receiving modeling offers. Then she signed her first modeling contract with New York agency "Ford Models" which gave a kick start to her modeling career.
She began appearing on the cover of magazines like 'Tatler', 'LOVE', 'V 'and 'i-D'. In the winter of 2014, she joined her first commercial campaign for the clothing brand 'French Connection.'  Likewise, in 2014 she made her runway debut walking for Topshop and French fashion designer Sonia Rykiel. The same year she did a photo-session for the magazine 'LOVE', which also produced a short movie shot by photographer Daniel Jackson. This movie was released in the official YouTube channel of the magazine. In 2015, she worked with the magazine like 'Vogue', 'Teen Vogue', 'Wonderland Magazine', 'L'Officel Magazine', and the like. She has also worked in Ralph Lauren commercial along with Australian singer Cody Simpson.
Hailey Baldwin has walked the runway for designer Tommy Hilifiger as well as for Philipp Plein. Her career started to shine more when she was signed by a well-known modeling agency Heroes Models.
By the end of 2016, Hailey has been able to work with high-profile modeling agency "IMG Models". Till now she has appeared in popular magazines like Marie Claire, ES Magazine, Glamour Magazine, Self Magazine, Harper's Bazaar, Elle, and so on. Her modeling contract went on increasing with the passing time.
Along with modeling, she has also made a few appearances on television. In 2015, she worked as a host at the MTV Europe Music Awards held in Milan, Italy. She has appeared on the popular show 'Saturday Night Live' in 2009 in a cameo role. Hailey Baldwin has appeared in two music videos yet. In 2011, she appeared on the song "On My Mind" as the love interest of Cody Simpson, the popular Australian singer. Later, in 2016, she appeared in the music video 'Love To Love You Baby'. Likewise, in 2017, Hailey launched a product line for Aussie Makeup Brand Model and Co. She has also recently been the face of Pretty Little Things holiday campaign.
In 2016 and 2017, Hailey Baldwin was nominated for the Teen Choice Awards. As of now, she has been more in the news for her relationship with Justin Bieber than for her works.
Hailey Baldwin and Justin Bieber's Road to Love
The duo was first introduced by Hailey's dad Stephen when they were very young in 2009. Justin was in a relationship with Selena Gomez back then. As he broke up with Selena, Hailey and Justin crossed each other's path and got into relationship. In January 2016, they made their relationship official posting a blurry but iconic picture on Instagram.
After dating a couple of months, they parted their ways. But again at the end of 2016, the pair were spotted hanging out again but it didn't last long. In 2017, Justin reunited with Selena Gomez. Around that time, Hailey was also seen hanging out with rapper Drake in the town.  However, Hailey and Justin again started spending time with each other. In May 2018, the couple was spotted in multiple dates. On July 7, Justin Bieber reportedly proposed Hailey Baldwin when they were on vacation in the Bahamas.
Hailey Baldwin Engaged with Justin Bieber
Hailey Baldwin has been recently engaged with on and off boyfriend Justin Bieber. Justin proposed Hailey in Bahamas when they were on vacation on July 7, 2018. Justin Bieber used Instagram to confirm his engagement with Hailey Baldwin. He posted a lengthy Instagram post where he mentioned that he had proposed Hailey. Also in the post, he mentioned;
"The date I proposed Hailey happens to be a date of Spiritual Perfection."
Justin Bieber's father was the first to hint their relationship. On July 8, 2018, in Instagram he wrote;
"@justinbieber proud is an understatement. Excited for the next chapter!!"
The engagement ring that Justin gifted to Hailey appears to be 6 carats diamond ring that cost around $400,000.
Officially Married to Fiance of Three Months
Hailey Baldwin and Justin Bieber officially now can be called as husband and wife. The duo got married in September 2018 at a courthouse in New York City. After leaving fans in dilemma about their marital status for months, they have finally confirmed their marriage on the social media. Justin took Instagram to declare his marriage with Hailey posting a picture of Hailey that wrote : "My Wife is Awesome."
Soon after Justin burst about their wedding, Hailey couldn't stop herself from switching her last name to Bieber. She changed her username on Instagram to @haileybieber (Hailey Rhode Bieber). Though they are legally married, they are planning second religious wedding for their friends and family. They have been postponing the wedding dates due to date issues of their family members and friends. Regarding this wedding dates, a source told People;
"They are working with the schedules of all their friends and families to make sure they can be surrounded by the people they love. There's no rush."
As per some sources, the wedding is supposed to take place in April or May of this year in the presence of their close friends and family members at Justin's home country Canada.
Being a Hollywood personality, Hailey Baldwin is quite active on social media platforms. She is available on Facebook, Instagram, and Twitter. Hailey is able to earn 17.1 million followers on Instagram and on twitter, her follower counts 1.28 million. She has a pretty good number of followers, right??
As of 2018, Hailey Baldwin's net worth is estimated to be $3 million. Apart from her wedding and engagement news creating the buzz, rumors of Hailey being pregnant had also hit the media. However, this was merely a rumor and her fans still have to wait to welcome her baby.