Over the years, the Youtube beauty community has seen numerous feuds and controversies. But one of the beauty gurus who rarely got herself involved with such controversies was Tati Westbrook. That was until she uploaded her now-deleted 40 minutes long exposé video titled 'Bye Sister' about fellow YouTuber James Charles on May 10, 2019. Having shared one of the closest relationships as his mentor, in December she apparently reached out to Charles to clarify the feud. And another day goes by and yet again, she is surrounded by another round of scandal. This time, she released a new video regarding what went behind the scenes for her to film the 'Bye Sister' video and revealed that she might have been manipulated by fellow YouTubers Jeffery Star and Shane Dawson from the start.
While Tati Westbrook's professional life might be taking hits after hit, her relationship with her husband is the one thing that has remained the same throughout all the ups and downs. So who is James Westbrook who is not only a constant presence on her videos but also her biggest supporter? Let us find more about him.
FAQ on James Westbrook
How old is James Westbrook?

49 years old.

What is James Westbrook's job?

James Westbrook is said to be a businessman who also helps his wife Tati with business deals, contracts and business developmen

Who is James Westbrook's ex-wife?

Before Tati, James Westbrook was married to someone else whose name has not been revealed yet.


Does James Westbrook have children?

Yes, James Westbrook has a son Taylor with his first wife.
James Early Life Before Fame
James Alexander Westbrook was born on September 10, 1970 in Valdese, North Carolina, USA. His parents are Dr. Sidney Westbrook Jr and mother Linda Westbrook. He grew up in North Carolina along with his two sisters, Cheryl Fennell and Beth Robinson.
James Westbrook went to North State Academy in Hickory, North Carolina, and graduated from there in 1988. James along with his parents moved to Atlanta, Georgia where he reportedly also enrolled in the Georgia State of Technology for further education. His sisters on the other hand remained in North Carolina with their respective families.
In one of Tati's unboxing videos, James revealed that ever since he was a child, he doesn't like peaches. Apparently, his grandmother used to push him to eat the peaches all the time that he started to have diversion towards them.
James worked with the Media Business
While James has been private about his life and career, his wife Tati on the other hand sometimes likes to share some titbits about his life. Talking about her husband's career, she once said:
"He knows the industry through and through. He's so gifted with his view of how deals, contracts, business development… he's a master at it. I love his brilliant mind."
According to Tati, her husband James Westbrook has helped run an agency. He was reportedly the president of Magnalix, LLC that was based in Delaware and later shifted to California. Until the company's end in 2008, it used to manufacture magnetic therapy bracelets.
James Westbrook was also the president of Hollywood Entertainment Partners Inc. in the early 2000s. Tati also revealed that James was the VP of Motion Pictures that is a talent agency.
He met Tati On An Online Dating Site
James Westbrook met his future wife Tatiana through an online dating site called 'Match.com'. But they might not be together right now, had they stopped at their first date that started out as a complete disaster. In her 2012 video that she uploaded in her channel, Tati revealed the exact instances of their first date. Apparently Tati went to the right restaurant chain but missed being in the right location. She said:
"I went to Katsuya, got that part right. But I went to the wrong location and sat outside and got all miffed that he was late. But actually I screwed up and was at the wrong restaurant".
After finding out their situation, she did try to cancel the date but apparently it was their fate, they decided to go on with the date.
At this point both Tati and James were tired of online dating and were hoping that this date would be their last. In the same video she admitted:
"I said that if this didn't work out, I was taking a year hiatus from men because I had gone on so many bad Match.com dates, I was sick of it. I was like, 'I'm done. I actually tried to cancel this date. I'm sorry. You seem like a nice guy, but whatever".
She added:
"And you said the same thing at dinner. You're like, 'Yeah if this doesn't go anywhere, I'm taking a break too.' And then you said, 'Wouldn't it be cool if this was it?' And I'm sitting across the table like, 'You're a freaking psycho.' But I liked you right away."
A couple of years later, the very place where they had their first date became the place where James proposed to Tati.
Supporting Tati's Youtube Career
Seven months into her relationship with James, Tati decided to do Youtube. James was very supportive of her decision because he believed in her and knew that she would always find a way to make her talents bloom. It took her a couple of years before her channel finally started to take off and she would have a consistent revenue. Through all of this, he continued to stay with her and help her to navigate through her career.
James has also appeared alongside his wife in multiple of her videos. In her videos he is seen attempting to do her makeup, PR unboxing and many others.
He has a son 'Taylor'
James Westbrook has a son Taylor from his previous relationship. For any child, building a relationship with their parents' new partners is a difficult thing to do. Taylor too found it hard to connect with Tati in their early years.
In one of her videos, Tati delved into the early phases of her relationship where she talked about how difficult it was for her to connect with the teenage son of her significant other. She said, "Taylor was like 14 or 15 when I met him. He was a little pipsqueak, and he was a moody teenager, and he didn't want to talk to me, and I got a lot of one-word answers." She also went on to advise her viewers that are trying to navigate dating someone with kids to always be patient.
Taylor Westbrook is now in his 20s and aspiring to be a musician. He has also appeared in some of his step mother's youtube videos.
Death of his Parents
At some point during his late teens, Westbrook had moved out from his parents home and started living on his own in Marietta, Georgia. In 1994, his father passed away and despite living in the same state, he could not see him taking his last breath.
Westbrook's mother, Linda, who was one of his biggest supporters, died on April 9, 2014. His fiance at that time, Tati posted on her Instagram a beautiful picture of rainbow with the caption:
Heaven gained a new angel today. James' mom passed away this morning … It has been a long fight & although we are deeply heartbroken we are happy to know you are no longer in pain. Thank you Linda for being an incredible supporter of all of my wild ideas including YouTube & for the acceptance & love you gave to me from the moment I met you. I am honored to be a part of your family. To our funny, beautiful, strong, witty, brave, loving Linda we miss you with our whole hearts. Just didn't think this day would come so soon. Thank you for the gorgeous rainbow – we love you'. 
Their Elongated Engagement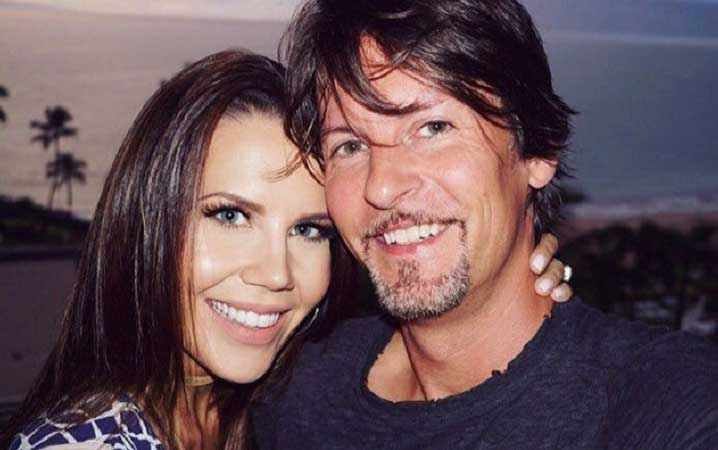 After getting engaged in 2012, it looked like the couple was getting ready to tie the knot as soon as possible. However, they went on for a long period of time without getting hitched. They decided to cancel their said wedding in 2015 after Tati's childhood best friend would not be able to make it. They even thought of eloping at a certain but decided to wait for the time being. 
Another reason why they had waited to get married was the passing away of James's mother and best friend. His best friend was supposed to be his best man for the wedding. With everything that was going on, James and Tati even had second thoughts about their marriage. Hopefully, the couple went to therapy and started to sort out their issues.
James and Tati Had a Dreamy Wedding
On January 11, 2017, the anniversary of their first date, the couple got married in a beautiful ceremony among friends and family in Maui, Hawaii. The location of their wedding was something that was approved by his late mother, Linda when she was in hospital. His son Taylor was also present in the wedding as his best man.
As of now, the couple seems to be happy and enjoying their lives. They live in Los Angeles and also have a dog named Poocah. There were rumors circulating about their issues but Tati has come forward and denied any rumors regarding the couple's fall out.
He Helped out James Charles
James Westbrook's wife Tati had taken a young James Charles under her wing and helped him to find his way into the youtube beauty community. James knowing how much Tati valued James Charles would also help him whenever he needed. According to Tati, James Charles even asked Westbrook to be his manager which he firmly denied. In her video, she said:
"My husband would spend hours on the phone, looking over contracts getting him in a better position."
Further,she added:
"We helped James Charles get into StyleHaul back when basically no one wanted to work with him because of his Ebola scandal and everyone was afraid that he was very toxic. But once again, we had his back."
Despite everything that went down with Tati and James Charles, it looks like now they are slowly patching up things between them. Through all of this, we are sure that Tati's husband James Westbrook is still supporting her as usual.