With a career spanning more than five decades, there is almost nothing that Hollywood legend Al Pacino does not have in his life. The only thing that his name is not associated with is marriage.
Throughout his career, Al Pacino has been in multiple romantic relationships but even now being almost 80, he is still living the life of a bachelor. One such romantic interest of Al Pacino was Jan Tarrant. Here we dig deep into the life of Jan Tarrant, with whom he shares his first child.

Jan Tarrant is a Graduate From Louisiana State University
Jan Tarrant's birth date is estimated to be somewhere around the mid-1950s and there is not much information regarding her early life. It is generally known that Jan Tarrant was raised in Baton Rouge, a city on the Mississippi River, the capital of the American state of Louisiana with her brother, Andy.
Jan Tarrant attended Tara high school in Baton Rouge and graduated from there in 1972. Being very much interested in higher education, Jan Tarrant enrolled at the Louisiana State University where she spent four years learning different aspects of creative writing. She graduated from college in 1976 with a bachelor's degree in her major in creative writing.
Jan is Famous for her work as an Acting Coach Since 1986
After her graduation, Jan moved to New York with a hope to sow her career in Hollywood. Tarrant initially started out her career as an aspiring writer before working as an acting coach to aspiring young acting talents. She has been helping out aspiring actors and writers since 1986 to pursue their careers through her effective workshops and classes. 
While Jan Tarrant has achieved success through her own acting classes, she has also worked with many production companies. She has worked as a production manager at The Actor's Studio in New York City. While working at another branch of The Actor's Studio in West Hollywood, she also got the opportunity to work under Polish-born American actor, director, and theatre practitioner, Lee Strasberg.
Throughout her career working as an acting coach, Jan Tarrant has managed to make quite an attractive portfolio of people she has worked with. To name some of the few, she has worked with prominent figures in Hollywood like Ellen Burstyn, Harvey Keitel, Drew Barrymore, and Al Pacino. Jan has also been known for her extensive work relationship with American actor Angelina Jolie with whom she has worked since Jolie was 12 years old.
Jan Tarrant's profile as an acting coach is growing day by day. As of now, she is busy with her acting workshops and classes that have been taking place in Class Act Studios, in New York since 2013.
Relationship with Al Pacino: Love Seed that Never Blossomed
There are hardly any inside details available about the relationship between Jan Tarrant and American actor Al Pacino. It's still a mystery how they fell in love. Since Al Pacino was one of her clients, assumptions have been made that they probably met during one of her acting sessions in the late 80s.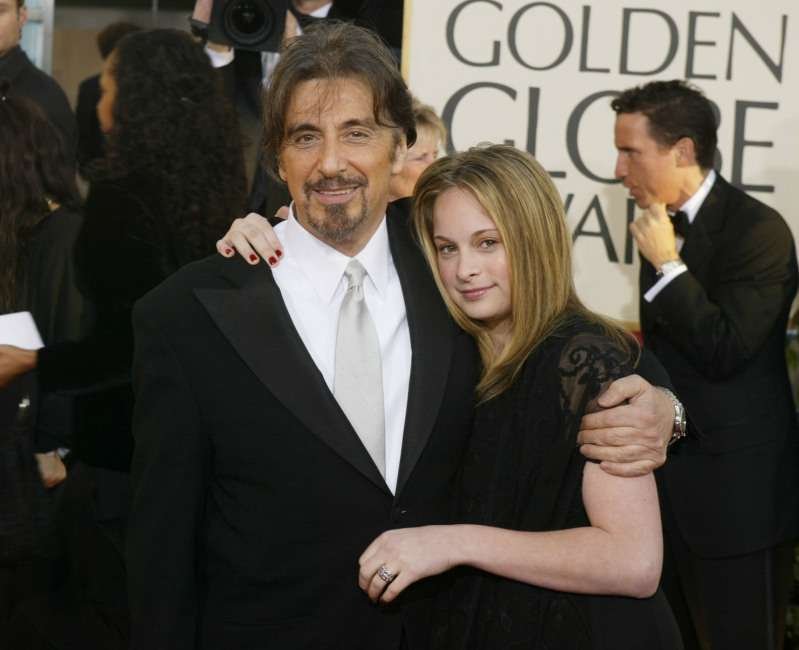 While their relationship may not have been long but were very passionate about each other. Their fling resulted in a pregnancy and the duo welcomed their first child Julie Marie Pacino on October 16, 1989. Though the duo parted their ways soon after her arrival, both of them took active participation in raising their daughter in a comfortable environment. Her daughter, Julie has also followed the footsteps of her parents' dabbling works between acting and producing. She is also regularly seen accompanying her father in different red carpet events.
Short Brief about her ex-boyfriend Al Pacino
There hardly is anything to be said about the legendary Al Pacino who has been gracing the silver screen for more than five decades. He is one of the few actors who has been awarded the Triple Crown of acting. He has won numerous accolades including an Academy Award, two Tony Awards, and two Primetime Emmy Awards.
His most popular movies include The Godfather (I, II, III), Scarface, Heat, The Insider, Serpico, Scent of a Woman, and many more. He has a net worth of 165 million US dollars. While he has remained a bachelor his entire life, he has been able to embrace fatherhood and become a doting and caring parent to his three children; eldest Julie and twins Anton and Olivia.
Where is Jan Tarrant Now: Her Life After Separation With Al Pacino?
Jan Tarrant after her breakup with Pacino has probably remained single throughout her life. There are no mentions of any significant other in her life as per her social media accounts. As mentioned in her Twitter bio, she is probably happy being a proud mother of Julie Pacino and focusing on her career working as an acting and writing coach.