Even if you haven't tied a pair of Jordan before or haven't step inside a basketball court in your life, "Michael Jordan" is the name you probably have heard like a million times. Regarded as the "GOAT" by the mainstream media, the guy was a beast when it comes to putting the ball through an iron hoop. The 6 times NBA champion has jumped high enough to touch the stars. And, when ESPN released a 10-part documentary "Last Dance" which revolved around Jordan's impeccable career, there were questions to be answered about what happened outside the court in Jordan's personal life. 
Today Jordan seems happy with his wife Yvette Prieto and it's hard for us to even imagine Jordan without Prieto. But before the Cuban bombshell was knocking the hearts of Mike, he was married and deeply in love with Juanita Vanoy. The ex-couple was married for 17 years but there was hardly anything about Juanita in his documentary. So, here we break down everything about MJ's ex-wife & mother of his three kids, Juanita Vanoy.
FAQ
Where was Juanita Vanoy born?

The ex-wife of Michael Jordan Juanita was born in Illinois, Chicago in the year 1959.

Why did Vanoy and Jordan end their marriage?

Nobody till now knows the exact reason behind their separation. As reported, it was due to Jordan's extramarital affair with Karla Knafel that led their marriage to die. However, Michael has strongly denied that.

How much did Juanita receive for divorce settlement?

Juanita and Michael's divorce was one of the most expensive divorces on record. The divorce was settled in $168 million being received by Juanita. In addition, she had also received a seven-acre mansion in Chicago.

How many kids do Juanita and Michael have together?

Three. Jeffrey Michael Jordan (31), Marcus Jordan (29), Jasmine M. Jordan (27),

Where is Juanita Vanoy now?

After her separation from Jordan, she moved to Kingsbury Estates in Chicago with her three kids. She lives in Kingsbury Estate in Chicago where she bought a manshion worth $4.7 million in 2007. Vanoy now lives a modest life learning yoga, traveling her favorite places, and collecting arts.

How much is Juanita Vanoy's net worth?

Around $200 million.
How Did Juanita Vanoy and Michael Jordan Meet?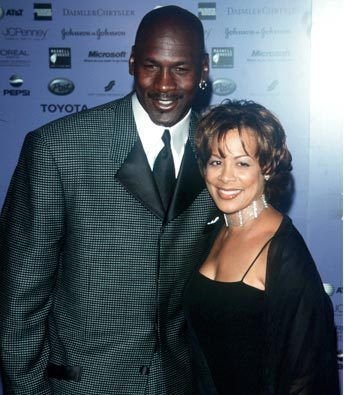 Their love story began back in the year 1984. The same year Jordan was drafted into the NBA and Vanoy was working as a loan officer from the South Side of Chicago. For their first date, Michael Jordan and Vanoy went to Chicago Bennigan's restaurant after a Bulls game. They hit it off right away when they met for the second time at a party thrown by their mutual friend and the rest is all history.
After dating for a couple of years, Michael proposed to Juanita on 31st December 1987 at Nick's Fish Market in Chicago and got engaged. Eventually, the couple called off their engagement shortly after. However, they rekindled their romance after one-year following Vanoy's pregnancy with their first child.
Her Marriage with Michael Jordan Began with Scandal
Though Juanita and Michael had a scandal-free marriage, things got rocky before they got hitched. In 1987, the news of Juanita being pregnant with Michael's child broke in the media. Meanwhile, they welcomed their first child Jeffrey Jordan on November 11, 1988, shortly before exchanging the vows.
There were rumors that Jordan didn't believe he was the father of Jeffrey at first. In an interview, Vanoy's attorney Michael Minton revealed:
She told me she was pregnant, unwed, and that the father of the child was Michael Jordan. She felt she could not get Michael's attention or co-operation or response without the retention of a legal representative.
Fortunately, an NBA star admitted paternity and eloped to Las Vegas for tying the knot. The couple got married on September 2, 1989, at the Little White Chapel in Las Vegas. Their 10 months old son Jeffrey Jordan was one of the guests who witnessed their big day. Jordan in an interview with The Washington Post revealed how his life changed after getting married to Juanita. He said:
"I'm happy. It was a big move for getting married. It helped me mature."
Juanita and Michael welcomed their second child Marcus on 24th December 1990 after one year of getting hitched. Likewise, they gave birth to their third child Jasmine Jordan on December 7, 1992. While Michael was progressing towards his career, Juanita was always there for him. She was one of his biggest fans who would be present in every game to cheer up Michael. During her marriage with Jordan, she has accompanied him in many events and ceremonies.
All seemed well between Michael and Juanita until 2002 when the former model filed for a divorce.
Juanita Made Efforts to Save her Marriage but Efforts Didn't Work
On January 4, 2002, Juanita Vanoy filed a divorce citing irreconcilable differences. However, Vanoy withdrew her petition within a few days, and the couple reconciled shortly thereafter. But, their attempt to save their relationship was failed. With this, Jordan and Vanoy mutually decided to end their 17 years of relationship. They were granted the dissolution of marriage on December 29, 2006.
Their divorce was finalized in 2007 being Juanita receiving a huge amount of $168 million for the divorce settlement. This divorce was among the most expensive divorce on public record at that time. In addition, Juanita also got the family's seven-acre Chicago mansion. After the divorce, their children stayed with Juanita. Those who were close to the pair were absolutely shocked by their split. One of their close friends Les Coney told:
"I am shocked and disappointed that their marriage didn't work. The Jordans were never prone to public displays of affection. But, they clearly communicate. When Juanita couldn't get the stereo to work, he's the first person she called. And Michael was right there."
It is assumed that their marriage failed because of Jordan's extramarital affair. Jordan was alleged that he was cheating Vanoy with Karla Knafel. It was claimed that Michael paid Karla Knafel $250,000 to keep his relationship with her a secret before the divorce. Nevertheless, neither Jordan nor Vanoy came forward and revealed the actual cause behind their separation until today.
Both Juanita and Michael were one of the coolest couples in Hollywood, however, their story didn't end in a happy note.
Juanita Was Living a Simple Life Until She met Jordan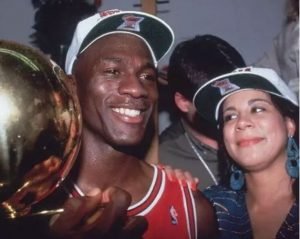 Juanita Vanoy was born on June 13, 1959, in Illinois, Chicago, USA. She was raised in South Side Chicago where she spent her childhood with family. She is an American by nationality and belongs to Hispanic ethnicity. Vanoy hasn't shared much about her early life. Therefore, neither the details about her parents nor about her early life is known yet.
As for education, she attended Christian Fencer School. There are no details about her college and university life. According to some sources, she was academically sound and one of the toppers in her college.
Profession: A Fashion Model Turned Secretary
Before getting married to Michael, Juanita Vanoy was a fashion model. During her teenage days, she has done many modeling assignments and photoshoots. But, she didn't find her modeling career appealing and later switched her career. Juanita Vanoy then started working as an executive secretary at the American Bar Association. She worked there for several years. Further, she also served as a loan officer before commencing her relationship with Michael Jordan.
Likewise, she is also the co-owner of a non-profit organization called 'Michael and Juanita Endowment Fund'. This organization supports a charity for education and community causes. She had served as the chairperson of the organization. Apart from this, she has worked in the real estate business too.
Where is Juanita now?
After her separation from Michael, Vanoy remained single for her entire life. She downsized the way of living and started looking after basic things that included her children and friends. Vanoy pulled back from the public eye and drifted away from making public appearances.
Juanita thought of establishing her own venture after divorce but dropped the idea to remain in her kids' lives. So, Vanoy kept her real estate license active and helped her children settle into their adult life. Juanita who now lives in the Kingsbury Estates section of River North is indeed a good mother and was a good partner.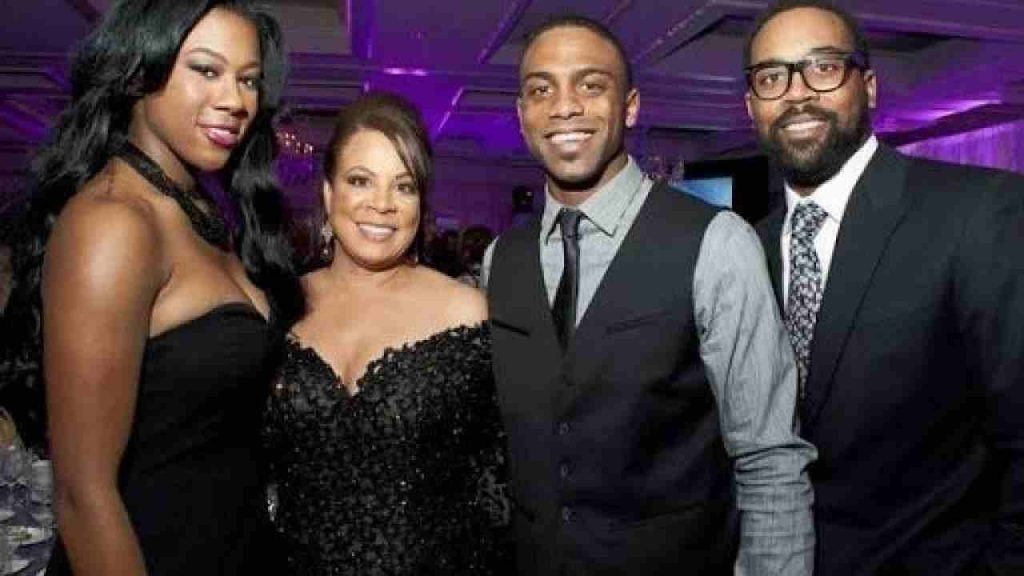 As her children are now all grown up, these days Vanoy is spending her time learning Bikram Yoga, collecting arts, and traveling her favorite spots like France, Italy, and London. Moreover, she is a board member of a non-profitable charitable organization Real Beauty, Inc. that mentors teen girls.
Whereas her ex-husband Michael Jordan married Yvette Prieto, a Cuban-American model. They are now parents to twin daughters named Victoria and Ysabel Jordan born on 11th February 2014. Prieto is a stepmom to Michael's three children from his relationship with Juanita Vanoy.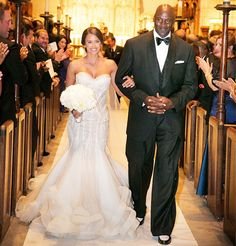 Juanita Vanoy's Ex-Husband with his wife Yvette Prieto
Even though they parted their ways, Juanita and Michael are still in good terms. In an interview with Chicago Business in 2013, she revealed her post-divorce communication with Jordan and said:
Mostly our conversations are about the children. I don't remember him saying, 'By the way, I'm getting married. Divorce was certainly new to me. I had to learn that you have to communicate. That it's not about you or your ex-partner. It's about making sure the children are all right.
Juanita Vanoy's Children: Jeffrey, Marcos, and Jasmine
The estranged couple Juanita and Michale never let their differences ruined their children's life. They kept apart from their differences so that Jeffrey, Marcos, and Jasmine wouldn't have to compromise from getting the love of both parents.
Growing up, they were able to walk away from No.23's shadow living a normal life. However, it was Juanita who pushed her children to make their own identities. Her eldest son Jeffrey Jordan is an American former basketball player. He played for the University of Central Florida Knights and the University of Illinois Fighting Illini. He had also entered Nike Inc.s management training program. Jeffrey has got married to his longtime girlfriend Radina Aneva on 25th May 2019 in the Bahamas. He currently lives in Portland with his wife.
Likewise, their second son Marcus Jordan has opened a shoe store "Trophy Room" on May 23, 2016, in Orlando, Florida. The chosen date pays honor to his and his father's jersey number as both of them are basketball players.
Their youngest child and only daughter Jasmine Jordan lives the quietest life. She is a graduate of Syracuse University with a degree in sports management. As reported, she was working as a field representative for Nike Jordan Brand. Jasmine is engaged to Rakeem Christmas. She uploaded the pictures of her engagement on June 10, 2018, with the caption, "Happily Engaged."
Reason Why Vanoy wasn't Mentioned in 'The Last Dance'
Juanita has spent 17 years of her life with NBA player Michael Jordan. She was an incredible part of Michael's life. But, her part hasn't been shown in the documentary 'The Last Dance'. This ESPN hit series centered around the life of Michael and the 1997-98 Chicago Bulls team didn't even bother to mention Juanita once.
After watching the series, many fans questioned Junaita's absence from the documentary. So, in an interview with Essence, when asked about the same, their daughter addressed her mother's absence and commented:
I think at the end of the day, you ask my mom… she lived it. There's no need to go down memory lane and bring up everything that has already happened when the proof is in the pudding. She was at the championship, she was at the retirement ceremony, we saw her in her glory in her best way.
Juanita Vanoy's Net Worth: How Rich is she?
Juanita is a former American model and former executive secretary at the American Bar Association. She is also the co-founder of 'Michael and Juanita Endowment Fund' and also a real estate businesswoman. Juanita earns a massive amount of salary from her profession.
Her estimated net worth is $200 million. Her net worth has increased since she has received $168 million for the divorce settlement from Michael Jordan. As her career continues to grow, her net worth is expected to rise in the coming days.
Nowadays, celebrities are using social media to maintain close and active relationships with their fans and well-wishers to increase their popularity. However, it doesn't seem like Juanita Vanoy cares much for this celebrity trend, as she keeps a low profile on social media sites- no presence on Facebook, Twitter, or Instagram. She has been away from the paparazzi after her divorce from Michael Jordan.