Let's face it, Matt Damon just hits the home run every time he steps into the silver screen. And looks like his personal life is no different than his professional life. The enigmatic star has been married to Luciana Bozan Barroso for over 15 years now. And even after four children together, the pair doesn't seem to have any brakes at all!
While the "Good Will Hunting" star breaks records after records with his movies and humanitarian works, his wife seemingly slips under the radar. Once a bartender, Barroso was initially married to Arbello Barroso; the last name she keeps till this date. However, ever since she is married to the charismatic guy in Damon, she hasn't looked back.
So what's the story of Luciana with whom Damon is so deeply in love that he considers himself lucky to even get married to her. And, how did the journey with Matt start for the mother of four, Barroso. Here is what we know about Matt Damon's wife Luciana Barroso.
FAQ
Who is Luciana Bozan Barroso?

Luciana has been credited to various movies and tv series but predominantly she is known as the wife of 'Good Will Hunting' actor Matt Damon. The couple tied the knot in 2005 after dating for two years.

How old is Luciana Barroso?

Born on 1976, she is now 46 years old.

Where is Mrs Matt Damon from?

Lucy was born and raised in Salta, Argentina.

What does Luciana do for living?

Before she met Matt, Luciana was working as bartender in Miami. Likewise, she has worked as an airhostess to meet her expenses before. As of now, she is a housewife by choice who is happy looking after her family.

How many children do Luciana and Matt have?

Three daughters. Isabella Damon, Gia Zavala Damon, and Stella Damon.
Matt and Luciana have Different Versions of 'how we met' Story
It was neither a glamorous place nor a romantic date when they first encountered each other. Some say whatever happens in life it's due to mere fate or luck. But, what really is it that made Matt and Luciana a couple?
Well, both Luciana and Matt have cooked up different stories of how they fell for each other.
In 2011, in an interview with Ellen DeGeneres, the actor revealed that everything happened for a reason. Matt was in the Miami for the movie "Stuck On You." The movie was supposed to be shot in Hawaii but later location switched to Miami.
"I decided to do this movie with the Farrelly brothers in 2002. We were supposed to shoot in Hawaii and then the movie got moved to Miami. I had never really hung out in Miami."
'I had never hung around in Miami. But the cast and crew said hey! let's get some beer,' he said.
He revealed that the only reason Matt went out in the town was that some of his crew members dragged him out to have some beer. Luckily, they went to the same bar where Luciana was working as a bartender. Then, his eyes stuck at Luciana among the crowds and the rest is all history. Damon originally stated:
"I literally saw her across a crowded room, literally. Eight years and four kids later, that's my life. I don't know how else our paths would've crossed if it didn't happen. If all those things didn't happen."
It was an immediate love at first sight for Damon as he recalled the moment.
While it was love at first sight for Damon, Barroso's side of the story is a little different from him. During Australian Fashion Week in 2018, breaking her no-media rule, she gave her first public interview to Vogue Australia and said:
" I was working as a bartender in South Beach and he was shooting a movie there and the crew ended up in the bar one Saturday night. Matt's story is that he saw me across the room and there was a light on me. And I'm like, 'Yeah, it was a nightclub, there was lights everywhere."
While in the bar, the duo had a little conversation and Matt invited her for an outing the same night. But, she denied the invitation saying she has a little daughter. Luciana was like how could I go with him when I have a four year old to take care of. While this could have easily thrown many guys out of picture, Matt was rather attracted to her.
He was absolutely blown away by her dedication to her kid and simply outlook to life.
While some couple argue when their significant can't remember 'how they met,' Lucy saw funny side to it.
Luciana and Damon then started spending time together and it took no longer for them to fall for each other. After dating for two years, they took their story to one step closer to getting married. The pair got engaged in September 2005.
Barroso and Damon had a Private Wedding
It's not uncommon for celebrities to have a tight-nit wedding. And this couple was no different.
They said "I Do" during a private ceremony held at New York's City Hall. The wedding ceremony was originally planned to be held in Miami. But, as the news got leaked they decided to fly to New York where they could save themselves from the public eye. Luciana and Damon got married on December 9, 2005.
By the time they got hitched, Luciana was three months pregnant with their first child.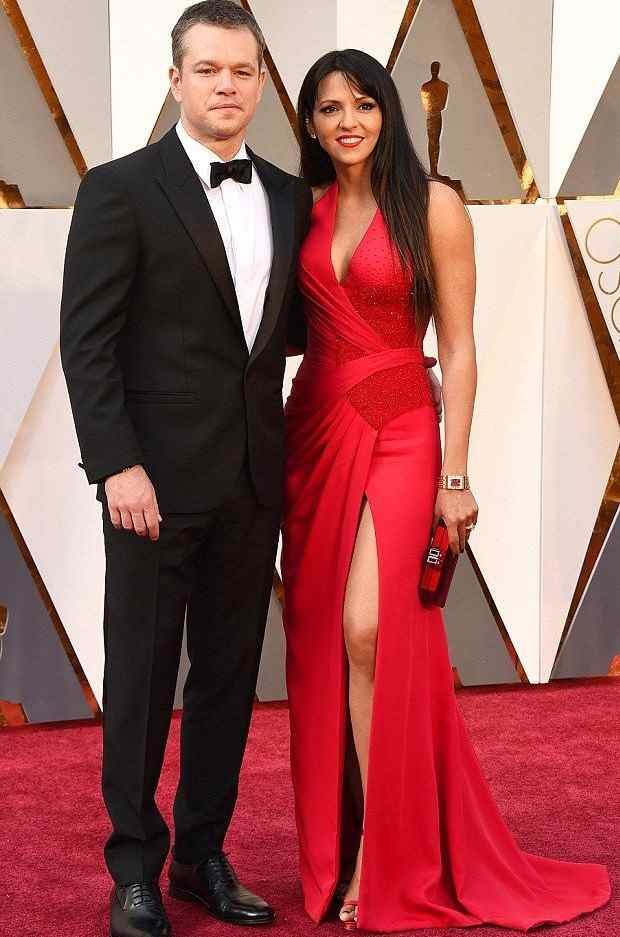 The couple has traveled a long distance by now. They have embraced parenthood together and have welcomed three children. The couple is a leading example of how even Hollywood celebrities can make their marriage a success.
Matt and Luciana Renewed their Vows Eight Years after their Marriage
Luciana and Matt may not be a couple goals for many, but they are certainly an ideal couple. Nearly after a decade of getting married, they again renewed their vows. The ideal couple renewed their vows in the month of April 2013 at Caribbean island, Saint Lucia. The ceremony was a grand affair and of course a lavishing one. Many well-known personalities attended the ceremony including Ben Affleck, Jimmy Kimmel, Chelsea Clinton, Stanley Tucci, Chris Hemsworth and many others.
The ceremony was a three-day affair for which Damon had rented the entire Sugar Beach Resort for his guests. As per US Weekly, the entire ceremony was planned by wedding planner Bryan Rafanelli. For their vow-renewal ceremony, Luciana opted to wear a cream-colored dress with a sequined belt at the waist. On the other hand, Damon wore tan-colored suits and flip-flops.
After they said 'I Do'Barroso showed her funny side which everyone's not introduced to. In her speech at the ceremony, she vowed:
"To take the side of the bed closest to the bathroom no matter where on earth we are."
Everyone present in the ceremony was enjoying this funny gesture until she made an emotional speech. She added:
"To be the mom our beautiful girls deserve-and no matter what unpredictable direction life takes us in, to be right next to you loving you with everything I have."
Since their marriage, this was the ceremony they had organized for the first time that was public. They wanted to share their joy with their family and friends and they did it in a grand way. After being together for almost two decades Matt still looks at his wife like he has fallen for her for the first time. You can witness moments when he is seen gushing about his wife Luciana.
If this isn't love, what is?
Bozan Barroso's Early Life Before Fame
Luciana Bozan Barroso was born in Salta, Argentina on July 31, 1976. Her father was an Insurance agent whereas her mother was a housekeeper. Unfortunately, shortly after her birth, her parents got divorced. She then was raised by her maternal grandparents. Her grandparents nurtured her with great love and care. They left no stone unturned to give Barroso a normal childhood. Though she is originally from Argentina, she is versed in Italian culture as her grandparents are from Italy.
Barroso had an interest in arts and literature during her childhood. Following her interest, she took a decision to study Arts at a local college and eventually graduated from college. But what makes it interesting is that she ended up being an air hostess despite having a passion for arts in her early life.
Luciana was Married to Arbello Barroso before Damon
Matt Damon and Luciana Barroso have been married for so long that it's really hard to imagine them without each other. However, Barroso was married to a guy called Arbello "Arby" Barroso wya before Matt and Lucy crossed path. Unfortunately, the couple couldn't survive in the relationship and officially ended their relationship in December 2004. They also share a daughter named Alexia from their relationship. Later on, she was adopted by Damon. Damon absolutely adores his eldest daughter. He even said that he sees a motherly figure on his eldest one as she often took care of her siblings when the couple were out.
The ex-couple have maintained a healthy relationship with each other. In December, 2014, her ex-husband told in an exclusive interview with Star magazine that he has no hatred for his ex-wife and Damon. He revealed how his financial condition was deteriorating and probably couldn't have put bread on the table for his kid.
"Matt, Luciana and I have a wonderful relationship. People have been hunting me down for years, offering me money and looking for a story. But I could be living in a tent, and I still wouldn't sell them out. There is no story. Matt is a fantastic stepfather, and Luciana is a terrific mom. I couldn't possibly have asked for a better stepfather for my daughter than Matt.
He also revealed how people have been hunting him down to cover his story. But he is adamant that he won't sell out his friendship with Matt and Luciana.
"Matt, Luciana and I all have a wonderful relationship. I could be living in a tent, and I still wouldn't sell them out." he said
She Jumped from Air Hostess to Bartender to Support her Child
Luciana is an extremely private person and many parts of her life are hidden including her career details. But, it is known to us that she belongs to the working-class family and has struggled a lot. She has really worked hard to pay the bills of her expenses since her early days. Luciana initially commenced her career working as an air hostess for a brief period of time.
However, she couldn't continue working as an air hostess and later switched to something else. She then worked as a bartender at Crowbar in Miami, Florida. She undertook the job to support her and her daughter Alexia born from her first marriage.
Furthermore, after tying the knot with Matt, she had appeared on the screens. She was a part of the television series Extra and Entertainment Tonight. As of now, she enjoys being a housewife looking after her family. She is less interested in showing up at the showbiz industry and prefers living away from the paparazzi.
Luciana Barroso's Kids: Isabella, Gia, and Stella
The couple is blessed with three children from their one-decade long marital relationship. The couple welcomed their first child Isabella Damon on June 11, 2006, in Miami. Likewise, nearly two years after their firstborn, they again became parents on August 20, 2008. The baby girl was named Gia Zavala Damon. Furthermore, the couple again embraced parenthood by welcoming their third child Stella Damon on 20 October 2010 in New York.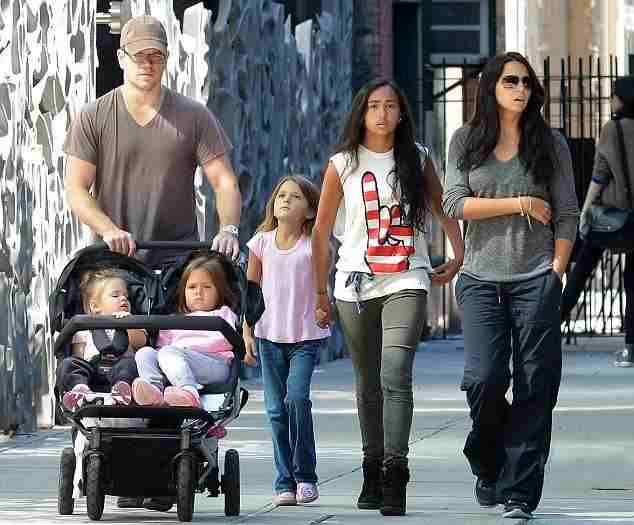 Damon has also legally adopted Luciana's daughter from her past relationship. The family of five often travel on holidays to spend quality time together. Recently, they were reported enjoying a day at the beach in Byron Bay during a trip to Australia.
This couple is an epitome of keeping personal life really private. Both she and her husband Matt have always maintain distant from the likes of Instagram and Facebook. Probably that's why their relationship is so surreal. Or Maybe her nature isn't letting her debut in the world of social media. Or may be they think they are just too old for these kind of things. Her fans are in a thirst to follow her official Instagram account. But, there seem no rays of sunshine as she isn't making her presence on Instagram. However, her crazy fans have created many fan pages on Instagram and Facebook.
Once a civilian and now a celebrity treats her crazy fans by making her appearance in different red carpets with husband Matt Damon.
Barroso has a Special Bond with Elsa Pataky
It's not uncommon for an actor's wife to be friends with other actor's wife. But Elsa and Lucy share a really special bond. Elsa (45) and Luciana (46) are often seen hanging out together with their other halves. Although their friendship don't go back as far as Ben and Matt's, the duo do seem like they are very close. The exact timeline of their friendship is however known.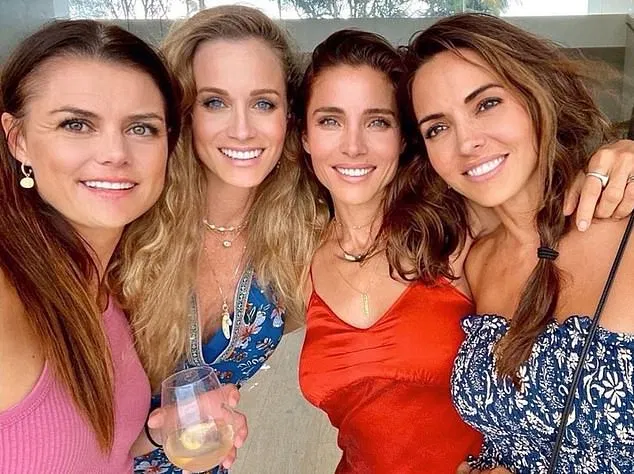 They are often captured hanging out together during holidays. Recently they were captured having wonderful time in a Yacht in Ibiza, Spain. The two couple were also seen hanging out in Australia where Matt and Chris are working on the movie 'Thor: Love and Thunder.'
Secret Sauce to their 15 years of Marriage
Luciana and Matt keep their personal life away from the limelight. In fact, many people believe this is the reason why they are able to keep their relationship strong. Damon gives all credits to his beloved wife for maintaining the privacy of their life. In 2013, Damon told Esquire:
"I got lucky, I fell in love with a civilian. Not an actress and not a famous actress at that. Because then the attention doesn't double-it grows exponentially."
He added:
"But I don't really give them anything. They can try to stake me out, but they're always going to get the same story-middle-aged married guy with four kids."
Similarly, they have maintained a unique rule called a two-week rule. In 2013, when asked about secrets to their happy marriage, Damon told Your Tango:
"Barroso and I have a two week rule. I am not away for more than two weeks. I think you need to be with the person you love as much as possible. My wife is my soul mate. I don't like being apart from her."
For the couple, the family is the foremost for the couple and they have been following to prioritize family over career from the very beginning. Their love is getting stronger with age. In 2019, the actor got all his kids' names tattooed at his arm next to his wife's name Luciana.
Barroso and Damon are still going strong following rumors of trouble in paradise
The tabloids reported that the ideal couple is secretly undergoing couples therapy to save their relationship. Some sources revealed that the pair had opposite thoughts regarding Damon's good friend Ben Affleck's bad behavior and rude treatment of wife Jennifer Garner. Basically, Ben-Jen battle left the couple divided. But, as of now, everything seems normal between the couple.
The rumors became more hostile when Matt was spotted without his wedding ring in January during his visit to his long time pal, Ben Affleck. One source claimed that Matt's drinking habit was coming in between his family time.
However, sources closer to the couple have also claimed that Matt seems to have turned the corner. He was said to be showering his wife with love after feeling that he might have taken her for granted.
Despite the unsavory gossip circling around them, the couple did not publicly address the issue however they put to rest the rumors through their actions. The two of them have since been photographed multiple times spending quality time with each other and their four children looking extremely happy and content. Earlier this year Luciana had also accompanied her husband Matt to his best friend Ben Afleck's wedding to singer actress Jennifer Lopez.