The fans were absolutely divided into two parts when Jennifer Lopez and Ben Affleck were found smooching each other in 2002. One hooting for 'Bennifer' and the other one absolutely enraged with Ben and Jennifer's need for companionship. However, Bennifer ended their relationship in 2004 and she moved on with her long-term friend Marc Anthony.
While Lopez was reaching the heights of success in her career, life had different plans for her personal life. Everything between Jennifer and Marc seemed to be ok while looking from the surface, but deep inside their relationship was deteriorating. And at last, their divorce news popped up in the media. While one can't feel bad for them, JLo's kids were the ones gaining more sympathy.
Jennifer shares two kids Maximilian and Emme with her former husband Marc Anthony. While her daughter Emme Maribel Muniz loves the spotlight and has already performed in Superbowl with her, her son Maximilian David Muñiz is a little shy. So, what's up with Maximilian David Muñiz?
Maximilian was Born into Star Studded Family
Maximilian's mother Jennifer Lopez on her heyday had one of the most media frenzy life. As she was becoming more and more successful in her music and acting career, her personal life especially her romantic entanglements were at the front and center of every media outlet. Her third marriage with singer Marc Anthony that was plagued by unwanted media attention became one of her most stable relationships.
With that much attention, it is no surprise the news regarding the future kids of Jennifer Lopez would also be a hot topic for the media. In 2007, the media ran crazy with speculations regarding her pregnancy. It was probably one of the worst-kept secrets. On November 7, 2007, while co-headlining her concert tour at Miami with her husband, Jennifer Lopez finally announced that they were expecting their first child. The mother to be said:
"Marc and I are expecting a baby." Her husband who was standing beside her leaned over, kissed her belly, and said, "I did not expect her to say anything."
Maximilian has a Fraternal Twin Sister Emme
On February 22, 2008, Jennifer Lopez gave birth to fraternal twins; a girl and a boy at North Shore University Hospital in New York. The firstborn baby girl Emme Maribel Muñiz was followed by her twin brother Maximilian David Muñiz. It was reported that the new parents spent around $1.4 million dollars on the delivery.
Upon hearing the news of the birth of the babies, the media became even more desperate to see glimpses of them. Celebrity magazine People offered $6 million for the exclusive US rights for the first photos of the babies which at that time was the most expensive celebrity picture ever taken. On March 11, 2008, the twins were introduced to the public through People Magazine.
The Two Twins Maximilian and Emme Have Opposite Personality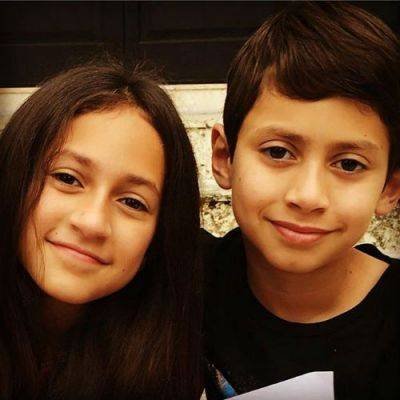 When Emme performed at the Super Bowl with her mother, Jennifer Lopez, and fellow Latina singer Shakira, everyone could see the resemblance between her and her mother. While Emme takes after her mother, her brother Max looks a lot like their father, Marc Anthony. Not only do they look different, but their personality is also said to be quite opposite of each other.
In the 2015 interview with Latin Times, JLo talked a little into her children's personality:
"Emme is like a mini-me; Max is really like a mini Marc. They're complete opposites. But she's like super focused and super sensitive and quiet and focused and he's kind of off the charts, lots of energy, super funny."
The public got a short glimpse of their opposite personalities during one of their visits with their mother on Ellen's show. One could easily see that while both kids are quite shy, Max is really funny without trying to be.
On April 29, 2019, Jennifer Lopez uploaded a video on her Youtube channels where her children interviewed her. The video titled 'Twin Talk: AMA with Emme and Max' highlights the goofy side of Max where throughout the video he keeps on dabbing and asks some really funny questions like 'What was the most trouble you got in when you were muy age?' and 'Did you think math is useless?'. In the same video, Jennifer Lopez reveals her favorite thing about each of the children. For Max, she said:
"My favorite thing about Max is… his sense of humor, and his incredible vocabulary, and also your big heart. You have an enormous heart and caring and I love that about you."
Inheriting Musical Talent From Mother Jennifer
Performing at the Super Bowl LIV, Max's sister Emme garnered worldwide attention through her musical talents. But Emme isn't the only one who inherited the musical genes from their musician parents. In the same 2015 interview with Latin Times, JLo talked about her kids pursuing music and said:
"They both love music. They both asked to take piano lessons and voice lessons."
On the children's 11th birthday, Jennifer Lopez shared a video collage of max on her Instagram with him singing in the background.
In September 2019, she shared another video of Max singing 'Riptide' by Vance Joy with his sister, Emme, playing a Ukelele.
On February 29, 2020, Jennifer Lopez shared another video of her son showcasing his singing talent, this time in a school play of 'The Wizard of Oz. He sang a solo as the coroner of Munchkinland.
There's no denying that talent runs in family and little max is himself is a star in making.
Max is a Tech Savvy since his Childhood
While singing talent is something that Max was gifted from since his birth, there is another interest that he has slowly developed over the years, that is his interest in tech. Max's mother has time and again revealed that Max is quite intelligent and is always impressed by his vocabulary. In the above-mentioned Ellen's show visit, the kids mentioned that they have started using phones and text their close ones. In the same interview, Max revealed that he was a gamer.
JLo stopped by Good Morning America (GMA) and talked to the host about her children in September 2019. She revealed that both of her kids go to different middle schools. When the host asked 'what is Max-like?', she said:
"Max is an intellectual, yes an intellectual. He's a techie. You know he is all about the electronics. I mean a lot of kids these days they just, they're just so about that. He wants to code. He wants to create things. You know he wants to kind of direct movies online and stuff like that."
As of 2020, we can say that gaming is still a big part of him since his 12th birthday had a gaming theme. His custom cake had references for games and anime. He and his friends even played Nintendo Switches and ate pizza.
So, whether Max chooses to follow his parents' footsteps into singing or wants to become an IT person, we are sure that he would be one of the celebrity kids to look out for.
His mother Jennifer holds the Primary Custody of Him and his Sister Emme
Max's father Marc and mom Jennifer got married in June 2004 in Beverly Hills after a quick romance. At that time, Jennifer had just canceled her engagement with actor Ben Affleck. Within a few weeks of her separation from Ben, she reconnected her love with Anthony whom she dated back in 1999.
Remembering the days, Jennifer in her book 'True Love' in 2014 wrote:
We thought that this was where everything was supposed to lead, that we were meant to end up together. All the heartache and pain of my recent breakup couldn't have been for nothing, could it? Maybe I had to go through the bad son I could end up with the person I was meant to be with all along.
All was going well between the couple until 2011 when Jennifer filed for divorce after seven years of togetherness. The reason behind filing for the divorce was said to be irreconcilable differences in 2012.
While both of them parted their ways for good, their kids Max and Emme were the ones who suffered the most. The primary custody of the twins was retained by Jennifer and Anthony was granted visitation for a week each month. Moreover, the duo wasn't ordered to pay any child or spousal support.
Maximilian has Accepted Jen's relationship with Ben
Jennifer Lopez and Ben Affleck are back together after going through a separation. As reported by Eonline, the duo was first spotted together vacationing in Montana after they rekindled their romance a month ago. The insider of E! Online told:
They are inseparable and it's going well. She has never been happier and knows it was meant to be.
As they are back together, her twins David and Emme are sharing a good bond with Ben Affleck. They too have accepted Ben and loves to be around him as they find him funny. Recently, the kids went for family dinner at Noby in Malibu along with Jennifer and Ben and were spotted giggling all the time. As reported by People:
Ben and her kids seemed comfortable together. The kids kept chatting with Ben. Ben seemed great. He was smiling and laughing. They ordered a lot of food to share.
Likewise, Jennifer with her two kids alongside boyfriend Ben was recently spotted in Los Angeles celebrating the Thanksgiving holiday together. Ben is really trying hard to be in good books of Jennifer's kids and that's appreciable.
Max is getting along with Ben's Children
Ever since the news of Jennifer Lopez and Ben Affleck getting back together, many were curious about how the close ones among the couple would react to it. Especially since both of them had kids from their previous marriage. Well rest assured because it looks like the children are actually getting along with each other pretty comfortably. 
Since Max and Emme are moving to LA leaving behind their friend and school in Miami, the kids of Affleck are helping them get settled in the new place. The couple are also taking their children all together to do a bunch of activities like watching the play Hamilton at the Pantages Theater and going to the Magic Castle.
For both groups of kids, this experience of knowing each other is incredibly new and Jen and Ben are giving them all the time they need to get used to living with each other. A source near them told People, "They are not trying to rush anything, but they want all their kids to get to know each other."