Noriko Watanabe is a Japanese Make-up and Hair artist who has worked with many A-listed actors in Hollywood including Nicole Kidman, Kate Winslet, Andrew Garfield and many others. She has also won 'The Hollywood Film Hair and Makeup of the Year Award' for her work for the movie Hacksaw Ridge in 2016. 
Though she herself is an accomplished make-up artist, she is profoundly known as the ex-wife of actor Sam Neill. However, there are many other unknown chapters of Watanabe's life that needs to be revealed. Here we have tried to cover every detail of Noriko Watanabe from her life before fame to what she is doing these days.
Noriko Spent her Childhood in Japan
Noriko Watanabe was born in Tokyo, Japan. As per sources, she has spent her entire childhood in Japan. As soon as she completed her education, Watanabe moved to the United States to build a career. After reaching the United States, she got the opportunity to work as a make-up artist in Hollywood.
Noriko is a Hair Artist Cum a Make-up Artist
After struggling a bit, Noriko finally began her career in Hollywood as a make-up artist. She is an award-winning hair and makeup artist who has worked on more than 60 projects now. Among her projects, she is notably known for her first work in the movie 'The Everlasting Secret Family released in 1988. Her credits include Blacklight released in 2022, The Power of the Dog (2021), Cold Pursuit (2019), Man in Black: International, Kill Bill, Spiderman 2, Aquaman, Taken, The Grey and many more on the list.
She has worked with many A-listed celebrities like Kate Winslet, Nicole Kidman, Benedict Cumberbatch, Andrew Garfield, Kristen Dunst and others. She was nominated for BAFTA Awards for her amazing work in Memoirs of a Geisha in 2006. However, she couldn't lift the trophy. Later in 2016, she finally won 'Hollywood Film Hair and Makeup of the Year Award' for the movie Hacksaw Ridge.
She is an extreme Animal Lover and a Foodie
Watanabe's Instagram bio suggests she is a bit of a foodie and loves experimenting with new tastes daily. She often uploads photos of her enjoying different cuisines on her Instagram feed. Apart from that, she has also stored love for animals in her heart.
Noriko Met Her Then-Husband on the Sets of a Movie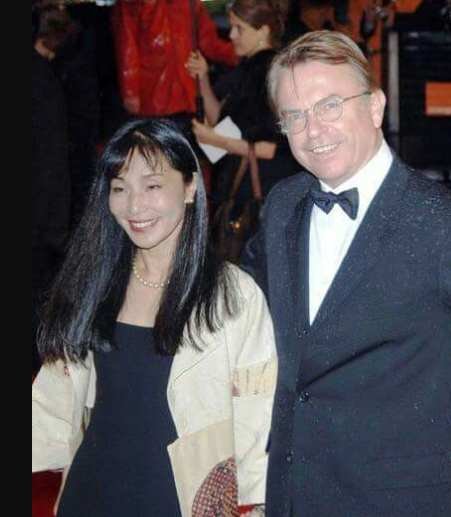 Noriko met her husband Sam Neill while working together on the movie Dead Calm in 1989. The duo got along really well in a short period of time and started dating. After a few months of dating, Sam and Noriko decided to tie the knots. Their wedding was a close-knitted ceremony which took place on September 2, 1989. This was the second wedding for Sam and Noriko as they were both previously married.
Sam was previously married to New Zealand actress Lisa Harrow with whom he shares a son Tim Neil. Likewise, Watanabe was also married to a guy from which she has a daughter Maiko Spencer.
Her Marriage with Neil Didn't Work out
After spending nearly three decades of their life as husband and wife, Noriko and Sam parted their ways in 2007. The real reason behind their separation is still unknown. However, some assume that Sam's infidelity was the cause behind their deteriorating relationship.
As soon as the duo got divorced, Sam was engaged in a relationship with Australian reporter Laura Tingle. On the other hand, Watanabe has remained single after her second doomed marriage and focused on her career.
Noriko and Sam were blessed with a daughter Elena Neill on January 10, 1991, in Australia. Like her father Sam, Elena has also tried her luck in acting. She first appeared in the comedy-movie 'The Brush Off' released in 2004. Elena then portrayed the role of a tattoo artist for the movie 'Top of the Lake' in 2017. She has not appeared in any other projects since 2017.
Watanabe is a Grandmother to Nahlo
Noriko's daughter Elena gave birth to a baby boy Nahlo with her husband in 2013. Noriko along with her ex-husband Sam was very delighted upon the arrival of the baby. Neill shared a piece article in 'The Spectator' about the birth of his grandson that wrote:
"I have recently had a new grandson. I say this almost as if it were a personal achievement, but grandchildren in truth are thrust upon you whether you like it or not. He seems a perfectly agreeable sort of chap, as babies go. He's a quiet baby, and quietness is highly regarded in people that small. And in fact, I admire it wherever I find it…."
Likewise, as the newborn got two weeks older, his grandfather Sam shared a photo of him along with the baby with a caption that said:
"This is my brand new grandson Nahlo, the bestest boy, two weeks old. So chilled, no fuss. Just eats, sleeps and thinks about things. Parents blissed out, and everybody happy. Me particularly. The Love."