Scarlett Johansson is an American actress known for movies like Black Widow and the Avengers. She was one of the world's highest-paid actresses in 2018 and 2019. The actress has achieved everything in her professional life. But, when it comes to her personal life, she has been a bit unlucky especially when it comes to her love life. After passing through the pain of a doomed marriage with Ryan Reynolds, she finally settled for the second time with a French native Romain Dauriac. She was head over heels in love with Romain and they didn't take long to hold each other's hands forever. However, her story with Romain didn't have a happy ending which was never expected.
Romain Dauriac who had no connection with the entertainment industry became the hot topic because of his association with Scarlett even after their breakup. So, here we have dethroned everything we know about Romain Dauriac- the ex-spouse of actress Scarlett Johansson.
Who is Romain Dauriac?
Romain Dauriac is the name that flew in the media when he hooked up with actress Scarlett Johansson. Dauraic was born on 3rd July 1982 in France. The French native was born to father Jean-Francis Dauriac. Apart from his father's name, nothing is known about his immediate family members. Likewise, the other details regarding his early childhood and educational history are also shrouded in mystery.
Romain and Scarlett Johansson Met Through a Tattoo Artist
Romain Dauriac lives a low-key life and prefers maintaining a distance from the media. However, he became a matter of discussion when he started dating actress Scarlett. It's not clear how the duo met, but tabloids claim that they were introduced to each other by Fuzi, a tattoo artist in November 2012 through their mutual friend.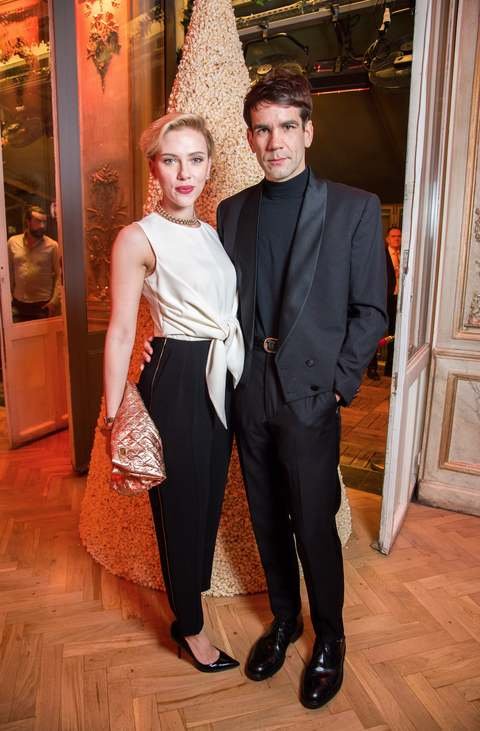 Despite the couple maintaining a no-interview policy and rarely making any comments on their relationship, the media caught them together. Their chemistry was clearly visible and the paparazzi started following the duo. Eventually, Dauriac and Scarlett were caught going on dates, dinners, and on the red carpet and gave a clear hint that they were in a relationship.
Their Common Passion For Creativity Kept Them Together
Romain and Scarlett both have an appreciation for creativity. Romain is the former editor of French magazine Clark and a manager of a creative agency. Meanwhile, Scarlett is a singer, actor, and performer. Maybe the common interest for artistic creativity is the thing that bound them together and it took no time for them to fall in love with each other.
Romain never wanted himself to be exposed to the showbiz industry, however, his involvement with Scarlett made him enter into showbiz. With the media houses publishing his photos alongside Scarlett, Romain soon became a part of the entertainment industry.
Romain and Scarlett Got Hitched in a Secret Wedding Ceremony
After sharing a courtship for a while Scarlett and Romain got married on October 1, 2014. Their private wedding ceremony was held at "The Ranch' at Rock Creek in Philipsburg, Montana. They had already welcomed their daughter Rose Dorothy Dauriac before their marriage who was one of the attendees of their big day.
Talking about their secret wedding, a source close to Page Six stated:
Scarlett and Romain were married in a very intimate ceremony after the birth of their daughter. They kept the wedding a big secret because they both wanted privacy.
His Ex-wife Scarlett Johansson is an Actress and Singer
Scarlett Ingrid Johansson is an American actress and singer born on November 22, 1984. She is the highest-paid Hollywood actress since 2018 whose movies have grossed over $14.3 million worldwide. She debuted in the acting world at a young age. At the age of 13, she got the biggest claim to fame with the movie The Horse Whisperer.
Her strong portfolio includes movies like Ghost World, The Nanny Diaries, Vicky Cristina Barcelona, Hitchcock, The Avengers, Lost in Translation, A View From the Bridge, The Jungle Book, Marriage Story, and many more on the list. Scarlett is the recipient of many awards and accolades including a BAFTA Award, Tony Award as well as nominations for five Golden Globe Awards and two Academy Awards.
Apart from acting, she has also made her music career. She released her debut album "Anywhere I Lay My Head" in May 2008 featuring cover songs by Tom Waits. She has since then been part of many songs like Break Up, Bullet, One Whole Hour, Before My and the list goes on with artists like J. Ralph.
His Marriage With Scarlett Was Never Meant To be Last Forever
Though everything was going great in the beginning, things began getting sour between the couple. Just two years after their marriage, their courtship passed through a rocky phase, and at last, they parted their ways. 
The birth of their daughter and their busy schedules started putting a strain on their marriage. The communication gaps and quality time began hindering their relationship. Furthermore, the actress also stated that she didn't like to be in a monogamous relationship.
Hence, she filed for divorce after two years of togetherness. Their divorce was finalized in 2017. Soon after the separation, actress Scarlett released a statement vowing she would never publicize the reason behind why she ended her marriage in order to protect her daughter. She said:
"As a devoted mother and a private person and with complete awareness that my daughter will one day be old enough to read the news about herself, I would only like to say that I will never, ever be commenting on the dissolution of my marriage."
She further added:
"Out of respect for desires as a parent and out of respect for all working moms, it is with kindness that I ask other parties involved and the media to do the same."
Custody Battle and Co-parenting Daughter Rose with Scarlett
Upon divorce, Scarlett requested to have primary custody of their daughter Rose and wanted Rose to live with her. Meanwhile, her request was publicly called off by Dauraic's lawyer mentioning it was an unrealistic request. On the other hand, Duauriac wanted to raise Rose in his native land France. He submitted papers in the court for joint and primary custody of his daughter in addition to economic relief for child support and counsel fees.
Later on, both Romain and Scarlett were granted equal custody of their daughter after their divorce was settled in September 2017. The custody battle was settled by an agreement of week-on and week-off.
As of now, Romain and Scarlett both are working together to raise their daughter. They are on good terms despite their doomed marriage and their main priority is co-parenting their daughter Rose.