Let's be real here! Colin looks like his face got printed by Tom Hanks photocopy machine. The resemblance is amazing. But Colin isn't just about the face. The 42 year old just like his father, made a career in showbiz. But these aren't the only similarities the father-son duo have.
Colin is married to "Samantha Bryant" for over a decade now and like his father he means to keep the relationship to eternity. Met through mutual friends, the beautiful couple has known each other for almost two decades.
And although Samantha has done her share of work as an actress, publicist and production assistant little is known about her. So here is what we know about Colin Hanks wife; Samantha Bryant.
Samantha and Colin's Relationship: A Decade Long Romance
Colin Hanks was listed among the hottest bachelors by People magazine in 2013. He was among those guys who could ring bells in heart of any girl. The majority of the girls got a heartache when their crush handsome hunk got married to Samantha Bryant. Bryant is the lucky girl who gets to call herself Mrs. Colin Hanks. And Colin on the other hand absolutely adores Samantha or in his word, "Red." Isn't he adorable?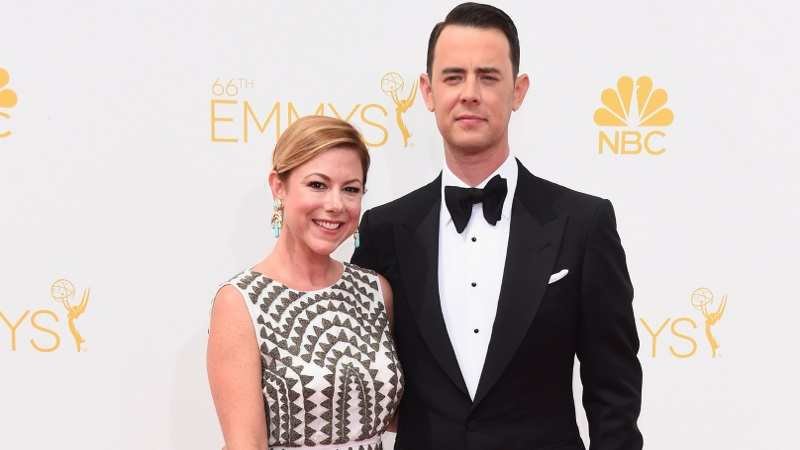 Everything wasn't as smooth and cozy for the pair. They met through their mutual friends but didn't hit it off immediately. They never paid attention to each other though they knew each other for a long time. Hanks told the New York Times:
"We had the same group of friends and knew each other, but never paid attention to it."
Bryant and Colin started their relationship with friendship. They became friends and then lovers. They found they had strong chemistry and soon after they started dating each other. In the same interview, Samantha explained her relationship with Colin before exchanging heartstrings with Colin as:
"He was the perfect gentleman."
The statement made Colin flattered and think about Samantha. We all know what happened next and the rest is all history. After dating for a while, the adorable couple got engaged in June 2009. The following year they got hitched in a lavishing wedding ceremony.
Star Filled Wedding of Samantha and Colin Hanks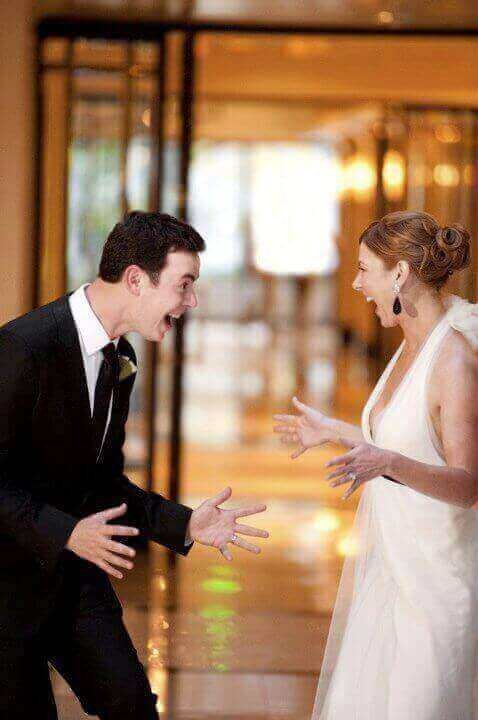 Samantha Bryant walked down the aisle with Colin Hanks on May 8, 2010. The pair said 'I do' at sunset on the roof of swanky London West Hollywood hotel. The entire rooftop pool area was rented out for their wedding ceremony. The venue was beautifully decorated with huge ball lamps hung over the actual pool area.
The wedding was witnessed by about 300 guests that included big Hollywood names like Steven Spielberg, Reese Witherspoon, Jim Toth, and Alyssa Milano.
At the Ellen Show, Colin also shared his bit of experience on meeting "Bruce Springsteen."
"I just caught him like across the room. And we locked eyes from like far away. And he just gave me like the double thumbs up. That's weird man. Bruce Springston gave me thumbs up at my wedding. I'll take it."
Well, after all it's Bruce Springsteen we are talking about. And, Ellen too seem a big fan of the artist arguing, "But it's Bruce Springsteen" when Colin said it's awkward hanging out with your father's friends.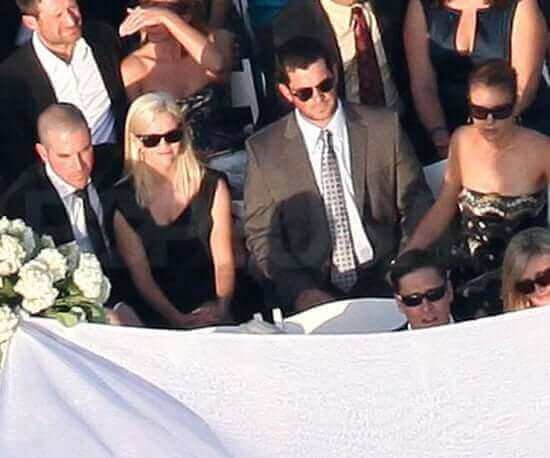 Rumors have it that other guests of the hotel were asked to leave the pool starting from 3 pm so that the crews would decorate the venue for the A-class wedding.  In an effort to neutralize the inconvenience caused to the guests, they were handed out some free drinks.
With over a decade of marital bliss now, the pair look happier than ever and their bond is growing stronger with the time. The couple is seen appearing in red carpets together in many events. Together they are proud parents of two adorable daughters named Olivia and Charlotte.
Samantha Bryant's Kids: Olivia & Charlotte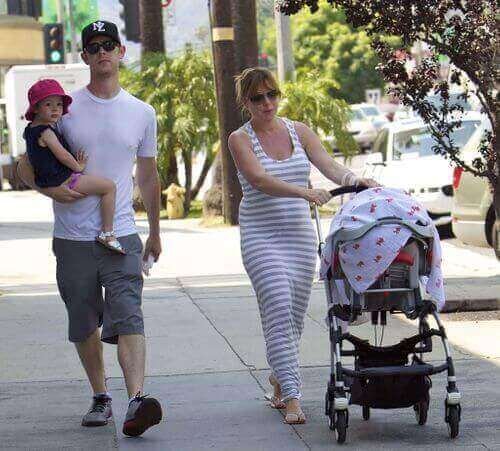 Bryant chose to keep aside her career when she gave birth to two beautiful daughters. Bryant and Hanks welcomed their first baby Olivia Jane Hanks on February 1, 2011, in Los Angeles. She happens to be the first grandchild of Hollywood nicest man Tom Hanks. On Olivia's birth, a close source to the actor said:
"The family is home and everyone's happy and healthy."
Likewise, the couple again welcomed baby no. 2 in July 2, 2013, right after two years of embracing parenthood for the first time. The couple announced they were expecting a second child in April when they appeared for the premiere of Tom Hanks's play Lucky Guy. Once Colin Hanks joked about fatherhood saying:
"A baby's existence for the first three months is a one-way street. One person is doing all the work and the other is crying, sleeping, and pooping. But, since our daughter joined us, the spectrum has widened. My job is to recreate moments between people and when you are able to look at moments differently, you get deeper meaning in things."
Bryant's husband Colin shared US Magazine that his daughters have no idea how famous their grandfather is. Colin said:
"They really don't care how famous he is although he reminds them every day. They spend time with their grandpa like every other play-date with a grandfather. The grandparent gives them stuff they shouldn't be having, and the grandparents don't listen to what the parents are saying they should be doing."
He added:
"Children are great humblers. They don't care what you do or what you have done. They just want to do their kid stuff."
Colin Hanks and Bryant are enjoying their family life. He never misses any chance to brag how doting Bryant is as a mom.
Colin absolutely adores his kids like any normal dad would. During his interview with Stephen Colbert, he revealed how he cried his eyes out with joy when he was taking his first child from hospital to home. He told in the late show he shared his same experience with the director and how they used in the pilot episode of "Life in Pieces." And for that he received earful from his wife, Samantha.
Samantha Bryant Parents were also Actors
Born on April 14, according to Colin's Instagram post, Samantha was a restaurant publicist and a production assistant before taking a back seat to raise her two beautiful daughters. Just like her husband Colin, she too comes from a family of actors. Her parents and Tom Hanks have one way or another worked with each other according to an exclusive report by New York Times in 2009.
Although Colin shares a lot about his wife in his Instagram, not much is known about Samantha's previous life as she prefers to stay low key. She even doesn't have any social media profiles making it really tough to crack down her personal details.
Samantha started her career with a tiny role in 1986 mini tv series "The Singing Detective"
Everyone has to start somewhere and so did Samantha. She started her acting career as a child artist in 1986 playing TV series, "The Singing Detective." In the episode "who done it," she plays a mini role of Barbara, a student in the same class of Philip Marlow. The episode centers around Philip reminiscing about his childhood days when he puts the blame to Binney for the mishap he did on the school. In the round of questioning with teacher Barbara raised her hand and supported Philip's answer.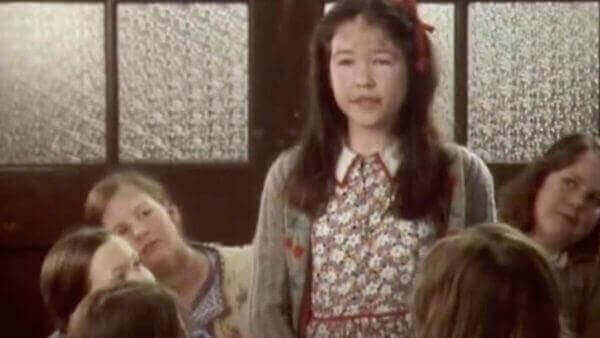 Although the role was pretty small, this is where it all started for Samantha.
Samantha despite her decent acting chaps couldn't hack the acting world. So, she moved from front of the camera to behind.
In 2005, she worked as an assistant to director Jon Favreau in the science fiction movie " Zathura: A Space Adventure." Meanwhile, she has also directed a TV short documentary Still Swingin'. Her other notable works as production assistant include First Time Flippers in 2013 and Grave Mysteries in 2017.
After working behind the scenes for a while, Samantha seems to have put on brakes. After giving birth to two beautiful daughters, she sidelined her own career to raise her kids. While Colin is busy working on his career, Samantha is taking care of the home front.
Samantha is Adored by the Hanks
Although Colin is a step-son to Rita Wilson, the actress takes him like his own son. She even jokingly admitted that her son was naive not to understand the cues given by Kate Hudson who was at that time completely on to him.
"Kate used to bicycle over to my house when she was 14 to see if my son Colin Hanks was home," Wilson said. "And Colin Hanks being a little too clueless to know, she noted mocking Colin."
Well, that ship has sailed for good now!
But there is no love lost between Rita and Colin's wife Samantha. Wilson and Hanks are often seen wandering around the streets of LA on shorts and pajama bottom with their grandkids. Bryant and her in-laws are seen in numerous family outings, events and even celebrating Christmas together.
Samantha Bryant's Net Worth: Is She Rich??
Samantha belongs to a wealthy family in Hollywood. Her father-in-law veteran actor Tom Hanks and her husband Colin has earned a massive fortune from their career. Likewise, Samantha has worked as a New York publicist for the most part of life and also worked in Hollywood for a while. From this, we can guess she has somewhat garnered a fair amount of fortune. It has been assumed that her net worth is around $4,00,000. However, her exact net worth and salary has not been revealed yet.
She is living a lavishing lifestyle as she shares the fortune of his millionaire husband. As Samantha's career has taken a backseat now, she is currently enjoying the net worth that amounts to $15 million earned by husband Colin Hanks.
How is Samantha and Colin's Relationship After 10 years
The foundation of Samantha and Colin's relationship was built on a long friendship. They started as friends before embarking this ten year journey of marriage. And by the looks of it, they are happy than ever.
Samantha is mostly there for her husband during his movie premiers or any sort of red carpet events. Colin on the other hand has nothing but sweet words for his wife. If you check his Instagram, you will find a lot of posts dedicated to his wife, kind of like this.
Even after ten long years, Colin finds new ways to love and surprise his wife. Whether it's a "Mothers Day" or their marriage anniversary, Colin doesn't skip any dates.
Well, this is one way to keep your relationship smooth. And the Junior Hanks seems pretty well on that task. Taking chapters from Tom and Rita's love book, we hope this relationship last for ever and ever.