Few people are lucky enough to find their soulmate very early on in their life. Having someone beside you as your support system holds incredible meaning to the success you get in your life.
Lebron James is one such lucky individual who got to share everything from the start as a hometown hero to being the GOAT in the NBA, with the love of his life Savannah James.
She is Lebron's high school sweetheart and the woman that stood by him during thick and thin. The couple are blessed with three kids and even after almost 2 decades of relationship they look inseparable.
But how did it all start for this beautiful couple. And what is Savannah up to these days. Quite a lot, to be precise. Here is what we know about Lebron's beautiful wife.
Savannah Was in a High School Cheerleading Team
Savannah James or Savannah Racheal Brinson initially was born on August 27, 1986, in Akron, Ohio, USA to parents J.K and Jennifer Brinson. Savannah grew up in a big family of five children where she was the youngest among the bunch. Savannah went to Buchtel High School in Akron, Ohio.
She was a part of the high school cheerleading squad and also played softball. Savannah and Lebron both were at the opposite side of the spectrum as they both represented the rival teams of the town.
How Lebron and Savannah Met: James Made the First Move
Savannah met her future husband Lebron James when she was just 16 years old. James was at that time a rising superstar in basketball and football at St. Vincent-St. Mary Highschool. They first met at a football game and he even invited her to a basketball game.
Unknown about James athletic prowess at the time, Savannah kindly obliged.
"I had no idea who he was," she said.
James was then quick to ask her out for a date which they had at Outbreak Steakhouse.
James even went on to return with the leftovers of their dinner date which Savannah thought was an excuse to see her again.
Remembering her first date, she said in a speech at YWCA's Circle 2017:
"I guess you could say that he was a pretty good date. After all, we're still going on more dates, three kids and fifteen years later."
Shortly after their first date, the couple officially became a couple. During her high school days, Savannah was known to be the source of envy for many girls since James was regarded as a hometown hero.
She Was Just 18 When She Gave Birth to Lebron "Bronny" James Jr.
In 2003, Lebron James became the top pick for Cleveland Cavaliers in the NBA draft. Coincidentally the same year, his girlfriend Savannah became pregnant with the couple's first child. After learning about her pregnancy, one of the first things she thought was how she was going to break the news to her parents.
In a 2010 interview with Harpers Bazaar, she revealed the sheer pressure of being a new mom at a young age. She was only 17 at the time of her pregnancy. Eventually it was her boyfriend Lebron James who calmed her down.
He said, "It's not going to slow me down, and it's not going to slow you down. We're going to do what we have to do."
On October 6, 2004, the couple welcomed their first son, Lebron James Jr. also known as Bronny James. Three years later on June 14, they had another son, Bryce Maximus James.
Marrying Her Longtime Boyfriend
In 2011, Lebron James proposed to his longtime girlfriend Savannah at a New Year's Eve party in France.
In a 2012 interview with Oprah talking about the thought process behind the proposal, he said, "I have been thinking about it for a while but it just came to me one day i was like you know this is a part of growth in me. And this is the lady and woman I've been with through all the goods and all the bads. She was there for me for a long time. So at that moment it was time."
They officially got married in September, 2013 in San Diego, California. They exchanged wedding vows at the Grand Del Mar Hotel and the ceremony was said to be very lavish.
Their guest list included Miami Heat teammate Dwayne Wade and his then girlfriend Gabrielle Union, head coach Erik Spoelstra, team president Pat Riley, Knicks all-star forward Carmelo Anthony and Clippers all-star guard Chris Paul. The power couple Beyonce and Jay Z were also rumored to be present in the ceremony where they allegedly performed for the happy couple.
Savannah is Now a Mother of Three
In March 2014, it was confirmed that Savannah was four months pregnant with her third child. The parents announced the little girl's name while on a Mediterranean vacation in August. Taking to Instagram, Lebron James posted a photo of the couple on vacation with the caption, "Mykonos Greece is spectacular! Push gift to my wife! Zhuri hurry up and get here so your daddy and 2 brothers can annoy you! Lol".
On October 22, 2014, the couple welcomed their beautiful baby girl, Zhuri Nova James. The same year, the whole family moved back to Cleveland as James returned to the Cavaliers. The family currently resides in their Los Angeles home.
Savannah is all About Giving Back to the Community
Since her childhood, Savannah learned the importance of giving back to those in need from her parents who used to take in youngsters dealing with unfortunate circumstances. The door of her home was always open to those in need. Growing up, she carried the same mentality of giving back to the community like her parents.
With her husband, Savannah ventured out to do different philanthropic activities. She regularly works alongside her husband for the Akron based charity foundation 'The Lebron James Family Foundation'. In 2018, a public elementary school 'I Promise School' which was created in association with the foundation was approved by the Akron School Board. She was said to be a crucial part of the initiative.
Apart from this, Savannah James has also launched 'Akron: Women of our Future' which is a mentorship program targeted for high school girls at her alma mater, Buchtel community Learning Center.
She Launched I PROMise Makeover Campaign
With the association with The Lebron James Foundation, Savannah launched the 'I PROMise' makeover campaign in 2012. The campaign is an annual event that takes place for the students of her Alma Mater, Akron's Buchtel High School.
The campaign finds girls who do not have funds to buy their own prom dresses and provide them free ones. Knowing how important prom is for high school graduating class, she has been actively participating in the campaign.
Lebron James Furniture Collection
In 2011, the Lebron James Family Foundation partnered with American Signature to remodel his Boys & Girls Club of Miami Dade. Savannah, who is known to have an interest in interior designing, was very much involved in the design process of the furniture.
The couple was said to have been inspired for the design after observing their sons playing in their bedrooms.
Upon completion of the collection, Savannah Brinson said, "I designed every piece for a different reason. So, I love each one.".
She Partnered with K+ Organic to Bring Kids Friendly Sports Drink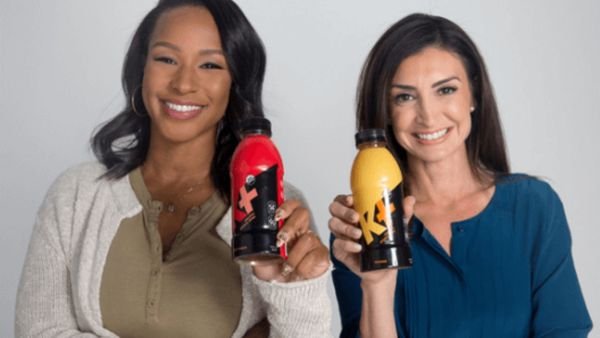 In 2018, Los Angeles based K+ Organics announced partnership with Savannah Brinson James. She partnered up with the founding partner Velana Colon to develop a kids friendly sports drink line.
The mission for both of them was to create a parent approved sports drink that has significantly less sugar and calories but would also be packed with helpful nutrients needed for a child athlete. The sports drink comes in different flavors like Fruit Punch, Orange, Lime and Lemonade.
Talking about the unusual collaboration with her partner Velana Colón, Savannah had this to say, "In this day and age, there are so many more healthy alternatives for adults than we had growing up, but it's frustrating to still not see healthier options for kids."
Savannah Stacks Quite a Good Number of Followers in Instagram
Despite being the wife of one of the most reputed players in history, Savannah is known to have a very low profile life. She has a very small circle of friends and rarely hangs out with high profile celebrities that her husband meets on a regular basis. While she is a very private person, she does not hesitate to take the lead if she has to talk about her various philanthropic activities.
Savannah Brinson James is very active in social media. She is most active on Instagram where she has 1.5 million followers. She regularly posts photos of her family, especially her children.
With her business ventures and philanthropic activities, Savannah Brinson is estimated to have a net worth of $50 million dollars. As of 2020, her husband Lebron James has an estimated total net worth of $480 million dollars. With this much money no wonder, they bought a $20 million house in Brentwood, Los Angeles in 2015 and just two years later bought another house in the same community for $23 million dollars.
As of 2020, Savannah and Lebron have been together for almost two decades. In the present era where often marriages end up being unsuccessful, it's nice to see a couple still going strong, loving and supporting each other along the way.