Regarded as one of the best drummers of his time, Sib's life has been nothing short of roller coaster ride. Sib Hashian is best known for his work on Rock Band Boston. He teamed with a group of Legends of Rock Cruise alongside the guitarist, Barry Goudreau, to form one of the greatest rock band,'Boston.'
Sib Hashian's Early Background
Born and raised in Boston, Massachusetts, Sib Hashian was into music from an early age. He was born on August 17, 1949. His original name was John Thomas Hashian. Thomas belongs to American nationality, and by ethnicity wise, he is Armenian and Italian. Brought up in an interesting family, Sib was very interested in singing and extra activities from his early age.
Hashian's Personal Life
John Thomas 'Sib' Hashian married his girlfriend, Suzanne Hashian. His wife Suzanne was one of the Bunny of the Dallas Playboy Club. For those who aren't familiar with the Bunny, they were kind of big deal in the 80s. It was the theme brought by the founder Hugh Hefner for his beautiful wait staff at Dallas Playboy Club. Moreover, Dallas Playboy Club was a pleasurable escape for the trials of life not just for the customers, but also for many of the women who worked there.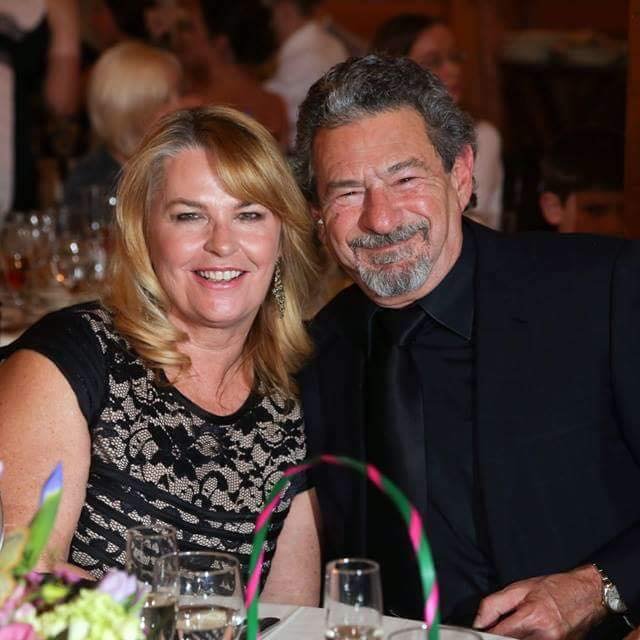 Sib Hashian with Wife Suzanne Hashian
They have three kids. He has one son named Adam Hashian and two daughters named Aja and Lauren. His daughters Aja and Lauren are singers and songwriters. Daughter Lauren Hashian is the heartthrob of Dwayne Johnson, The Rock.
Lauren pursued her career in music following the footsteps of her father. She has shared stage with Sib in the show 'R U That Girl' in 2005. She released her song 'Memory' in 2014, followed by "Go Hard" in 2016. Lauren has co-written the song "Just You" with hip-hop artist Yaboi Shad. Lauren and Dwayne Johnson are in a long relationship and have two daughters. Dwayne Johnson was previously married to Dany Garcia.
Sib's youngest daughter Aja Hashian is also a musician like her father and sister. Hashian sisters collaborates with each other to give new songs to the industry.
Unfortunately, Sib Hashian died on March 22, 2017, due to the heart attack while he was performing on stage on Caribbean Cruise.
Sib's Professional Career
Hashian was the drummer of the classic Rock Band Boston. His journey as a drummer started when the Boston founder Tom Schulz reluctantly chose him to replace original drummer Jim Masdea in 1975. Sib Hashian has also played on Boston's first two selling hit albums; ' More Than a Feeling ' and 'Don't Look Back.' However, he was replaced in the band when Jim Masdea came back to the band. After leaving Boston, Hashian sued Boston band leader for back loyalties.
Furthermore, Hashian was the drummer for his fellow Boston member Barry Goudreau's solo album released in 1980. In 2001, he debuted as an actor at the Cape Cod Repertory Theater in the play '9 Ball'. Likewise, in 2005, he appeared in 'R U the Girl', an American reality series. He started co-hosting scorch's local TV show PFG-TV in New England in 2012 from which he came back to the limelight.
Relationship with Dwayne Johnson
Sib Hashian is the father of Johnson's beau Lauren Hashian. Dwayne Johnson is the former wrestler and an actor. He is notably recognized as 'The Rock.' Lauren and Johnson are in relationship since 2007. Hashian's relationship with Dwayne was of the father-son relationship. Johnson regards Sib as his second father. His untimely demise left everyone in grief including Johnson. Dwayne (The Rock) paid tribute to his second father on social media.
Hashian's Untimely Demise
Sib Hashian died on March 22, 2017, at the age of 67. According to reports, Hashian collapsed while performing on the Caribbean Cruise. Later on, his son Adam confirmed the news with TMZ. The Cruise on which Sib performed for the last time began on March 18 in Florida and had stops in places like Puerto Rico and the Bahamas. Just after three days of the journey, Sib died of heart attack. However, the cruise continued and other fellow musicians paid tribute to Sib on the ship. His sudden passing has prompted an outpouring social media tributes.
Following his passing, Barry Goudreau, guitarist of Boston Rock Band wrote a heart-wrenching post on Facebook that read;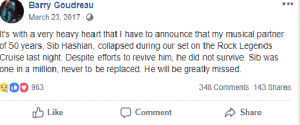 The Boston band site released a statement on March 24, that read;
"Our thoughts go out to the family and friends of Sib Hashian who unexpectedly passed away yesterday. Sib's high energy drumming on the early Boston albums and tours leaves a legacy that will be remembered by millions."