In the world with differences, different people become famous for different reasons. For some, it is for good reasons while others found themselves famous for the wrong reasons. Here, Sonni Pacheco falls in the category of both. She dragged all attention towards her following her marriage with two times Oscar-nominated Hollywood actor Jeremy Renner. But soon she got attention for the separation battle that turned ugly with her husband for ten months.
Though she has established herself as an actress and fashion model, she is famous as the ex-wife of Jeremy Renner. She has many chapters of life that has been untold to the world. We have revealed those chapters for you in the following paragraphs.
Sonni Pacheco's Short Brief
Sonni Pacheco sore to the mountains of headlines with her relationship with Jeremy Renner. She was married to Jeremy for less than a year. The 28-year old was born in 1991 in British Columbia, Vancouver, Pitt Meadows. Her exact birth of date is unknown.
As a child, Sonni prospered a deep love for the animals because she grew up on a farm in her birthplace. While many kids would have dogs or cats as a pet, she chose a frog as her first pet instead. We must say she has a unique taste.
Apart from this, there's no information about her early lifestyle including details about her parents, family, and educational history. She has chosen to remain tight-lipped about her personal life.
Professional Life Breakthrough: Model turned Actress
Sonni Pacheco had developed an interest in modeling from her childhood days. Following her passion, Pacheco started working as a model for various low budget commercials in Canada. As she wasn't satisfied with the small projects on which she was working, she decided to move to Mexico.
She shifted to Mexico to try out new things that could grab her new opportunities. Upon her arrival in Mexico, she worked at hotel resorts selling timeshares. Sadly she couldn't continue the job and left it as it wasn't her passion. While searching for an opportunity that supports her interest, she landed in China. She then began modeling for various modeling agencies and magazines.
Over the course of her career, Sonni has appeared in a few commercials and magazines. She has worked as a lingerie model. The former wife of Jeremy even served as the spokesperson for Monster Energy Drinks. Besides modeling, Sonni has also tried her luck in acting. She debuted in the acting world with the movie " American Pie Presents: The Book of Love" in 2009. She appeared as a splendid wet t-shirt girl. After this, she was featured in the 2011 hit action movie "Mission Impossible: Ghost Protocol" and "The Wingman."
From her short-lived career, she couldn't attain the fame as compared to she later got being the wife of Oscar-nominated actor Jeremy Renner.
Pacheco and Renner's Secret Wedding: Less Than a Year
Sonni and Jeremy's love story blossomed at the sets of the blockbuster movie "Mission Impossible: Ghost Protocol". The Avengers star was portraying the role of William Brandt whereas Pacheco was an extra in the movie. The couple dated for three years before they said "I Do" on 24th September 2014. Both Pacheco and Renner have a love for keeping their personal life a private affair. So, their wedding was also a secret affair whose inside details are still a puzzle.
Jeremy confirmed the news of their secret wedding during a screening of the movie "Kill the Messenger" held at Washington, D.C. He showed his wedding ring as well. When asked about why he remained mum on the marriage, he told:
"I have tried to protect my family's privacy, my wife's privacy. I don't need her to get hampered with my life. It's annoying being followed when I'm with my family."
Further, he added:
"It's not just me- everyone in Hollywood has to deal with that. I've been talked about a whole lot, because the less I put out there, the less people know, and it makes it interesting, I assume."
The adorable couples couldn't adjust themselves in the marriage journey and parted their ways just some months before their first anniversary. Just like their secret wedding, their separation news created a buzz among fans and the industry.
Sonni Gave birth to a Baby Daughter Before they Tied Knot
Sonni Pacheco welcomed her baby before she tied the knot with Jeremy Renner in 2014. The former couple welcomed their daughter on March 28, 2013. She has been named as Ava Berlin Renner. The former couple shares the joint custody of the baby girl as they have ended their relationship.
An Ugly Legal Battle and Custody Issues
The trend of getting married and heading for divorce within less time is increasing among Hollywood couples. As the celebrity couple involves in things like divorce, they drag all media attention towards them. Just like that, Sonni and Jeremy too attracted all the media attention towards. The adorable couple tied the knot in 2014 in a secret ceremony and had already welcomed a baby girl by that time.
The couple did not remain married for a long time and headed for divorce just after 10 months of the wedding. Pacheco filed for the divorce citing irreconcilable differences as the cause on November 2015. She requested the court for giving joint custody of their daughter but to grant her physical custody.
The divorce got really ugly when Sonni accused Jeremy of stealing her passport, birth certificate, and social security card. In response, Jeremy also accused her of being a bad parent, and not giving needed attention and care to their little daughter. After accusing each other and creating a great drama, their divorce was finalized in December 2015.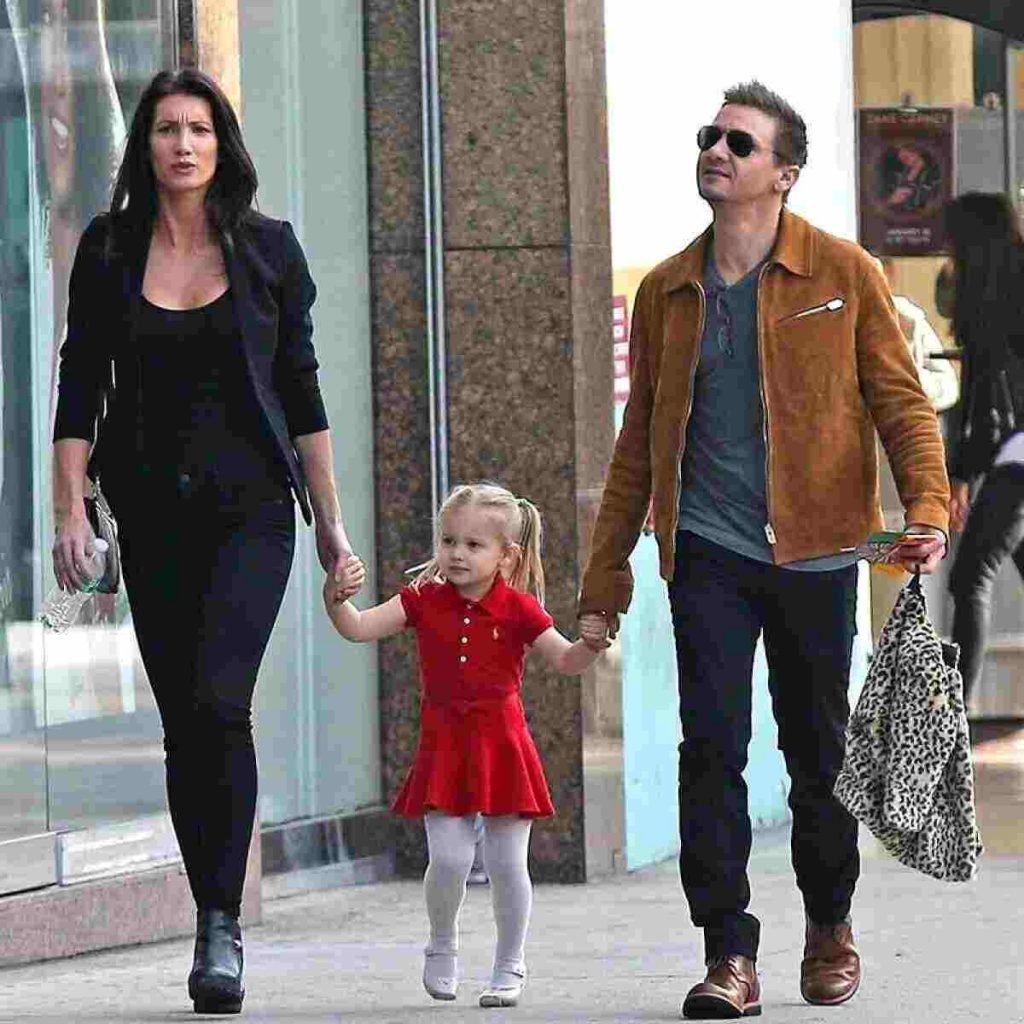 Besides, Pacheco and Renner have a joint custody of their child Ava Berlin. The court ordered Renner to pay 13000 per month as a child support deal. Moreover, 5% of the amount in excess of Renner's $2.3 million annual salary will also be included in the child support.
While she is receiving child support, she isn't getting spousal support. The former couple had signed pre-nuptial agreement due to which Sonni hasn't any right on the property owned by Jeremy and even for spousal support.
The huge age difference (20 years) is speculated to be the real reason for their divorce. Maybe the way they see the world was so different that led to the destruction of their world of happiness.
Pacheco's Life after Abysmal Divorce
There are no rumors of Sonni Pacheco's link ups after her divorce with the Hollywood actor Jeremy. She has remained away from the stardom and has disappeared from Hollywood. She has left acting and modeling after marriage. So, after her divorce, she gives all her time to her daughter Ava and spends her time at home raising Ava.
Furthermore, the former actress and model have got some skills in sculpture. She has learned about clay sculpting when she was pregnant. She further enhanced her skills in clay sculpture after her divorce. Pacheco has used sculpting as a medium to express her sorrows and experiences in life. She has changed herself into a Sculpture artist.
Sonni accused her ex-husband of alleged abuse
In the 2019 court documents from the couple's divorce case, the model had accused her ex-husband Renner of previously threatening to kill her and himself and claiming he had a history of verbal, emotional and substance abuse. According to her, Renner put a gun in his mouth and threatened to kill himself before firing into the ceiling of the room where their little girl was asleep.
The model also claimed that their nanny witnessed the alleged violent moment, he was threatening to kill her and himself telling 'it was better that Ava had no parents than to have [Sonni] as her mother'. At that time, Renner's rep pointed out the dramatization of the one-sided allegation and insisted that the final decision would be carried by the court.
However in 2021, the Hawkeye star addressed the allegations made against him and said, "I don't respond publicly or privately to nonsense." "It only empowers it… if you respond to it, you give it gas. I just don't do it. I refuse to," he added.
Subsequently, Renner also accused his ex of removing more than $50000 from their daughter Ava's fund for her personal benefit. She too denied all the allegations made against her.
Sonni Pacheco's Net Worth
Sonni Pacheco has accumulated a fair amount of money from her acting and modeling career. Though she didn't have a promising career, her marriage to an ace actor have certainly boosted up her net worth. The exact amount in figures of her estimated net worth is not known. On the other hand, her former husband's net worth has certainly skyrocketed after the huge success of the movie "The Avengers". His net worth has reached $ 50 million as of 2019.
Sonni Pacheco has disappeared from the limelight following her divorce with Jeremy. She isn't active in any social media platforms that include Instagram, Twitter, Facebook and the like. The former actress and model is a private person and prefers keeping a distance from the media to avoid unwanted controversies and rumors.