Sunny Madeline Sandler is the youngest of the Sandler family tree who is already racing into the footsteps laid by her father, Adam Sandler, and mother Jackie Sandler. At just the age of 12, she has already been credited in about seventeen movies.
Many may argue that she is hardly been in a role that defines her career but hey! she is the daughter of Sandman, and you could tell that something big is yet to come. This is probably why he is nurturing his kids with all the roles in his movies like 'Grown ups,' 'Just Go with it,' 'Pixels,' and 'Hubie Halloween.'
If she isn't messing with her father's interview, the 12-year-old is often caught on cameras with her sister and parents having good times. Although she has been in more than a handful of movies, the Sandler family keeps it relatively quiet when it comes to their private life.
When Old is Sunny Sandler?

Born on 2nd November 2008 in California, Sunny is 13 years old. Adam revealed the pregnancy on Tonight's Show with Jay Leno.

How many movies has Sunny been in?

According to IMDB, Sunny has been credited for 19 movies. Latest being 'Hustle' where she played a 13 year old greek girl.

What is Sunny's net worth?

She is just a child actress and she has only been on minor roles most of which are produced by her father Adam. So she probably doesn't earn much and whatever she gets is perhaps retained by her parents.
Hollywood in the Bloodline: Her Sister Sadie has also been in Movies
Before moving forward let's discuss the elephant in the room that is Sadie. Doesn't she look exactly like her mother Jackie? Or is it just me?
Sadie born on May 6, 2006, is the eldest one of the Sandler kid clan. Just like Sunny, Sadie is also a child actress having performed in various projects. She made her debut in 2008 with the movie 'Bedtime Stories. She was 2 at the time.
And, of course, the movie was produced by Adam so he might have had the casting rights. Nevertheless, it was an early experience on the screens for Sadie. She then went on to feature in many more projects which were mostly associated with her father in some form.
She has been in the movies like Grown-Ups, Pixels, Just Go with It, Jack and Jill, That's My Boy, Blended, Sandy Wexler, and The Do-Over. Sadie is also a voice artist having worked for the Hotel Transylvania series.
Dad Sandler Adores his two Daughters
There is no denying that Sandman is quite a family guy. Despite his busy schedule, he always separates his time for his family. This is probably why Daddy Sandler and Mommy Sandler are together for almost a decade.
Apart from being at various movie premieres and Hollywood events, the Sandler family is quite often seen enjoying their "We" time outside the industry. Adam especially seems to have a close-knit bond with his two beautiful daughters. Like any dad, he drops his kids at school, helps them with their homework, and even taught them to ride their bikes. On any normal day, you can find the Sandler family on a beach surfing together or enjoying time at the Malibu fair. Adam and his long sweats just love spending time with his family!
In a 2014 interview with Huffington Post, Adam told how parenting has changed his lifestyle. He revealed how he doesn't go out after 9:30 and if someone keeps him out until 10:30, he gets pissed. He even used to dress up in a costume and read bedtime stories to his kids.
Well, doesn't he deserve the coolest dad trophy?
During a movie promotion of "The Week Of," on Good Morning America, he shared a heart-melting story about how he feels about his daughters getting married. He told the hosts that in the movie he shares a close bond with his on-screen daughter Sarah played by Allison Strong. And, when it was time to say goodbye it was hard for him.
Yeah! it will be difficult for me. We were watching the movie premiere, and my character was having hard time saying good-bye because he is really close to his daughter. When the movie was ending, my wife leaned on to me and she goes,"you really have to let go one day," said Adam.
Referred to as "My Sunny" by Adam, the father and daughter duo share beautiful chemistry in movies as well as in real lives. On May 12, 2020, Sunny was caught on camera when Adam was giving an interview to Jimmy Kimmel from home. She even helped the sweat-pant guy (Sandler), get ready for her interview.
"I had a hair coming out of my ear, apparently, and Sunny told me about it. And she said I looked goofy so I went and shaved it" Adam told Jimmy.

"I took the razor I usually shave with and I went like this, then I came downstairs and said, 'How's that Sunny?' and she said, 'You're bleeding.'"
She then tries to explain the situation in the most adorable way possible saying,' it's bloody.' The aww moment was when she kissed her father goodbye on the cheeks.
Adam is Grooming his Two Kids for the Pop Culture World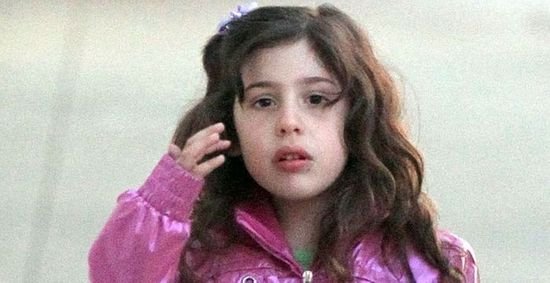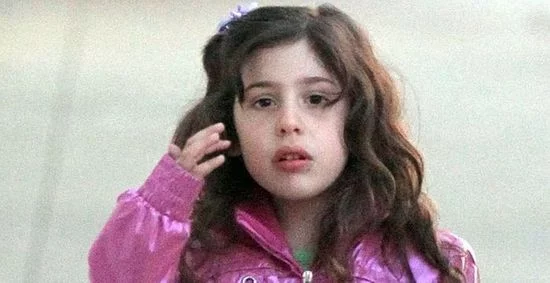 Whenever Adam Sandler's movie pops up, we can most certainly expect cameos from his two kids and Jackie. It's probably his way of preparing his kids for the career that lies ahead of them. To this date, she has worked on over 17 projects according to IMDB. And as one can guess about dozen of them have been in her father's projects. Although most of the roles are minor, she looks really comfortable and natural in front of the camera.
Well, perhaps something comes with genes!
At the tender age of 2, she made her debut at the screens in Dennis Dugan's comedy movie "Grown Ups." She played the character of Tardio's daughter. The movie shooting was easy for her as her father Adam was there to accompany her. Her performance in the movie treated with her nomination for 'Choice Celebrity Baby' at the Teen Choice Awards. However, the award was taken home by Marrie Warren, daughter of actress Jessica Alba and Cash Warren.
In 2011, she appeared in a romantic comedy movie 'Just Go with It.' Sunny played the role of random show-up kids in the comedy movie. She was lucky to share the screen with renowned actress Jennifer Anniston. She also appeared in the movie 'Jack and Jill' the same year. Sunny's career continued to flourish with the passing year. In 2012, she starred in the movie named 'That's My Boy' playing a small role.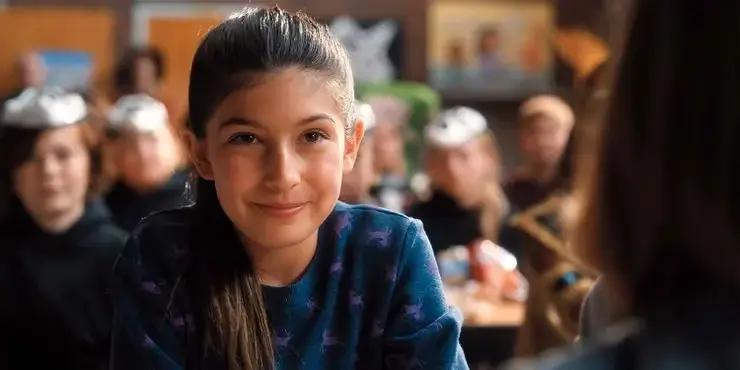 Again in 2013, she showcased her acting skills in the second series of 'Grown Ups" named "Grown Ups 2." The little girl got a big break in her rising career when she made her appearance in the movie " Blended' in 2014. She played the character of Wall Street's step-daughter in the movie. Though the movie was critically panned, it was successful at the theaters.
Stepped into the Hollywood world at the tender age of 2, Sunny has learned to deal perfectly with the different camera angles. She knows what the particular role is demanding and acts accordingly. The talented superstar once again shared the screen with her father Adam Sandler in "Pixels" released in 2015. Kevin James was also featured in the movie. Pixels is a science fiction movie directed by Chris Columbus. Despite critics giving negative reviews, the movie earned almost $250 million at the box office proving it a massive hit.
Likewise, the same year she played a minor role in the Netflix movie "The Ridiculous 6." Furthermore, her second Netflix series include 'The Do-Over' in 2016. Her elder sister Sadie was also cast in the movie. The real sisters played the role of onscreen sisters portraying the role of Daisy and Sally respectively. Her movie projects further include 'Sandy Wexler' (2017), 'The Week Of' (2018), and 'Hotel Transylvania 3: Summer Vacation (2018). Besides acting, Adam's daughter Sunny has lent her voice for a few movies including sequels of Hotel Transylvania.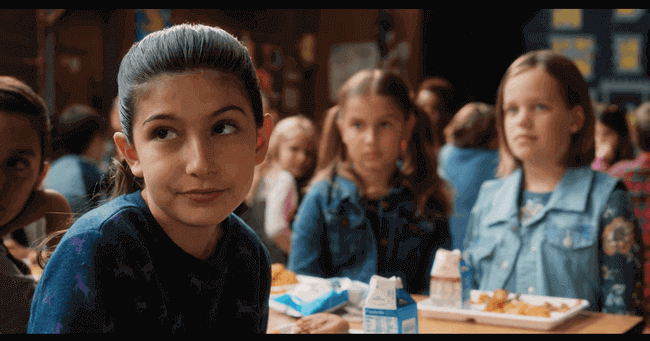 Recently Sunny and Sadie both featured in the movie 'Hubie Halloween' released in 2020. And you guessed it, it's another Adam Sandler movie.
In 2022, Sunny Sandler appeared in yet again another movie produced by her father 'Home Team' starring Kevin James, Taylor Lautner and Rob Schneider. She plays the character of Brooke who is the crush of one of the football team members, Harlan. One thing that's consistent in his movies is the involvement of his family for sure.
Sunny & Sadie Rocked the Stage with their Rendition of "Lover"
Being the voice artist does come with perks. Sunny is passionate about singing and she has certainly laid a few jaw-dropping performances for us to see. And, her father is nothing but supportive of his daughter's singing interest.
Talking to US Weekly, he said, "They like to sing … and they see Daddy up there and they're like, 'Can I try that?' So I say, 'Get on up there.' Whatever they're excited about in their lives, I'll back them up."
Also at an event, Sunny and Sadie along with Adam performed a rendition of Taylor Swift's "Lover" at the Rock4EB.
While the sister duo took the center stage, their father, the funnyman played second fiddle to his kids and rocked the stage playing the guitar. When the sisters hit those high notes, the audience just couldn't control themselves from screaming.
Sunny Performed at the Murder Mystery Night Comedy Show
The youngest star of Adam Sandler stole the show with her adorable voice at the stage in New Jersey. Sunny performed the song 'A Million Dreams' from "The Greatest Showman" during the Mystery Murder's night comedy show held in New Jersey. The song was originally performed by Ziv Zaifman, Hugh Jackman, and Michelle Williams in the movie.
The crowd cheered her swaying hands up in the air and gave a standing ovation after the performance. The crowd really enjoyed her voice. Sunny Madeline Sandler is definitely a girl with a bunch of talent. There's no doubt she has the potential to rule Hollywood.
Sunny and Sadie don't like Adam's Movies
If you are a parent, you can relate with Adam on this. We have those awkward moments with our kids when they are just blatantly embarrassed by our sheer existence. And Adam is no different. This humiliation doesn't spare anyone even if you are a celebrity.
When talking to Ellen, Adam admitted that his kids just don't like his movies. They just don't understand the hype behind 'Sandman.' He told the daytime TV host that his kids beg to see his movies at first. But just after 20 minutes, they are like 'Can we watch something else?'
He also revealed how his kids don't see the big star in him. They just don't know why his fans are obsessed with him.
'Those people always yell things at you on the street and I don't know what the heck they're talking about,' his kids say about Adam.
Although Sunny and Sadie aren't bothered about their father they are absolutely in love with Ellen. When the movie 'Finding Dori' was released, the two sisters went absolutely crazy as confirmed by Adam.
'When it came out they went bananas,' he told Ellen who voices Dori.
Love Story of her Parents Adam Sandler and Jackie Sandler
Adam Sandler and Jackie Sandler tied the knot on 22nd June 2003 at Dick Clark's Oceanfront State. the two dated for four years before calling each other a husband and a wife. Both of them are well-known faces of the Hollywood entertainment world.
Adam Sandler is one of the highest-paid actors in Hollywood. He started his career at the age of 17 as a stand-up comedian. He then debuted on the screens with The Cosby show in 1987. Afterward, he became regular on the MTV show "Remote Control". He has also appeared in the show Saturday Night Live (1990-1995). However, he was fired from the show following some issues. Adam has starred in movies like Coneheads (1993), Airheads (1994), Happy Gilmore (1996), The Wedding Singer (1998), Going Abroad(1989), Blended, Murder Mystery, Uncut Gems, and so on. Adam has also turned himself into a producer launching the production company named "Happy Madison Production". The company was established in 1999. The first movie produced under the banner is "Deuce Bigalow: Male Gigolo". Recently, it has produced the Netflix movie "Murder Mystery."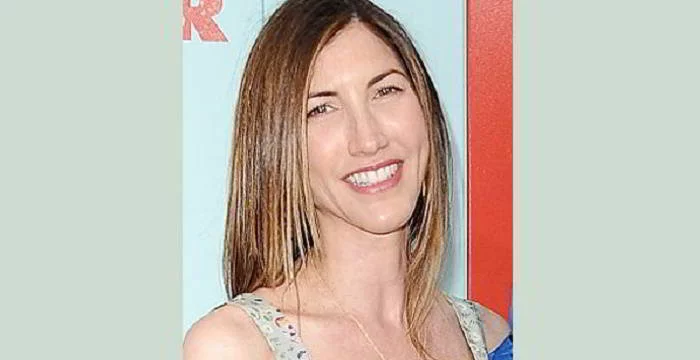 Sunny's mother Jackie Sandler kick-started her career as a model. But the modeling career didn't turn out to be fruitful. So, later on, she switched her career to acting. Jackie is an actress known for the movie "Deuce Bigalow: Male Gigolo". She played the character of Sally in the movie. Jackie often shares the screen with her husband Adam.
He often creates opportunities for Jackie to make a cameo in his movies. Until now, Jackie has appeared in movies like Big Daddy, Bucky Larson: Born To Be a Star, Little Nicky, Pixels, Blended, Zookeeper, Grown-Ups, Father of the Year, Duplex and many more. Her roles in the movies haven't created waves in Hollywood. Jackie is much more popular for being the wife of Adam Sandler than as an actress and model.
Quarantine made a Modern Family Fan out of Sunny
During his online interview with Ellen in 2020, Adam Sandler revealed that his family binge watched the entirety of popular sitcom 'Modern Family'. The whole family especially Sunny and Sadie. He talked about how much the sisters loved the show, "My kids loved it so much. They would scream at me 'Why aren't you more like him? He's funny'. And they would tell me how great everybody on this show is." Looks like Sunny really knows what good comedy is.
Personal Life: Is Sunny dating anyone?
Sunny is a teenager now, so apparently she is at that dating stage of her life. However, her dad doesn't think that way. May be that's his dad's instinct that's kicking in.
While talking to Ellen at her show, Adam revealed how he gets 'Jumpy' hearing the boys name.
"It's very weird to see your kid lock eyes with a boy, while they are talking. I'm like whoa, you lock with daddy's eyes, man," he said. Having a good chuckle, he revealed how he used to love the same kids 5 years back but feel agitated hearing their names now.
Well, that's every dad in the world I guess. Apparently, Sunny hasn't jumped inside the dating ship. But hopefully in the future, she will find her true love just like their parents.
At such a small age, she has accomplished things that many of us could only imagine at that age. Born in the Sandler's family could certainly help her cause. Her father being the producer, we can expect a big launch for Sunny in coming year. We could see that Adam is just grooming his kids with all sorts of small roles in his projects.
While she is only a child artist now, Sunny Sandler is someone to remember for the near future.