Regarded as the 'New King of Reggaeton', Latin trap singer Ozuna has taken over the music industry by storm. With all his albums topping the Billboard Top Latin Albums and his music raking up billions of views on different streaming platforms, Ozuna has become one of the most in demand artists as of recent. While his professional life is gaining massive spotlight, a lot of his fans want to know what Ozuna is like behind his music.
Did you know that the self-proclaimed 'typical boricua with Dominican blood' is already married? So, who is Taina Marie Meléndez, the lucky lady beside Ozuna? Here are six facts that you should know about her.
She was There Before the Fame
Ozuna has been pursuing a career in music since he was twelve years old. In the early 2010s, he started producing and promoting music but it wasn't until 2014 that he finally started to gain a more prominent following. Through all of this, one person who was his biggest supporter and stood by his side is his childhood friend turned wife, Taina Marie.
Estimated to be born sometime in 1994, Taina Marie met Ozuna when they were just kids in Puerto Rico and started off as friends. They started dating each other sometime in the early 2010s and even moved with him to the Washington Heights neighborhood of Manhattan in New York City. After staying there for almost three years, they moved back to Puerto Rico. 
In a 2017 facebook post, Ozuna revealed that Taina accepted him when he was a nobody and hardly had any money to sustain a normal life. Even now, despite all the controversy and extortion scandals surrounding Ozuna, she is still one of his strongest pillars in his life.
Did Taina and Ozuna had a Secret Wedding?
After almost eight years of being committed to each other, Ozuna finally popped the question to Taina Marie. On January 13, 2020, Ozuna posted his post-engagement announcement in a video through his Instagram with the caption 'Un día muy especial' which translates to 'a very special day'. In the video, he shared the heartwarming news to his 19.2 million followers. He said:
"It wasn't until I had a family that I was able to move forward, change many things, and think differently". He further added, "The most special thing a family has is a marriage and I had been wanting to get married but I was waiting for a special moment and I didn't have time … but I finally asked and told her I wanted to get married."
While there is no concrete evidence or photos to support the statement, many sources do claim that they are already married.

In their almost a decade long relationship, the couple share two beautiful kids. According to some reports, Taina Marie got pregnant with her first child and delivered a beautiful baby girl in 2014. The couple named her Sofía and she resembles her mother a lot. A couple of years later, the couple welcomed their son, Juan Andrés but is also called Jacob by the family members. She is very committed to raising her children in a very loving home and always treats her children as her greatest treasure.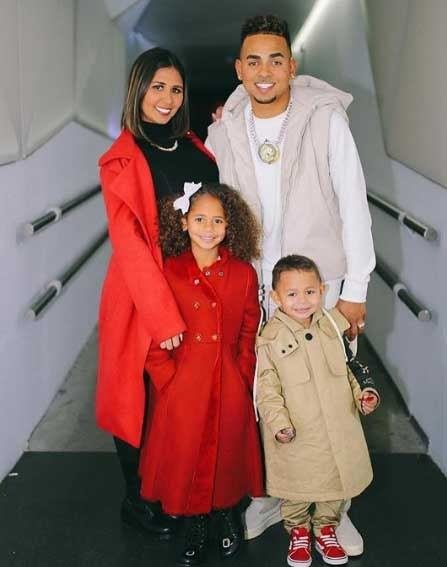 One of the Reasons Why Ozuna Avoids Lyrics that Explicitly Objectify or Disrespect Women
If you have ever listened to one of Ozuna's songs, you will notice that while his songs do contain explicit sexual lyrics, one thing that he constantly avoids is the use of any words that directly or indirectly objectifies or disrespect women. Growing up in a household with his mother and grandmother very early he knew how strong women can be.
After meeting and falling in love with Taina, as a tribute to her he started to avoid all the lyrics that could be harmful to a woman. After the birth of his daughter, he became even more focused on creating much more family friendly songs. 
In this digitally controlled era, there is hardly anyone who is not connected to one another through social media platforms. However, Ozuna's wife Taina Marie likes to keep things low profile when it comes to these things. She joined twitter in 2010 and was very active until a couple of years ago when she started posting less and less. She still has around 449 followers in her twitter account. She also used to have an Instagram account but sadly deleted her profile in 2018. 
While we might not see her on her own social media account, she is a constant presence in her husband's Instagram. Ozuna always shares his beautiful family moments where we could see that Taina is truly living a very happy life.
She is Claimed to be a Businesswoman / Homemaker
Taina Marie is notoriously private in terms of sharing her private information despite her husband being in the constant media spotlight. This is why regarding her career choices, there hasn't been any leakage of information. There are some sources that claim that she assists her husband and even oversees his concerts and tour arrangements.
Since her husband is very committed to philanthropy, she too might be helping him run his non-profit organization 'Odisea Children'. Some other sources claim that she is a very dedicated housewife who loves to take care of her family and does not oppose the idea of watching her husband front the sidelines. 
Well no matter what she actually does, one thing is for sure that Taina Marie Meléndez is a woman who can do her best in whatever she chooses to do.