There's no way to escape from the media when you are born into a star-studded family like that of Tallulah Willis. She is the daughter of former couple Bruce Willis and Demi Morre who are quite successful in their career. Having borrowed the surname of her famous dad, Tallulah has always been a matter of discussion to the public ever since her birth.
Tallulah has always created a buzz in the media whether it's for her movie or health issues. Further, her life was on the verge of breaking due to the tantrums created by the tabloids. So, what's her real-life story apart from the news and rumours flown by the media? 
Tallulah Willis's Early Life Before Fame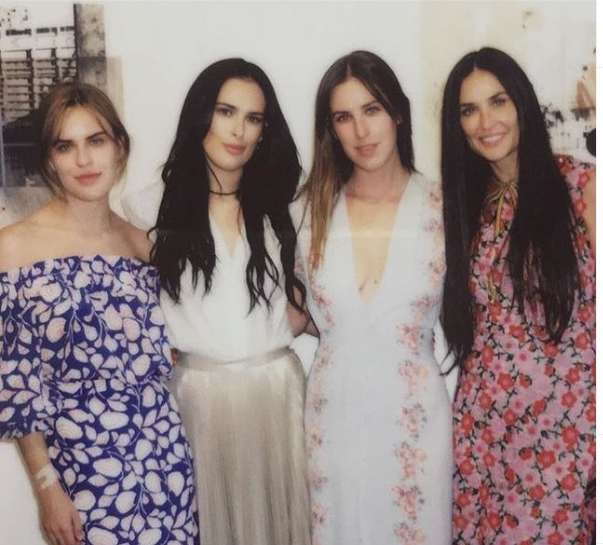 Tallulah Belle Willis was born as the daughter of actor Bruce Willis and Demi Moore on February 3, 1994. Her name Tallulah was named after Tallulah Bankhead. She has two sisters Rumer Willis and Scout Willis. Likewise, she has half-sisters Evelyn Penn Willis and Mable Ray Willis.
The youngest daughter of the former couple attended 'The University of San Francisco' but, she left the University during her freshman year. Throughout her teenage years, she has been continuously troubled by the media attention and the criticisms, her childhood was a fairy tale story.
She spent the first few years of her life on a ranch in Idaho. Her parents allowed her complete freedom which helped her to enjoy a carefree childhood. In an interview, she memorized her childhood days and said: 
'I spent my first seven years running around in, like 20 aces of trees and ponds, and we had this like river behind our house.'
Tallulah enjoyed her childhood before the media turned her teenage days into a battleground. 
Tallulah is an Actress
Tallulah's had headlights above her head even before her birth because of her famous parents. Fame has always been a part of her life because of Bruce and Demi. With both parents in Hollywood, she didn't think twice before stepping in their footsteps. Tallulah made her acting debut in 1995 in the movie " The Scarlett Letter". Her mother, Demi Moore was in the lead role in the movie. Further, her elder sister Scout was also part of the movie.
After making her debut, she then appeared in the movie 'Bandits' in 2001. She portrayed the role of Erika Miller in the movie. The movie also featured Bruce Willis in the lead role and Scout as well. In fact, as a teenage girl, her parents only allowed her to work in their movies.
She again re-appeared in Bruce Willis's starrer movie "The Whole Ten Yards' in 2004. This was her last movie as she bid farewell to the movie industry due to her health issues and her struggles with addiction.
After taking a long break from the industry, she returned to the screens in 2013. She featured in the music video " Tyler, The Creator: Tamale' and also lent her voice to the album. In recent years, she has appeared on TV shows like 'Tyler Shields: Provocateur, Entertainment Tonight and Catfish: The TV Show.
Apart From Acting, Tallulah is Interested in Arts
Tallulah has shifted her interest from showbiz to the art world. Nowadays, she has made her name through her visual artworks. She then and again posts her art on her official Instagram account. Her art challenges traditional perspectives and encourages individuals to see forms and living things from a different perspective.
Her new career has substantially increased the number of followers on her Instagram. Apart from showcasing her talent, she also uses the platform to talk about her struggle with body dysmorphia, eating disorders and addictions and inspires many youngsters passing through the same pain.
Tallulah's Parents: Bruce Willis and Demi Moore Are Big Names in the Industry
Bruce Wilis
Being born to famed parents, Tallulah has always hogged the limelight ever since her birth. Her father Walter Bruce Willis is an American actor, singer, and producer. Bruce made his acting debut in the 1970s on the Off-Broadway stage.
Later, he got his big break when he landed a leading role in the American comedy-drama television series 'Moonlighting'. He portrayed the role of David Addison who was a wisecracking private detective running the City of Angels Detective Agency.  Since then, he has appeared in more than seventy movies on the count. He is mostly regarded as an action hero. His credits include movies like Death Becomes Her, Pulp Fiction, Mercury Rising, Sin City, Unbreakable, Glass and many more on the list. 
Apart from movies and television series, he has also worked as a singer. He released his debut album 'The Return of Bruno' in 1987 released by Motown. Likewise, he was also the co-founder of a motion picture production company 'Cheyenne Enterprises.' He co-owned the company with Arnold Rifkin. The production company was established in 2000. After seven years of establishment, he left the company to be solely run by his business partner Rifkin.
Bruce is the recipient of many awards and achievements including two Primetime Emmy Awards. Golden Globe, two People's Choice Awards. Further, he also received a star on the Hollywood Walk of Fame in 2006.
Demi Moore
Demi Gene Guynes, who goes by the name Demi Moore in the Hollywood world is an actress, writer, and movie producer. She debuted as an actress in 1981 with the soap opera General Hospital. Her performance in the series earned her fame and then grabbed many roles in ventures like Blame It on Rio, St. Elmo's Fire, and About Last Night. In 1990, she appeared in the movie Ghost which proved to be the highest-grossing movie of the year. Demi also earned a nomination for the Golden Globe Awards for her performance.
Her successful portfolio includes drama and movies like If These Walls Could Talk, A Few Good Men, Indecent Proposal, Disclosure, G.I Jane, Charlie's Angels: Full Throttle, Bobby, Mr Brooks, Margin Call, Rough Night, and many others.
Demi released a memoir named Inside Out which became the New York Times Best Seller. She got full support from her ex-husband Bruce Willis after the launch. Demi and Bruce got married on November 21, 1987, and called off their marriage in 2000. However, they are still on good terms even after the divorce.
On the Netflix Podcast, "Present Company with Krista Smith", Moore opened up about the call she received from ex-partner Bruce who they got emotional over the call. She stated: 
"I was getting ready to do Jimmy Fallon live the other night, and I was in the dressing room and my phone rang and it was Bruce. I was prepared for there, maybe, to be some sensitivities, and he called and he got emotional."
She further added:
'He said I am so proud of you. I too then became very emotional and I am not a crier but to be walking out and have the encouragement, it just really meant so much, so much to me."
Her Journey of Healing
At the age of 13, Willis suffered from body dysmorphia and eating disorders that led her to look thin and abnormal. Being the daughter of two famed personalities, the tabloids created much buzz after she exposed her condition.
However, she dealt with the condition and has now recovered. Recently, on the occasion of New Year, she delivered a message that wrote she is still working on her issues to her fans. She posted a picture of herself in a bikini with a caption that described her condition.
Apart from this, Tallulah has also dealt with her problems related to drug and alcohol addiction. She spent six weeks in a rehab centre. As per Daily Mail, she was forced by her parents Demi and Bruce to solve her issues after her sister Scout discovered her snorting cocaine at the Roosevelt Hotel. After the incident, her parents threatened to cut off  Tallulah financially unless she got out of her addiction. That's when she went to "The Meadows in Arizona", a celebrity treatment.
Tallulah Was Dumped by her Fiance
Willis was engaged to director Dillon Buss in May 2021. She announced her engagement to Buss by posting a picture with Buss where she was seen kissing Buss alongside her engagement ring in her Instagram. However, the relationship didn't last longer than expected. Tallulah revealed that she broke up with Buss in June 2022 three months after her father was diagnosed with a degenerative brain condition.
In an exclusive interview with Vogue, she also revealed her mental health issue. She claimed that she was diagnosed with ADHD, Borderline Personality Disorder and a severe eating disorder that decreased her weight to 84 lbs. Recalling the moment, she revealed that her struggles reached a peak point when her fiance dumped her in June 2022 during the treatment. She said:
My boyfriend who was by then my fiance dumped me. I was given a new diagnosis: Borderline Personality Disorder, an illness that impairs the ability to regulate emotions and find stability in relationships.