Synopsis
Jay Ryan is a well-known artist who made his name from his role as Jack Scully in the Australian television series Neighbours. His other notable performance in Go Girls, Top of the Lake and Beauty & the Beast makes him an internationally recognized actor. His acting skills have led various nominations in several Award functions as well. 
Jay's Early Background and Education
Jay Ryan was born on August 29, 1981, in Auckland, New Zealand.His birth name is Jay Bunyan and he is from New Zealand with the white ethnicity. He spent his childhood growing in Auckland with his parents and a sister. From a tender age, Jay showed his love for acting. As his career scaled up, he decided to change his name from Jay Bunyan to Jay Ryan and pursued to Hollywood. Dressing up and acting as a clown at the age of 8 was his first performance in the live audience. He often used at the supermarket on the weekends.
Jay Ryan's Movies: Journey to Hollywood
In 1998, Ryan acted for the small role, Cadet in Young Hercules. After that, he appeared in the one-man show titled The Packer, directed by Jeremy Lindsay Taylor and written by Dianna Fuemana. He took the tour to the places like New Zealand, Australia, Edinburgh and LA for the show. His show- The Packer was nominated for the Hollywood Fringe Festival as Best International Contribution to Los Angeles Theatre (2011).
Under his birth name Jay Bunyan, he was able to land roles in movies like the "Scallywag Pirates"(2000). He also worked for the supporting roles in the series like Xena: Warrior Princess (1999) with the same name.
At 19, Ryan shifted to Australia to give a new direction to his career. There he was selected for the major role of Australian Soap Opera, Neighbours (2002-2005). He shared the screen along with Kylie Minogue, Stefan Dennis, Alan Fletcher, Ryan Moloney, Margot Robbie and others. His performance made him get nominated for the Most Popular New Male Talent at Logie Awards. In 2005, he went LA for the audition. During that time, he changed his surname as he felt 'Bunyan' sounds like 'Bunion'.
Then after, he was able to land roles in The Tribe (2002), Being Eve (2002), and Interrogation (2005). He then also worked for the TV series like Sea Patrol (aka Spider, 2007-2009), Go Girls (aka Kevin, 2009-2012), Legend of the Seeker (2010), OffSpring (aka Fraser King, 2011) and Terra Nova (2011). His act was loved by the audiences. His character Vincent Keller in the CW's Beauty & the Beast pilot (2012-2016) is the most admired one.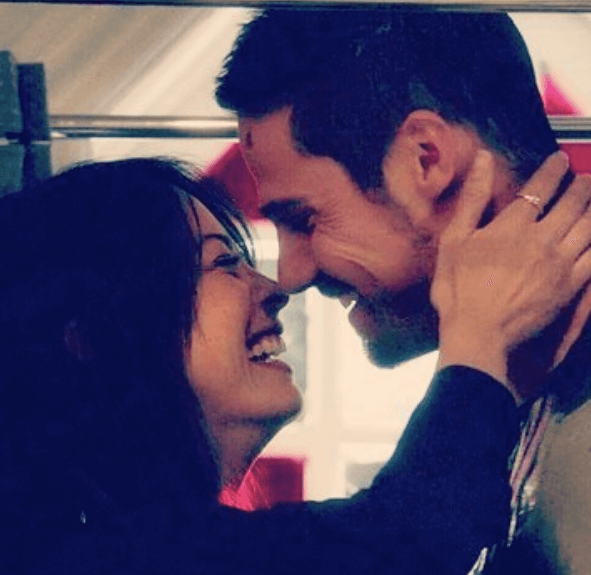 Along with Jay, this suspenseful romantic drama also featured the actors like Kristin Kreuk, Austin Basis, Max Brown, Nina Lisandrello and Brian White. He also worked with the Academic Award Winning Director Jane Campion in the series Top of the Lake (2013) which awarded him the title of Best Actor in New Zealand.
At present, Ryan is engaged with the role of Detective Ben Wiseley in Mary Kills People series starring Jay Ryan and Caroline Dhavernas.
His acting skills can also be seen in some movies for the small roles. Some of his movies are Superfire (2002), You Wish! (2003), Mockingbird (2008), Bleeders (2008), Franswa Sharl (2009) and Lou(2010).
Jay Ryan, Dianna Fuemana & Daughter Eve
Jay Ryan is one of the beloved actors in the audience. He was not involved in any rumours. But he was in a love relationship with his girlfriend Dianna Fuemana for a long time. Dianna is a Canadian-New Zealand writer and she worked along with Ryan on several projects. This couple is blessed with a beautiful daughter, Eve in March 2013. However, this couple was not married at that time and kept it a secret for about 4 months. Later, Ryan announced the birth of his daughter on the TV Week Australia.
At Comic-Con, he said: "We've kept everything pretty quiet until now, but it's changed my life and really put a lot of things in perspective. I never expected to be a dad at my age and she was a little bundle of surprise for me and my partner, but it makes me realise how important family really is."
Today, they are living a happy life with their daughter.
With the likes of movies "Top of the lake" to his young and illustrious career, Jay has certainly been the star to trust. Due to growing popularity, he has been able to sign various contracts and sponsorships that give him approximately $4 million. From Jay's social media activities, it looks like he isn't the kind of guy who likes to keep up with social media. He doesn't tweet often and also doesn't have an Instagram account. However, he does have an organization in his official name – Jay Ryan.