Despite having a promising career as a physician of internal medicine, Ken Jeong always knew that his true passion lay in the entertainment world. For a while, he tried juggling between the two choices before finally letting go of his medical practice and transitioning into the entertainment industry. Now he is known for his comedic performances in projects like The Hangover series, Community, Zookeeper and many more.
Throughout his period of finding out what's best for him, his wife Dr Tran Jeong who is also a practising doctor was constantly supporting him. Here, we are revealing the unheard story of his wife from her birth to her battle against breast cancer.
Tran is a Vietnamese-American
Dr Tran Jeong was born Tran Ho on February 24, 1972, in the United States to Vietnamese parents. In one of his interviews, Tran's husband Ken said that he loved Tran's maiden name claiming it to be a comedian's wet dream. She was a smart kid and graduated high school with flying colours. After graduating, she enrolled in the David Geffen School of Medicine at the University of California, Los Angeles (UCLA).
Tran Works as a Family Medicine Physician
After finishing her residency, she started working in a hospital in Los Angeles as a board-certified family medicine physician. To this date, Tran is known to be still working as a medical practitioner despite being able to live a rather easy and comfortable life.
She has a practice in Woodland Hills, California and is believed to have another practice running in Thousand Oaks, California. She has also been awarded two NCQA (National Committee for Quality Assurance) recognition in diabetes and stroke.
Jeong and Ken First Met While Working Together in 2002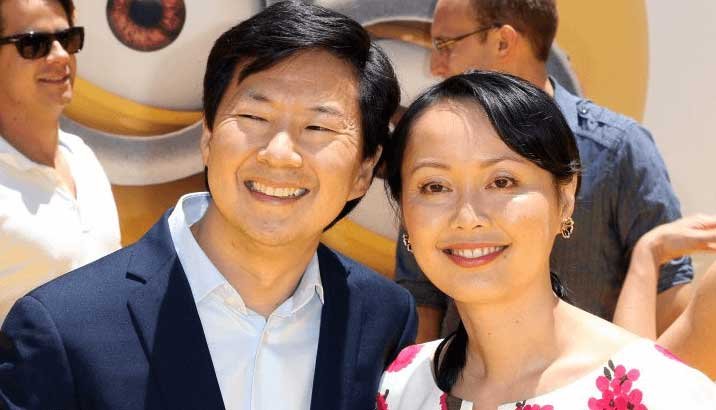 Tran and Ken Jeong met each other for the first time when both of them were working at Kaiser Permanente, a healthcare practice located in West California in 2002. In his 2015 interview with Conan, Ken revealed how the couple bumped into each other. He said:
" We were the other couple in When Harry met Sally. We were Bruno Kirby and Carrie Fisher. Because we had just broken up with our respective mates, we got together. We were not looking to hook up and we just instantly hit it off and within a few months we got engaged."
In September 2004, the couple got married privately in presence of a few friends and family members. After three years of getting married, the duo expanded their family. They welcomed their twin daughters Zooey and Alexa in 2007.
Tran Pushed Ken Towards his Acting Career
Ken Jeong was already performing regularly at The Improv and Laugh Factory Comedy Clubs in 2002. His outstanding performance landed him various roles on the silver screen. While Tran and Ken first met each other as doctors, as time went by, she was able to see Ken's true love for his art of acting and comedy. Whereas Ken was full of doubt regarding leaving his medical career, it was Tran who pushed him to take his chances and pursue acting. In his Hollywood Reporter interview, he looked back at what Tran had said to him:
"If you don't pursue acting full-time now, you never will. You just did a Judd Apatow movie!".
When it came to Ken's acting career, his wife Tran "was like a good college coach telling the star player it was time to go pro." In a 2011 interview with Redbook, Ken revealed that he consults his wife when picking out a script. Tran added to that and said:
"Ken takes me to premieres. That's our date night. A free movie and a free popcorn."
Tran Was Diagnosed with Triple-Negative Breast Cancer
In 2008, Tran Jeong was diagnosed with a highly aggressive form of breast cancer which had only a 23% of survival rate. This devastating news came just a year later of the couple adapting to parenthood. Talking about her diagnosis with Copingmag.com, Tran said:
"That was the last thing I thought [the doctor] was going to say to me. I didn't know what to think at that point." Ken too was devastated hearing the news and had a hard time coping with the possibility of losing his wife; best friend and mother of his children. However, Tran stayed strong for her husband and kids and decided to go through her long battle with cancer.
A few months into her treatment, her husband Ken was offered the role of Leslie Chow in the 2009 movie 'The Hangover. Due to the ongoing situation of his family, he had initially thought of opting out of the movie but it was Tran who encouraged him not to. She did not want to let cancer beat Ken out of opportunities to move forward in his career.
And as such Ken Jeong accepted to be a part of the movie which later turned out to be one of his career-defining roles. The movie also became a channel for venting the rage of his frustrating situation and he ended up using a lot of the couple's inside jokes as adlibs throughout the movie. Ken has reportedly called the movie 'a weirdest love letter to a spouse' one could ever have.
Jeong Won the Battle Against Cancer in 2010
After her difficult treatment that included 16 chemotherapy sessions, a mastectomy and radiation, Tran Jeong finally became cancer-free in October of 2010. Throughout her journey, Ken stood by her side and didn't leave her alone for a single moment. He indeed made her smile with his sense of humour even during the darkest situation. And, finally, with advanced medical treatment and her urge to live, Tran won her biggest war against cancer.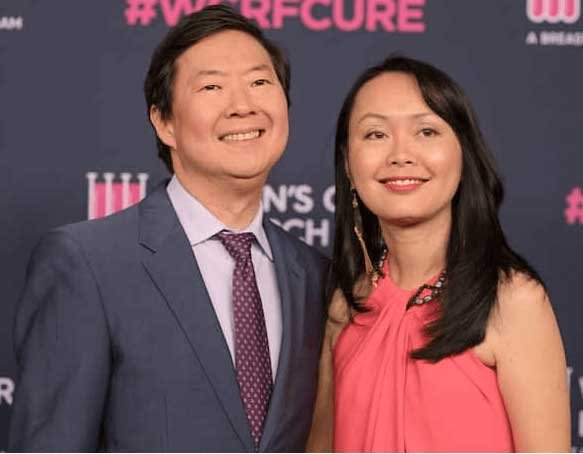 During his acceptance speech in the 2010 MTV movie awards, Ken Jeong thanked his wife and celebrated her two years of a cancer-free life. The couple has always been grateful for the life they are living and Ken always celebrates each added year of Tran's cancer-free life.
Dr. Tran Jeong is the epitome of a strong woman. She not only beat cancer but during their difficult times, remained patient and hoped for a brighter future for her husband and her kids. Ken Jeong is indeed a very lucky man.