Truman Theodore Hanks also known as just Truman Hanks is the son of Tom Hanks and Rita Wilson. Along with Chet, Colin and Elizabeth Ann Hanks, Truman share the big name of Hanks on his profile.
Being the youngest among the family starred with media personalities, he keeps himself under the radar away from showbiz. However, he is seen tagging along with his Father Tom Hanks during numerous events and NBA playoffs. Junior Hanks is a big supporter of the Los Angeles Kings!
Elite Childhood in Hollywood Mansion
Truman was born on December 26, 1995, after his older brother Chet Hanks who is notoriously infamous for his drug abuse and scandals. Unlike his brother, he holds a secret lifestyle. Therefore, nothing much is known about his childhood. However, we do know that being born in a family of celebrities, he obviously had a rich childhood. He was fortunate enough to have expensive vacations in exotic destinations.
Truman is a Sports Buff
The junior Hanks has inherited some genes from his father who loves ever loves sports, especially Ice Hockey and Soccer. He holds a soft corner for the Los Angeles Kings and is often seen wearing their jersey. He frequently attends the games of the LA Kings with his father Tom. His elder brother Colin is also a big fan of the LA Kings. Likewise, when it comes to Soccer, he is a fan of Liverpool F.C and Panathinaikos F.C.
Hanks Graduated from Stanford University
As per his Linkedin profile, he attended The Thacher High School from 2010 to 2014. Further, he went to Stanford University and graduated with a major in mathematics in 2018.
Just entering into his adulthood we will probably be hearing more about the junior Hanks as he steps into Hollywood like his father and siblings.
Stepping into His Father's Footsteps
Following the footsteps of his father, Truman embarked on a career in the movie industry. Unlike his father, he prefers working behind the cameras rather than appearing on the screens. He has worked in the camera and electrical departments in projects like Black Widow, West Side Story, News of the World, and Cash Truck. Also, his credentials include movies like The Cloverfield Paradox (2018) and Charlie's Angels (2019) where he served as a production assistant.
Apart from these, he joined Activision as an intern during his high school days where he designed a special-edition Skylanders figurine. He then joined Mythbusters and Bad Robot before making his way in Hollywood.
He mainly seems to be focused on learning skills of using cameras and other technical equipment used in the filmmaking process. As a part of the camera and electrical department, he has TV series like Babylon Berlin (2019-2020) and Atypical (2021). He has also worked in multiple movies such as News of the World (2020), Wrath of Man (2021) and even has credits for movies like Black Widow (2021) and West Side Story (2021), the latter of which was even nominated for an Oscar for Best Picture. He has also worked on one of his father's future movies 'Astroid City' (2022) also starring Margot Robbie and Scarlet Johanson. 
Apart from working for the camera department, Truman has also worked as a production assistant for movies like The Cloverfield Paradox (2018) and Charlie's Angels (2019). In 2020, he tried his hand at acting for the movie News of the World where he appeared as a German rider.
Truman Theodore Hanks Parents: Rita Wilson and Tom Hanks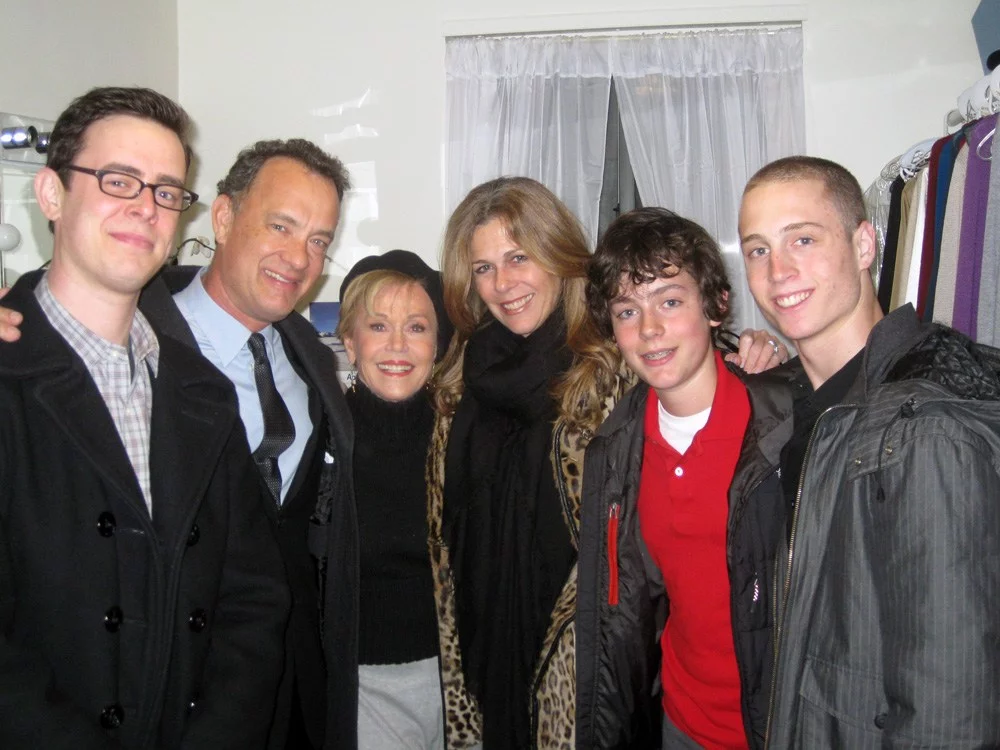 Truman's parents don't need an introduction. Tom Hanks is a self-made man hitting the big screens after struggling in theatres for years. The star has made a household name for himself with significant roles in movies like Forrest Gump, Saving Private Ryan, Catch Me If You Can, and many more.
Truman's Mother Rita Wilson too is an American actress and singer known predominantly for her role in Sleepless in Seattle, and Now and Then. The couple shares a unique bond and shares relationship goals for numerous couples.
Hanks consistently mentions how he doesn't feel lonely anymore after marrying Wilson. The duo has just celebrated its 32nd marriage anniversary on April 30. Rita took to Instagram to wish Tom an anniversary with a beautiful picture of theirs.
Truman Has Three Siblings: Colin, Chet and Elizabeth
Truman is the youngest among the kids of Tom Hanks. He has 3 older siblings; older brother Chet, half-brother Colin, and half-sister Elizabeth-Ann. Colin Hanks has made a name for himself in Hollywood starring in movies like Orange County and the Tv series The Good Guys.
His sister Elizabeth-Ann is an aspiring writer in different editorials and has worked for various news magazines like Vanity Fair, The Guardian, and The New York Times. Further, she has also stepped into her father's footprints acting in movies like Forrest Gump, That Thing You Do, and many more.
Colin and Elizabeth are his stepbrother and sister from his father's previous marriage with Samantha Lewes.
His older brother Chet is a rapper and has a recurring role in the Fox hit series Empire. He is an actor known for movies like Project X, Larry Crowne, and Indiana Jones and the Kingdom of the Crystal Skull.
Truman Lives a Low-Key Life
Not much is known about Truman Hanks since he has always been kept away from the spotlight. Being the youngest of the family, he is loved and cared for by his parents and even his siblings. People get rare glimpses of him when he accompanies his parents at different events and functions. He was once spotted cheering for the team in Madison Square Garden with the Los Angeles Kings jersey on him.
A lot of things related to his personal life are kept under wraps from the media including if he is dating anyone or if he is married. Maybe we will know more about him in the days to come.  
Truman Made his Acting Debut with A Man Called Otto
Even though it looked like Truman enjoyed working behind the scenes of movie-making, he finally found himself genuinely wanting to appear in front of the camera. Truman appeared in the 2022 movie titled 'A Man Called Otto' starring his father Tom Hanks. The movie is adapted from a 2012 Swedish novel titled 'A Man Called Ove'. There is also a Swedish movie with the same name based on the novel that was released in 2015. 
Truman Hanks plays the younger version of Tom Hanks' character Otto. Tom Hanks talked about the process of casting Truman for the film. The director of the movie wanted to cast someone who looked a lot like Tom when he was at the age of 26 but had trouble finding one. So, they approached Truman with the idea and after giving it some thought he took upon the challenge.