The controversial yet beloved mega pastor can spellbound people with his preaches. Joel Osteen is renowned as the senior pastor of Lakewood Church located in Houston, Texas. Beyond that, Joel is also an American televangelist, preacher, and an author of the New York Times Bestselling books such as I Declare: 31 Promises to Speak Over Your Life, Your Best Life Now, You Can You Will, The Power of Favor: The Force that Will Take You Where You Can't Go On Your Own Joel Osteen and many more on the list. Osteen has been nicknamed the 'smiling preacher' due to his toothy smile and upbeat attitude.
The smiling preacher owns the most expensive house in the world and lives a life of riches. Let's explore his beautiful mansion where he lives with his family.
Joel Osteen and Lakewood Church Journey
Born on March 5, 1968, he started preaching right after his dad John Osteen passed away following a heart attack. John Osteen was the former Southern Baptist pastor and the founder of Lakewood Church. Soon after he took over the church, the membership of the church grew up by more than 100%. Everybody in the town is keen on listening to his unique thoughts on Christianity. Not only this, he has fans from all over the world.
His live sermons are streamed to an average of 7 million people weekly and over 20 million monthly in 100 different countries. His sermons are broadcasted 24/7 on his own Sirius XM satellite radio. Before he took over the church, he spent his time working behind scenes at Lakewood church.
Joel Osteen has multiple earning sources and maybe soon his name will be listed with millionaires like Warren Buffet and Elon Musk. His net worth is estimated to be around $40 million to $60 million. And it's no surprise to say a millionaire like Joel Osteen lives in a million-dollar mansion that he calls his little kingdom.
Joel Osteen's House is No Less Than a Palace
When the list of the richest pastors in the USA is being talked about then, the name Joel Osteen can't be excluded. He comes into the class of millionaire and there's no doubt why he has such a big house to live in. His 17000 square feet mansion is located in the Tall Timbers subdivision in River Oaks.
His house is situated in a massive 1.86 acres of land surrounded by a large and beautiful ornamental fence. The house is more of a mega-mansion than just a house. He moved to River Oaks in 2010 from his house at Tanglewood. When he purchased the house, he paid $260000 in property taxes for the year.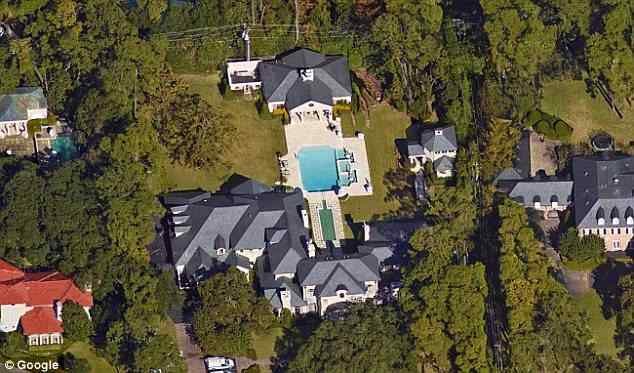 The Harris Country Appraisal District had valued the house at $10.5 million back in 2010. With time, the worth of Joel's house certainly must have been skyrocketed. The Osteen's empire includes six bedrooms, three elevators, six bathrooms, and five fireplaces. The mansion also has a one-bedroom guest house and a pool house in the backyard for ultimate relaxation.  Well, that's enough space for a family of four-Joel, Victoria, and his two kids Jonathon and Alexandra.
His residence has a big front door, accompanied by impressive stone pillars which opens into a gorgeous entranceway. The mansion is covered by greenery where one can enjoy the solace scenes from the balcony. The singing of the birds in the morning, the cold breeze, and the fresh air all make it a perfect place to live in.
Likewise, the large backyard encircled by tall trees makes the place a little more private. It also has a huge concrete driveway that has space to fit probably more than 20 cars.
Here we have collected some pictures of Osteen's House.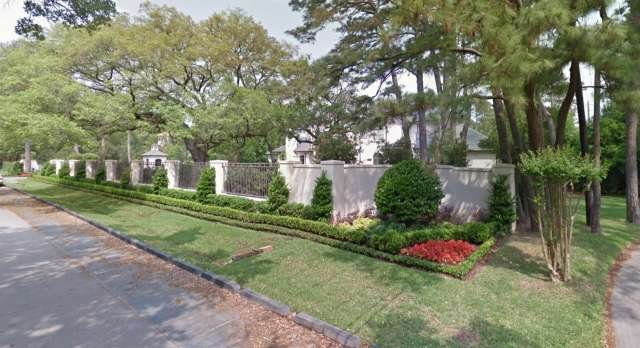 Osteen's House at Tanglewood
Before shifting to Houston, Joel and his family used to live at their home at Tanglewood. The house was in the name of Joel and his wife Victoria Osteen. There's no detail about his former residence. What we know is that the house has an area of 5600 square feet with four bedrooms. After shifting to the new mansion, Joel's house was offered for sale at $1.1 million.
How Rich is Joel Osteen?
Joel Osteen has collected a healthy amount of wealth from his career as a televangelist, preacher public speaker, and author. Though he is a public figure and keeps on coming on the buzz feed, his exact net worth is unknown. However, his net fortune is estimated to be between the range of $40 million -$60 million. He used to get an annual salary of $200000 for his post as a senior pastor of Lakewood Church, but it's reported that he no longer accepts the hefty salary.
Instead, he collects wealth from his book sales, public speaking, radio shows, and the church collection. In 2004, his first book "Your Best Life Now" debuted on the New York Times bestselling books list. The book remained on the list for more than 200 weeks. He has been able to list his books on the top list time and again and collects great revenue every year. In the days to come, his net worth is definitely going to soar.
In 2013, he revealed the reason behind why he doesn't accept the salary from the church and commented as:
"Not everybody can do that, it's not practical. But for us, it was important to me because I don't need to. And I think it's important to because being in the public eye, there's a lot of scrutinies, and people think, well, he's just doing it for money. This way I can say I don't do any of this for money. God has blessed us in other ways. It's really part of my message in that, you honor God and you stay faithful, you don't know where God's going to take you. I don't tell people that God's going to make them rich. But you don't know how God's going to bless you."
Apart from this, Joel Osteen has also talked about his wealth to Oprah Winfrey in an interview as:
'I'm not asking for money on television. I don't try to be slick, I just try to be sincere. I just try to be who we are. You know it's a battle we have to fight. We just feel that this is God's blessings. We're big givers. We live what we preach. We've given millions of dollars. I don't think there's anything wrong with having a nice place to live and being blessed."
Hatred for Joel Following The Hurricane Harvey Controversy
The smiling preacher was slammed by his millions of followers in August 2017 following the Hurricane Harvey Crisis. He fell into controversy when his church didn't open for Texans who were in need of food, shelter, and care due to the destruction caused by the hurricane. As the news broke in the media, criticism and hatred comments started flooding in the social media.
In reply, the church authority claimed that the church was inaccessible due to the harm caused by the storm. However, the public bashed the church, and Joel again posting the pictures of accessible roads to the Church and called them inhuman and unchristian.
Following the criticisms, Joel said :
The city set up a shelter about four miles from Lakewood that can house 10000 people, they didn't need us as a shelter at that point. We have been here for 58 years taking care of the community, but social media can be powerful. "