Many people learn to play the piano at an early age. Playing piano for some of them remains as a hobby, while others go on to become famous musicians known around the globe. Playing Piano is something you expect from a lot of musicians, but how about non-musicians like actors, directors, politicians, comedians, etc. After all, you need to have a tough skill to learn piano and it takes time too.
It's quite surprising when someone from a field aside from the music knows how to play the piano. There are many celebrities who know to play the piano. From famous athletes to actors these celebs know exactly how to shoot the keyboard!
So who are the celebrities that are killing it with the piano??
Keep on scrolling to know about the celebrities who play the piano.
Clint Eastwood 
Clint Eastwood is among one of the world's most popular and successful movie stars. Most people know Clint Eastwood as an actor and the director behind the masterpieces like Dirty Harry Series, The Man with No Name Trilogy, Absolute Power, Space Cowboys, etc. But, did you know about him being a pianist? He is an overachiever who is a composer too and loves Jazz.

Before he debuted as an actor, Clint Eastwood was an accomplished pianist who intended to pursue a career in music. In 1961, Eastwood released a single album called "Unknown Girl". This album wasn't a big hit but it did reveal Eastwood's musical shrewdness.
He has utilized his composing skills in creating the film scores of several movies such as Mystic River, Million Dollar Baby, and Changeling.
Clint Eastwood has also directed documentary film "Piano Blues" which features interviews and live performances of piano players such as Ray Charles, Dave Brubeck, Pinetop Perkins, Jay McShann, and Marcia Ball. As per sources, Clint Eastwood said,
"The blues has always been part of my musical life, and the piano has a special place, beginning from when my mother brought home all of Fast Waller's records. Also, the music has always played a part in my films. The "Piano Blues" documentary gives me a chance to make a film that is more directly connected to the subject matter of the music than the features that I have been doing throughout the career."
Dustin Hoffman
Dustin Hoffman is an American actor, producer, and director. Apart from this, he is also a piano player. He was born in the family of jazz pianist Lillian Gold and Harry Hoffman. Maybe because of having the musical family background, he developed music as his childhood hobby. He learned to play the piano.
Dustin wanted to pursue a career as a jazz pianist but ended up being an actor. The 74 years actor said, "I originally wanted to be a jazz pianist". He has showcased his talent of playing piano in the song 'Shoot the Breeze.' in 2008. Later on, Midler wrote the lyrics for his tune and they performed it together in 1977.
Hugh Laurie
Hugh Laurie skyrocketed to fame as an actor portraying the role of Dr. Gregory House in the TV drama 'House.' Many of his fans don't know that he is also a musician and a singer.
Huge Laurie is an accomplished pianist who started learning to play piano when he was just six years old. In 2006, he played the piano when he was featured on Inside the Actors Studio. Laurie has also played piano on Meatloaf's studio album 'Hang Cool Teddy Bear'.
Hugh has released two jazz and blues albums. His first album 'Let Them Talk ' was released in 2011 and his second album 'Didn't It Rain' in 2013.
Condoleezza Rice
You didn't expect a politician to be in the list, did you? Well, former secretary of State Condoleezza Rice is an accomplished classical pianist. Rice began taking piano classes at the age of three and gave her first performance a year later. Her passion aspired her to be a professional concert pianist.
The most influential woman in global politics, Condoleezza played piano at various state events for foreign dignitaries and heads of state during the Bush administration. She continues to play publicly even in a local chambers orchestra. Rice had the chance to go hand in hand with famous cellist Yo-Yo Ma for National Medal of Arts Awards in 2002.
Paris Hilton
Most people already have an opinion about the public figure Paris Hilton. Her resume is never ending which includes actress, clothing designer, model, singer, socialite, sex tape star, spokesperson, reality TV star, etc. But have you ever guessed Paris Hilton playing the Piano? Music has been Hilton's passion ever since she was a little girl. She started playing piano since the age of 5 and violin at the age of 11 years. Hilton said in an interview that her mother took them to piano lessons four times a week when she was a kid.
In 2006, Hilton made her professional music debut with the album 'Paris'. It featured a cover of Rod Stewart's classic "Da Ya Think I 'm Sexy "and samples of iconic Franki Valli songs.
Richard Gere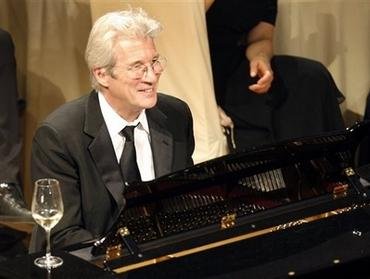 Richard Gere, the sexiest man alive and an American actor known for his leading roles in the movies like 'American Gigolo', 'An Officer and a Gentleman', and ' Pretty Woman' is a skilled master of the ivory keys. He studied at the University of Massachusetts. There he became a pop musician. The talented actor is also a pianist.
In the famous scene from the movie "Pretty Women", Gere played the Piano, seductively enthralling Julia Roberts. Gere has also composed the music for the piece in the movie. Many actors use dubbed in the piano scene or doubles in the movie, but Gere didn't.
Holly Hunter
It's never too late to learn something. Holly Hunter is an actress who learned to play piano for her role in a movie. Holly learned to play the piano for her role in the movie "The Piano". She has won the Oscar Award for the role. In order to qualify for the role, she took piano classes with Margie Balter. Margie Balter is Los Angeles based piano teacher and coach for many celebrities like Barbara Hershey, Kevin Spacey, and Jack Kevorkian.
Sandra Bullock
Sandra Bullock is one of the highly paid actresses in Hollywood. The actor of Miss Congeniality and Crash was born in a creative family which affected her upbringing. Bullock's mother was an opera singer and her father was a vocal teacher. Like every parents' desire, they also wanted their daughters to walk in their footprints. Sandra Bullock took vocal lessons and learned to play the piano.
She has been playing piano since the age of eight. She has shown her piano skills in several TV shows and movies like The Net. In a TV appearance with Tom Hanks on the Jonathan Ross show, Sandra and Hank recreated the signature giant piano scene from Hank's movie classic Big in New York's iconic toy store FAO Schwartz.
Ryan Gosling
Ryan Gosling is a Canadian actor starring in the movies like 'The Notebook", 'Blue Valentine", 'La La Land', and 'Blade Runner 2049'. He formed a band called Dead Man's Bones with his friend Zach Shields. This band sings love songs about ghosts and monsters.
Gosling plays many musical instruments which include piano, guitar, bass guitar, and cello. For the movie 'La La Land', Ryan spent three months learning to play the piano. However, he wasn't unknown to the piano.
Jamie Foxx:
Jamie Foxx is a multi-talented man who is an actor, musician, and a comedian. He is the first African-American performer to be nominated for two academy awards in the same year. Jamie also knows to play piano like a great. He got his first piano lessons at the age of three years. At the age of thirteen, he was making up to three hundred dollars by playing piano at different events.  By the time he was 15, Jamie was musical director and choir leader at Terrell's New Hope Baptist Church. Jamie had won a piano scholarship from the United States International in San Diego, California.
Jamie has played all the piano scenes without any helping hand in the movie Ray. He was portraying the role of Ray Charles in the movie.
Jeff Goldblum
Jeff Goldblum is an actor known for his roles in Jurassic Park and Independence Day. Goldblum also knows to play the piano. He learned classical piano as a child before switching to jazz. He has specialized in Jazz, one of the harder genres to play on the piano.
Jeff Goldblum is part of an ensemble jazz group "The Mildred Snitzer Orchestra". He regularly plays jazz with his band every week. He declared that if he wasn't in acting then he would have become a professional musician.
Tom Cruise
There is a scene in the Tom starrer movie "Interview with the Vampire" where Tom played Haydn sonata on the piano. His piano playing skills were brilliant, nobody would doubt that he had never played the piano before starring in the movie. He took piano lessons from Margie Balter. Tom underwent over five weeks of intensive training to be able to play the Haydn sonata tune completely.
Vladimir Putin
Apart from the politics, Russian President Vladimir Putin has also got some musical knowledge. Vladimir Putin is phenomenal on the piano. He has played the piano on live television and showed that he has talent on the keys.
In 2010, Putin performed Fats Domino's Blueberry Hills at a charity concert. This concert was attended by actors Sharon Stone, Kevin Costner, and Gerard Depardieu.
Recently, Putin was in Beijing for the One Road, One Belt conference. Here, he played two Soviet-era tunes on the piano while waiting to meet China's President Xi Jinping. He performed evening song by Vasily Solovyov-Sedoi and Moscow Windows by Tikhon Khrennikoy.
Britney Spears
Who doesn't know Britney Spears? Well, everyone knows about this renowned American Pop star. However, many people don't know that she can play a few musical instruments including the piano. Have a look at the videos where Spears is playing the piano.
Hugh Jackman
Hugh Jackman is one of the most popular Australian actor and a producer. In his early age, he wanted to become a journalist but ended up being an actor. This career choice has made him famous. He is a man with many talents.  But, did you know he knows how to play the piano as well? Playing piano is Hugh's one of the hobbies. In his free time, he plays musical instruments like guitar, violin, and a piano. Hugh Jackman said,
'I tended to favor the piano over the guitar because it stays in one place, which is what I like to do.'
Anthony Hopkins
Anthony Hopkins born on December 31, 1937, is a British movie and drama actor. As a teen, he was focused on music and fine arts. Hopkins had an early ambition to become a concert pianist. He started playing piano from a young age. Skilled at the piano, he won a piano scholarship in 1955 to Welsh College of Music and Drama located at Cardiff.
Sara Bareilles
Sara Bareilles had a passion for music and theater since her childhood. She used to perform on her school choirs. To wonder Bareilles taught herself to play the piano by herself without taking any formal classes. She got her inspiration from Etta James and Sam Cooke. Sara elaborates her sound as piano-based pop-soul.
Bareilles has given hits such as Love Song and King of Anything. Sara is rarely seen away from the instrument in both live performances and at the recording studio. Here's a live piano and vocal performance of her biggest hit Love song.
John Legend
John Stephens Legend is Grammy and Academy-Award winning singer, musician, songwriter, and a pianist. Legend's grandmother taught him to play the piano and he began playing piano at the age of seven. While he  was at college, he played piano on American singer Lauryn Hill's record 'Everything is Everything'.
Charlie Chaplin
Charlie Chaplin was one of the pivotal stars of the silent-film era of Hollywood. He is a comic actor, film maker, and a composer. He belongs to a poor London family of music hall entertainers. The comedian king wasn't just an actor but also a music lover. Charlie is an accomplished pianist who often wrote the piano scores that associated his films.
Alicia Keys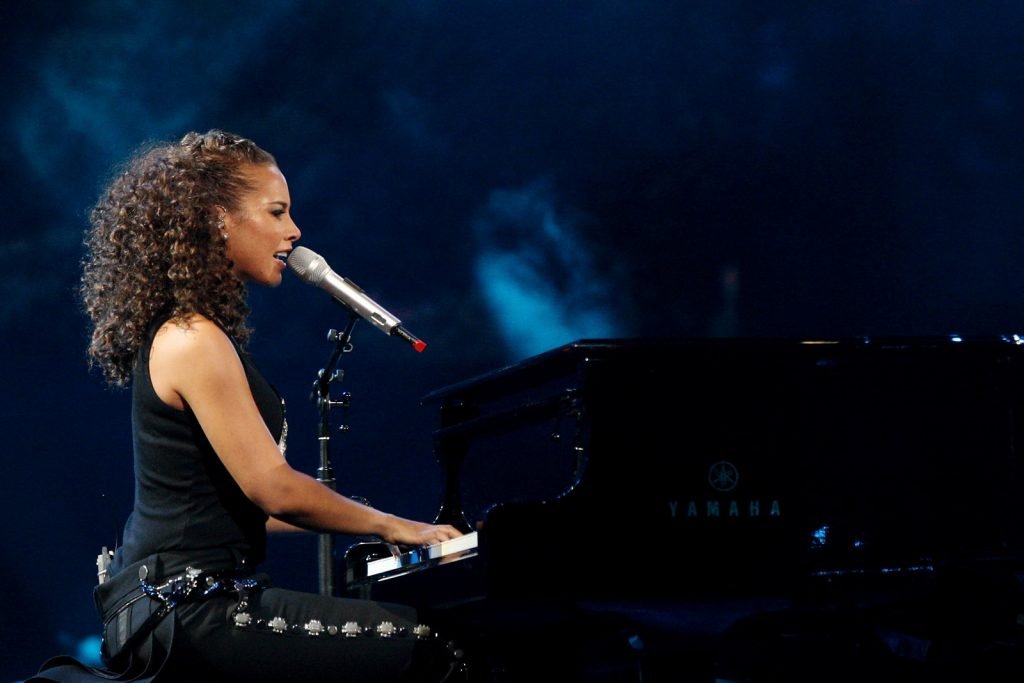 Alicia Keys was encouraged by her mother to take music and dance classes. Her mother has helped her develop a career in the musical field. Alicia Keys began playing piano at the age of seven years. She attended Professional Performing Arts School at the age of 12 and graduated by the age of 16 due to her amazing talent.
Alicia Keys rose to fame with her debut album " Songs in a Mirror' which sold over 12 million copies and made her music sensation overnight. Her other albums include 'The Diary of Alicia Keys', 'As I Am',' Another Way to Die', 'The Element of Everything', 'Girl on Fire', etc.
She is comfortable sitting at the piano playing her keyboard based hits "Fallin' and ' No One'.
Robert Pattinson

Robert Thomas Pattinson is an actor famous for his role 'Edward Cullen' in the vampire saga Twilight. Robert also has a musical background. He knows to play some musical instruments including piano and guitar.
In the movie Breaking Dawn, he has actually played the piano in the scene where Edward is playing Bella's Lullaby.
Elton John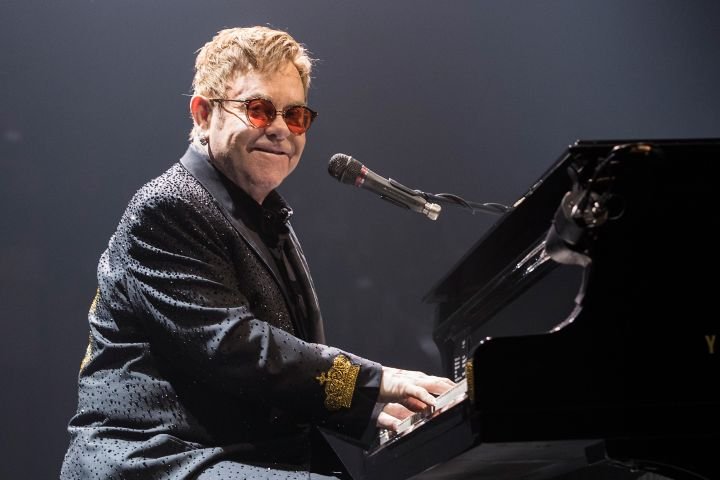 Elton John is one of the popular entertainers of the late 20th century. He is a singer, composer and a pianist. John learned to play the piano by himself at the age of four years. The wonder boy was awarded the scholarship to the Royal Academy of Music at the age of 11. He used to play piano in bars. Later on, he joined a band called Bluesology.
The classical pianist Elton's piano parts are very difficult to play. In 2009, he gave a live performance of 'Don't Let the Sun Go down on Me' which was praised by many.
Ed Balls
For those who are not aware, Ed Balls is a British politician with an interest in playing the piano. It was his dream to play the piano for a very long time. He actually learned to play the instrument recently. Ed Balls has passed grade four piano at the age of 47. He scored 17 out of 18 for his sight reading skills as he passed his grade four piano exam.It's never too late to learn than giving up on your dreams. Out of excitement, he twitted,
Thanks for all good wishes on my Grade 4 piano exam – just heard I passed – and 17/18 on sight-reading! On to Grade 5…

— Ed Balls (@edballs) December 17, 2014
Orson Welles
Pioneer in both movies and radio, Orson Wells began a career as a stage actor before going on to the radio. His first talent is seemed to be for music. Orson's mother was a beautiful skilled pianist who had studied with Leopold Godowsky. His mother arranged piano and violin lessons for Orson. And following the footsteps of her mother, Orson Welles took up the piano at an early age. But, he stopped playing immediately after the demise of his mother when he was nine years old.
Zac Efron
Zac Efron has been a part of many movies and has developed some interesting hobbies from these movies. He loves to play the piano. Zac has played piano in the movies like Mike and Dave Need Wedding Dress and the Greatest Showman.
Efron exercised his musical skills to wish a happy birthday to his co-star Adam Devine. He played piano belting out a bluesy version of happy birthday.
Terrence Howard
Terrence Howard is an actor known for the movie 'Hustle and Flow' and the hit TV show 'Empire'.  Apart from being a talented actor, Howard is a skilled pianist and a songwriter. He is a self-taught musician.
Terrence has displayed his musical talent in the movie Ray opposite Jamie Foxx. Howard's lyrics are soon to be acquired by some of the biggest artists.
Hugh Grant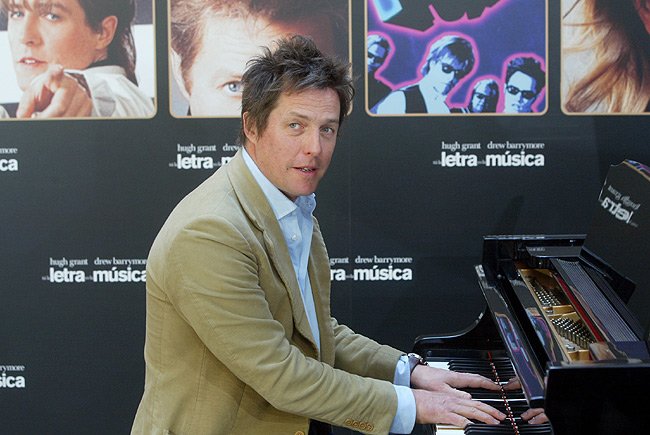 The international heartthrob who won the Golden Globe Award for the hit comedy 'Four Weddings and a Funeral' learned to play the piano as a kid. Hugh Grant's mother Fyvola was music and school teacher. Grant got to play the piano from Andrew Lloyd Webber's mom when he was young. Hugh Grant also learned to play the piano for qualifying his role in the movie 'Music and Lyric.'
Regina Spektor
Regina Spektor is a Russian singer, songwriter, and pianist. She grew up listening to classical piano. Spektor began to learn classical piano when she was around seven years old. She discovered a love for the piano when she started practicing on an old Petrof upright in her family home. Unfortunately, her family left Moscow leaving the treasured piano in 1989.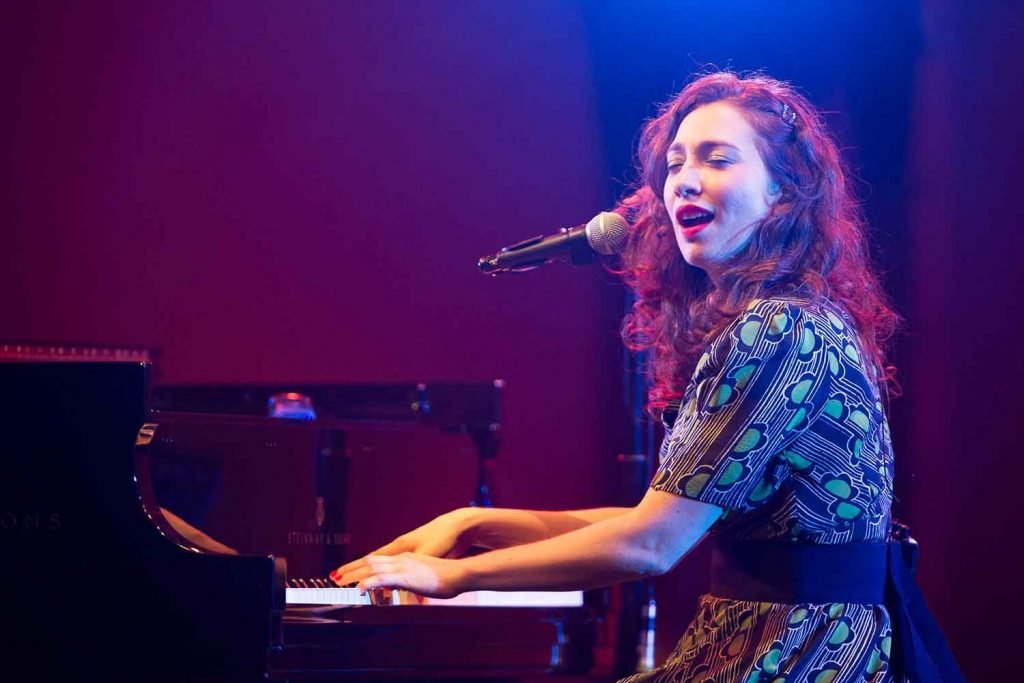 The proverb 'When there is a will, there is a way' exactly suits her life. After leaving the piano behind, she practiced on the top of the table and on any other hard surfaces she could find. Later on, fortunately, she won a place to study classical piano at the Manhattan School of Music in New York. Regina Spektor was made a 'Steinway Artist' in 2012 and exclusively plays Steinway and Sons pianos.
Does these celebrities help you shoot the first pedal? We hope it does as these celebrities surely give us the goosebumps!!!