Starting her career as a child model and actor, American actress Jodie Foster has garnered both domestic and international prominence through her decades-long work in the filmmaking business. Over the years her impressive filmography includes the likes of Tom Sawyer (1973), Alice Doesn't Live Here Anymore (1974), Taxi Driver (1976), Bugsy Malone (1976), The Little Girl Who Lives Down the Lane (1976), The Accused (1988), The Silence of the Lamb (1991), Inside Man (2006) and many more. She has also received multiple accolades for her work including two Academy Awards, three BAFTA Awards, three Golden Globes and a SAG Award. 
While the public practically saw Jodie Foster grow up as a talented actress right in front of their eyes, she still preferred to remain private for most of her personal life. During the height of her career, there were multiple rumours circulating regarding the sexuality of the actress that became a heated topic of discussion after allegations of homophobia and transphobia popped up for her film 'The Silence of The Lamb'. However, it was not until 2007 that Jodie would publicly acknowledge her relationship with another woman. 
As of now, Jodie Foster is known to be married to photographer Alexandra Hedison. Since the couple prefers to keep a low profile, here is everything we know about the wife of actress Jodie Foster.
Alexandra has a Famous Parent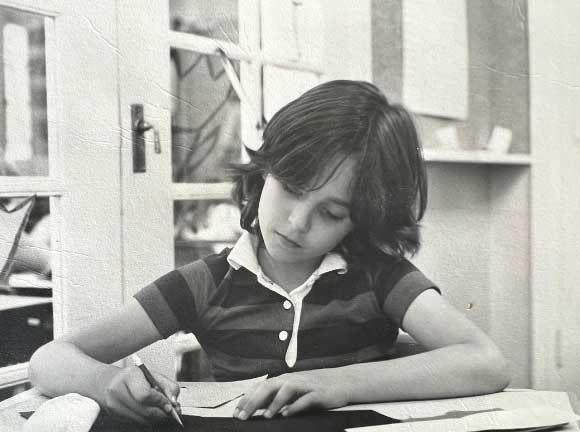 Alexandra Hedison was born on July 10, 1969, in Los Angeles, California, USA to parents Bridget and David Hedison. Her father David Hedison was an actor working since 1949 and gained prominence with projects like The Fly (1958), Voyage to the Bottom of the Sea (1964-1968) and as CIA agent Felix Leiter in two James Bond films, Live and Let Die (1973) and Licence to Kill (1979).
Alexandra Pursued an Education in Arts
Alexandra grew up in a household that upheld a great value in arts. Which probably influenced her to stick to the same following her graduation from high school. She attended the State University of New York in Purchase which is known as a prestigious liberal arts college. She later also enrolled at the University of California in Los Angeles.
Alexandra is a Photographer
Alexandra Hedison is a fine arts photographer whose work can be found in both public and private collections in many galleries and exhibitions all around the US and Europe. Her first series of abstract landscapes were exhibited in the Rose Gallery in Bergamot Station in 2002. Some of her solo shows that were exhibited include In The Woods (2010), Ithaca (2010), Everybody Knows This is Nowhere (2012) and others. She has also been part of multiple group exhibitions like My Aim is True (2013), First Anniversary – Exhibition of Paintings and Sculpture and Photographs (2013) and Both Sides of Sunset – Photographs of Los Angeles (2016).
Alexandra is a Former Actress
Prior to finding her calling as a photographer, Alexandra previously tried to follow her father's footsteps into the world of acting. In the 1990s, she appeared in the role of Remy in the superhero drama 'Lois & Clark: The New Adventures of Superman' and alongside Debra Messing in the sci-fi series 'Prey'. She was also a part of the TV series 'The L Word' in 2006 and 2009 appearing as the character Dylan Moreland. 
However, acting was just not it for Alexandra. "I was supporting myself, but I was miserable," she told The New York Times. "Actors need to be front and centre all the time. That's not me."
Alexandra Also has a Knack for Designing Homes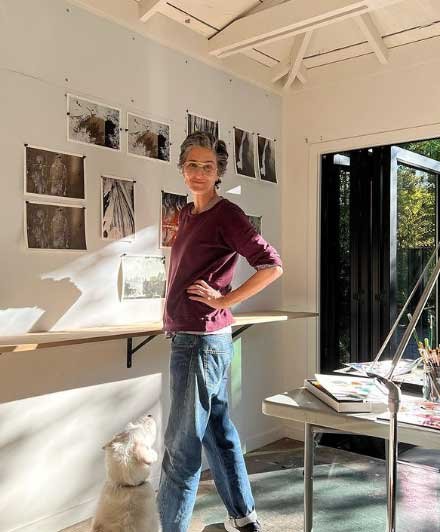 In 2006, when she was finding a better footing in her photography career, she also dabbled with designing homes. She was part of a short-lived 2006 reality TV show called 'Designing Blinds' where she and her partner Eric Burn Sanglard would transform a couple's living space for them. She has also designed a home located on the west side of Hollywood that according to The LA Times went up for sale for $2.75 million weeks after Alexandra and Jodie got hitched.
Alexandra Has a Sister
Alexandra grew up alongside her sister Serena Hedison who too was enamored by the entertainment industry they encountered through living in LA and being daughters to a well-known actor. As of now, Serena is said to be working as an editor and producer.
Alexandra Once Dated Ellen DeGeneres
In 2000 Alexandra started dating comedian and TV personality Ellen DeGeneres. In 2004, Hedison joked about not being able to compete with her more famous girlfriend unless she would become Oprah. But she did mention the perks of being with Ellen. "Hey, I admit that there are times that I can't get a reservation at a hot restaurant unless I mention that it's for me and Ellen," she told the New York Times. "But I have to do my photography because that's my work, and it makes me so happy."
Unfortunately, the relationship ran its course and the couple separated in 2004 despite there being rumours of the couple planning to adopt a child. 
Alexandra and Jodie had a Private Wedding
In April 2014, Alexandra Hedison and Jodie Foster tied the knot in a private ceremony amongst friends and family. The couple had been together for almost a year before both of them decided it was time for them to be a legally binding couple. 
Alexandra is not Jodie's First Public Relationship
While Alexandra was pretty open about her sexuality, her wife Jodie rarely spoke about her sexual orientation for most of her life. Even though she never publicly talked about her relationships, one of her most notable relationships was with Cynthia Bernard with whom she shared two beautiful sons, Charles and Kit Bernand Foster born in 1998 and 2001 respectively. After being together for more than 15 years, the couple ultimately separated in 2008.
Alexandra Rarely Appears in Red-carpet Events
Despite being born and bred in Hollywood and married to one of the Hollywood A-listers, Alexandra is not very open to making red-carpet appearances. Both Alexandra and Jodie prefer keeping their personal life out of the limelight.
However, in July 2021, the couple walked the Cannes Film Festival red carpet where Jodie Foster was awarded the prestigious Honorary Palme d'Or. The couple was also seen sharing a loving kiss when Foster went up to receive the award.
Alexandra is Very Supportive of Jodie's Achievements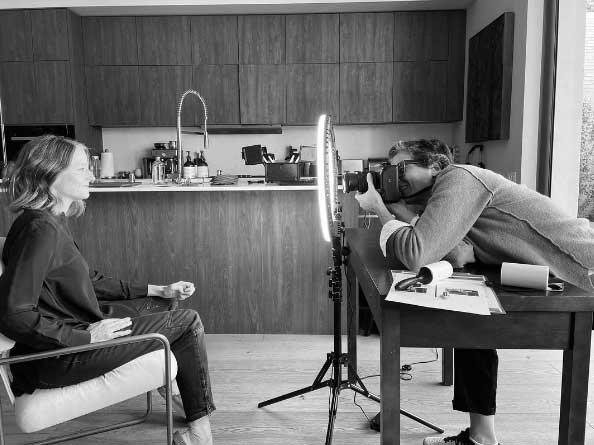 For Alexandra, Jodie is her one true love and she would always support her in all of her endeavours. While she might not be present at every award show and red-carpet event, she knows how to show her support for her loving wife. Foster has been a constant presence on Alexandra's Instagram and she loves supporting every one of her wife's achievements in her career.
In 2021, she was seen posting about Jodie's Golden Globe nomination and consecutive win for Best Supporting Actress for the movie 'The Mauritanian'.