Morgan Freeman is undoubtedly one of the legendary stars that Hollywood has so far. The actor is known worldwide for his top-notch acting and his charisma has created waves on the big screen. However, that's not only the part of his life that has made him famous.
Morgan's involvement with multiple women at different times has also attracted the media towards him. He has also been tagged a 'notorious womanizer' in the industry. One of the women with whom he had shared a romantic relationship is Jeanette Adair Bradshaw. She was the one who stood by his side when nobody else believed him during his struggle days. But, only little is known about her by the world. So, who actually is Jeanette Adair Bradshaw?
How did Jeanette Meet Morgan Freeman?
Jeanette and Morgan's story dates back to the days when Morgan was in the struggling phase of his career. The duo met in the early 60s when Morgan had nothing but only his talent. The details regarding how they bumped into each other for the first time have still remained a mystery in history. However, it is known that Bradshaw was already a mother to one when she met Morgan and he accepted the child along with Bradshaw.
Whatever the days were whether sunshine, rain, or stormy, Jeanette was always there for Morgan. She was the one with whom Morgan could share anything he feels without any hesitation. The understanding between the couple became deeper and deeper as they could connect with each other perfectly. While one was struggling to make their life better, the other one stood like a rock behind his efforts.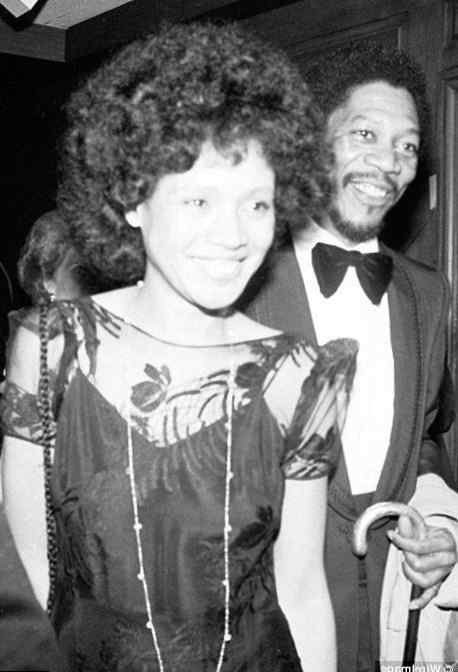 Marriage with Morgan Freeman that Wasn't Meant to Last Forever
The duo dated for five years before exchanging the vows in a private ceremony. The couple tied the knot on October 22, 1967. As soon as they got married, Morgan's career started to take a long jump. He achieved a new benchmark in his career and witnessed massive success.
Everything was going well between the couple until 1979 when the divorce news of them flew in the media. After remaining husband and wife for 12 years, the couple filed papers for separation. The actual reason behind that compelled the couple to take this drastic decision is still unknown. But many tabloids at that time claimed that Morgan's extra affairs were the reason behind their separation. Bradshaw and Freeman's divorce was finalized on November 19, 1979.
Jeanette's Children: Two Biological and Two Adopted
During their twelve years of courtship, Jeanette and Morgan parented four kids together. But, among them, only one child named Morgana Freeman is their biological one. The girl doesn't make any public appearances, but she accompanied her father at the LA premiere of the movie "Oblivion" in 2013.
Alfonso Rene Freeman is the oldest son of Morgan who was born after his father's brief love affair with Loletha Polk-Adkins. Born on September 13, 1959, Alfonso is the younger version of his famous dad. He not only looks like his dad, but he has also an interest in acting. Alfonso has starred in movies like The Shawshank Redemption, The Bucket List, Burn, and so on.
Alfonso Freeman with Morgan Freeman
Saifoulaye Freeman is the third child of Morgan who was born in 1960. He was the result of Morgan's love affair with a woman, whose details have not been publicized. Likewise, Deena Adair is the fourth child of Morgan and Jeanette. She was adopted by Morgan after he married Jeanette Adair Bradshaw.
Bradshaw's Life Post Divorce: Where is Jeanette Now?
Jeanette Adair Bradshaw has been away from the limelight ever since her relationship with Morgan ended. After giving a divorce to Morgan, she chose to live a life away from the media tantrums. Likewise, Jeanette remained single for life after her doomed marriage with Morgan. It seems like she had a really bad experience from her marriage and couldn't even think of another man in her life.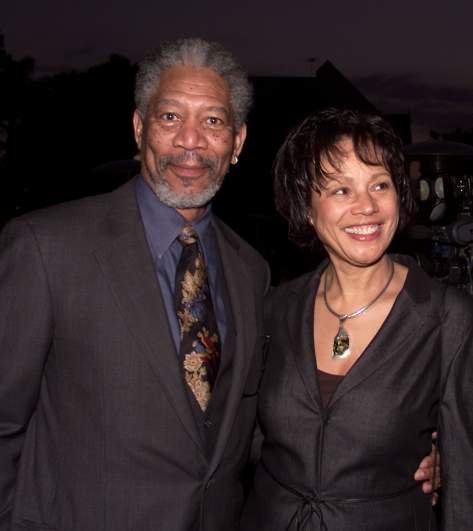 On the other hand, her former husband Morgan married Myrna Colley-Lee in 1986. However, his second marriage also ended with the divorce. Morgan and Myrna ended their 25 years of relationship on September 15, 2010. The ultimate reason behind the divorce was again his extra-marital affairs.
Jeanette didn't make any public appearances after the divorce until 2015. In August 2015, she made her appearance with ex-husband Morgan at her beloved granddaughter E'dena Hines's funeral. Hines was brutally murdered by her boyfriend Lamar Davenport.
Bradshaw's Granddaughter Was Brutally Murdered
Bradshaw had to go through heartbreak when her granddaughter E'dena Hines died on August 16, 2015. E'dena Hines was the daughter of Deena Adair. However, she was later adopted by Morgan and his second spouse Myrna Colley-Lee.
The 33 years old was stabbed 25 times to death by her boyfriend outside her apartment in Washington, New York.  Lamar was sentenced to 20 years of imprisonment for the crime he committed. On the court proceeding, he claimed that she was in a sexual relationship with Morgan and that's the reason why he lost his anger and killed her. However, both Hines and Freeman have denied the allegations. Hines when alive gave a statement that said:
"These stories about me and my grandfather are not only untrue,but they are also hurtful to me and my family."
Jeanette's daughter, Hollywood hairstylist Deena Adair shared her heartbreaking testimony in the Manhattan Supreme court at the bench trial of accused killer Lamar Davenport. She said how she was unable to raise her and was trying to work on her relationship with her late daughter. She said:
'We drove to Jamaica, Queens to go look at the house that was my grandparents' house. Just to reminisce-just to go and walk around and just talk about our experiences.
Well, that's really a moment of sadness for a mother who was just bonding with her daughter after the separation of so many years. The up-and-coming actress's death is a huge loss to her family as well as for the movie industry. When she died, she had just finished shooting for her movie 'Landing Up." The late actress told about her new start as:
"My dream has come true and it's just beginning. Life can make you want to give up or walk away; sometimes it gives you the strength to appreciate when you do get your happy ending."