Actor Nicolas Cage has outshined in his career with movies like Moonstruck and The Rock. Though he has witnessed massive success in his professional life, its quite opposite when it comes to his love life. Cage in search of his soulmate has passed through many failed relationships. To everyone's surprise, the actor has witnessed four doomed marriages till now. While three of his past marriages tenured for more than a year, his fourth marriage with his girlfriend Erika Koike left everyone surprised as it didn't last for a week also.
His marriage with Erika Koike only lasted for four days. He went to the court with papers for annulment on the fourth day after their wedding date. In response, his bride Erika denied for annulment and hit back to him with more allegations demanding spousal support. While the news broke in the media, everyone wondered who the girl is as Nicolas was never balmed to that extent.
So, here we have covered details about Erika Koike including her life before meeting Nicolas to her struggles during her separation from Nicolas Cage.
Erika Koike is a Professional Makeup Artist
Erica Koike was born on June 1, 1984, in Henderson Nevada and still resides there. According to her IMDB profile, Erika is a professional makeup artist. Over her career, she has worked in the makeup department of the movie 'Hankikanto'.
However, it wasn't her career that favoured her fame. Her relationship with Oscar winner actor Nicolas Cage increased her popularity. As Erika recently came into the spotlight following her relationship with Nicolas, nothing much is known about her other projects.
Erika Koike's Relationship with Nicolas Made her Talk of the Town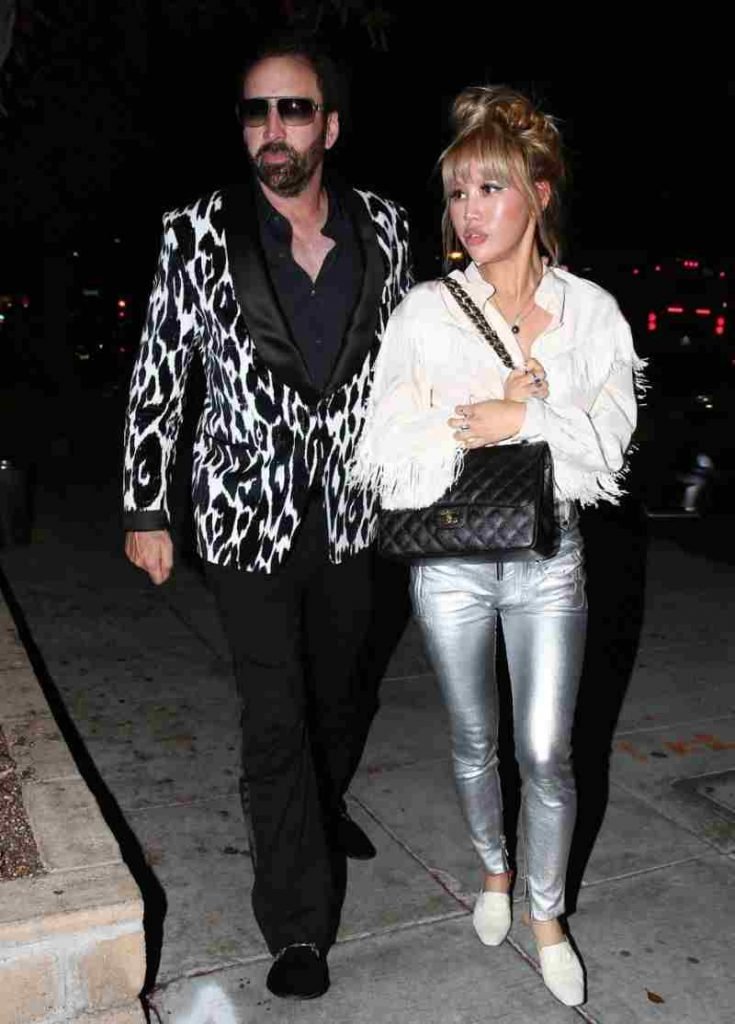 Erika Koike and Nicolas hit the headlines together when they were first spotted together in June 2016 when they together attended one of Carrot Top's shows. At the moment, Nicolas has just broken his marriage with his third wife Alice Kim. Many suspected that Nicolas was in a relationship with the make-up artist seeing them hand in hand at the event. However, neither Nicolas nor Erika accepted their affair.
Later on, Koike and Cage were once again spotted vacationing together in San Juan, Puerto Rico in April 2018. While Nicolas was shooting for the movie Primal at that time, Erika was there to spend some quality time with her boyfriend. The rumours of their relationship got confirmed the following month when the two were captured having a romantic dinner in Beverly Hills, Los Angeles.
After dating for a year, Erika got married to Nicolas in a private ceremony where the guests list included only two of them.
Erika and Cage Both were Drunk When They Exchanged Vows in Vegas
While drunk Erika was walking on the streets in Vegas with Nicolas, they took a surprising life-changing decision. The couple in a drunk status got married on 23rd March 2019 in Clark County Court in Nevada. The duo applied for a license the same day and even got their marriage certificate. They weren't even in their senses to realize that they are accepting each other as a husband and wife.
Soon after, when they came back to their senses, they were seen arguing at a hotel in Los Angeles. As per reports, the new bride was yelling at the Golden Globe Award winner Cage. As expected, four days after the wedding date, Nicolas submitted papers on the court for annulment on March 27, 2019.
Erika Denied on Marriage Annulment and Instead Proceeded for Divorce
Erika Koike got the opportunity to call herself Mrs Cage for days less than a week. Her happiness did not last long as Nicolas filed for annulment just four days after exchanging the vows. In the documents submitted by Nicolas, he made multiple allegations against Koike. He claimed that he was too intoxicated when he agreed to marry Koike. In addition, he claimed that Koike was a fraud who didn't reveal her relationship with another person and about her criminal history.
In response to the allegations made by Nicolas, Koike for the first time spoke with Daily Mail her side of the story. She commented:
"Nic did what he did. We are not going to reconcile or get back together. Nic could have come to me and talked to me, not publicly humiliate me. I 'm hurt and mistreated, it's unfair, but the case is sealed, and my lawyer won't let me speak until we are all done."
Despite the allegations made by Nicolas seeming true, he didn't get the annulment. So, he opted for the divorce. After three months of filing for the divorce, the couple finally parted their ways legally on May 31, 2019.
Mrs. Cage For Four Days Demanded Alimony From Nicolas
As per reports published by TMZ, Koike asked for spousal support in April 2019 when the legal wrangling between the couple was on. In response to the allegations made by Nicolas, Erika Koike claimed that Cage's 'impulsive actions' don't qualify for marriage annulment and just 12 days after Cage asked Erika to start again in the right way proving their relationship legit.
As per the reports, Erika agreed that they weren't compatible with each other and should head for divorce. However, she appealed for spousal support claiming that she lost many big opportunities while she was in a long-term relationship with the actor.
In reply, Nicolas denied giving any spousal support to his bride of four days. However, it's unclear whether she got alimony or not though the duo has already got divorced in March 2019.
Their marriage was among the most short-lived marriage in the history of Hollywood ever.
Like Nicolas, Koike was Also Married before She met Him
Before exchanging heartstrings with Nicolas, Erika was in a marital relationship with a guy whose identity is unknown. As per the records maintained in the court, Koike has been involved in a high voltage divorce drama that included reports of domestic violence. In 2006, she was arrested for charges of domestic violence on her then-husband.
The case was dismissed due to a lack of evidence. Later on, Koike filed a protective order against the man. Their legal battle finally ended in 2014.
Life After Divorce: While Erika was seen Smooching a Random guy, Cage went for his Fifth Marriage
Only after a few months of divorce, Erika was seen lip-locking another man. However when a DailyMail correspondent approached her for answer, she simply denied the dating rumour.
"He's just a customer who comes here. He's not my boyfriend yet."
Nicolas has been in numerous relationships, many ending catastrophically. Cage was first in a relationship with actress Christina Fulton. They started dating from 1988 with whom he had welcomed a son Weston Coppola Cage. The couple soon bid farewell to their relationship after giving birth to their son.
Then after, in 1995 he went to marry actress, Patricia Arquette. Unfortunately, they couldn't survive their relationship and legally parted ways in 2001. Within a short gap of one year, he again commenced on a short-lived marriage to Lisa Marie Presley. They exchanged the vows on 10 August 2002. Meanwhile, he wasn't fortunate to have a successful marriage this time also. The couple filed for divorce 107 days later after their wedding. But, it took a long by the court to grand their appeal. They got divorced nearly after two years that is on May 16, 2004, after filing the case.
Nicolas Cage went on his journey to find his soul mate for the third time and married Alice Kim. Their wedding ceremony was held at a private ranch in Northern California in 2004. The couple was blessed with a son Kal-el Coppola Cage on 3rd October 2005. Nicolas and Alice were all doing well until 2016 when they ended their one-decade long marital relationship.
Nicolas then astonished everyone when he married his girlfriend for one year Erika Koike and appealed for annulment just four days after exchanging the vows. Erika probably remained single till now after her doomed marriage. On the other hand, after his bitter experience with Erika, Nicolas Cage has again tied the knot for the fifth time in his life with Riko Shibata at Wynn Hotel in Los Angeles on 16th February 2022.
Erika has been Arrested For DUI Many Times
Apparently, Erika holds quite a criminal history. As reported by The Blast, she has been arrested multiple times involving DUI. Erika was arrested for DUI in Los Angeles in 2008 and 2011. In 2008, for the charge, she was sentenced to probation, community service, and AA meetings.
For her second DUI, in addition to the punishments she got in 2008, she was sentenced to 5 days in jail. Moreover, she was ordered to attend aggressive alcohol program classes twice a week. Furthermore, an interlock device was also installed in her car.
Recently, in 2018 she was again arrested for DUI in Las Vegas for drinking and driving. Koike is still dealing with the case and had appeared in court in April. She again attended the next hearing in June and was proved not guilty by the court.
Koike was Sued by her Neighbour for Charges Against Assaults
The Blast reported that Erika was sued by her neighbour for allegations of assault and battery. In 2015, her neighbour claimed that Erika attacked her when she was returning to her apartment in the parking lot. As per her statement, Erika jumped out of the darkness and punched her right in the face before trying to choke her out.
There were few talks in town that her neighbours had filed a police case against her but it's unclear whether she was arrested or not.
Erika Rejected any Future Possibilities of Getting back Together with Nic
Speaking for the first time after the divorce, she said she felt absolutely gutted and embarrassed when her then husband Nicolas Cage filed for annulment labelling their marriage as fraud.
When approached by DailyMail about a alleged rumour, she simply retaliated by saying she can do whatever she wants.
Nic did what he did, we're not going to reconcile or get back together. Nic could have come to me and talked to me, not publicly humiliate me. I'm hurt and mistreated, it's unfair, but the case is sealed, said the hostess.
She did hit back at Cage demanding spousal support and charging defamation case at Cage. She also wanted Cage to pay her legal fees. The divorce has already been finalized and the ex-couple have already moved on with their lives. The extent of settlement though is yet to be disclosed.
Breaking up in just 4 days of marriage can be traumatic for any girl. But one of the close source to Erika remembers her as a feisty woman. So hopefully she has forgotten her past misery and grown into more mature woman!