American Football, which is one of the most celebrated sports in the US, over the years has produced generations of talented athletes leaving legacies of their own. Even among the pool of these accomplished athletes, one family has been taking the sport to new heights. Considered as a dynasty even within the sport, the Manning family from Mississippi has been delivering star players especially quarterbacks with each passing generation. And among the family's group of decorated athletes, the youngest son of Hall of Fame quarterback Archie Manning, Eli Manning has quite a success story of his own.
With a career lasting 16 years as the New York Giants' starting quarterback and leading his team to Super Bowl victories twice alongside having two MVPs under his belt, it is safe to say that Eli Manning had a very rewarding professional life. And one person who has seen him throughout his career inclination is his wife of 15 years, Abby McGrew. While we all know about Manning's professional career inside out, his relationship with his wife has often been left out of the media spotlight. So what do we know about Abby McGrew? Let's read on.
Abby is from Nashville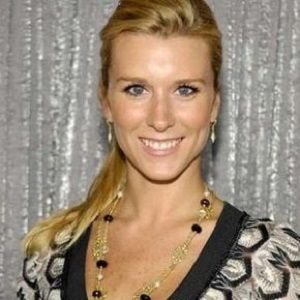 Abby McGrew was born on January 1, 1984 in Nashville, Tennessee, USA. While there is hardly anything known about her mother, her father Tom McGrew is known to be an American writer who penned the book titled 'Fairy Magic'. Abby grew up in their family home with her two sisters Lacey and Molly McGrew.
McGrew along with her sisters attended the prestigious private school, Brentwood Academy in Nashville that is self described as 'college preparatory Christian school'. After graduating from highschool, she went to University of Mississippi in the pursuit of a degree in family and consumer sciences. The years she spent in college not only gave her an idea of her career path but also became the special times she met her future husband Eli Manning.
Abby is into the fashion Industry
Despite graduating with a degree in family and consumer sciences from the university, Eli Manning's wife Abby opted to not pursue a career on the same. In contrast, after moving to New York she started to see a career future in fashion design and started working as an account executive for designer Pamela Roland in New York. For the most part, she would work with designs of wedding dresses and evening gowns. However as of now, she has probably left that line of work in order to focus more on her family.
Abby and Eli are College Sweethearts
Abby Mcgrew and NFL star Eli Manning first met each other in 2002 on the premises of the University of Mississippi. At that time, Abby was a freshman and Eli was a junior in college. After going on a few dates, the couple became romantically involved with one another. After graduating from college, Manning was drafted to the New York Giants and Abby too decided to move to New York for career options.
The couple dated for five year before Manning finally popped the question during a trip to New Orleans in 2007.
Abby and Eli got married months after the Super Bowl win
On April 19, 2008, the couple officiated their union during a private event held at the Palmilla resort in Los Cabos, Mexico. The ceremony was attended by 60 of their close family and friends. The couple's nuptials were headlining the media, as they were getting married just a couple of months after the historic win of New York Giants' in the Super Bowl XLII where Abby's husband Eli was awarded his first MVP title.
During the wedding, the guests were handed 'Super Bowl' chocolate rings by the groomsmen in celebration for the couple. The couple also chose Elton John's 'Your Song' for their first dance as husband and wife.
Abby and Eli have four kids; Ava, Lucy, Caroline and Charles
Abby McGrew and Eli Manning are proud parents of three daughters and a son. On March 21, 2011, Abby and Eli Manning welcomed their first child Ava Francis Manning. The couple was blessed with their second daughter, Lucy Thomas on June 17, 2013. Two years later on June 29, they had their youngest daughter Caroline Olivia. On February 3, 2019, the Manning brood extended as the family eagerly welcomed the arrival of the couple's youngest child, Charles 'Charlie' Elisha Manning. 
Eli has often talked about the joy of fatherhood and how much he enjoys letting his children be part of the family's football traditions. When Eli announced his retirement from the sport, his wife and children were present in the crowd providing him encouragement and moral support. 
She is involved in philanthropy
Like her husband, Abby McGrew is also actively involved in charity work to support many causes. Following the aftermath of the 2005 hurricane Katrina, the couple donated essential supplies to the victims affected by the natural disaster. They assisted with the delivery of items like Gatorade, baby formula, pumice and pillows to the residents of New Orleans.
The couple donated $1 million to the Children's of Mississippi, a campaign run to raise $100 million capital. They have also helped to raise $3 million in partnership with Friends with Children's Hospital for a 15600 sq.ft. children's clinic at the Blair E. Batson Children's Hospital in Mississippi.
Abby and her husband have also donated a total amount of $10 million to St. Vincent's hospital in Greenwich Village, Manhattan as a kickstarter for the 'Eli and Abby Manning Birthing Center'. The couple has been granting scholarships on a regular basis to the students attending their alma mater.
In the wake of the Covid 19 pandemic, the couple stepped up to help those who were on the front line fighting the global pandemic. They donated personal protective equipment (PPE) to the healthcare workers.
Eli and Abby Manning's Birthing center Announcement at St. Vincent's Hospital
She was a part of Eli's game superstition
During the 2008 playoffs just before the game between the Giants and New England Patriots, Eli's older brother Cooper told the New York Post that his soon-to-be sister-in-law was not allowed to sit in the family suite.
Cooper said, "Once or twice she was invited to sit in a suite and things didn't end well." Following this, Abby would sit far away in the cheap seats which were much colder than the warm and cozy suite. It became a big game superstition for Eli but thankfully Abby went along with it to give her support to her husband.
Cooper recalled the conversation between Eli and Abby, "In the spirit of superstition, Eli told her, 'I don't care if it's four degrees in Green Bay, you're sitting in the stands'." Cooper later added jokingly that anything would be done for a win. He also praised Abby for understanding where her husband was coming from and called her a 'great gal'.
Unlike many wives of celebrity sports and media personalities, Abby McGrew likes to maintain a low profile life by making a distance from the social media sites like Twitter, Instagram, and Facebook. This way she keeps her personal life away from the media's vulture eyes. She does not have an account on these sites.
Net Worth
While her work as an account executive for the designer Pamela Roland was short lived, she has carried on the great work of working for many humanitarian causes. However, her actual net worth has not been disclosed yet.
Her husband Eli Manning on the other hand is a successful NFL athlete with two Super Bowl Championships, three Pro-Bowl Selection and two Super Bowl MVPs to his name. He earns a pretty good sum of money from his salary and endorsement. The couple has an estimated net worth of $100 million. Eli's salary is $18 million and earn $8 to $10 million through endorsement deals from different brands.
Abby and her husband are living a luxurious life. In 2016, the couple decided to go big on a real estate purchase and bought a 7000 sq.ft house costing $8.5 million which expanded on a 1.2 acre beachside lot in Hamption's town of Quogue. The home was purchase by the couple's Mr. Chester LLC, named after the family dog, Chester, a Cavalier King Charles Spaniel. In addition to this, the couple also owns a $4.7 million resident in Summit, New Jersey.
Abby Mcgrew Manning and her family of six are now happily living together. Abby has been an important person in Eli Manning's life who has shown him unconditional love and support from the very start and even today with all the new ventures he is taking she is continuing to be his biggest supporter.