Coming from a show business family, for decades Hollywood actor and comedian Marlon Wayans has been gracing our TV screens and movie theatres. Gaining popularity through the hit sketch comedy television series, he went on to appear in some of the cult classics like 'Scary Movie' and 'White Chicks'. In 2017, Marlon Wayans returned to the small screen with his sitcom 'Marlon' that ran for two seasons on NBC. The sitcom that was loosely based on Marlon's own life, revolved around a divorced couple trying to stay friends for the sake of their children. In the show, actress Essence Atkins portrayed the character of Ashley Wayne who was somewhat inspired by Marlon's real-life ex-partner Angelica Zachary. So who is Angelica Zachary? Let us find more about her.
Who is Angelica Zachary?
Angelica Zachary was born in February sometime in the 1970s. She is said to be born and raised in New York City, USA. Despite being married to a celebrity for more than ten years, she has relatively kept a low profile for all these years.
She is an African-American with Asian roots
Angelica Zachary belongs to the black community but what you might not know is that she also shares Japanese heritage. On her birthday, Marlon Wayans posted a birthday message on his Instagram where he wrote, "Beautiful black woman that is quick to announce her Asian heritage and quicker to defend her strong African roots". Seems like she is very proud of her origins.
Dating Marlon Wayans Changed her Life
The exact date of their first meeting is still under wraps. Some sources say that the couple first met in 2001 and started dating shortly after. There are also multiple claims that the couple goes way back and has actually been with each other since 1992.
Relationship with Marlon Wayans
Both Angelica and Marlon are very private people when it comes to their relationship. Some sources claim that the couple got married in 2005 while some believe that they were married way before that. However, throughout their relationship, the couple never officially tied the knot. In his Instagram post, Marlon wished her a happy birthday captioning:
"Your my sister, my friend, my mom, my children's mother, my bestie, my buddy, my wife, my ex-wife (even though we never married) and baby".
When asked about why he avoided marriage with Angelica, Marlon said, "If I was married, I would be divorced. I'm anti-authority. I don't like being told what to do. I like my own space. I don't like living with people." While the couple was never married, they did share a really understanding relationship with each other. Unfortunately, the couple broke up in 2013.   
Zachary is a Mother to Two Kids: Amai Zachary & Shawn Howell
In her decade long relationship with Marlon Wayans, she gave birth to two beautiful children. On May 24, 2000, the couple's first child, daughter Amai Zachary Wayans was born. A couple of years later, on February 3, 2002, their son Shawn Howell Wayans was born.
In one of his early interviews in 2014, Marlon Wayans revealed that his son got all A's in school following which he had to buy him a lot of sneakers. He also said that Shawn was really good at basketball. In the same interview, he also revealed that his teenage daughter was always on social media and loved boy band one direction.
Her Daughter Amai is a Part of the LGBTQ+ community
Angelica Zachary and Marlon Wayans' daughter Amai came out as a lesbian and her father talked about how she broke the news to her parents. She apparently found out about her sexuality when she was 16. The family is very supportive of her and her parents especially her father takes pride in her. 
Co-parenting with Marlon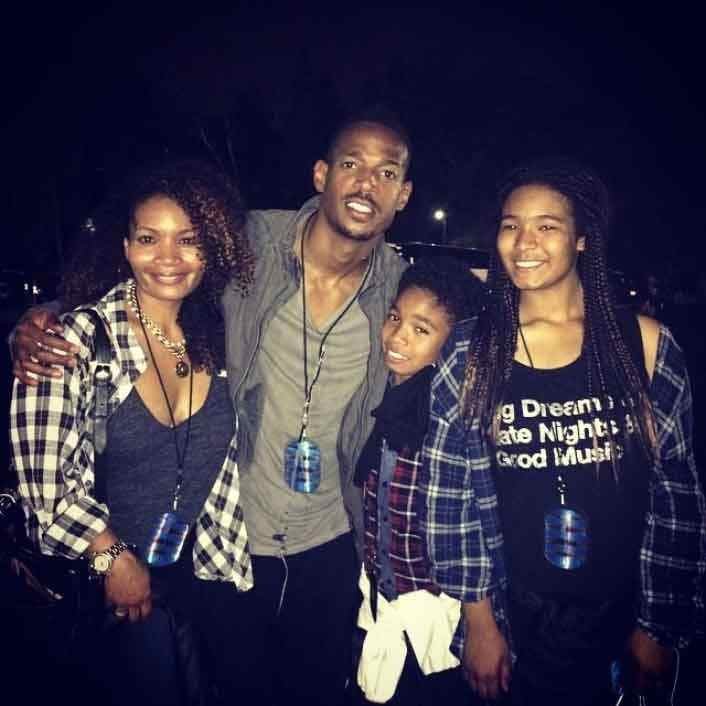 After separating from each other, Angelica and Marlon both kept a friendly relationship. For them, letting their children have a normal childhood was more important than the lack of intimacy both had in their relationship. Their decision to co-parent made it easier for the kids to have both of their parents in their lives. On one of his interviews, Marlon talked about the reason why his kids' lives did not change even after the break up was that the couple were never married to each other.
Often misunderstood to be Essence Atkins
Angelica Zachary is a very private person and there is a lot of misinformation regarding her circulating on the internet. One of them is her constantly being mixed up as actress Essence Atkins. There are multiple sites that use the actress' picture as Angelica's. Since the actor has worked in many projects with Marlon Wayans, people often confuse her to be Marlon's ex. Adding to that, Essence Atkins also portrayed the character of Marlon's wife in his TV sitcom Marlon which according to him is 'eighty-seven percent' reflection of his own life.
Still very important to Marlon
It is true that a man can never forget the mother of his children. Marlon and Angelica might have separated from each other physically, but emotionally they are always connected. Time and again, Marlon has expressed how lucky he is to have her in her life as a friend and as a family. In an interview with The Entertainment, he said that he still thinks of her as his family and enjoys spending time together. He said, "We go to dinner, we go to the movies, we hang out, we laugh. Now, she won't give me none, but that's OK."
In 2018, he posted a beautiful birthday message for Angelica on his Instagram. On the post, he thanked her for her quiet resilience and support, captioning :
I couldn't achieve half of what I have without you allowing me the creative space to do so. I'm thankful for all the years we spent together but I'm more thankful for this beautiful friendship and this weird obtuse beautiful family that we have.'