Marlon Wayans is probably the workhorse of the entertainment industry. The guy just churns out content right, left, and centre. Even after three decades of entertaining his fans, the 'scary movie' actor doesn't feel like slowing down. Although his life seems to be on an upward trajectory, it wasn't the same a decade back. Yes! he was building blocks of money but his personal life took a huge dent when he separated from his wife Angelica Zachary in 2013. The news about Wayans cheating on his wife only made things worse. However, the ex-couple doesn't seem bitter about it these days.
Marlon particularly is always crafty in showing his love toward his ex-wife. The mother of two, Zachary has swayed away from the limelight but from what we know she is a gem of a mother. And that's what keeps their broken relationship alive.
Angelica Zachary's Mother is Japanese
While many believe Angelica is black but in actuality, she has roots from two races. Her father is Black, but her mother is Japanese. In 2013, on The Wendy Williams Show, Marlon spilled the beans about his ex-wife.
'I have two children, a son and a daughter, my son is 10 and my daughter is twelve,' the 40-year-old told host Wendy. '(Their mother is) Japanese and black.'
Also on her birthday, Marlon went to his Instagram to post a beautiful message for Angelica,
"Beautiful black woman that is quick to announce her Asian heritage and quicker to defend her strong African roots". Seems like she is very proud of her origins.
Angelica and Marlon Started Dating in 1992
Although Angelica and Marlon are very private people when it comes to their relationship, there are clues that suggest that they started their relationship in 1992. On September 13, 2017, Marlon shared a picture of him with Angelica on Twitter revealing their 25 years anniversary despite being separated.
Some sources claim that the couple got married in 2005 while some believe that they were married way before that. In 2013s, Wendy Williams show, when asked if they were still together after 12 years, Marlon said yes twice.
In his Instagram post, Marlon wished her a happy birthday captioning:
"Your my sister, my friend, my mom, my children's mother, my bestie, my buddy, my wife, my ex-wife (even though we never married) and baby".
However, throughout their relationship, the couple rarely talked about their marriage. Unfortunately, the couple broke up in 2013.
Angelica is Blessed with two Beautiful Kids, Amai and Shawn
In her decade long relationship with Marlon Wayans, she gave birth to two beautiful children. On May 24, 2000, the couple's first child, daughter Amai Zachary Wayans was born. A couple of years later, on February 3, 2002, their son Shawn Howell Wayans was born.
In his interview with Ellen in 2014, Wayans revealed that his son wasn't that good in school. And like any other father would do he had to bribe his son to get good grades.
If you got all A's in school Imma buy you those sneakers, he said.
And as a matter of fact, he did get all A's and Marlon had to buy him 25 pairs of sneakers. He also revealed that he is quite a basketball player. In fact, Marlon doesn't skip a chance to post his son's videos playing basketball. Shawn also has quite a following on Instagram racking 51.4k followers.
Also in an interview with Wendy Williams, he also revealed that his teenage daughter was always on social media and loves the boy band one direction.
'Her life is on Social media. I started doing social media just to talk to her, he said.'
Like every other kid, Amai is also embarrassed by her father. Although she finds him hilarious, she tries to hide away in school when Marlon is present.
Her Daughter Amai is a Part of the LGBTQ+ Community
Angelica Zachary and Marlon Wayans' daughter Amai came out as a lesbian and her father talked about how she broke the news to her parents. She apparently found out about her sexuality when she was 14. The family is very supportive of her and her parents especially her father takes pride in her.
In a podcast, Marlon revealed how his daughter came out when she was just 14. She expressed her sexuality through Katy Perry song. She came to him and said, 'Dad I kissed a girl, and I liked it.' And, he replied in a way that only he can.
'Really B****, you going to break the news in the form of Katy Perry song.' All his jokes aside, he really loves his daughter unconditionally and this hasn't changed a bit even after her reveal. Even his posts show his support toward his daughter and her cause.
During Pride Parade, he posted a heartfelt picture of his daughter with a beautiful caption, to sum up.
Happy pride ? to my pride and joy. I wouldn't change one effing thing about you. Love you to the moon around the sun through the galaxies and back again, he said. Hands down he has won the dad of the internet award.
Angelica's Marriage Stalled after Marlon Cheated on her
When you are in a relationship for so long, either it makes you really strong or opens up a vulnerable spot for a mistake. And the later happened to Marlon in 2013. The 'White Chicks' star was caught on camera by Paparazzi when he was having a romantic date with women much younger than him.
In a few pictures released that day, he was seen giving a steamy smooch to the woman in Yacht. As the news escalated rapidly, it only opened up more cracks in their relationship. This finally led them to call their marriage off.
Zachary and Wayans are still Connected through Friendship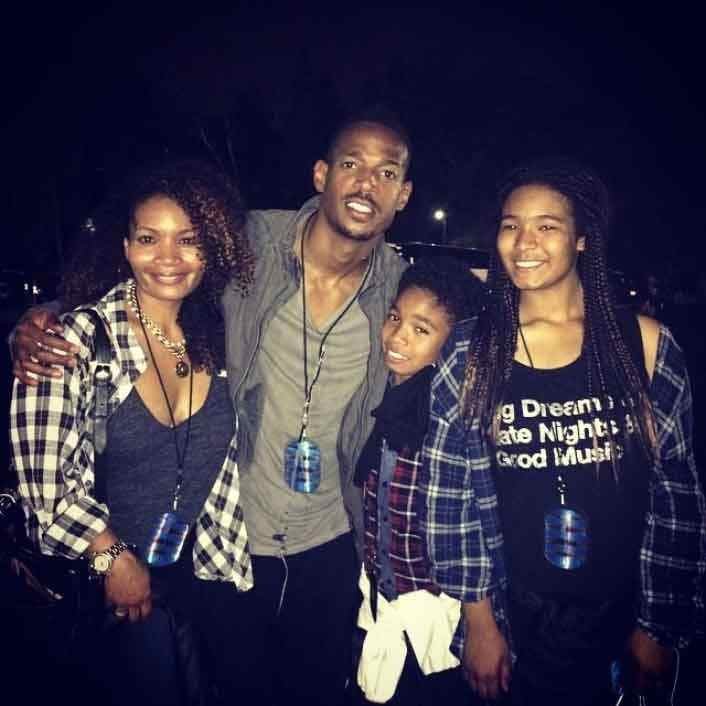 While some may find really hard moving on, Angelica and Marlon have definitely found comfort in their friendship and through the eyes of their children. Their lack of intimacy hasn't affected one bit to their relationship with her children.
Unlike many celeb couples, they do see eye to eye and have a friendly connection. Marlon is often seen sharing posts reminding the world how he is so lucky to have a great mother in Angelica.
Angelica is often mistaken as Essence Atkins
Angelica Zachary is a very private person and there is a lot of misinformation regarding her circulating on the internet. One of them is her constantly being mixed up as actress Essence Atkins. There are multiple sites that use the actress' picture as Angelica's.
Since the actor has worked in many projects with Marlon Wayans, people often confuse her to be Marlon's ex. Adding to that, Essence Atkins also portrayed the character of Marlon's wife in his TV sitcom Marlon which according to him is an 'eighty-seven percent' reflection of his own life.
She is Still a Big Part of Marlon's Life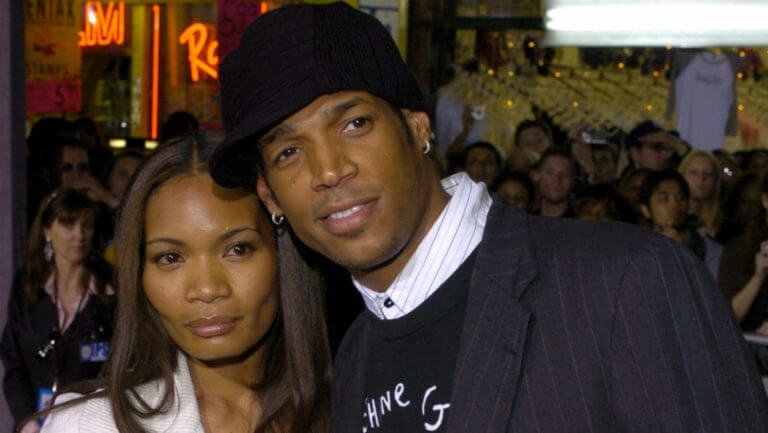 It is true that a man can never forget the mother of his children. Marlon and Angelica might have separated from each other physically, but emotionally they are always connected. Time and again, Marlon has expressed how lucky he is to have her in her life as a friend and as a family. In an interview with The Entertainment, he said that he still thinks of her as his family and enjoys spending time together. He said:
"We go to dinner, we go to the movies, we hang out, we laugh. Now, she won't give me none, but that's OK."
In 2018, he posted a beautiful birthday message for Angelica on his Instagram. On the post, he thanked her for her quiet resilience and support, captioning :
I couldn't achieve half of what I have without you allowing me the creative space to do so. I'm thankful for all the years we spent together but I'm more thankful for this beautiful friendship and this weird obtuse beautiful family that we have.'
On February 23, Marlon went to Instagram to post a beautiful post about his ex-wife.
'Happy bday to this beautiful soul. A great woman inside and out. Truly one of the best people I've ever met. Thank you for loving me in silence, he wrote. He further went on to say, 'The Bible says love is not loud. And you've been biblical and magical. Thank you for my beautiful kids. My life gifts. Love you for life woman.' This shows how their relationship is beyond the wedding vows and has definitely tested times.
Marlon Might have got inspiration for a Sitcom from his real life
In 2017, Marlon Wayans returned to the small screen with his sitcom 'Marlon' which ran for two seasons on NBC. The sitcom that was loosely based on Marlon's own life, revolved around a divorced couple trying to stay friends for the sake of their children. In the show, actress Essence Atkins portrayed the character of Ashley Wayne who was somewhat inspired by Marlon's real-life ex-partner Angelica Zachary.
While Marlon has been linked to multiple women after their separation, Angelina Zachary is living a single life. She has been maintaining a simple life avoiding unwanted attention from the public in the shadow.
Her Son Shawn owns a clothing line
Neither of Angelica and Marlon's children have followed the path of their famous comedian father and have already embarked on the path of their own. Their son Shawn particularly has shown interest in the business world. Shawn partnered up with his friend John Supowitz to co-found a clothing company called 'Rage in Paradise'. They design different art and animations and have them printed on a variety of clothing items like t-shirts, hoodies, caps, sweatshirts, shorts and many others. While Shawn might had troubles with school when he was young, looks like he has grown into a remarkable young man