If you are a fan of romantic comedy movies or just movies in general, then you have probably heard about the ever so charming and well-spoken British gentlemen, Hugh John Mungo Grant also known simply as "Hugh Grant". In the 90s and early 2000s, English actor Hugh Grant made a name for himself after starring in a number of romantic comedies such as 'Four Weddings and a Funeral', 'Notting Hill', and 'Love Actually' that till date are loved by many.
Even though Grant has been in the public eye for decades, he has expressed his boredom of playing celebrity in front of the press. He is known for his guarded privacy which is why his private affairs are hardly released to the media. In June 2018, reports came out that the British actor had married his longtime partner Anna Eberstein. So, who is the lovely lady and what do we know about her? Let us read in detail.
Anna Had a Good Academic Career
Anna Elisabet Eberstein was born on February 15, 1979, in Sweden to parents Hans and Susanne Eberstine. She also has a brother, Christian Eberstine. Not much is known regarding her early life in Sweden.
Anna Eberstein has been very dedicated to gaining an education. After finishing high school, she moved to England to attend Oxford Brookes University from 1998 to 1999. There, she studied English Literature and Political science. She moved back home to Sweden and enrolled in one of the Master's programs in Economics at Uppsala University. She is said to have graduated from Uppsala University in 2003.
Apart from this, from 2001 to 2002, Eberstein is also said to have attended the Business School of Lincoln Memorial University in Tennessee, USA.
Elisabet Began Her Career At ESPN
Anna Elisabet started her career in December 2008 after joining ESPN's marketing and sales promotions producer. Within the company, Anna was responsible for organizing the sport's channel's monthly workload and promo versions in seven different languages across Europe, the Middle East, and Africa. She is said to have worked as an assistant producer on different shoots and was even promoted to producer for marketing and sales in April 2011.
After dedicating almost five years of her career working for ESPN, she quit her job in 2013. She then started experimenting with her job offers and worked as a freelance creative producer and director.
In March 2014, Anna Elisabet co-founded the online kid's retail brand 'Ace&Me' in London, the UK with her cousin Pia Tamm Hagnö. The company aimed to bring a more edgy style to the traditional Swedish slipper socks which are all handmade in Sweden. Since its inauguration, Anna has been serving as director of the apparel company.
Getting Involved in a Complicated Relationship with Hugh Grant
While Hugh Grant made a career out of being one of the most irresistible romantic interests in a lot of Hollywood movies, in the early 2010s his own romantic life was kind of a mess. According to some sources, Anna and Hugh apparently met at a bar in London in 2011. Now, this is where their relationship status gets tricky. According to different sources, when they first met, Hugh was already having an affair with Tinglan Hong who is often misreported in the press as a receptionist of a Chinese restaurant in London. Hugh and Tinglan had their first child, a daughter who is named Tabitha in September 2011.
Despite the complicated relationship status, Anna and Hugh started to see each other. The couple welcomed their first baby boy, John Mungo Grant in September 2012. Just when you thought their on-again, the off-again relationship had started to become more stable, news broke out that following a brief reunion with former flame Tinglan Hong, Hugh was expecting his third child with Tinglan. The baby boy, Felix Grant was born in December 2012.
After a series of issues throughout their relationship, Anna and Hugh finally started to become more committed towards each other. The couple then went on to welcome their second baby, a daughter in December 2015. In March 2018, their family extended even more with the addition of the couple's third child.
Marriage with Hugh John Mungo Grant
For anyone who has been following Hugh Grant's career, knows his ideology regarding marriage and settling down. In one of his infamous interviews with Howard Stern in 2016, Grant said:
"Do I think humans are meant to be in a 40 year long faithful relationship? No, No, No. I think there is something unromantic about marriage. You're closing yourself off."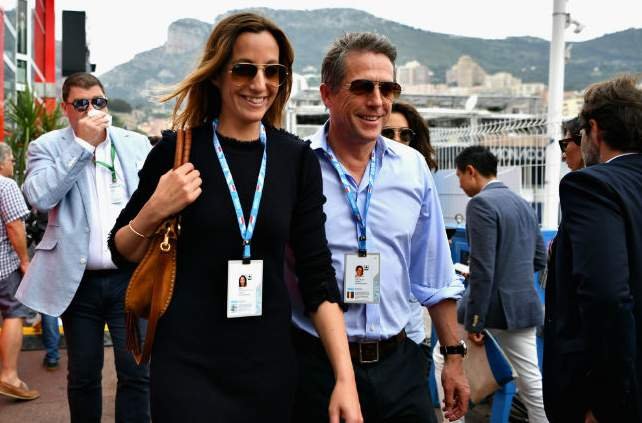 For someone who was extremely cynical regarding marriage as Hugh Grant, the news regarding his marriage came as a surprise. Anna Eberstein and Hugh Grant got married on May 25, 2018. They decided to carry out the ceremony in a simple way in the Chelsea register office including only their family and close friends. While talking about his marriage, Hugh revealed that his prejudice regarding marriage was wrong and after putting off the whole marriage thing for decades, it was nice to finally be married to a woman he truly loves.
While the start of their relationship was rough and filled with uncertainties, they worked together to make a happy family. Hugh has been open about how much Anna has impacted his life. He even defends and protects his wife from any malicious attacks on social media.
An Eventful Honeymoon and a Long-Lasting Memory
During one of his interviews, Hugh Grant revealed his unforgettable honeymoon experience with his wife. After their wedding in May, the couple went to Paris for their honeymoon. Their trip, however, turned bad when Anna was allegedly kidnapped by a taxi driver when Hugh was trying to make a withdrawal from an ATM.
Even though they laughed it off in the interview, Hugh did recollect the event to be quite terrifying.
Eberstein Loves Playing Tennis
Anna Eberstein is known to be an avid tennis lover and spends most of her leisure time playing the sport. She is also a member of a London-based tennis club known as Queen's Club. Just like her husband, Anna is also a very private person. As of now, she does not have any social media accounts.
How Rich is Anna Eberstein?
Regarding Anna's net worth, there hasn't been any official report. But with her previous works as a TV producer and her ongoing kids' apparel business, she probably has a hefty net worth. Her husband, on the other hand, has an estimated net worth of 90 million US dollars with 10 million annual earnings.