The path towards finding one's true love for some is easy while for some it is road filled with thorns. The story of singer Willie Nelson finding his one true love has become a quite infamous one.
Known for his outspoken lifestyle, Nelson remains quite a controversial character till this date. Supporter of LGBTQ community and a persistent Marijuana activist, the 88 year old country singer is never shy to raise his voice on topics some may consider as 'political.'
Born during the period of great depression, the guy faced series of hardship to reach the level he is now. And his personal life was no different. Suffered through multiple abuse from his first wife, he had to go through a mental warfare. He subsequently married two more times which quickly turned disaster.
And finally after having three failed marriages, he finally found happiness with his fourth wife Annie D'Angelo. She has been with for more than three decades. She supports his cause and is seen actively rallying together with her husband. Once a makeup artist, Annie, the mother of two rarely gives any interviews. And has been sort of a mystery for the gossip columns. Regarded as a 'Special Person,' here is everything we know about Annie D'Angelo
Annie Started her Carrier as a Makeup Artist
Born on August 27, 1956, Annie's early life hasn't been discussed in the media. What we know is she started her career as a make up artist working for numerous projects both in TV and films.
According to IMDB, she has been credited as a makeup artist for productions like Bachelor's Party (1984), Hot Pursuit (1987), The Rosary Murders (1987), Where the hell's that gold? (1988) and Gleaming the Cube (1989). She was also hired to work as a makeup artist for the 1986 film Stagecoach that also starred her future husband Willie Nelson. 
And, Stagecoach is where everything started for the couple!
Married life with Willie Nelson: Getting Old with Him
Annie D'Angelo started getting media attention after she was linked to one of the successful country singers in the USA, Willie Nelson. Nelson after his third divorce with Connie Koepke in 1988, did not immediately get married to D'Angelo.
Since they were acquaintances after working together in the film Stagecoach, their relationship naturally developed to that of a romantic one. We don't know the exact date when they started dating each other but their wedding sure made headlines.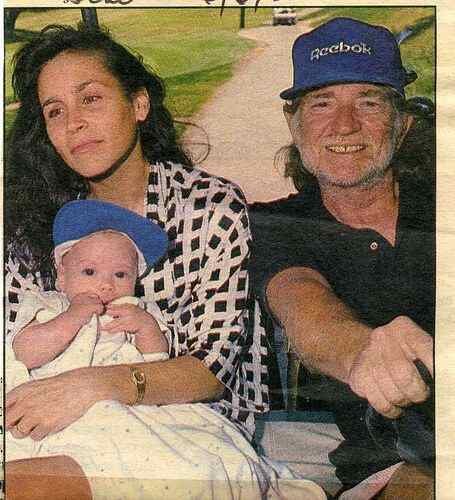 Annie D'Angelo and Willie Nelson got married on September 16, 1991, at Nashville's St. Alouin Church with the presence of their close family and friends. For Nelson, finding love again after 3 failed relationships helped him to steer his fourth marriage to a relatively more successful path.
The couple was blessed with their first child Lukas Autrey Nelson who was reportedly born on December 25, 1988. The couple's second child Jacob Micah Nelson was born on May 24, 1990.
Since both of their children were born before their parents officially tied the knot, it is safe to presume that the relationship between D'Angelo and Nelson started even before his third divorce was confirmed.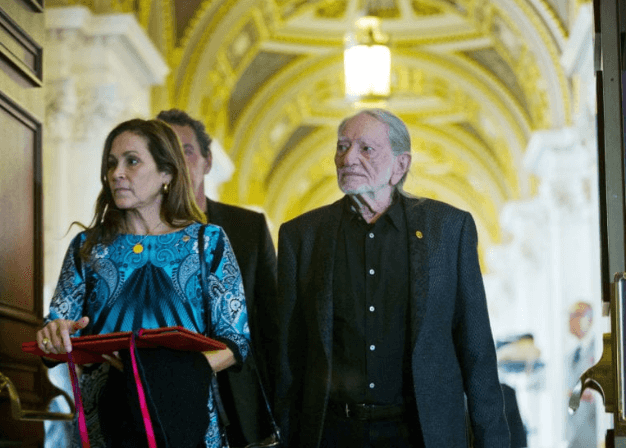 Willie Nelson has been with his wife Annie for almost three decades. One of the best things that came out of their relationship was Annie's ability to help her husband out of his financial mess and reduce his payroll. According to different sources, many people were taking financial advantage of Nelson's generosity.
Willie Nelson always has good things to say about his relationship with his wife. Upon asking about his relationship with Annie in one of his interviews with Taste of Country he said:
"I'm not easy to live with. I'm pretty temperamental, you know. I've been used to doing things my own way for so long that I'm not interested in any suggestions. There was friction with my other wives. But it seems like Annie and I did okay with each other. It takes a special person to live with me… I've got great wives, great kids, great-grandkids."
"I've got great wives, great kids, great grandkids. Both my sons, Micah and Lukas, are doing well," he boasted with a smile in his face.
The couple now spends most of their days either on their Spicewood, Texas 800-acre ranch or at their villa in Maui, Hawaii. They also spend time together traveling for different concerts on Nelson's tour bus.
Annie also encourages her husband to be more involved in physical activities like biking and swimming together. Moreover, the couple is strong advocates of marijuana legalization. In 2017, it was reported that Annie started her own line of Marijuana business, "Annie's Edibles."
Also, Annie, Willie, and Jim Hightower took it to the streets as a representative stand for "A Grand Alliance to Save Our Public Postal Service."
Annie D'Angelo Net Worth
Annie D'Angelo used to work as a professional makeup artist for different film production. Before meeting her husband, she might have had her fair share of good income sources.
As of now, her net worth hasn't been released to the public. Her husband on the other hand with his songs and albums copyrights and continuous concerts has an estimated net worth of 25 million US dollars. With this much money, the couple could happily spend the rest of their lives in comfort.
Annie's Children: Lukas and Micah are both Musician
Annie and Willie share two biological sons together, 32 year old Lukas and 31 year old Micah. Apparently, both their sons are following their father's footsteps to music industry. Their elder son Lukas, in particular, has been able to achieve much better success in the industry.He is also an active member of an American country rock band named Promise of the Real, sometimes referred to as POTR. The band has been the backing band for Canadian singer Niel Young since 2015. With Young, the band has recorded two studio albums, a soundtrack album, and a live album.
'A few stars apart' is one of his newest albums that you can listen from Youtube or Deezer. He is also the track composer of 2018's movie 'A Star is Born' starring Bradley Cooper and Lady Gaga.
The youngest Nelson is also taking smaller steps toward his music career. His musical career hasn't panned out like he would have liked but he is making inroads. He has composed handful of tracks like 'Turn me on, deadman.' Micah has also starred in a Netflix movie,'Paradox' along with his brother Lukas. Both Lukas and Micah believe on the notion of 'Giving back to the society.' Hence they are actively involved in charitable organizations and NGOs like Aids Service Center, Arm the Animals, Jobs for Autism, and Habitat for Horses.
Apart from her own children, she also has 5 step-children from her husband's previous marriages; Lana, Susie, Willie 'Billy' Hugh Jr., Paula Carlene and Amy Lee. Sadly, Willie Jr. passed away in 1991. 
A Little about Willie Nelson
Willie Hugh Nelson was born on April 29, 1933, in Abbot, Texas, USA. Since his early years, he was very interested in music. At the age of seven, he wrote his first song and joined his first band at ten. After graduating from high school, he joined the US Air Force but was later discharged due to his back problem. He then went to college for almost two years before dropping out to fully focus on his music.
Willie Nelson wrote and recorded many songs like 'Family Bible', 'Lumberjack', 'Funny how time slips away', 'Hello Walls', 'Pretty Paper', and many more. His big break came in 1973 with the critical and commercial success of his album "Shotgun Willie". He had another successful album "Red Headed Stranger" in 1975 and "Stardust" in 1978.
This success made him one of the most recognizable faces of country music. Apart from these, he has also acted in more than 30 films, written books and has been an activist too. He has also received many awards and accolades throughout his career. He was inducted into the Country Music Hall of Fame in 1993 and has also received the Kennedy Center Honors.
While his professional life was full of successful events, his personal life was a different story. Being a musician meant being on the road a lot and these things impacted his personal life too much. He married his first wife Martha Matthews in 1952 and divorced in 1962.
They both shared 3 children. His second marriage with Shirlie Collie in 1963 ended with divorce along with allegations of cheating against Nelson in 1971. He then married Connie Koepke in 1972 with whom he shared 2 kids. He divorced her in 1988. As of now, he is still married to his fourth wife Annie D'Angelo.
After three decade of marriage, it's safe to say that Willie has finally found his soulmate in Annie D'Angelo. The couple complement each other sharing common life goals like 'giving to the society.' We hope they could make it to the end of final lap of this life long race.