For more than two decades, we all have been blessed with incredible music from award-winning singer and songwriter Tim McGraw and his equally talented singer, producer wife Faith Hill. Not only is their romance iconic in the music scene but their personal life has also wooed everyone.
The couple is married since 1996 and are still going stronger. The duo have welcomed three daughters together who are all grown up now and have raise them in a normal environment. Even though Tim and Faith are pretty familiar with the limelight, the two preferred keeping their daughters out of the limelight.
Hence, much details isn't known about their daughters Maggie, Gracie and specially Audrey. So, here we are going to talk about the youngest of the McGraw bunch: Audrey Caroline McGraw.
Audrey Caroline was Born Pre-mature
Audrey Caroline McGraw is the youngest daughter of country singers Tim McGraw and Faith Hill. She was born on December 6, 2001, presumably near their home in Williamson County, outside Nashville. The youngest among the McGraw clan was born prematurely and she stayed in ICU after her birth. After she was admitted to ICU, Tim told:
This little angel came to us 7/12 weeks early. Faith and I did a lot of praying and stayed all day every day for 2 1/1 weeks in the NICU at Baptist Hospital with such incredible nurses.
Luckily, the newborn was soon was discharged from the ICU after winning the battle on Christmas eve. Since then, Christmas has been more special for the McGraw family. Every year the family celebrates Christmas by decorating the live Christmas tree on the sixth and keep it for the whole month of December. Regarding the same, her mother once told:
And now every year to celebrate Audrey's birthday, we decorate the tree on the sixth. It's a little bit of a challenge, keeping a live tree fresh for the entire month of December. But there's no other way we'd do it. We decorate on the sixth, and it has to be a live tree.
Tim and Faith named their daughter after her mother Audrey Faith as Audrey Caroline McGraw. She has two older sisters Gracie and Maggie. She along with her sisters are the granddaughters of famous baseball player Frank Edwin "Tug" McGraw Jr. who was a star pitcher in New York Mets and the Philadelphia Phillies. All of them grew up in Nashville.
Tim and Faith believe raising their daughters in Nashville helped them normalize their childhood. They tried their best to keep their daughter's life unaffected by the spotlight.
Audrey Moved to Los Angeles After Graduation
Audrey, being the youngest is the last one to graduate from high school among the three siblings and is the only child who is living with her parents. However, she will now be moving to Los Angeles for continuing her studies now.
Audrey has recently graduated from Ensworth School located in Nashville. Upon her graduation, Tim shared the news on his Instagram handle with a caption that wrote:
Our Class of 2020 girls! Stanford 2020, EHS 2020 Boom! Great Work Ladies! Mon and I are so proud of y'all!!!!
Caroline is currently attending the American Academic of dramatic Arts in Los Angeles. She is believed to be taking acting, theater, and filmmaking courses in the academy.
She has Music into her Genes
Audrey McGraw seems to be very gifted with a beautiful voice just like her parents. When Audrey was only 12 years old, she covered an acoustic set right before her dad's show in Rogers, Ark. She performed a great cover of 'Travelin' soldier' by The Dixie Chicks.
The singer in the making keeps on posting videos on her Instagram playing piano and singing. Likewise, on the occasion of Audrey's nineteenth birthday, Faith posted a throwback video where Audrey was captured singing at the age of 5. Faith mentioned in the video:
As you can see from this video, at the tender age of 5, a broken ankle could not stop this child from her true passion. SInging and acting out every single song from Across the Universe.
Listening to her soothing vocals, we can say she has a great career if she ever decides to follow the music career path.
Audrey Caroline McGraw Did Modeling at Start of her Career
The youngest daughter of Tim and Faith is on the way to create waves in the modeling world. Just like her sisters, Audrey Caroline has an interest in modeling apart from singing and acting. She has recently shot pictures for designer Tory Burch in December 2020. Caroline was looking stunning in her photos that wooed her fans.
We hope more modeling assignments are on her way and she will definitely raise the bar of perfection with her work.
She Lived a Lowkey Life Before Bursting into the Scene through Instagram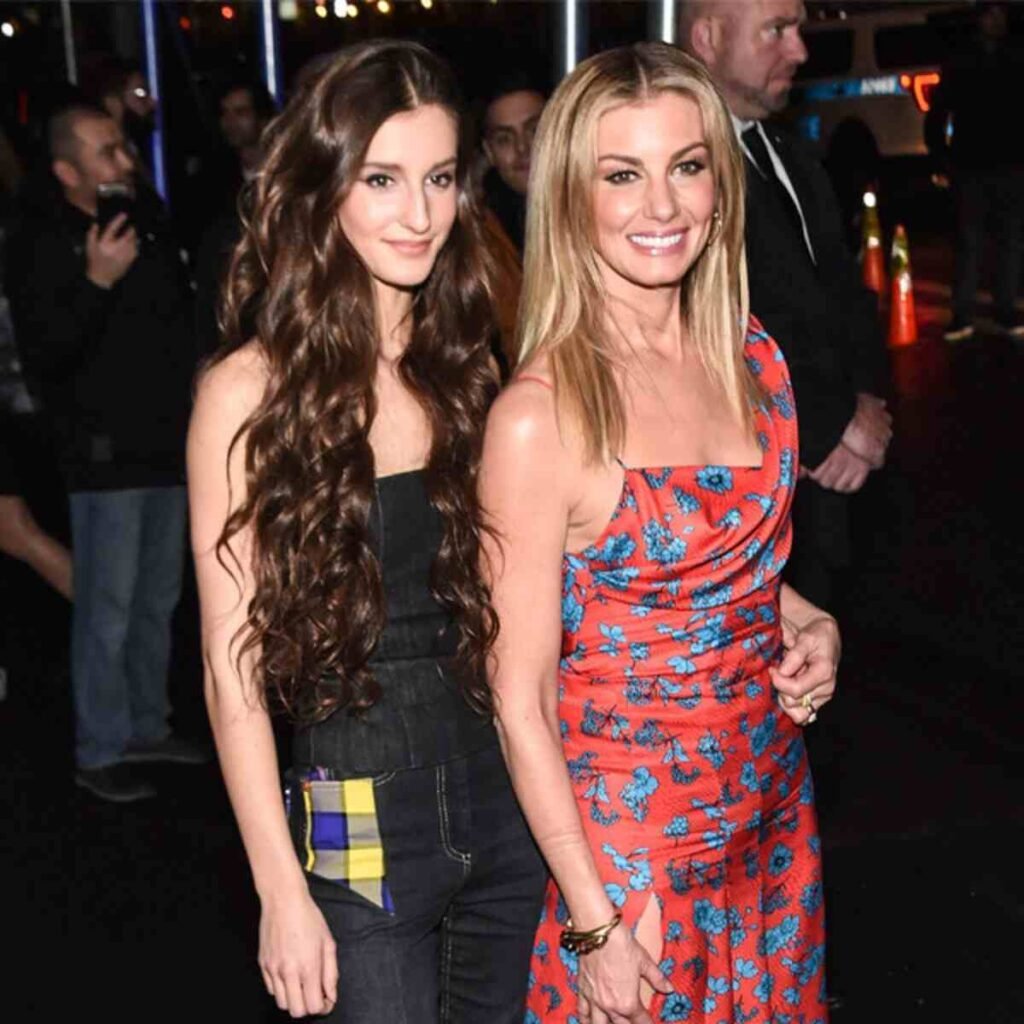 Since Audrey and her sisters were never really in the same spotlight as their parents, not a lot was known about them. As of recent years, Tim and Faith have been sharing a lot of throwback photos of the sisters from their younger days. She rarely comes in the spotlight and prefers being out of the media radar. However, she is sometimes spotted attending events with her parents and strolling around the city. In December 2, 2018, Audrey attended Versace pre-Fall 2019 Runway show at the American Stock Exchange in the Financial District with her mother Faith Hill.
However, these days she is quite an enigma expressing her talent via Instagram. She can draw, she can sing, she can play instruments, and yes! she can act. Guess, Audrey got every talent you can imagine up her sleeve. Recently she shared a beautiful rendition of Pat Benatar's song "Fire and Ice," through her Instagram which was well received by her fans and few media outlets.
She went through Mental Health Issues Post Birth Control
Earlier in 2022, the 21 year old posted heart-wrenching story about the after effects of birth control pills. And, how it has deteriorated her physical and mental health.
She started her lengthy post by directly pointing to the obvious and stating her struggle with birth control. She reassured that she was using the platform to create awareness and to talk about the after effects of birth control.
"Post birth control effects are REAL. Not only does my body feel wacky and my brain foggy, but my skin especially feels messed up at the moment, like never before. I'm trying my best to stay calm as I know it's a trivial thing to worry about. But at the same time, it's not so easy to deal with," said the 21 year old Audrey McGraw.