The birth of any regular person might go unnoticed but when one has famous parents, the moment their existence is known, they are catapulted to a life of intense media attention. Such was the case for Benjamin Rein Brady, the eldest child of supermodel Gisele Bündchen and NFL quarterback Tom Brady.
When supermodel Gisele Bündchen and NFL superstar Tom Brady started dating each other, they quickly rose to be one of the most good looking power couples of our time. Everything from the shaky initial stages of a relationship, to their wedding and even the birth of their children, was the subject of media attention.
With so much scrutiny, there's no denying that the couple's children would be under the same radar. So what do we know about the couple's first child, Ben who is going through the challenging years of teenager? Let's find out.
Benjamin Was Born at Home
Benjamin Rein was born on December 8, 2009. But unlike most babies who are delivered at the hospital, Benjamin's mother had opted to give water birth at the couple's Beacon Street townhouse in Boston where he was born in a bathtub.
In her 2018 book 'Lessons: My Path to a Meaningful Life, Gisele revealed that she was medically advised to not choose to give birth at home. She wrote:
"The doctor told me that it was too dangerous for me to have a home birth." "He said that Benny was in an unusual position, my hips were too small, and the odds just weren't in my favour."
Despite her husband Tom also suggesting a safer hospital delivery, Gisele insisted on home birth as she had 'always dreamed of giving birth naturally, at home. Apart from this, Benny's middle name Rein was chosen to honour his mother Gisele's grandfather, Reinoldo.
He is the middle child in the Brady household
Before Benjamin's parents started officially dating each other, his father Tom Brady was in a relationship with Bridget Moynahan. To the surprise of everybody, Moynahan announced that she was pregnant with Tom's child when Tom and Gisele were still going through their honeymoon period. Tom's eldest son John Edward Thomas Moynahan was born on August 22, 2007.
The news, rather than breaking the couple apart, helped them bring them even closer to each other. According to Gisele, Jack as lovingly called by the family made her heart expand in ways she didn't know was possible. Jack ended up being a loving elder brother to his younger siblings.
On December 5, 2012, Benjamin and Jack welcomed their youngest sister Vivian Lake Brady to their home.
Benjamin is Bilingual
Having a mother who speaks five different languages, Benjamin and his sister were eventually going to pick up one of the two languages their mother speaks. Both of them are known to be fluent in Portuguese which is the native language of their mother, Gisele.
Apparently, the weakest one in the family in terms of language is Benjamin's father Tom.
During a media day leading up to Super Bowl LV, while talking to the reporter Tom revealed that he is often pranked and made fun of behind his back in Portuguese.
"Let me say this, my son, who is 10, his Portuguese is amazing", he told the reporters. He continued, "My 8 year old daughter is fluent in Portuguese. Unfortunately, their dad is way behind in his understanding of how to speak the language. I can usually understand a lot of things my wife will say Papai não sabe de nada,' which means, 'Daddy doesn't know anything.' I usually get that a lot in the house."
While Tom is into Sports, Benjamin might not be that Athletic
Like most athletes, for Tom Brady to want his children to follow his beloved sport is like a dream come true. While his eldest son Jack seems to be following a similar path, as of now his middle child Benjamin does not show interest in football.
In his 2019 interview with Men's Health, Tom revealed:
"When Benny came along, I thought he would be just like Jack… who is just like me." "So, I was like 'C'mon, let's do this.' and he was like, 'Nope'. And I was like, 'What? No, do this!'. And Gisele kept saying to me, 'Would you effing understand that your son is different?'"
Since Benjamin is still a child, no one knows where his interest might lead him to.
But He Still Looks forward to Super Bowl
Well technically, Benjamin looks forward to the junk food served during the Super Bowl, but he still gets excited about the event. In the middle of an interview while opening up about the different approaches each of his kids takes on his games, he told:
"My son Benny, I don't know if he'll watch one play in the game but the fact that he gets popcorn and a bunch of junk food is what I think he looks forward to."
While he might not completely enjoy the game, he is undoubtedly one of his father's biggest supporters.
Tom and Gisele Never Leave a Chance to Gush about Benjamin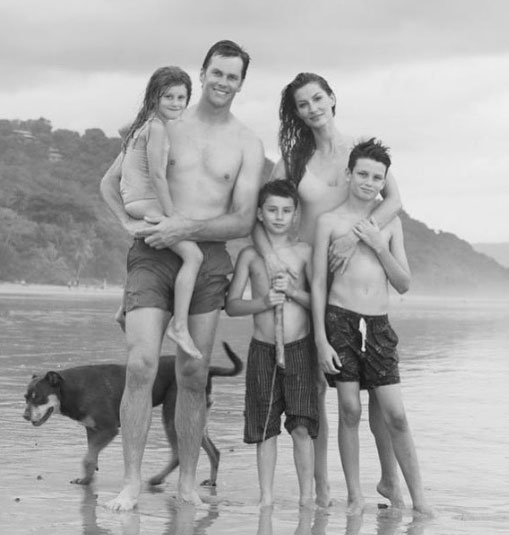 Both Tom and Gisele always shower their son Benjamin with a lot of love. Benjamin along with his siblings are a frequent presence on their parent's social media accounts. They share incredibly sweet messages on their kids' birthdays and always try to include them in both of their lifestyles.
On his recent 12th birthday, Tom posted a sweet photo of Benjamin smiling with the caption 'Happy Birthday Benny! You are A M A Z I N G in every way. You have taught me so much and I am so blessed to be your dad! ❤️❤️❤️'. Gisele also posted a photo of their son with a similar caption that says 'Happy birthday my sweet Benny! You are growing up too fast! I am so proud of the kind and loving boy that you are and I feel so lucky to be your mamma. Love you sooooo much!'.
With Benjamin Rein Brady entering his teenage years, we will be excited to hear about any new experiences or interests he will grow into.