Synopsis
Boston Russell is predominantly known for being the son of legendary actor Kurt Russell and veteran actress Susan Hubley. Coming from a family of hollywood generation, it's strange to see the "Junior Russell" keeping distant from the showbiz. Although he has appeared in cameo roles in few gigs, he isn't known for his acting career like his parents.
Boston Russell's Personal Life
Born as Boston Oliver Grant Russell on February 16, 1980, he holds the legacy of the family who have contributed to Hollywood from generations.
His father Kurt Russell is a veteran actor who has worked in commercially hits like The Fate of Furious and Guardian of Galaxy Vol 2. The 66 year old Kurt praiseworthy performance in Silkwood (1983) got him his first Golden Globe Nomination.
Boston's mother and Kurt's ex wife Susan Hubley too is an actress and singer whose notable works are Escape from New York (1981) and Vice Squad (1982). She decided to quit acting and focus on family after her marriage. But later made comeback to the film industry.
Boston is the grandson of Bing Russell who has starred in 60's sensational hit,"the magnificent seven."
Boston have renowned siblings like Kate Hudson who is the daughter of Goldie Hawn with whom his father Kurt is married (married in 1983). He also has a younger brother , Wyatt Russell (born on 1986) from his father Kurt and step-mom Goldie Hawn. Larry J Franco a famous producer is also uncle of Boston.
His family circle is surrounded by a group of hollywood stars, so it's hard to see him cut-off ties with the industry.
Career and Net Worth
Coming from a star filled family, it's hard to see Boston living a different life as compared to his parents and siblings.
However, in the past he has landed few day gigs in the media.  He was the production assistant on the movie Executive Decision' (1996) where his father Kurt Russell played in the lead role. Perhaps he took few lessons out of the books of his uncle Franco.
In 2005, he appeared in a special appearance as Goldie's stepson in the tv program '60 Minutes that telecasted on CBS TV network.
At present, his work profile is unknown as Boston as well as his parents are numb about his career. He also doesn't have any social profiles that could tell us about his present profession.
As far as net worth is concerned, the status of his caliber might have given him no less than $200000. He might be involved in real estate but no exact information is given.
Boston's Relationship Status: Is he single or married?
The relationship status of the soon to be 38 year old, Boston is a complete mystery. But in an interview with Time Magazine, Kurt Russell mentioned of being a happy grandfather from Kate and Oliver. So , it's obvious that Boston hasn't been married now.
Even in the numerous Kurt Russell and Kate Hudson's fan sites and forums, there is hardly anything about Boston's love life.
As he isn't involved in the entertainment industry, it's hard to break the mystery.
Boston Russell Parents: How did they meet?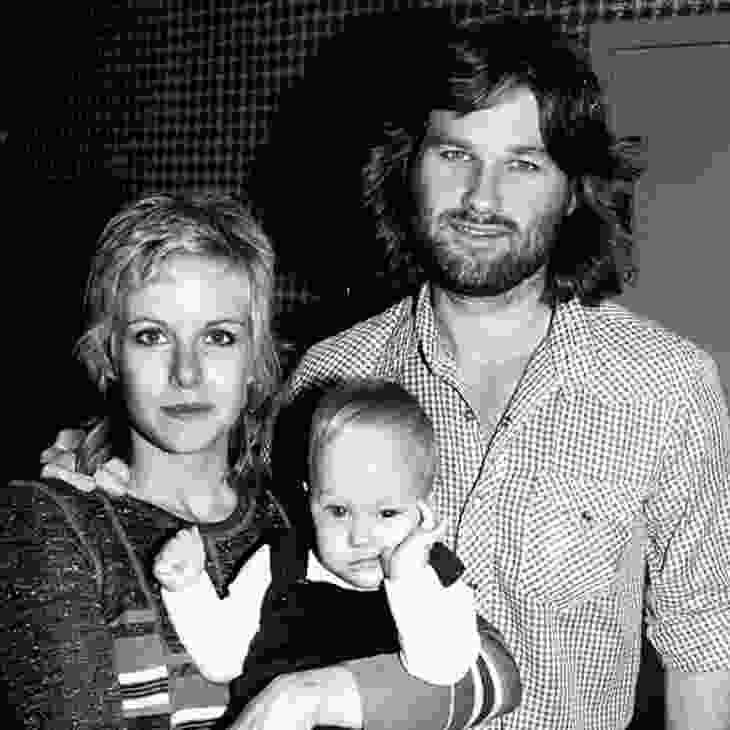 Kurt Russell and Susan Hubley started dating from the sets of Elvis(1979) which is a biopic based on Elvis Presley. Kurt who played Elvis on the movie was instantly attracted to Hubley and tied knots just after few months of dating.
However, they parted away after just 4 years of marriage. Their divorce was finalized in 1983. Russell  then got in relationship with the 1980's blockbuster Private Benjamin Star, Goldie Hawn in 1983.
Hubley too got married to David Hayball in 1992 which lasted for only 2 years.
Many speculation were made that Goldie and Kurt had a marital affair that led to both couple splitting with their respective partners.
However, Kurt denied the rumours and their 34 year long marriage is a living proof of their love.