Alec Baldwin is one of the busiest and successful people in Hollywood. But, his favorite thing is being called a father. Baldwin is a father to five kids; Ireland with former wife Kim Basinger and, Carmen, Leonardo, Rafael, and Romeo with Hilaria Baldwin. He is also expecting another child with Hilaria. For him, the family is everything and he keeps his kids above everything. He leaves no stone unturned in making their life perfect.
One of his kids Carmen Gabriela Baldwin is someone he can't take eyes off. She is the eldest daughter of Alec with the yoga expert Hilaria. Alec shares a special bond with this six years girl. She has hogged the limelight from her childhood days and has been familiar with media tantrums. But, still, her parents try hard to escape her life away from the public.
Carmen Gabriela Baldwin's Short Brief
Carmen Gabriela Baldwin is the six years old daughter of Alec Baldwin and Hilaria Baldwin. She was born on August 23, 2013. Carmen is a big sister to three brothers and one sister. Her brothers are Rafael Thomas Baldwin (born on June 17, 2015), Leonardo Angel Charles Baldwin (born on September 12, 2016), Romeo Alejandro David born on May 2018. Gabriela has also a half-sister named Ireland Baldwin. Ireland is the daughter of Alex Baldwin with his ex-wife, Kim Basinger.
Carmen has enjoyed the limelight ever since her birth and is among one of the most famous celebrity kids. Being born to celebrity parents, Carmen has got all the things she had wanted as a child. The daddy's girl is often spotted sharing a special bond with Alec. On October 22, 2018, she appeared on the red carpet at the Arthur Miller Foundation Honors at City Winery, New York.
As for her education, she must be going to a primary school located in her hometown. Despite she is a celebrity kid, her parents are trying hard to raise her like a normal child.
Carmen Gabriela Parents: Alec and Hilaria Baldwin
Carmen Gabriela was born into a family that was into the showbiz industry. Following this, she garnered all the media attention from the early days of her life. Her father Alec is a well-known person in Hollywood. Likewise, her mother Hilaria has also created her name in the industry through her work.
Alec Baldwin is a writer, producer, political activist, and a comedian. A member of the Baldwin family, he is the eldest among the four Baldwin brothers. All of his brothers are into the acting industry. Likewise, Baldwin is also a brother to two youngest sisters named Elizabeth Baldwin Kuchler and Jane Ann Baldwin Sasso.
Alec burst into the Television screens with several series like The Doctors and Knots Landing. After that, he got featured in movies like Forever, Lulu, Beetlejuice, Married to the Mob, Talk Radio, Working Girl, and The Hunt for Red October. Baldwin then went to Broadway to perform 'A Streetcar Named Desire". For his portrayal of Stanley Kowalski, his name nominated for the Tony Awards.
The demand for Baldwin's talent saw more scripts swiftly coming his way that lifted his career. He has acted in more than thirty movies until today. Moreover, he has also co-penned the book titled 'A Promise to Ourselves: A Journey Through Fatherhood and Divorce' with Mark Tabb. In addition, he has also launched 'Nevertheless: A Memoir' in 2017 in association with HarperCollins Publishers and Blackstone Audio.
Alec's current wife Hilaria Baldwin (born as Hilaria Lyn Thomas) is a dancer turned yoga expert. At the beginning of her career, she was a dancer. Unfortunately, she met with an accident and turned into a yoga instructor in New York. She is a co-founder of a yoga studio named "Yoga Vida' established in 2010. Apart from this, she has also appeared on the TV show 'Extra'. It is a program highlighting the latest news about the fashion and fitness world.
Like Alec, Hilaria Baldwin has also launched a book 'The Living Clearly Method: 5 Principles for a Fit Body, Healthy Mind and Joyful Life.' in 2016. Though she has worked hard to make her name in the industry, her success has been overshadowed by her husband's popularity.
Alec and Hilaria love their daughter Carmen to the moon and back. As per Alec, he is amused by her behavior. In an interview, he told:
'My kids are such interesting people Carmen needs to have her own talk show, a reality show. She's 5. I can never take my eyes off when she is talking.'
Recently on Carmen's sixth birthday, Alec and Hilaria celebrated her special day by sharing sweet social media tributes. Her mom posted a photo of Carmen wearing a pink dress with the caption " Happy 6th birthday to my Carmen Gabriela."
The Baldwins celebrated her birthday with a red velvet cake on August 23 captioning 'She is so happy" which was shared by her mom on Instagram.
Revealing the Sex of Her Unborn Sibling
Hilaria and her husband Alec are welcoming their baby no. five. The happy parents had their children take part in the sex reveal ceremony. The kids were made to pick up dolls that were wrapped into swaddle blankets and were kept in baby carriages. Carmen unwrapped the blanket revealed that it was wearing a pink onesie and happily claimed it would be a baby girl.
Carmen being sister to four brothers has always wanted a sister for her. She really had her heart set on another girl joining the Baldwin family. When her brother Romeo was born, she was a little bit upset because he was a boy and she wanted a girl. The yoga instructor Hilaria told:
"She was a little bit disappointed. Carmen said, 'How about you have a girl first, and then you can have another baby?' I was like, it doesn't work that way. I don't get to choose."
Further, she added:
'It's going to be a girl. I was like,' No, I promise. I promise it's a boy. She is committed to a fifth child."
Her Half-sister Ireland Baldwin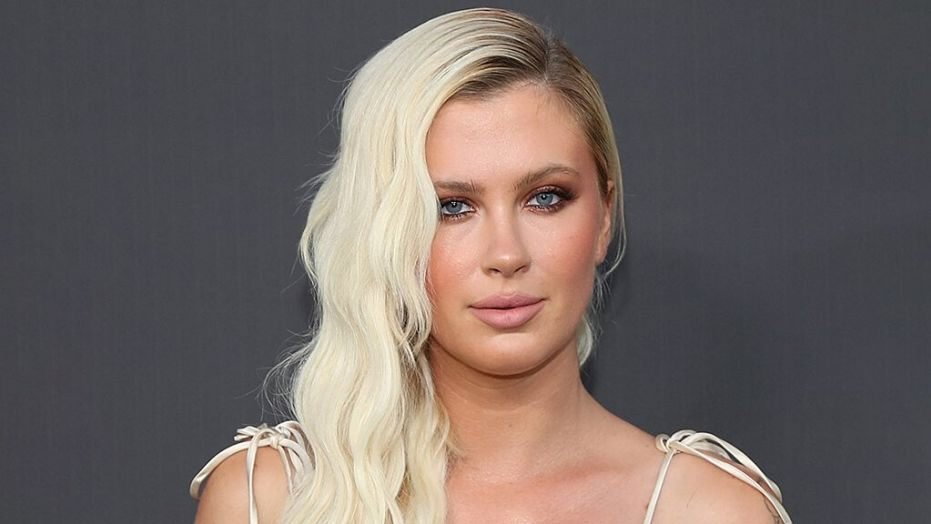 Ireland was born as Ireland Eliesse Baldwin on October 23, 1995, in Los Angeles. She is the only child of Alec with his first wife Kim Basinger. She has witnessed the limelight from her young age. At the age of 11, she gained huge attention after her father's angry voicemail message got leaked during the divorce battle.
In the voicemail, Alec told that Ireland is a 'rude, thoughtless little pig'. This statement ruined the relationship between father and daughter. As they say, time heals everything, both Baldwin and Ireland has moved on. She roasted her dad about that infamous incident and told:
"I see other recovering Baldwins here. Some cousins, uncles…I'm here to roast this big old ham I call my father. Speaking of pigs, some of you may remember me as that 'thoughtless little pig' you read about. That was a decade ago, and my dad and I are in a much better place now. He would never say something like that. Because I'm 6'2" and I would… kick his ass."
Ireland has already stepped into the world that gives her name and fame. She has pursued her career as a model and an actress. Ireland was first signed by IMG Models in March 2013. The following month she debuted as a model in a swimwear editorial for New York Post.
Afterward, she began getting many modeling assignments that went on increasing her popularity. She has appeared in W magazine's feature 'It trend, it Girl' in 2013. She was also Vanity Fair's 'It Girl' and was photographed by the famous photographer Patrick Demarchelier.
Further, she also featured in an editorial for DuJour Magazine. The photos were taken by Bruce Weber. Ireland Balwin is the face of the brand 'Guess'. Baldwin has also been featured on the covers of Marie Claire Mexico, Elle Bulgaria, L'Officiel Ukraine, W, Vogue Italia, Vogue Taiwan.
Apart from this, Ireland debuted as an actress with the movie Grudge Match (2013). She portrayed the role of Sally- the younger version of Kim Basinger. As per her IMDB profile, her resume also includes movies like A Dark Foe and Goofy Chefs. Recently, Baldwin had neem hired to DJ for Norah Restaurant's third anniversary alongside Caroline D'Amore. However, DJ isn't a full-time job for Ireland Baldwin.