Best described by Ellen Degeneres as the guy who can make you laugh once he steps out, Kenan Thompson is the man of many impressions. The 43 year old SNL veteran has been in the show for 18th season. And, according to him, he is just getting started. We really hope he is right about that!
Regarded as one of the most reliable artists by Lorne Michaels (Executive producer of SNL), his journey to the top has simply been magical. The teenage boy who started from Nickelodeon is now a star of his own sitcom 'Kenan,' which always has been his dream.
The Emmy Award winner is arguably the "GOAT" of SNL. While the versatile actor has been making us laugh out of our chairs, little we know about the woman behind his colorful smile. Thompson is married to Christina Evangeline since 2011. She is also the mother of his two kids, Georgia and Gianna. This also made us wonder if Christina had anything to do Kenan's drastic weight loss. From his teenage days, he always has been on the heavier side. However, in late 2010s, we saw different Kenan Thompson, a much fitter one. Well, love does bring the best out of people and may be it was one of those eureka moment.
But who exactly is Christina? We try to debunk the mystery behind Kenan Thompson's wife and mother of his two kids.
How old is Christina?

33 (born: March 24,1989)

How did Kenan and Christina meet?

According to reports, they were first introduced by talent manager and founder of "Estrada Entertainment Group," Danny Estrada.

How many kids does Christina Evangeline Thompson have?

Two daughters. Georgia Marie Thompson (June 20, 2014), Gianna Michelle (July 31, 2018).

What does Christina do for a living?

During a 2018 Wendy Williams show, Kenan revealed that Christina is an interior designer. Prior to this, she worked for many fashion magazines as a model. And, she has also acted on a short comedy movie "Mini Supreme."

Where is Christina Evangeline from?

According to her website, her family is from Halifax, Nova Scotia so presumably she is too from Nova Scotia which is a province of Canada.
Christina Evangeline Lost her Father and GrandFather on 9/11
9/11 is undoubtedly one of the darkest days of mankind's history. The terror attack that shook the world took lives of thousands. And Christina's family was no different. Although we don't have the entire background, we can connect the dots through her Instagram posts.
Her grandfather Joe ran a construction company that built a number of buildings in New York City. According to Evangeline, her grandfather's company was one of the five company to raise the twin towers into sky. Her father on the other hand had the responsibility of cleanup and restoration.
"This is my grandfather Joe. (My dad's dad.) He was a part of the erection of the twin towers. His company was a in a group of 5 companies that set them into the sky; he was also in front of them to watch them fall," she said through her post.
'I miss these two men greatly,' she said ending her post with 9/11 can't forget #worldtradecenter.
Through her occasional posts about her dad with caption like "You are voice I always hear in my head" suggest that her father is no more. The comments from her near ones on the post also validates the point.
Christina's dad Probably had links with American Crime Syndicate
Christina father ran a construction company so we can only assume that her dad had ties with the American crime syndicate. But we're just shooting in the dark as it's mere speculation.
In one Instagram post, she shared a story about her childhood.
"My mom was at the reception for my Christening when two men walked up to her, handed her a envelope full of cash and gave their blessings.
Mom asks my dad who they were.

Dad says "Oh, John Gotti and Sammy Gravano.
Also, we were just informed that the valet and caterers been replaced with federal agents."
This probably suggests he had some affiliation with the group. But like any conspiracy theories, we have our doubts.
Christina and Kenan's Relationship that Surpasses Interracial Boundaries
Although there aren't any footprints of the couple's dating history we know that they first met through a mutual friend that happened to be "Danny Estrada."
The SNL star Kenan Thompson and former model Christina have been married since 2011. The couple dated for two years before getting engaged in September 2010. A year later, the engaged couple walked down the aisle in November 2011 in the presence of close friends and family. The wedding was held at the Georgia aquarium in the Arctic room and was hosted by hip-hop artist and actor Nick Cannon.
A close source said, "[They're] very happy. They've lived together as a couple and were excited to share the moments with close friends."
For her big day, Christina wore a silky white gown and later on wore a white strapless dress for her reception. Their wedding was a low key affair as both of them loves living their life away from the media.
Christina Evangeline's Children: Georgia Marie and Gianna Michelle
From their blissful marriage, Christina and Kenan have been blessed with two children. Three years after their marriage, the couple welcomed their first child on June 20, 2014. They named the little angel as Georgia Marie Thompson.
The couple again welcomed their second child Gianna Michelle on July 31, 2018, in Florida. Although Christina keeps it low-key when it comes to her personal life, she couldn't stop herself from sharing her excitement about Gianna's arrival.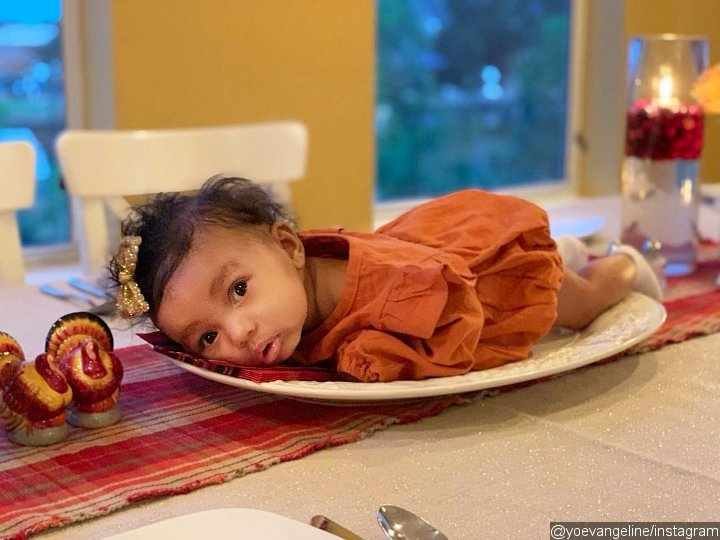 The excited mother posted a picture of baby bump in the Instagram account just five days before she was due. She posted the picture with the caption:
'I'm usually private when it comes to these personal things, but we have less than 5 days until this little girl is due and I am just TEW excited.'
There's no doubt Thompson is the king of comedy but at home, his role is replaced by her daughters. Her daughters are the one who makes him giggle. In an interview with People Magazine, he revealed:
'She makes us laugh, really. She's a funny one. I try to make them laugh but I think they have heard enough from me, just from watching the show."
Further, he added:
'Kids are hilarious. They say the darnedest things, but that's just because they don't really know what they're saying, and that just makes much more funniness happen.'
Talking about his parenthood life, Kenan told that's it's like witness a miracle. They are just the representation of joy, happiness, and innocence said the Emmy winner.
Christina is living happily with her husband and two kids at her residence in New York. The comedian and the former actress cum model seems to be reaching new heights with each passing year. Though they are a notoriously private person, the couple shares their moments on social media. The couple never hesitates to gush over each other even after almost a decade long marriage.
Changing Path from Model to Interior Designer
Evangeline started her career as a model before making her way into the screen. During her tenure in the modeling world, she walked runways for different fashion shows and was even featured in some magazines. The extent of her modeling career is unknown as she hasn't revealed anything about it. Likewise, several reports on the internet suggest that she was once a professional escort.
As an actress, Christina has only been credited for a short movie 'Mini Supreme' released in 2015. The movie revolves around a guy named 'Jeremie' who has been sacked from his job. Ane for raising money for the rent, he competes in a children's beauty pageant, disguised as a seven-year-old girl with a growth disorder. Christian portrayed the parent of one of the children in the beauty pageant. Apart from this, there are no details about her career in the entertainment industry.
Even though Christina has worked in the industry for a while, she can't meet the level of stardom Kenan has. Her greatest claim to fame came when she hooked up with comedian Kenan Thompson.
Today, she is working as an interior designer in NYC. This was revealed by her husband in the Wendy Williams show.
"She is an interior designer. My house looks dope. She does that thing KnickKnacks that go a long way," said Kenan when asked about what his wife does.

Christina's Involvement in Philanthropy and Charity Works
Christina has tried making her career in the entertainment industry. But, unfortunately, she didn't make it. Then after Christina got a new agenda in life and started working as a philanthropist.
Being a mother herself has bestowed a special place in her heart for children which is why she is always offering helping hand for the sick, homeless, and children.
She is an active member of the community who believes in helping the needy ones. She has contributed to numerous charities and non-profit organizations.
Christina is the owner of the non-profit foundation "Evermore'. She founded the organization with the help of her therapist friends Michele and Jack. The organization helps those people who are trying to move and cope with the loss of someone they loved.
Besides, Evangeline is also been associated with 'The Christian River Foundation' named after a 6-year old boy, who died from Pontine Glioma, a brain tumor. Christina along with the members of the organization works effortlessly for finding the cure for this hard-to-treat brain tumor. Further, she also works alongside 'Save The Children Federation". The organization is known for working for the benefit of children's health and happiness.
Likewise, the wife of comedian-actor has also worked with the 'My Stuff Bags Foundation' and 'American Refugee foundation'.
She loves Travel and Photography
According to Christina Evangeline website, apart from her work life and charities she is passionate about traveling especially with her family.
Among many destinations, few remain closer to her heart. She loves to travel to Nova Scotia as this is the place her family comes from. She also enjoys the thrill and excitement of Disney World where she spends time with her two kids. Apart from these two places, she's overwhelmed with Italy's scenic beauty and diverse culture.
Apart from traveling, she love taking pictures. In 2017, a random user in Quora asked her about her favorite thing to photograph. She simply said that would be her beautiful daughter. Apparently she would like to capture her life so that one day they can look back at the pictures together.
Christina's Net Worth
Describing herself as up and coming entrepreneur with a flair for interior design and photography, Christina has sold many things in online store according to her about me page.
Christina Evangeline has also worked in the entertainment industry in a few projects. She is a model turned interior designer and also runs her own foundation 'Evermore.' Further more she is associated with various charitable foundations. Although we couldn't find her actual income, she probably makes a good amount from her designs. Meanwhile, her star husband has net worth $11 million as per Celebrity Net Worth.
Christina didn't like Kenan's Character in the Sitcom 'Kenan'
Having a sitcom on their resume is every comedian's goal. And Kenan is no different. Talking to Variety he revealed how thrilled he was having a sitcom on his name. What makes it more special is that the Sitcom is named after him, 'Kenan' and he also has two daughters.
"It was always one of those achievements as far as like, will this ever happen?" he explained.
But the caveat is his wife is dead in the sitcom. So, practically he is a widower. This didn't sit well with Christina. She didn't love it! she said when talking to Jimmy Fallon.
She was like, 'Oh, so I'm dead?' But I mean she was just giving me a hard time. But I was like, 'Yeah … it's not you, you know what I mean? It's a show. It's a different thing.'
He further went on to say how it reflects his own life being the father of two. But he again made sure that it's completely different.
Both Christina and Kenan Absolutely adore their Two Daughters
Kenan has always been vocal about the impact of his daughters in his life. He has always acknowledged his wife and his daughters for bringing the best out of him even going as far as giving them the credit for his weight loss.
"Chasin' around my babies … and yeah, it just started melting off," he joked while talking to Wendy Williams.
In 2021 when talking to Fatherly, he explained how being a father means everything for him. But he also feels the added pressure to ensure that there is always food on the table for his family.
That's what probably drives me to work like such a maniac," he explained.
Christina too loves her kids on her own way. She probably doesn't have the pressure to provide for her kids but she has to take care of her kids while their father is out working. In a Quora Q/A session, she explained how she sees the younger version of herself in her kids. Her oldest daughter Georgia is outgoing, loves to sing and dance just like her as explained by Evangeline.
Kenan Filed for Divorce after 11 years of Marriage
Just when we thought Christina Evangeline and her comedian husband Thompson would be one of the Hollywood couples to last for a long time, news came out that the couple have separated. A source close to the couple revealed that the couple had officially gone their separate ways in November of 2020. The source told US Weekly, "Kenan and Christina are completely amicable."
The same source also talked about the current situation of the family since the couple share two daughters between them. They said, "They remain close as co-parents and have remained very close throughout the separation."
While the news to separate might come as a surprise to the public, the source noted that the couple was growing apart and the decision was entirely mutual. The source said, "Being married for 11 years, together for 14, changes a lot of things. They really just grew apart and wanted different things. There's nothing juicy about why they split."
On May, 2022 Kenan officially filed for divorce according to reports gathered by TMZ. According to the notorious publication, the filing requests a 50/50 custody of the two daughters.
Christina and Kenan were married for 11 years. And the couple gave us few memorable relationship goals. But every good story don't have a fairytale. Although separated, they still maintain a healthy bond and we hope they find happiness once again.