There is a long list of Hollywood celebrity spouses who gained fame after involving with their famous partners. One of them is Christina Evangeline- a model and actress. She got married to comedian and actor Kenan Thompson in 2011. Despite having an age difference of 11 years, the couple didn't have any problem and their companionship ended in a happy marriage.
Kenan Thompson is a household name in the industry. But, Evangeline is nowhere close to Kenan's success. Nevertheless, Christina has established her identity in the industry on her own apart from being just Kenan's wife.

Early Background
Christina Evangeline might be an unknown figure to many and maybe she prefers living that way. The wife of the famous comedian has managed to keep many pieces of information about her life away from the media including details regarding her family, educational history, childhood, and siblings.
What is known about Evangeline is that she was born on 24th March 1989 in Halifax, Nova Scotia, Canada. Other than this, nothing is known about her early life.
Career Highlights
Evangeline started her career as a model before making her way into the screen. During her tenure in the modeling world, she walked runways for different fashion shows and was even featured in some magazines. The extent of her modeling career is unknown as she hasn't revealed anything about it. Likewise, several reports on the internet suggest that she was once a professional escort.
As an actress, Christina has only been credited for a short movie 'Mini Supreme' released in 2015. The movie revolves around a guy named 'Jeremie' who has been sacked from his job. Ane for raising money for the rent, he competes in a children's beauty pageant, disguised as a seven-year-old girl with a growth disorder. Christian portrayed the parent of one of the children in the beauty pageant. Apart from this, there are no details about her career in the entertainment industry.
Even though Christina has worked in the industry for a while, she can't meet the level of stardom Kenan has. Her greatest claim to fame came when she hooked up with comedian Kenan Thompson.

Personal Life: Marriage and Children
The SNL star Kenan Thompson and former model Christina have been married since 2011. The couple dated for two years before getting engaged in September 2010. A year later, the engaged couple walked down the aisle in November 2011 in the presence of close friends and family. The wedding was held at the Georgia aquarium in the Arctic room and was hosted by hip-hop artist and actor Nick Cannon.
For her big day, Christina wore a silky white gown and later on wore a white strapless dress for her reception. Their wedding was a low key affair as both of them loves living their life away from the media.
Christina Evangeline's Children
From their blissful marriage, Christina and Kenan have been blessed with two children. Three years after their marriage, the couple welcomed their first child on June 20, 2014. They named the little angel as Georgia Marie Thompson.
The couple again welcomed their second child Gianna Michelle on June 20, 2014, in Florida. Although Christina remains mum when it comes to her personal life, she couldn't stop herself from sharing her excitement about Gianna's arrival.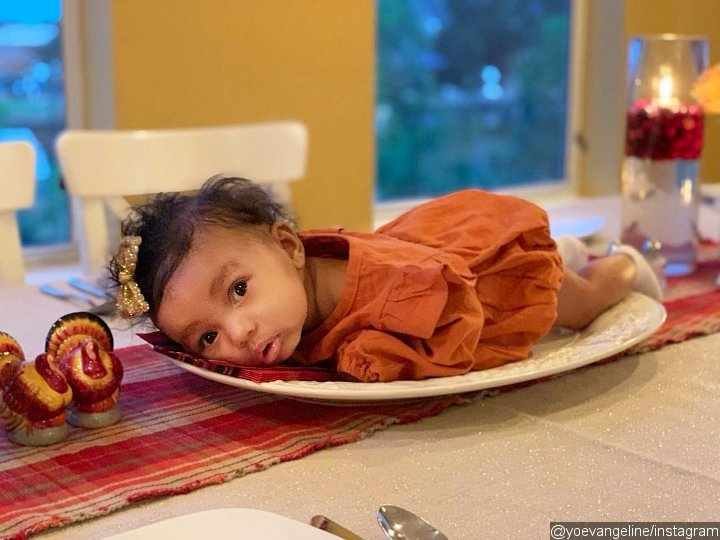 The excited mother posted a picture of baby bump in the Instagram account just five days before she was due. She posted the picture with the caption:
'I'm usually private when it comes to these personal things, but we have less than 5 days until this little girl is due and I am just TEW excited.'
Christina is living happily with her husband and two kids at her residence in Tampa, Florida. The companionship between the comedian and the former actress cum model seems to be reaching new heights with each passing year. Though they are a notoriously private person, the couple shares their moments on social media. The couple never hesitates to gush over each other even after decade long marriage.
There's no doubt Thompson is the king of comedy but at home, his role is replaced by her daughters. Her daughters are the one who makes him giggle. In an interview, he revealed:
'She makes us laugh, really. She's a funny one. I try to make them laugh but I think they have heard enough from me, just from watching the show."
Further, he added:
'Kids are hilarious. They say the darnedest things, but that's just because they don't really know what they're saying, and that just makes much more funniness happen.'
Philanthropy and Charity
Christina has tried making her career in the entertainment industry. But, unfortunately, she failed at it. Then after Christina got a new agenda in life and started working as a philanthropist. She is an active member of the community who believes in helping the needy ones. She has contributed to numerous charities and non-profit organizations.
Christina is the owner of the non-profit foundation "Evermore'. She founded the organization with the help of her therapist friends Michele and Jack. The organization helps those people who are trying to move and cope with the loss of someone they loved.
Besides, Evangeline is also been associated with 'The Christian River Foundation' named after a 6-year old boy, who died from Pontine Glioma, a brain tumor. Christina along with the members of the organization works effortlessly for finding the cure for this hard-to-treat brain tumor. Further, she also works alongside 'Save The Children Federation". The organization is known for working for the benefit of children's health and happiness.
Likewise, the wife of comedian-actor has also worked with the 'My Stuff Bags Foundation' and 'American Refugee foundation'.
Kenan Thompson's Short Bio
Kenan Stacy Thompson is an American actor and comedian born in May 1978 in Atlanta, the USA. He made his acting debut in the early 1990s. He garnered fame as an original cast member of Nick's sketch comedy series 'All That'. Following this, he starred alongside Ken Mitchel in his own sitcom "Kenan and Kel.' Thompson is also known for his roles in Good Burger, Fat Albert, and The Mighty Ducks franchise.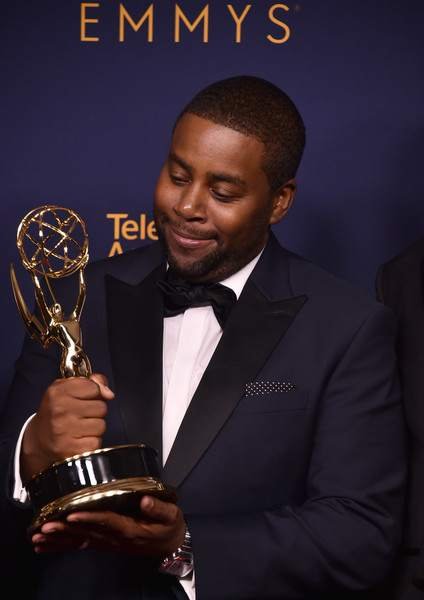 His biggest hold to glory came when he was cast at NBC sketch comedy series Saturday Night Live in 2003. He is the longest-tenured cast member in SNL who has been a star for record-breaking 17 seasons. Kenan bagged Primetime Emmy Awards for his work in SNL.
His noteworthy works include movies and Tv shows like The Steve Harvey Show, The Amanda Show, Sister Sister, The Parkers, Love Don't Cost a Thing, Rocky and Bullwinkle, Barbershop 2, Snakes on a Plane, Going in Style, and many others.
Net Earnings
Christina Evangeline has worked in the entertainment industry in a few projects. As of now, she runs her own foundation 'Evermore' and is associated with various charitable foundations. Mrs. Thompson is pro at hiding her personal details from the media. That's the reason her net fortune isn't known. Meanwhile, her star husband has net worth $9 million as of 2019.