Christina McLarty is an American journalist and an actress. McLarty has worked with many A-listed celebrities including Miley Cyrus, Hilary Clinton, Robin Williams, Will Arnett, Oprah and many more on the list. However, her success has been overshadowed by her multi-talented husband David Arquette. Their marriage isn't the first for both of them. Both of them have been with other partners before. But, the duo proved that things can work better the second time. While David Arquette is a household name in Hollywood, Christine McLarty Arquette has also enjoyed the limelight honored by her star husband.
Early Life and Education
Actress and Journalist McLarty was born as Christina West McLarty in the city of Hope in Arkansas, USA. She was born in the year 1981 on 25th April. McLarty was the first girl child in five generations in her family. She must have been everyone's favorite in her family. Also, at the time her mother was pregnant, she thought the baby would be a boy and thought the name, Christopher. Luckily, McLarty was born out of the blue making everyone overjoyed. As a child, McLarty was a figure skater.
Though details about her early life aren't known, it is said that she attended New York University. She graduated with a degree in Journalism from the University. She worked extremely hard during her college days to create a solid portfolio attending different internship programs. As soon as she completed her education, she started her career as a professional journalist.
Career: Meteoric Rise to Stardom
Christina McLarty had already begun her career as a journalist by 2004. Early in the journalist stint, she worked as an intern for Hilary Clinton in the press department. She ended up learning a lot from the internship program. Later on, she interviewed Hilary Clinton while working as a news reporter in Little Rock Arkansas. Then, she worked as a general reporter for the ACB affiliate.
In a pang of hunger to step ahead in her career journey, she started looking for various jobs. Her search ended when she landed her a job as a host at the KTVT/Channel 11. Subsequently, she became the executive producer and host of the show 'Buzzed Into DFW". The show aired on KTXA/Channel 22, a sister station to KTVT. Christina was associated with the channel from 2004 to 2006.
After this, she moved to Los Angeles and started working for KCBS and KCAL. In recent days, she has been working for Entertainment Tonight and OMG! Insider. She has got the opportunity to take an interview with many A-listed celebrities like Miley Cyrus, Will Arnett, Arsenio Halls, Oprah, Robin Williams, Chrissy Teigen, Robert De Niro, and Tyra Banks. She often shares the pictures she has taken while interviewing in her social media pages for her fans.
Her successful career as a reporter has allowed her to appear in different shows as an actress. In 2005, she appeared in the TV series 'Gimme the Mike'. Later, in 2011, she starred in the series "The Young and the Restless." Her resume also includes series like Home & Family and My Kitchen Rules. However, she couldn't make an impact as an actress.
Currently, Christina McLarty is enjoying working as a producer. Her bio section of Instagram describes her as "News Reporter turned Producer." She is keen on developing documentaries relating to puppets, robots, and wrestling. She has produced documentaries like Survivor's Guide to Prison released in 2018 and Valerie launched in 2019. Her next thriller movie 12 Hour Shift is currently in production in Jonesboro. The story of the dark horror comedy outlines a group of nurses stealing organs and selling them illegally. This will be the first movie together with her husband David Arquette.
Christina McLarty and David Arquette's Relationship and Wedding
Christina McLarty and David Arquette courtship first started in the year 2011. At that time, David had just parted his way from his ex-wife Courtesy Cox. The duo met for the first time at a boat party. In 2011, David confirmed that he was dating McLarty when he appeared on Howard Stern's show. Rumors sparkled when the couple was photographed together in July 2011 at the Camp Play event.
The romance between the couple was growing deeper day by day. They were head over heels in each other's love. Suddenly, their relationship went through a rough time and they broke up in 2012. Fortunately, they again rekindled their love. After getting back together, the entertainment host became pregnant with their first child Charlie West Arquette. They welcomed their son on 28th April 2014.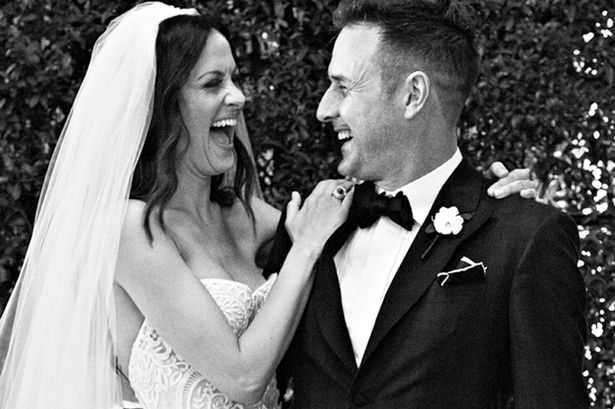 Soon after his birth, David popped the big question to Christiana at a hotel in Malibu with a black diamond ring. To no surprise, the adorable couple got engaged in the presence of their children including David's daughter Coco from a previous marriage with Cox.
The following year Christina and her boyfriend for a long time David got hitched on April 12 in an intimate ceremony held at Los Angeles. The couple got married in front of a few close family members and friends including Charlie and Coco.
After a couple of years of tying the knot, they extended their family of four to five. They welcomed their second child Augustus Alexis 'Gus' Arquette on March 8, 2017. They named their second son after David's sister Alexis who passed away six months before Augustus's birth. As per David, he is keeping her spirit alive through this step. He told Page Six:
"My family is happy to have Alexis's legacy live on. We are keeping her spirit alive. It hurts to talk about her sometimes because I miss her. But this is bigger than both of us, and I still think she is around- I sense her sometimes."
Christina is often spotted spending time with her family on a night out and red carpet. David is a great husband and a doting father. As per McLarty:
'The great thing about David is that he was a dad before I was ever a mom, so he really gave me a lot of good advice along the way. "
Previously, Christina was in a civil domestic partnership with Girls Gone Wild founder Joe Francis in Punta Mita, Mexico in 2010. However, their union didn't last long and they parted their ways.
Her Husband David Arquette
David Arquette is an American writer, producer, director, actor, fashion designer, and screenwriter. The versatile personality David was born in a well-known Arquette family on September 8, 1971. He started his acting career in the mid-1990s and appeared in TV shows like 'The Outsiders' and 'Parenthood'.
He then made the big-screen debut in the 1992 movie 'Where the Day Takes You". David portrayed the role of a gay prostitute Rob in the movie. Though the movie received positive reviews, the movie failed to create waves at the box-office. Before giving his big hit, he starred in movies and series like Halfway House, Cruel Doubt, Airheads, Johns, Beverly Hills, and Blossom.
The movie that dragged him in the international limelight collecting fame and popularity was the American horror movie 'Scream' released in 1996. His incredible performance in the movie hogged him glory and reprised him a role in the Scream franchise- Scream 2, Scream 3, and Scream 4. All of the series grossed more than $604 million at the box-office worldwide. For the same movie, Arquette won many awards including 'Favorite Actor-Horror' and 'Film-Choice Chemistry'.
Following the success, he starred in many movies like Ready to Rumble, See Spot Run, Happy Face Killer, Saving Flora, Amanda, and Jack Go and so on. Besides being an actor, David is also noted as a wrestler who had participated in the World Championship Wrestling.
Previously, David was married to actress Courtney Cox. The duo married on June 12, 1999. However, their union couldn't last forever and they ended their decade long relationship on May 28, 2013. They share a daughter Coco Riley Arquette from their doomed marriage. Arquette also co-owned a production company 'Coquette Productions'. The company has produced TV series and movies like Mix it Up, Talk Show Diaries, Daisy Does America, Dirt, Celebrity Name Game, Tripper, Just before I Go, and Bigger than the Sky.
Christina McLarty's Net Worth
Christina McLarty has worked as a TV correspondent for many years in the industry. She must have been paid a decent amount for her contribution. As of now, she has moved into producing documentaries and movies with her husband David Arquette. Her profession must have earned her a fair amount to live a lavishing lifestyle. However, the exact net worth in figures is not known. There's no doubt she must be playing in millions. On the other hand, her husband David has an estimated net earning worth $25 million as of 2019.
Being a media person, Christina McLarty loves being on social media platforms. She is available on social media like Twitter and Instagram. She is available on Instagram with the handle at @christinaarquette. She has 42.3k followers on her official Instagram account. McLarty continuously shares photos of her work and time spent with her family and friends on her Instagram.