The start of a great love story is not always a meet-cute moment. Sometimes you go through a time period of knowing a certain person before actually falling in love with them.
For actor Kate Hudson and her rockstar boyfriend Danny Fujikawa, their constant presence in each other's lives for more than a decade led them to start a beautiful bond of love and friendship. We all know the Golden Globe and Academy nominee actor Kate Hudson who has found both critical and commercial success in her film career. But who is her boyfriend Danny Fujikawa? Let us find out more about him.
Early Life and Education
Danny Fujikawa was born on June 10, 1986, in Los Angeles, California, the USA as Daniel Conor Fujikawa. He is part Japanese from his late father Ron Fujikawa's side. There are no specific details about his mother.
On July 10, 2017, on the occasion of father's day, he posted an old photograph of him and his father captioning father's and mother's being his favorite Instagram days and how much he wished for his father to have a longer and healthier life.
From this, we can know that he has tremendous love and affection for his family. He also shares two brothers Michael and Brady Fujikawa. 
Danny Fujikawa spent most of his childhood in Los Angeles. It is believed that he went to Windward High School there.
In 2004, he enrolled in New York University (NYU) to study music. However, only a year later, he ended up dropping out of college. When he was in college, it was reported that he spent most of his time not attending classes but rather bartending at Lit Lounge and a lot of walking. For him getting out of college was the first step towards a successful career.

Danny's Career as a Rock Band Artist
With his brother Michael Fujikawa, Danny co-founded an LA-based folk-rock band named Chief. Danny acted as the lead singer and guitarist in the band. Their music was loved by fans and critics alike. As of now, the band has disbanded but all the band members are still in friendly terms with each other.
Danny posted a photo of the band practice and get together on May 1, 2017, which made fans theorizing if the band was getting back together. Aside from this, according to his LinkedIn profile, it says that he founded his own record company named Lightwave in 2013.
Being musically gifted is not the only talent this man has. Danny Fujikawa has also tried his hand on the acting business like his girlfriend Kate Hudson. He lent his voice for the comedy-drama Scumbag in 2017. He also made an appearance in several TV series like Noisemaker on Noisevox and was also credited as a producer in Burt & Bart. Danny Fujikawa is constantly busy building his career even more.
How did Danny Fujikawa meet Kate Hudson?
Danny and Kate might have started their romantic relationship in late 2016 but they have known each other for more than a decade. Actor Kate Hudson first met Danny through her best friends Sara Foster and Erin Foster when she was only 23 years old. Danny Fujikawa is their stepbrother. Since Danny is 7 years younger than Kate, he was still a minor and attending his high school during their first meet up.
Jumping Ship from Friend zone to Boyfriend Material
They might have known each other for a long period of time, but it took them more than a decade to finally start their courtship. In May 2017, they stepped down the red carpet together as a couple during the premiere of Kate's mother Goldie Hawn's movie Snatched. It was reported that they had their first date in December of 2016.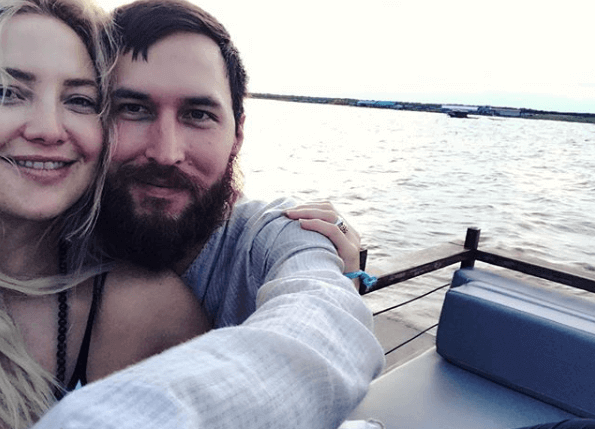 When describing their relationship Kate Hudson said "We've known each other for 15 years. He's my best friends' stepbrother. We kinda skipped through the part of knowing what the hiccups were.
You kinda skip the part of going, 'Oh, you're like that?'" She also added, "in terms of family, I've known his family forever. To have that connection is really powerful."
In April 2018, Kate Hudson announced to the public that she and her boyfriend Danny were expecting their first child. She posted a video of the gender-reveal party of their child which showed that they were having a baby girl. On October 2, 2018, the beautiful couple welcomed their little girl Rani Rose Hudson Fujikawa.
Rani who is pronounced Ronnie was named after her late grandfather Ron Fujikawa. While announcing her name on Instagram she wrote: "Ron was the most special man who we all miss dearly. To name her after him is an honor."

Possibility of a Marriage and Family of Five
While Kate Hudson has been married before, for Danny if they wed it would be his first. There had been rumors circulating regarding the possibility of their marriage. In her interview with The Telegraph, Hudson revealed that they think about tieing the knot a lot.
For Hudson, the priority is certainly her kids two of whom are from her previous relationships. Her older kids Ryder Russell Robinson, 14, and Bingham Hawn Bellamy, 6 are also very accepting of her newfound happiness with Danny and are very happy to finally have a baby sister.
Hudson had Ryder from her previous marriage with The Black Crowes frontman Chris Robinson and her second son Bingham with Muse frontman Matt Bellamy. Despite them being unable to continue their relationship, they are friendly with each other and have taken part in co-parenting. Danny too is very affectionate towards the children and supports them in every possible way.
Hudson often posts photos of their family on her Instagram which only proves how much love the whole family has. They often go on family vacations and try to live a pretty normal life. For this whole family, finding comfort and pleasure in each other's happiness has become the first priority than anything else. 
Danny and Kate are Officially Engaged
The way Danny Fujikawa and Kate Hudson's relationship has blossomed from lifelong friendship to sweet romance, it comes to no surprise that the two would end up tying the knot. In early September 2021, Hudson announced that she and Danny were engaged through her instagram. She posted a picture of the couple together where she showed off her engagement ring with the caption 'Let's go' with the emojis of a bride and a groom. Many of her friends and family including Danny's sisters congratulated the happy couple. 
The couple are now fully immersed into their wedding plans with Hudson revealing that even their kids are getting involved in the process. We are sure that the couple will be the happiest when the day finally comes. 

Fujikawa Estimated Net Worth
Danny Fujikawa with his record level, singing and acting gigs, has managed to have around 500k as his net worth. His girlfriend, on the other hand, has a net worth of 38 million dollars which comes from her different acting and producing credits. She is also an author, fashion designer and entrepreneur. With their money, they are able to provide everything for their children and family.