American actress Kristen Stewart first catapulted to worldwide recognition through the massive success of the Twilight franchise in the late 2010s. While she has seen her fair share of ups and downs, she has since come a long way in her acting career. With the recent release of her new movie 'Spencer' where she portrayed the beloved late Princess Diana, Stewart became a critics' favorite this season. On November 3, 2021, while promoting the movie on the Howard Stern Show, the actress made headlines for a very different reason. During her interview, she shared with the world that she had recently gotten engaged with her girlfriend of two years. While baffled by the news, the spotlight quickly went to the woman Stewart is finally tying the knot with. So, who is Dylan Meyer? Let's find out.
Dylan Meyer is the Daughter of Oscar-nominated Screenwriter Nicholas Meyer
Dylan Meyer is the daughter of screenwriter, author, writer, and director Nicholas Meyer. Her father was nominated for an academy award for best-adapted screenplay for the 1976 film 'The Seven Percent Solution' which was adapted from the novel written by himself. Some of his other notable works include 'Time After Time (1979), Star Trek II: The Wrath of Khan (1982), Star Trek IV: The Voyage Home (1986), Star Trek VI: The Undiscovered Country (1991), and many more.
Dylan, Herself is a Screenwriter and an Actor
Dylan Meyer is an up and coming screenwriter having written screenplays for the short film 'Loose Ends' (2015) and 'Rock Bottom (2019)' which she directed herself, a Netflix original movie 'XOXO (2016)' starring Modern Family star Sarah Hyland and Amy Poehler directed movie 'Moxie' (2021). Meyer also penned a total of 8 episodes of the TV series 'Miss 2056' which aired from 2016 to 2017.
Apart from her screenwriting career, Meyer had also tried her hand in the acting industry. According to her IMDB page, she has acting credits in some short movies like 'The Death and Return of Superman' (2011), 'Wrestling isn't Wrestling' (2015), and 'Jem Reacts to the New Jem and the Holograms Trailer' (2015). In 2020, she also appeared alongside her fiance Kristen Stewart in the TV series 'Homemade' that showcased personal stories created by filmmakers during the quarantine life everyone was living due to the COVID outbreak.
Apart from these, Dylan Meyer also has credit as a producer for 'XOXO' and 'Rock Bottom'.
Where did Dylan and Kristen first met?
In a 2019 interview with Howard Stern, Kristen Stewart revealed that she met Dylan Meyer for the first time in a movie set several years ago. It wasn't until years later when they met again at a mutual friend's birthday party that sparks started flying.
According to Stewart, the day that they met again, it felt like all bets were off. Talking about their reunion, Stewart said:
"She rocked up at a friend's birthday party and I was like 'Where have you been, and how have I not known you?' She's been living in LA alongside my life somehow and not ever converging."
Their Romance was Speculated to have Overlapped with Stewart's prior Relationship
Meyer and Stewart were first rumored to be together after being spotted kissing on New York City Stoop in August 2019. However, not even a month ago, Stewart was photographed kissing her on-off girlfriend Stella Maxwell on a Yacht in Italy. Many speculated Meyer's romance with Stewart was only a passing fling but an insider revealed that it was a real deal.
"Kristen is spending time with Dylan and very happy about it, she was seeing Stella for a little bit while it worked out, but now she has moved on with Dylan." the insider told E! News. They added:
"Kristen isn't holding back at all and loves being with her. They are moving quickly and always together."
Dylan had a fast-paced romance with Kristen
In the same 2019 interview with Howard Stern, Stewart went on to confirm her fast-paced romance with Dylan Meyer. During her appearance, she revealed the couple declared their love for one another after just two weeks of officially dating. 
She said:
"The first time I told her I loved her, it was really late and we were in some shitty bar and her friends were there or whatever, and they walked out and I was like 'Oh man, I'm so f***ing in love with you' Done."
Kristen also talked about the instant connection the two of them had and explained:
"We're both from L.A. and we really love L.A. We're both kind of like scumbags. We both felt like trolls as kids. We're so similar but different. She's a writer; She's brilliant."
Dylan Doesn't Believe in Keeping Her Relationship Secret
Since Kristen Stewart does not use social media, they became Instagram official through Dylan's in October 2019. She posted a black and white photo of a polaroid of the couple kissing with the caption 'Find me under the covers hiding from the happiness police'.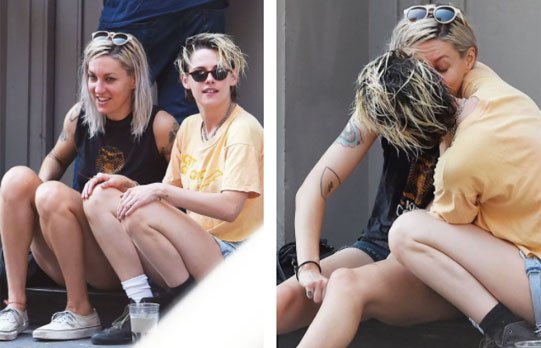 Although Stewart is known to be relatively a much more private person than Dylan, she has started to become more comfortable with being public with her relationship. Dylan occasionally shares cute moments in the couple's lives through her Instagram.
Kristen Wanted to Propose Meyer Much Earlier
In the same 2019 appearance in the Howard Stern Show, Stewart had also revealed her desire to propose to Dylan. She said:
"I want to be, like, somewhat reasonable about it, but I think good things happen fast. It's just, like, when you know, you know."
Meyer and Kristen Finally Got Engaged in November, 2021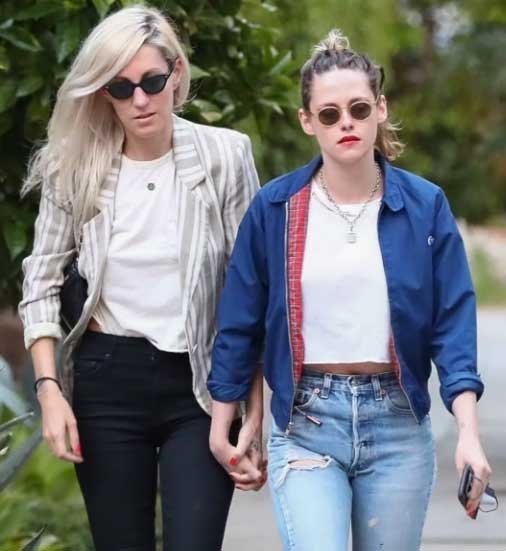 In July 2021, the couple sparked rumors of a secret wedding when both of them were photographed wearing rings in their left hand. However, it wasn't until November 2021, that Kristen revealed that the couple was actually engaged to one another. During her promotions for her new movie 'Spencer', Stewart stopped by The Howard Stern Show and dropped the bomb that she was indeed getting married to her girlfriend Dylan Meyer.
"We are totally going to do it. I wanted to be proposed to, so I think I very distinctly carved out what I wanted, you know, and she nailed it. It was really cute. She did very well."
Stewart gushed about her proposal. "We're marrying. It's happening" she added excitingly.
She also explained why it was Dylan who proposed. She said:
"I blew my load on Howard Stern and then basically was like, 'Now, it's your turn. I kind of did it.'" "It's not a given that I'd be the one. With two girls you never know who's going to fulfill what gender roles thing."
She is also a Cat Mom
Dylan Meyer is definitely a cat person. She is currently known to own two cats named Zsa Zsa and Snack. She also loves sharing incredibly cute pics of her cats with her followers on Instagram.