Divorce is a common thing for celebrity couples in Hollywood. But, the journey through which their children pass through is really painful. Due to this, many kids of Hollywood celebrities tend to develop bad habits like involving drugs and alcohol, acting psycho, and a lot. But, still, there are some cases, where the children deal with their parents' divorce positively and maintain a healthy relationship with them.
Here, we will be talking about Ella Craig, who is the daughter of Daniel Craig and his former wife Fiona Loudon. Her parents got divorced when she was just a toddler. She was raised by her mother Fiona, but surprisingly she is more close to her dad Daniel.
Ella Had a Disturbing Childhood
Ella Loudon or Ella Craig was born in 1992 to famous parents Daniel Craig and his then-wife Fiona Loudon. Unfortunately, her parents got divorced when she was a toddler. Due to this, she had to suffer from getting a homely environment. As a child, she felt divided between her father and mother. However, her parents tried hard to give her a normal childhood.
She was raised by her mother Fiona away from the limelight. Ella spent most of her childhood days in London. At the age of 17, she shifted to Massachusetts to attend a boarding school.
Craig Dropped Out of College due to Depression
After completing her higher education, she got enrolled at New York University to study theater and acting. But, she dropped out of the University within a year of joining the University. The reason behind the decision as she was suffering from depression. In an interview, she spoke about her depression days as:
"You might have the most wonderful people around you and who love you dearly, but you are still blinded to that."
She further added how her family helped her to get out of the depression and live a normal happy life.
"I was completely blinded to that. I felt so very alone and isolated myself, but, my family noticed, and they took acting for me in getting me help."
Currently, Ella lives in between New York and Los Angeles and had started her career as an actress. As an actor, she is represented by Independent Talent within her home country and by Buchwald Talent in the United States.
Career: Carrying out the Legacy
When both of your parents are into the same profession, then it's obvious you will like to walk in their shoes. Following this, Ella Craig has tried her hands on acting. Just like her father, she debuted as an actor in a theater before debuting on the big screens. Ella began her acting career in theater productions for the play "Shakespeare & Company."
Though being dyslexic, Ella never stopped herself to run after the acting career. In an interview with The Berkshire Eagle, she said:
"It's amazing how the brain can naturally compartmentalize, but you're also talking to someone who really struggles with learning lines. There are some people who can just get it. It's not an excuse, but it's something I struggle with."
Her resume includes movies like Memory's Paradigm (2007), Cold Blood (2008), Texas Road (2010), and many more. In 2017, she also made her appearance in the movie Maneater. Recently, she has appeared in the drama "Trauma is a Time Machine". The drama depicts the journey of a woman who is trying hard to escape from the trauma she was going through after she was raped by her boyfriend.
Besides acting, the daughter of Daniel has also garnered interest in artistic works. She is an artist who loves showing her creations on social media.
Her Parents and Their Failed Marriage
Ella's parents Daniel Craig and Fiona Loudon are those celebrities in Hollywood who have followed the mainstream culture of divorce. The former couple, after dating for a while, got hitched in 1992. But, their marriage didn't last for long. The couple formally separated their ways in 1994. In an exclusive interview, Daniel Craig commented about his separation from his ex-wife as:
I was too young. Thought it was the mature thing to do. I don't regret it, but I do wish I'd lived it in a different way."
At that time, they already had given birth to Ella. After the divorce, Fiona took custody of Ella. However, Daniel also took the responsibility of raising Ella and left no stone unturned in giving her a normal childhood.
Her father Daniel Wroughton Craig is an actor known for portraying the role of James Bond. Daniel took acting classes at the National Youth Theater. Besides, he graduated from the Guildhall School of Music and Drama in 1991. Just after graduation, he debuted on the stage with the drama "The Power of One."
Subsequently, he appeared in different TV shows and movies that include Zorro, Sharpe's Eagle, A Kid in the King Arthur's Court, Our Friends in the North, Love is the Devil, The Trench, Lara Croft: Tomb Raider, and many more on the list. However, the biggest hold to glory came when he played the role of James Bond in the Bond series 'No Time To Die." Wroughton has taken home many awards for his performance on the screens
Apart from creating magical waves on the screens, the actor is also known for his philanthropic activities. He has participated in the Broadway Cares/Equity Fights Aids in the 21st annual Gypsy of the Year Competition. Likewise, he has partnered with Dame Judi Dench to focus on gender inequality for International Women's Day. The United Nations appointed Daniel Craig as the first global advocate in April 2015 for the abolishment of mines and exclusive hazards.
On the other hand, Fiona Loudon is also a former actress involved in theaters in London. The Scottish actress is much not in the limelight and remains closed mouth whenever it comes to her personal life. She only got huge attention when she was romantically linked with Daniel. Her post-life after divorce is not known. But, probably she might be single.
Fiona Loudon's ex-husband is now married to actress Rachel Weisz, his co-star in the movie Dream House. They got married in a private ceremony held in New York in 2011. Surprisingly, Ella was one of the four guests to attend the wedding. The couple has welcomed a daughter in September 2018.
Is Ella the Next Bond Girl?
There's a rumor circulating in the town that the makers of the Bonds films are in search of the next Bond girl and Ella, reportedly is being deemed to be the next Bond Girl of the iconic movie. As per the Mirror, her dad Daniel is assisting her out and is providing training to be fit into the role. Sadly, she is said to be entering the franchise only after her dad leaves the franchise.
If she becomes the next bond girl, there's a huge possibility that she will bring a new flavor that audiences haven't witnessed in the Bond movies. Ella is very serious about acting and she will give full justice to her role. However, it's still not clear whether the rumor will turn out to be true or it will just be a false hope for her fans.
How much does Ella Earn?
Ella's Instagram posts are proof that she is living a lavish lifestyle. Ella supports her lavish lifestyle from the net worth she has accumulated from her acting career. However, as of now, the exact figures earned by Ella annually are not known. Besides, she also enjoys the net worth of her star father Daniel Craig. Daniel has an estimated net worth of 95 Million US Dollars at present.
Revealing the Secret name of Her Step Sister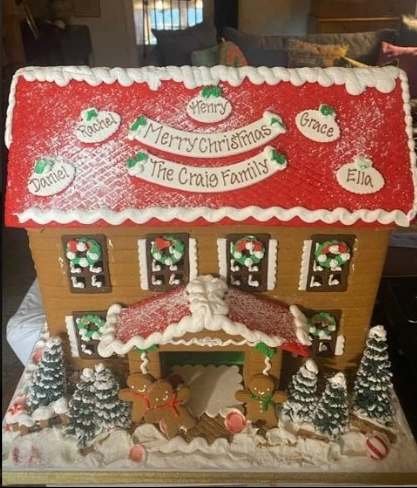 The eldest among the Craig brood, Ella accidentally revealed the name of her baby sister on her Instagram post. Her dad Daniel and step-mom Rachel have tried really hard to not reveal the name of their newborn. However, Ella innocently shared a picture of a gingerbread house on her Instagram stories which witnessed the family's name placed on the roof. The handles on the cake included Daniel, Rachel, Ella, Henry, and apparently the undisclosed name of her little sister Grace.
Does Ella Craig have a Boyfriend?
According to multiple sources online, Ella Loudon is in a relationship with fellow model Ben Hills. The relationship first became known to the public when Ben posted pictures of the couple with the caption 'Happy Valentine's Day'. They posted a lot of photos of them going on vacations and enjoying spending time with each other. 
However as of 2022, the couple seems to have taken a break from each other as both of them have deleted any photos of them together. They also do not follow each other on social media furthermore Ben seems to be dating another mystery lady. 
Ella as of now is single and focusing more on herself. She also does not shy away from any bonding time with her famous father. She even attended the 2021 premiere after party of her father Daniel Craig's last Bond movie 'No Time To Die' and walked hand in hand with him.  
Ella is Building Her Portfolio as a Model
In the recent years, Ella Louden has been focusing more towards the modeling aspect of her career. For her modeling gigs within England, modeling agency Select Model London represents her. For her overseas works, she works alongside Ford Models that has been in business since 1946 and has a famous client list including David Gandy, Sora Choi, Tyson Ritter and many more.
She has appeared on the cover of Hood Magazine, a Scottish lifestyle magazine. Ella's instagram is full of her pictorial shots where we could see her works as a model. 
Giving back to the Community
In October 2021, Ella partnered up with writer Samantha Scaffidi to establish Domestic Violence Community Coalition Hudson (DVCCH) foundation as a part of domestic violence awareness month. The foundation is working as a link between the local organization and the community in Hudson where they would be helping to spread awareness and raise funds to fight against domestic violence locally.