Erica Duarte is the ex-wife of famous controversial American rapper Philip Nickolas Katsabanis aka Stitches. She is a judicial assistant. However, Duarte came under the media radar only after marrying Stitches. Erica Duarte and Stitches were together for five years until 2017 when they got divorced. The ex-couple shares three children together.
Erica Duarte is now living a low-key life after getting a divorce from the rapper. Let's reveal more about her personal life, career, and more.
Erica Was Living a Silent Life Before She Met Stitches
Nothing more than the fact that Erica was born in the USA is known regarding her life before fame. As she came into the limelight following her relationship with Stitches, the information about her family members and educational background hasn't been uncovered yet.
As per some sources, Erica Duarte was a judicial assistant by profession before she shared her relationship with the rapper. She was also featured on the reality television show 'Paris Hilton's My New BFF' broadcasted on MTV in 2008. Paris Hilton was in the process of selecting a new friend out of two men and 16 women. However, she didn't gain any popularity from the show.
Duarte only rose to fame after she shared her romantic relationship with the rapper who has got a tattoo of Stitches all over his face.
Erica's Marriage with Stitches Didn't Turn Out to be a Happy Affair
Erica met her future husband Stitches when she was a part of the reality show Paris Hilton's My New BFF Season 2. They eventually liked each other's company and fell for each other within a short time. After dating for a while, the two got married on 31st October 2012 in an intimate ceremony. Erica was 28 years old and Stitches was just 17 years old when they got married. Despite the noticeable age gap of 11 years, the couple got married dreaming of a bright future ahead.
The duo were sharing a healthy relationship until 2017 when they started facing struggles in their relationship. After five years of tying the knot, Erica parted ways with the controversial rapper Stitches. The reason behind their separation hasn't been known yet. Both Erica and Stitches haven't said anything about their divorce yet.
Erica is a Mother of Three: Rex, Rocco and Evelyn
Erica Duarte and Stitches have three children from their marriage. Soon after getting married, they announced that they were expecting a baby. In 2013, they became parents for the first time welcomed their son, and named him Rex Katsabanis.
Likewise, the following year the couple again became proud parents of a boy named Rocco Katsabanis in 2014. The couple also has a daughter named Evelyn Katsabanis whose birthdate hasn't been revealed yet.
Erica's ex-husband Stitches loves his children immensely and spends a lot of time with them. This is what he has said about being a father;
'Being a dad is the greatest feeling. It puts a real smile on my face everyday. Nothing else does.'
The Richness of Erica Duarte is Still Questionable
Erica has never revealed her professional and personal life to the public. She has always kept a distance from the media scrutiny. Further, whether she got some amount of alimony from her divorce with the rapper is also unknown. Hence, nothing about her net worth is known. On the other hand, her former husband Stitches has a net worth amounting to $500000 as of 2023.
Erica Duarte is not active on Social Media like Facebook, Instagram, and Twitter. Her absence on social media platforms makes it even more difficult to track her down and her life. However, her former husband fills space for her as he is actively present on social media. He has an Instagram account with 1.4 million followers where he continuously uploads pictures with his children. From the pictures he uploads, it can be seen that his children are all grown up.
Her Ex-Husband Is Famous For Promoting Drugs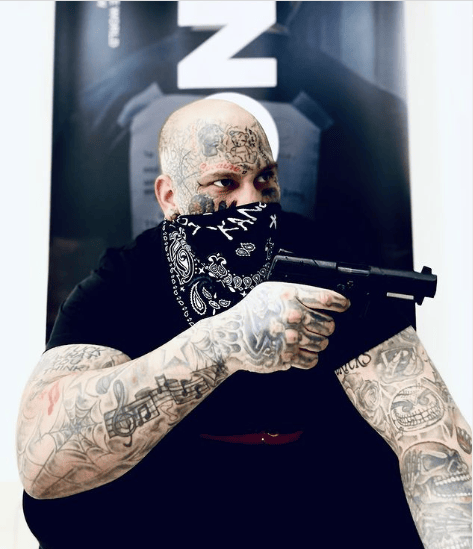 Rapper Stitches has a controversial personality from the beginning of his career. He is not only criticized for having a bunch of stitches tattooed on his face but also is often criticized for promoting drugs and violence. in the public.
In September 2014, at a show at Propaganda, the rapper offered cocaine to several female fans. His wife, Erica prompted the rapper to inform his crew that the show was over. Likewise, his super hits music albums 'I 'm Just a Gangsta' and 'Brick in Yo' Face' indicate that he really likes drugs.
Erica's Life After Divorce
Whether it is for offering drugs to his fans during the concert or for rumours of linking with Kylie Jenner, the rapper Stitches is continuously hitting the media. But, Erica's whereabouts are still a mystery that is yet to be solved. It seems like she is keeping a distance from the media and spotlight after her divorce from her ex-husband.
There are no rumours of any link-up with Erica Duarte. As of now, she is living a single life happily in her own space away from the limelight.