Over the decades the world of fantasy fiction has given many memorable characters for the fans of the genre. One of them is in the form of Tyrion Lannister in George R.R Martin's book series 'The Song of Ice and Fire'. Despite the character being beloved within the book reader community, the character only gained massive popularity following the 2011 adaptation of the book into an HBO TV series 'Game of Thrones.' While the show was filled with powerful performances, if there was one character performance that fans and critics alike all equally loved was that of American actor Peter Dinklage who brilliantly portrayed the character of Tyrion Lannister. 
The worldwide popularity of Game of Thrones catapulted Peter Dinklage towards mainstream success in Hollywood. With the success came the spectators in his personal life. Throughout all of this spotlight, the one person who has been with him was his wife Erica Schmidt. So, who is Erica Schmidt? Let us find out more about her.
Erica was a Part of a Comedy Group during her College Days
Erica Schmidt was born on June 8, 1975, in the USA. After finishing her high school studies, she started attending Vassar College in 1997 which is located in New York. During her college days, Erica became a part of the comedy group's laughing stock. The group used to compete with other groups on weekends in many epic comedy performances.         
She started her Career in Theatre
After finishing college, Erica started living in Williamsburg, Brooklyn, and worked as a costume designer at Julliard. It was this working experience that gave her an initial push to continue theatre. One of her first major breaks was at the St. Mark's Youth and Young Adult Theatre Ministries for the production of 'Jesus Christ Superstar' as a deck stage manager.    
Erica started her Own Production Company
In one of her interviews, Erica Schmidt spent much of her early years chasing after an acting career. After a string of unsuccessful acting jobs, she came up with the idea to start a production company along with her theatre buddies like Lorenzo Pisoni all of whom were struggling to pay their rents.
The main purpose of the company was to direct theatre productions and have her friends act in them and she would act on the productions that her friends' directed. This is how she found her talent in directing.
She found her success in Theatre
In 2000, Erica Schmidt worked on her first directorial project 'As you like it.' She followed this with one of her most critically acclaimed productions called 'Spanish Girl' in 2002. The following year, she directed another critically acclaimed production called 'Debbie Does Dallas'. The same year she also got her first acting gig in a movie called 'Miles from Nowhere. In 2001, she was awarded the 'Princess Grace Award' for her outstanding work in theatre. 
Erica Schmidt has continued to show her artistry through her work for all these years. As of 2020, she has gone on to direct 10 off-Broadway productions including the 2009 'Humor Abuse' that won the Lucille Lortel Award for the outstanding solo show. Humor Abuse is probably one of her best works that have returned to the stage multiple times to rave reviews.   
Some of her other works include a 2009 production called 'The Burnt Part Boys' and 2011's 'The Invasion'. She then went on to direct her husband Peter Dinklage and Emmy nominated actress Taylor Schilling in a 2015 production of 'A Month in the Country which was met with massive success. In 2017, she directed another critically acclaimed play entitled 'All the Fine Boys.' In 2018, she once again teamed with her husband Peter to write and direct a musical called 'Cyrano'. 
Erica is Married to Peter Dinklage Since 2005
Both Erica and Peter are known to be very private people. They are said to have met in 2002 and dated for three years before eloping to Las Vegas to get married in 2005. While it was only years later the world started to notice the charm of Peter Dinklage, it was Erica who knew about his charming flirtatious side. Talking about her husband's newfound popularity, she told Rolling Stones:
"Lately, girls have been, like, licking his face." "What's frustrating about it is that Pete is an incredibly handsome, charming, funny guy, but when he does a magazine or something it's like, 'Isn't it amazing he's four feet five inches tall and he's sexy?' You know that's just who Pete is. And the rest of the world has to catch up."
Despite all of the craziness following Game of Thrones, the couple has managed to keep their personal lives to themselves.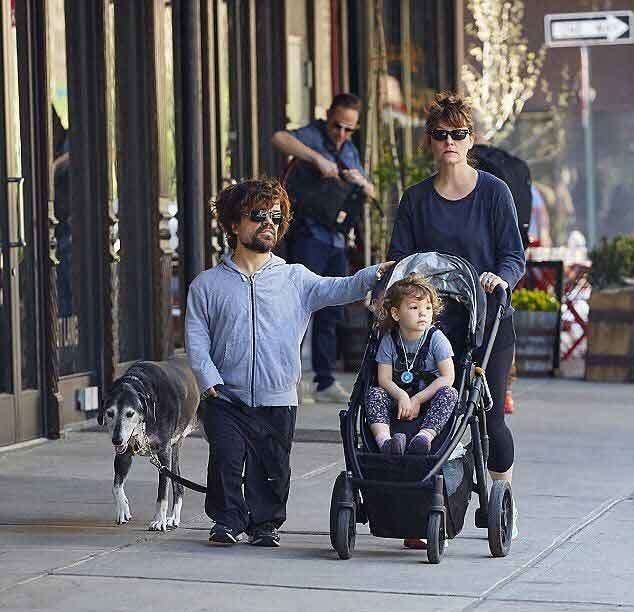 In 2011, Erica Schmidt and Peter Dinklage became parents to their daughter whose name remained undisclosed to this date. In his interview with The Guardian, Peter amusingly talked about his daughter. He said:
"Let me tell you right now, her name is not Zelig. But it's hilarious that that's a fact in Wikipedia."
In October 2017, Erica and Peter welcomed their second child but again opted to not reveal neither the child's name nor their gender. Us Weekly reported that the couple was seen at a concert in September with their newborn child.
She is the artist in the family
The endgame for most film artists in Hollywood, however for Erica Schmidt theatre is her one true love and passion. In his 2015 interview with the Guardian, he gushed about his wife who he considers to be brilliant. He said:
"She's very inspiring. She's definitely the artist of the family. I am just the TV actor who pays the bill."
With her artistic approaches seen in her broadway shows, one can definitely see the passion she has for her art.
Erica is the love of Peter's life and vice versa
In Hollywood where finding couples with a healthy balance of love and respect has often become rare, Erica and Peter have managed to become a team who have overcome many challenges and prejudices people have against them. Despite being in the entertainment industry both of them do not seek validation from anyone and always support each other. After winning his Emmy in 2011, Peter got on the stage and proclaimed his love for his wife saying, "I love you, Erica. You're amazing. I love you."
The birth of their children made the couple even more complete. Both of them seem to enjoy parenthood, especially Peter who believes fatherhood made him a better man. After the success of Game of Thrones, it became harder and harder for Peter Dinklage to maintain a low profile, so Erica agreed to Peter's idea of moving to Upstate New York from Manhattan. Although the move would not be most convenient for Erica, she didn't think twice before putting Peter and her family first. Even though the couple is rarely open about their private lives, it's moments like these that make everyone believe in the love story they are telling.