Potterheads all around the world rejoiced together when the Harry Potter 20th Anniversary: Return to Hogwarts reunion special aired on January 1, 2022. Fans could not stop gushing over all the beautiful moments the cast shared through that special. And one of those moments included an autographed note by young Daniel Radcliffe to his co-star Helena Bonham Carter professing his love for her and even regretting not being born 10 years earlier.
While the young Daniel was crushing on his co-star on the set of Harry Potter, the older him now has already found a stable relationship with someone. And that someone happens to be American actress Erin Darke. So what do we know about her?
Erin and Daniel's Love Story Blossomed While Working Together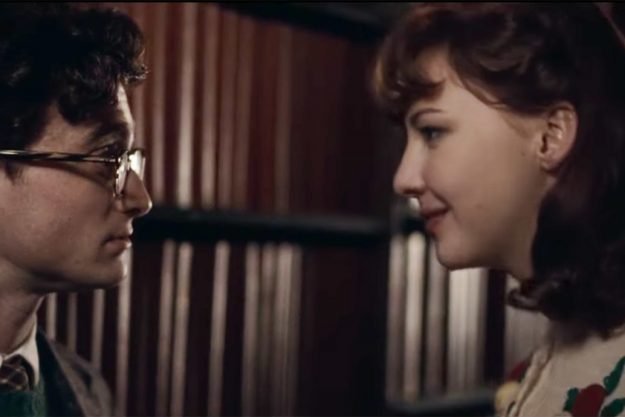 Erin first met Daniel Radcliffe during the filming of the 2013 biographical drama film 'Kill Your Darlings'. In his interview with People, Radcliffe opened up for the first time about how he met the love of his life on the sets of the movie. He said:
"It'll be a hell of a story to tell our kids one day because of what our characters do with each other."
Further, he added:
"Our characters are meeting and flirting with each other, so there is this kind of sweet record of us just meeting for the first time and flirting," he said, hinting at the intimate scenes the couple had to shoot with each other.
It was an Instant Attraction for Daniel Towards Erin
During his 2015 interview with Playboy, Daniel Radcliffe talked about how instantly he was attracted to Erin while shooting their first scene together. He said:
"There's no acting going on; not on my end, anyway. There's a moment when she makes me laugh and I'm laughing as me and not as my character. She was incredibly funny and smart. I knew I was in trouble."
Over time the couple bonded over things both of them were passionate about. In her brief interview with People, Darke talked about finding someone with whom she could share anything. She said:
"There's something really beautiful and really lovely about being with someone who just innately understands that about you."
She went to gush over how supportive both of them were for each other's careers. Looks like the instant attraction was from both ends as both of them are together since 2013 without any hurdles in their relationship.
She cautions her Boyfriend Daniel Against Rude fans
Not only is Erin strong enough to handle negative criticism herself, but she also does not let her boyfriend excuse bad behaviour from his fans. While stopping by The Graham Norton Show, Daniel talked about how he has started to toughen up a little bit in front of his fans. He talked about fan interactions, "Occasionally someone would come up to me and would say 'Can I take a picture with you?'. And I would just say 'yeah of course if you want to'. And she just went 'Well I wouldn't have asked If I didn't want to'."
Watching those interactions, the first thing Erin said was 'That girl was a dick to you'. According to Daniel, Erin is giving him advice regarding how he does not need to excuse rude attitudes from other people even if they are his fans.
She indeed seems like a woman who knows how to protect her man from negativity.
Erin Had a Passion for Acting Since her Early Life
Born in 1984 in Flint, Michigan to parents Ian Darke and Kristina Strand Erin Constance-Maja Drake From had an interest in the field of art since a young age. This led her to pursue higher education in fine arts from the University of Michigan. Her passion for filming and acting is what ultimately made her choose acting as a career.
Erin Darke has been active since 2009 in the acting field. She is mostly known for her role as Cindy Reston in the TV series 'Good Girls Revolt', like Mary in the Amazon period TV series 'The Marvelous Mrs Maisel' and as Leeta Albridge in the AMC series 'Dietland'.
Over the course of her career, she has appeared in more than 30 films and TV series. Some of them are Kill Your Darlings (2013), Love & Mercy (2014), Still Alice (2014) and Thank You for Your Service (2017).
Darke Absolutely Loves Football and Addresses Herself as a Football Enthusiast
According to Erin's Twitter bio, she is a 'Fantasy Football Enthusiast' and a 'Devoted Red Wings Fan'. During his interview in Late Night with Seth Meyers, Daniel talked about hosting a thanksgiving dinner that year and mentioned that football is a must for the occasion. He said:
"My girlfriend is from Michigan, so there's always a Lion's game on Thanksgiving, with the misery or joy that entails. Heartbreak is part of being a Giants fan."
Darke has Battled Body Shaming for a Long time
In August 2018, Erin Darke sat down with Today and talked about the body image pressure society has put women through. She talked about being called broad-shouldered occasionally by strangers that not many women love to hear. Erin commented about the pressure women go through to look a certain type. She said:
"I don't think women are discouraged from being athletic but I think there's a very specific type of athleticism. You were supposed to work out to have a barbie body but you're somehow not supposed to look strong."
She added:
"I think muscles on women are so sexy,"
In the same interview, she revealed that she too felt pressure to look a certain way to get work in the industry. She revealed:
"I lost about 30 pounds probably 7 or 8 years ago and before that I had three different people in the industry tell me that I needed to lose weight and it's sh**y but I did it and I worked more and it sucks."
As days passed, she started loving and accepting her body the way it was. She also revealed in the interview that watching Olympics and swimmers made her realize the fact that it's normal to have broad shoulders. Erin does believe that she has come a long way since all of that and now she absolutely loves her body the way it is.
Wedding Bells might Still be Far Away but Erin and Daniel are Definitely Soulmates
Erin has been dating Daniel since 2013, so it's no surprise that rumours about the couple being engaged or married had already made their rounds. However, both of them have denied being secretly married. In 2015, Daniel briefly talked about marriage with Elle magazine and said:
"It seems like the most romantic thing you can do is stand up in front of all your friends and say that you love this person."
He later added:
"At the same time, the amount of pressure that goes into a wedding, I don't know."
Whether or not the couple decides to get hitched or not, Daniel is not denying that he has met the love of his life and even referred to her as his absolute best friend. He told Us Weekly:
"I think that's the kind of relationship I always aspire to have with someone I'm in a relationship with. You want that person to be your best friend. In the case of Erin, we definitely are."
Daniel Radcliffe is welcoming his first child with Erin
After being in a relationship for almost a decade, Harry Potter star Daniel Radcliffe and his beautiful girlfriend Erin Drake are welcoming their baby. The spokesperson near to Daniel said, "Daniel and Erin could not be happier to be expecting. They are absolutely thrilled, and can't wait to become a family of three. They told their families and friends recently. It's an incredibly exciting time." Ever since the news broke out, Harry Potter fans all around the world have been congratulating the couple with a lot of memes of 'You're a father, Harry!' going around. We do hope that this will be a joyous time for both Erin and Daniel.