Known for his appearance in popular movies like The Terminal, The Devil Wears Prada, The Hunger Games, Easy A, Captain America: The First Avenger and many more, American actor Stanley Tucci needs no introduction. The award-winning actor has found success in leaps and bounds during his career of four decades. But the same couldn't be said about his love life.
In 2009, whereas his career seemed to be heading towards an even more successful path, his personal life took a hit after he suffered the loss of his wife Kate Tucci.
After living through the pain and sorrow of losing someone important to him, Stanley Tucci never thought he would find love again. However, fate had other plans for him when he reconnected with Felicity Blunt. The two met at Emily Blunt's wedding who is also the younger sister of Felicity. So who is the older sister of Emily Blunt with whom Stanley Tucci is happily married?
Felicity Grew up in a Big Family of Four Children
Felicity Blunt was born on January 8, 1981, to Joanna, a former theatre actress turned English teacher and barrister Oliver Blunt, QC(Queen Council) in London, England. She is the eldest sister to her three younger siblings Emily, Sebastian and Susannah.
The 42-year-old Eldest Blunt Sister is a Literary Agent
While Felicity is surrounded by well-known celebrities, she has managed to keep a low profile and quietly work as a literary agent at the Uk agency Curtis Brown for quite a while now. Literary agents are people who assist writers by representing them for any publishing contracts, deals and negotiations. They mostly read tons of manuscripts and select those that they believe will sell.
She has written about her work as a literary agent on Curtis Brown's website. As per the website, she has worked with plenty of a handful of bestselling authors like Ann Patchett, Jennifer Egan, Danielle Steel and many more. She said:
My fiction tastes are broad but are unified by my desire to represent unique stories and smart voices. What I want is to feel passionate about the narrative and believe absolutely in the world an author has crafted.
Felicity's Sister Emily is a Famous Hollywood Star
Felicity's last name will probably ring some bells if you are familiar with the Hollywood industry. She is the older sister of the talented actress Emily Blunt. During her early years in her acting career, Emily used to share a house with her older sister in London. Some of her most popular works include 'The Devil Wears Prada' (2005), 'Edge of Tomorrow' (2014), 'Mary Poppins Returns' (2018), 'The Girl on the Train' (2016), 'A Quiet Place' (2018) and many more. She has been married to actor John Krisinski since 2010 and shares two beautiful children with him.
Felicity and Stanley First Met at a Movie Premier
Felicity first met Stanley Tucci and his first wife Kathryn Spath when she accompanied her sister Emily in the premiere of the movie 'The Devil Wears Prada'. Emily introduced Felicity to Stanley with whom she had worked together in the movie.
Talking about their first meeting on WTF with Marc Maron Podcast, Stanley said:
"That's where I met Emily and we became friends. And actually, Felicity, Emily's sister, my wife. She and Kate talked at the premiere that night, and I have a photo of them together; which is so odd. And then many years later, I ended up marrying Felicity."
Fate Reunited Felicity and Stanley: Destiny Planned it All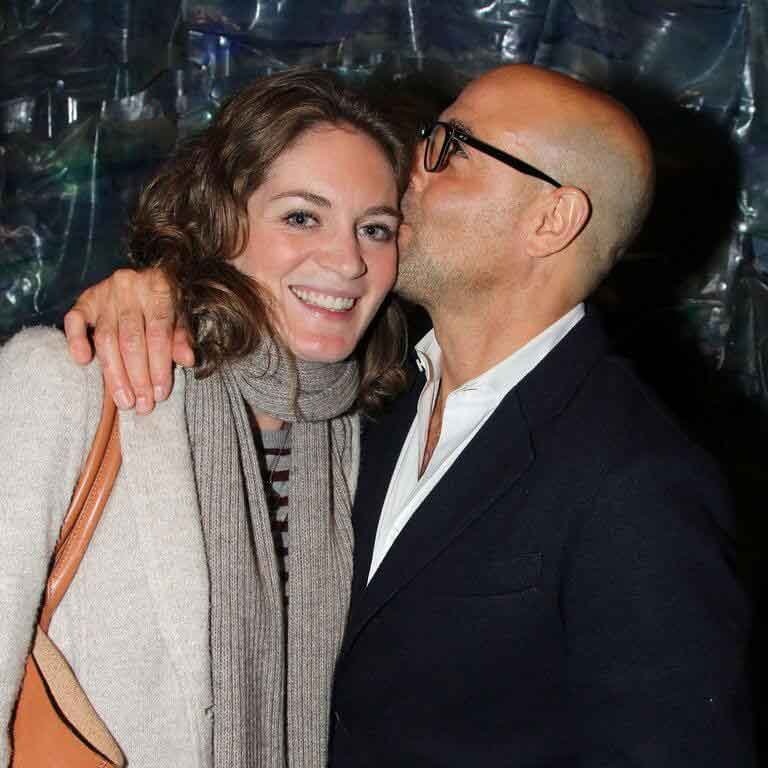 When Stanley met Felicity again years after their first encounter, he was in a much different place than before. Having lost his wife of 14 years, Kate to breast cancer, he had become overwhelmed with sadness and self-blaming. Around that time, Felicity reconnected with Stanley at the wedding of her sister Emily to 'The Office' actor John Krasinski in 2010.
During the wedding, thanks to her appetite, Felicity made quite an impression on Stanley who later Stanley recalled as 'never seen someone so slender enjoy her food so much'. And the love for food was what brought them closer to each other. They started talking the following weekend and even made plans to meet up in London, where she lived and his next work was.
Talking about their initial plans, at a 2015 event Stanley said:
"I was going to London to shoot a film immediately, so I said, 'Well, let's get together'. The first time we went out, we ate at this little restaurant that wasn't really good food, but we had such a nice time."
Felicity became Stanley's Second Chance in Finding Love
Shortly after getting aquatinted with each other, Felicity and Stanley started dating officially. During his talk on the Queen Latifah Show, Stanley said:
"We started eating out a lot and then she came and stayed with me in America and we started cooking together and it was great."
In November 2011, Stanley proposed to Felicity on their trip to Berlin. Later he revealed to a UK paper that following his proposal, a sense of guilt overcame him. He said:
"I panicked instantly afterwards. It was very hard to go on vacations at first, really hard to go with Felicity someplace. I felt guilty. It's horrible."
Besides this, Stanley was also haunted by the guilt of moving on soon after his wife's death. "There are photographs around at home. Not that many, but I would have difficulty." he opened up to The Times. "And especially, when we first met, it was only two years after Kate died," he added. Even in 2021, Stanley Tucci revealed that he continues to grieve the loss of his first wife. He said:
"It's still hard after 11 years and it always will be hard. But you can't let it and she would never want any of us to – to wallow in that grief and let it take over our lives. She would never want that. She wasn't like that."
Despite having a ton of baggage and fear, Stanley found love again with Felicity. They secretly got married in early 2012. On September 29, 2012, the couple had a formal wedding at Middle Temple Hall in London and her sister Emily served as one of the bridesmaids.
Stanley Tucci had three kids with his late wife Kate; daughter Camilla and twins Nicolo and Isabel. Upon her marriage with Stanley, Felicity became a stepmother to the three children.
During his interview with The Guardian, Stanley opened up about having Felicity as part of his family, "It is not easy to find somebody who is going to take on three teenagers and a widower. That's a lot. But she was willing to take on that challenge. She cares for the kids as if they are her own, and it's a tough role, being a stepparent."
From there, their family continued to grow. On January 25, 2015, the couple welcomed their son Matteo Oliver. Their daughter Emilia Giovanna was born on April 19, 2018.
While the couple has remained private regarding their children, they occasionally do share about parenting through interviews and social media.
Felicity and Stanley Once Tried to Split Off over 21 Years of Age Gap
Stanley and Felicity's road to romance came with hurdles at first. Stanley who is 21 years older than Felicity was afraid to date Felicity because he didn't want to feel old. In an interview with BBC Radio's Desert Island Discs, talking about his feelings about Felicity at the beginning of their story, he said:
I kept trying to break it off. I am 21 years older than she is and I didn't want to feel old for the rest of my life. But I knew that this was an incredibly special person.
Nevertheless, they were meant to be together at last and nothing stopped them from being together. Nowadays, the couple is still very much in love with each other. They still bond over their love for food and are always the first ones to support each other's work.